Nowadays, protecting your electronic devices with the right apps is just as important as securing your home with sturdy locks. After all, whether it's your PC, laptop, smartphone, or even your Nintendo Switch, any one of them has access to sensitive information and accounts that people with malicious intent would love to get their hands on.
With internet banking and shopping rapidly becoming the norm, especially during the current pandemic, your devices are likely filled with credit/debit card and financial account information along with tons of your personal details, which makes being hacked far more dangerous than losing your wallet in this day and age. Your devices need to be protected by software that not only eradicates viruses but also has an identity protection service.
While there's no surefire way of defending yourself from cybercriminals, having a good mix of common sense and a reliable cybersecurity program from a trusted name like Bitdefender is a great way to significantly reduce the risk of your devices becoming compromised. For the purposes of this 2021 Bitdefender review, we're going to be taking a look at a few of the products that were developed primarily for private individuals.
What is Bitdefender?
Bitdefender is one of the best antivirus for Windows. an award-winning cybersecurity tech company based in Bucharest, Romania, though they also have satellite offices all over the globe, including the United States, Europe, and the Middle East.
They specialize in cybersecurity products and services, such as antivirus programs, cloud security, and endpoint protection, catering to both businesses and the average consumer.
Currently, Bitdefender boasts north of half a billion users worldwide, with its GravityZone Ultra Plus and Bitdefender Total Security packages being their bread and butter.
Since its inception back in 2001, the brand has garnered dozens of prestigious awards, including CRN's 2020 Tech Innovator Award and AV-TEST's 2019 Best Protection Award, making it one of the most trusted and established names in cybersecurity today. Like many other cybersecurity programs out there, Bitdefender also offers a barebones free model for certain systems.
System Requirements
Operating System: Windows 7 with Service Pack 1, Windows 8, Windows 8.1, and Windows 10
RAM: 2 GB
Hard disk space: 2.5 GB free space
Internet Explorer version 11
Bitdefender Central browser requirement:
Google Chrome 56 and later
Mozilla Firefox 52 and later
Microsoft Edge
Bitdefender Antivirus Plus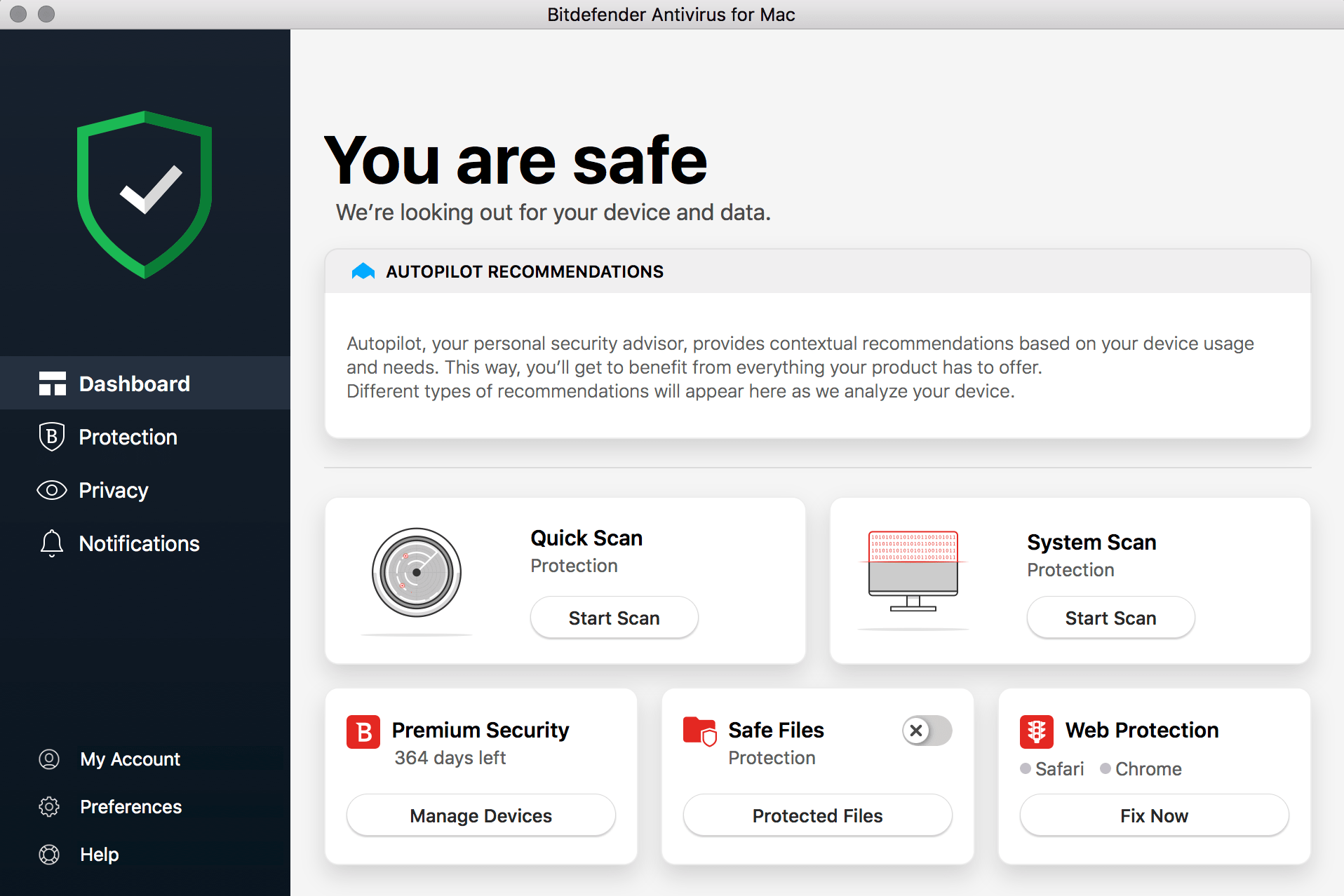 Bitdefender Antivirus Plus is a low-profile antivirus program developed particularly for Windows machines. It offers real-time protection against all sorts of viruses and ransomware and includes advanced anti-phishing and anti-fraud features for a safer shopping and browsing experience.
You can download a lightweight free version of the software from the official Bitdefender website that only requires you to create an account in order to utilize it. These are a few of the features that are available on both the free and paid versions and can be accessed through the dashboard's settings button:
Events
Here you can keep track of Bitdefender's activity on your machine and possibly take further action if applicable. It also shows logs of your software updates.
Quarantine
A standard feature in any antivirus program that temporarily isolates possibly harmful or infected files on your device. Bitdefender regularly re-analyzes the files for a change in status and gives you the option of restoring or deleting them.
Exclusions
This is where you can see all the files, folders, and websites that you've excluded from the software's scans. When the program alerts you of any suspicious files or websites, choosing to allow them automatically adds them to this list. There's also an "Add Exclusions" button where you can preemptively set the exclusions yourself.
Protection
This tab is where you can toggle Bitdefender's Protection Shield on and off. Protection Shield is a feature that blocks any attempt to undermine your PC or laptop's files or operating system. You'll also find information on the software's version and antimalware engine properties.
The free version has a "View offer" link on the bottom right corner of the app's hub. If you choose to upgrade to the paid variant of Bitdefender Antivirus Pro, you'll be able to install the software on up to 3 different devices and it comes with a lot of great extra features, such as:
Network Threat Prevention & Multi-Layer Ransomware Protection
An added layer of security that helps identify malicious network activities. It also helps keep out malware, ransomware, and other dangerous attacks.
Rescue Environment
For malware that needs to be removed before Windows boots up, Bitdefender starts your PC or laptop in a special state called "Rescue Environment" that's meant for cleaning up and restoring your device.
Game, Movie & Work Profiles
Bitdefender automatically detects when you're watching a show or playing a game, silencing pop-ups and limiting certain background processes so you can enjoy your experience to the fullest.
Bitdefender VPN
Allows you to utilize the program's VPN feature for up to 200MB per day.
Anti-tracker
Allows you to go incognito without having to open up an incognito window by keeping your browsing private and limiting data collection via trackers.
Safe Online Banking
Lets you shop and bank with Safepay – a special browser built for more transactions.
Wi-Fi Security Advisor
Lets you access your router and Wifi network security from anywhere.
Password Manager
A special vault that stores all kinds of sensitive information, like passwords and credit card info.
File Shredder
A nifty feature that allows you to permanently delete any file and make it completely irretrievable.
Bitdefender Internet Security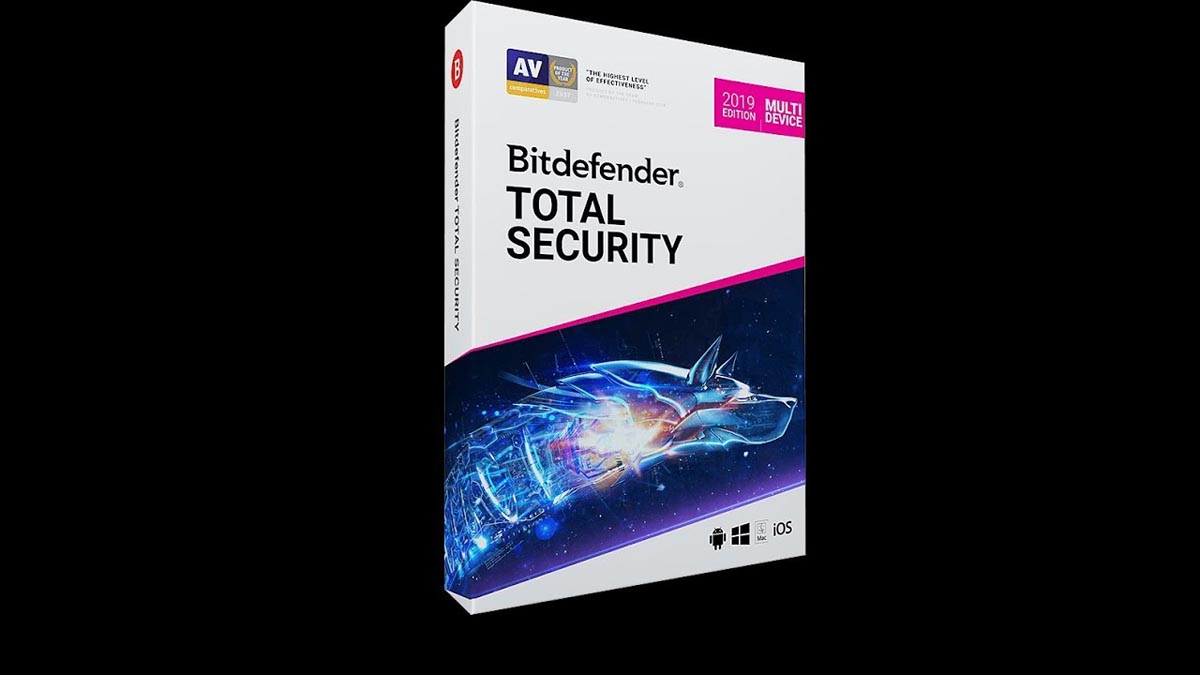 Confusingly, Bitdefender Internet Security is actually just an upgraded version of the Antivirus Plus app, offering all of the latter's features with a few internet-based extras thrown in. Similar to Bitdefender Antivirus Plus, it can also be installed on 3 separate devices.
Microphone Monitor & Webcam Protection
Helps you monitor which apps attempt to access your mic or webcam and provides a timestamp as to when the attempt was made.
Parental Control
A feature that adds an extra layer of security for children.
Privacy Firewall
A powerful alternative to Windows' standard firewall.
Bitdefender Total Security
Total Security is Bitdefender's flagship cybersecurity program that includes all the features from Bitdefender Internet Security and then some. It's also no longer limited to only Windows devices and can be installed on up to 5 macOS, iOS, Windows, or Android machines. These are some of its additional features:
Speed Up Your Devices
Includes a OneClick Optimizer that can improve the performance of your devices at the push of a button.
Anti-Theft
It comes with anti-theft and anti-loss tools that you can utilize remotely at any time.
macOS Protection
A version of Total Security built specifically for Macs that comes with unique features, such as Time Machine Protection and Cross-Platform Malware Detection.
Android Protection
A lightweight yet powerful Android version of BitDefender Total Security that includes a lot of the features of its Windows counterpart, as well as some special ones, like App Lock and WearON – a type of security that extends to the user's smartwatch.
iOS Protection
A variant of the software developed, particularly for iPhones and iPads.
Conclusion
Bitdefender has successfully developed a robust, feature-rich cybersecurity solution that's light on the resources and comes in a wide variety of plans depending on what you're looking for. Antivirus Plus and Internet Security both cater specifically to Windows users while Bitdefender Total Security adds some extra features and extends the protection to macOS, iOS, and Android devices.
No matter which product you decide on, you'll end up with an exceptionally easy to use software that sports a handsome user-interface and works subtly in your operating system's background without any noticeable drain on your system's resources. With its only perceivable downside being its stingy 200MB per day VPN limit, Bitdefender continues its impressive streak of cybersecurity options into 2021.