360 Robot Vacuum Cleaner S10 Quick Review
Design & Build -

8.7/10

Features -

9.1/10

Battery Life -

8.8/10
360 Robot Vacuum Cleaner
Despite there being quite a few excellent robot cleaners on the market, the 360 Robot Vacuum Cleaner S10 manages to impress with its innovative design, smart A.I., cutting-edge sensors, and its wide array of nifty extra features. Well worth the premium price tag.
Pros
Triple-eye LiDARs is a game-changer
Generous water tank capacity in the industry
Excellent suction power
The companion app comes with some really handy features
Cons
A bit pricey
Still unable to detect liquids
Tired of having to mop or manually run a vacuum cleaner through your house every couple of days? Sounds like what you need is an automated cleaner to do all the dirty work for you. The 360 Robot Vacuum Cleaner S10 is a state-of-the-art robot cleaner that looks to outdo the competition with superior obstacle detection and avoidance due to more LiDAR sensors, a larger water tank, and a smarter detection system.
Robot cleaners aren't exactly new though and the market is already filled with quite a few excellent rivals. That being said, does this entry come with enough innovation to help it stand out from the crowd? Let's find out how good it really is in this 360 Robot Vacuum Cleaner S10 review.
Pressed for time and can't read through the whole review? Just click any of the links below and we'll take your right to that section.
Overview
The 360 Robot Vacuum Cleaner S10 was developed by 360 Smart Life – a Los Angeles-based tech company that's focused on creating a wide array of smart appliances for your home.
The latest addition to their line of robot cleaners features triple-eye LiDARs (Light Detection and Ranging) sensors that allow it to 3D scan your home for unrivalled floor mapping and object detection.
It also comes with cutting-edge route planning, an impressive water tank, a powerhouse suction motor, and a smart design. To top it all off, the S10 is remarkably easy to clean and you won't be emptying out its dust bin too often thanks to its large size.
Features
Triple-eye LiDARs
The S10's LiDAR system consists of three separate lasers. The main laser is used to detect objects further away, focusing on items at a distance of 6 to 8 metres. Its front laser is more detail-oriented and allows the cleaner to gauge objects that are over a centimetre tall. Finally, the wall laser scans object height so the device knows whether or not it can slip underneath an obstacle or if it has to find a different route. All lasers allow the S10 to detect over 100 kinds of obstacles and be smart to know what it should avoid. It definitely won't sweep over the accidents from your dog and leave you a 'poopocalypse'.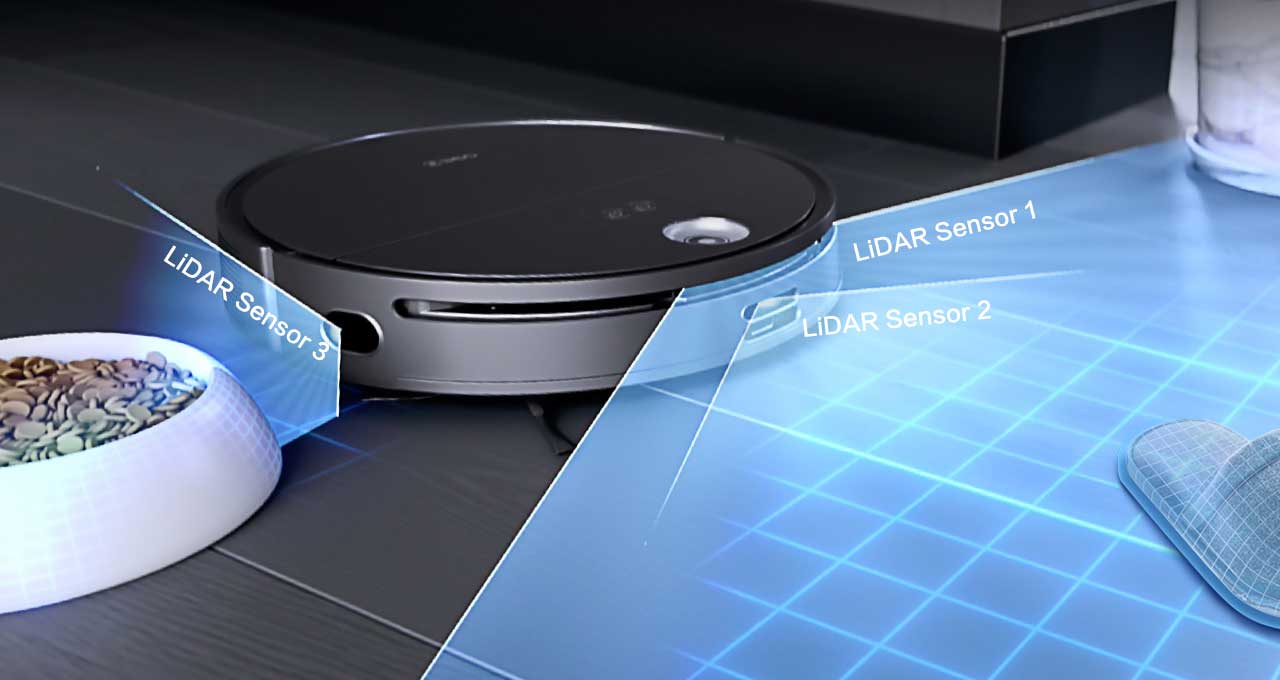 3D Mapping
Thanks to the triple-eye LiDARs mechanism, the S10 is able to effectively create a 3D blueprint of your home, committing the layout to memory while continually scanning for updates as it does its job. As a result, its ability to detect obstacles far surpasses that of its rivals which dramatically decreases the number of collisions the device experiences and allows it to find the optimum route for cleaning.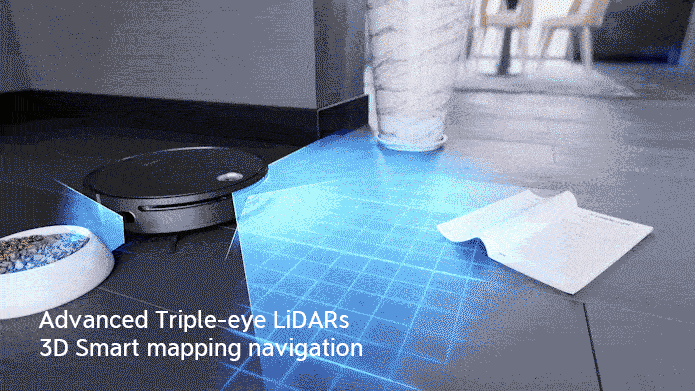 dToF Smart Route Planning
The S10 not only has more LiDAR sensors than the average robot cleaner, but they're also more sophisticated. Using tech known as dToF (Direct-Time-of-Flight), it provides four times the accuracy when sizing up objects and manages to be 30% faster at position compared to its rivals. You won't have to worry about brighter areas of your home either, which is where most robot cleaners have a tough time.
Giant Water Tank
One of the 360 Robot Vacuum Cleaner S10's highlight features is its massive 520ml electric water tank which is the largest in the market to date. This allows it to clean up to 200 square metres of real estate on a full tank.
It also automatically adjusts spray pressure depending on the type of floor it's working on and the mop ramps up its strength for tougher stains. You can even mix in your favourite detergent to disinfect your home and leave a pleasant scent.
On top of the huge capacity, it's also very efficient. Unlike other robot cleaners, the S10 has customisable mopping zones and times programmed through the app that ensure only the exact areas you want mopped are mopped at the exact time you want. An efficient cleaning plan is literally at your fingertips!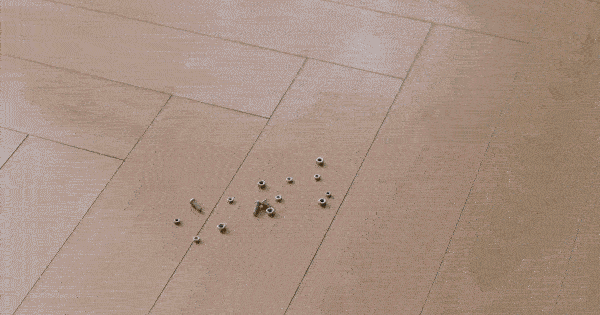 Ultra Strong Suction Power
Just because the S10 is slim doesn't mean it sacrifices anything when it comes to suction power. This little guy musters up 3300Pa of max suction power, making it around 1000Pa stronger than most robot cleaners on the market. And its rubber main brush can help easily tackle pet hair. No more frustrating hair cleaning task!
Automatic Carpet Detection
Through the use of its ultrasonic sensors, the S10 can easily tell the difference between tiled kitchen floors and a living room carpet, allowing it to change its approach depending on the surface it's cleaning. Don't worry. It is smart enough and won't mop on your carpet.
Ultra-Slim Body With Hidden Sensor Design
Most robot cleaners have their sensors placed on the outside of its body, making them needlessly bulky. The S10's sensors are built inside its frame, making it a lot slimmer than most of its peers.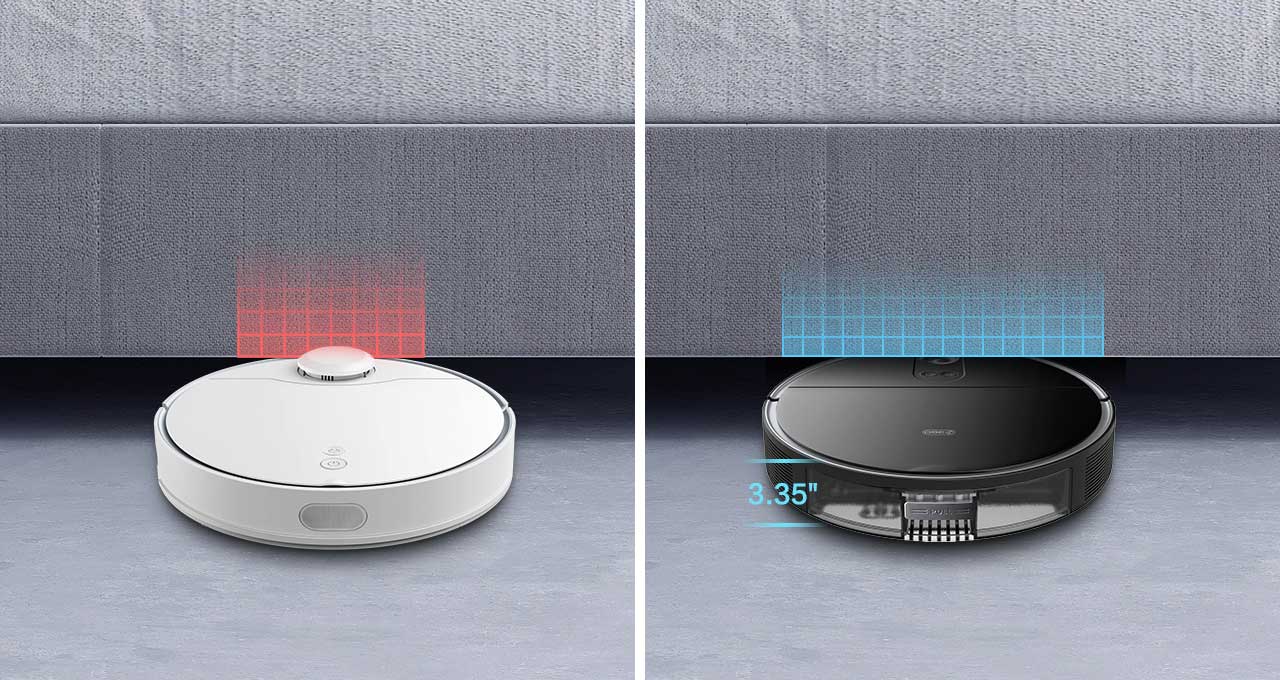 Multi-floor Mapping Memory
Living in a big house doesn't change the way the S10 does things. It'll still clean every nook and cranny and can even spot different floors thanks to its 10-floor map memory, automatically switching when it recognizes a new map.
Selected Room Cleaning
Have a spot in your home that needs a little more love than others? Simply indicate it on the companion app using the 'Selected Room Cleaning' and the S10 will keep going over the area until you're satisfied.
Anti-Drop Sensors
You won't have to worry about your S10 veering off a staircase or ledge since the device comes with 6 anti-drop sensors that constantly keep a lookout for danger zones.
[wd_hustle id="158″ type="embedded"/]
Specs
360 Robot Vacuum Cleaner S10
| | |
| --- | --- |
| Dimensions | 350 x 350 x 85 mm / 13.8 x 13.8 x 3.3 inch |
| Net Weight | 3.85 kg / 8.48 lbs |
| Battery Capacity | 5000 mAh (3-hour runtime) |
| Voltage | 14.52 V |
| Rated Power | 30 W |
| Water Tank | 520 ml |
| Dust Bin | 500 ml |
| Max Suction | 3300 Pa |
| Main Brush | Floating Frames and Brush Roll |
| Power Adaptor | 5: (Applied in US, UK, EU, AU and KR) |
Charging Dock
| | |
| --- | --- |
| Dimensions | 220 x 153 x 100 mm / 8.66 x 6.02 x 3.94 inch |
| Rated Power | 24 W |
| Rated Output | 24 W |
Companion App
| | |
| --- | --- |
| App Name | 360Robot |
| Compatibility | Android 4.4 and iOS 9.0 |
| Connection | Bluetooth 5.0 |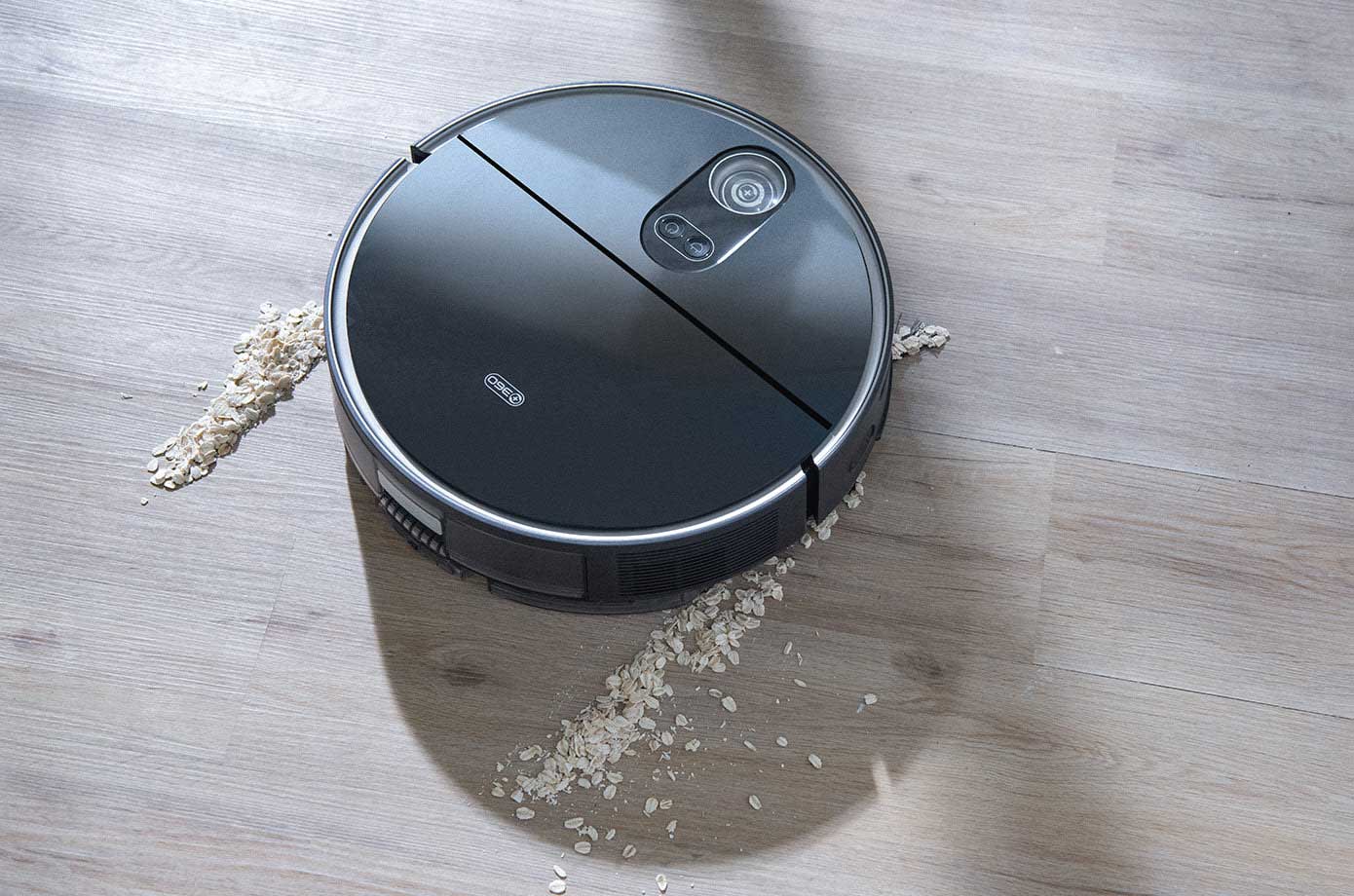 Build and Design
Looks-wise, the S10 boasts a sleek and eye-catching design, dressed in all black with a glossy finish on top and a matte-like texture on its sides. It follows the conventional circular design that robot cleaners are known for, though its internally built sensors make for a far slimmer form factor since there are no awkwardly protruding parts.
In the world of automated cleaning machines, this is a huge plus since it allows the device to scoot underneath low-hanging obstacles like couches or beds. As for its build, the S10 feels weighty and well-built. The reinforced plastic edges are thick and tough and should provide the device with ample protection against any bumps and tumbles the S10 is likely to face.
What's it like to use?
The S10 robot vacuum cleaner is so smart that there really isn't all that much to do beyond turning it on and letting it handle its business. It offers four modes that increase in power depending on what kind of dirt or trash the device needs to pick up.
Quiet mode is the lowest, followed by standard, powerful, and max modes. When cranked up to maximum, the S10 is capable of hoovering up steel balls with ease. When you're looking for a more customized experience, the device's 360Robot companion app comes with tons of nifty features.
Setting up 'Selected Room Cleaning' is as easy as highlighting a spot on your on-screen map that you'd like to clean repeatedly and the S10 will take care of the rest. You can even set up 'No-go Zones' in a similar fashion which will instruct the cleaner to stay away from certain areas in your home.
The S10 supports multi-type no-go zones as well, which is very creative and versatile in taking care of different needs
Another useful feature is the customizable cleaning schedule that lets you set a date and time for when you want the device to clean.
One of the major weaknesses of robot cleaners is their inability to detect liquids which the S10, unfortunately, hasn't been able to solve. It is, however, able to detect objects taller than a centimetre which is a lot better than most of its competition.
Oh, and it's super easy to clean out on account of the dust bin's one-touch opening and it operates quietly enough that it won't bother easily spooked pets.
[wd_hustle id="158″ type="embedded"/]
Final Thoughts!
360 Smart Life knocks it out of the park with the latest iteration of their 360 robot vacuum cleaner. Not only does the S10 boast more sensors than its rivals, but it's smarter, slimmer, and stronger as well and comes with a larger water tank to boot.
Its 360Robot companion app includes some great features, such as 'Selected Room Cleaning' and 'No-go Zones', that are sure to come in handy no matter the user. The S10 still hasn't figured out the solution for avoiding puddles of liquid along its route, but its height detection of just 1cm onwards is impressive by any robot cleaner's standards.
Since the S10 is featured with 3 sophisticated LiDAR sensors, it is designed as a high-end robot vacuum cleaner but without the exorbitant cost. There is an excellent offer currently available to Super Early Bird backers who will receive a huge 35% off their order! This includes free shipping and customs fees, so grab it while you can!
[wd_hustle id="158″ type="embedded"/]