Virtual reality or VR, while not new, is continuously developing and advancing every year. From its usual gaming application, it is now used in education, social networking, medicine, military, and architecture. More recently, VR is also applied in exercises and training. And one way to do that is with the 360VRFit. 
With this device, you have the option to be "at the moment" while using your indoor cycle or rowing machine. You can see yourself cycling in an actual city or even race with an avatar. Better yet, you can make your workout sessions more exciting.
But what is the 360VRFit, and what makes it different from other VR fitness devices today? Let's try to find the answers to those questions here.
In a rush and don't have time to read our whole review? You can click on any of the sections below to skip to that section. 
Overview
Some of the problems with VR headsets today is that they are expensive, can cause dizziness or nausea, and that they lack content. These are exactly what the 360VRFit aims to address. It has a different design to eliminate dizziness and features applications that can help you reach your goal of becoming fit. 
In terms of price, 360VRFit is also affordable. Currently, it is offered at Kickstarter for only $80 for a standard set. This price can even get lower if you help back the product earlier. Their Super Early Bird Set costs $48 and the Early Bird Set at $54. All these price points include the sensor, 360VRFit goggles, and 5 fitness VR applications. 
Compared to other VR devices, 360VRFit is a lot cheaper. For example, the Oculus Rift S is offered at $299 to $399 on their website. The HTC Vive is offered on Amazon for $850 to $1,110. All these have their own set of games. However, for a more fitness-specific experience, you'd have to turn to applications like the VZFit. This is an additional cost of $9.95 per month or around $100 per year. 
There are other VR headsets around like the Samsung Gear VR, which is around $100. However, it works specifically for Samsung Galaxy phones, and it's still pricier compared to the 360VRFit. So all this considered, the 360VRFit certainly makes good in its promise to deliver a virtual reality fitness experience at an affordable price.
Features
Like other VR devices around, the 360VRFit works with your smartphone and an application. There's also the goggles that you have to wear to experience the virtual reality setting and a sensor that detects your movements. Let's look into each of these elements closer to understand what makes the 360VRFit unique from other VR devices. 
Goggles
The 360VRFit goggles aren't your usual closed box type. It also doesn't have fisheye lenses or encoding and decoding stages. For hardcore VR gaming, these features sound pretty bad. But for simple fitness applications, it's a great decision. This eliminates video delays, which results in a more comfortable virtual reality experience.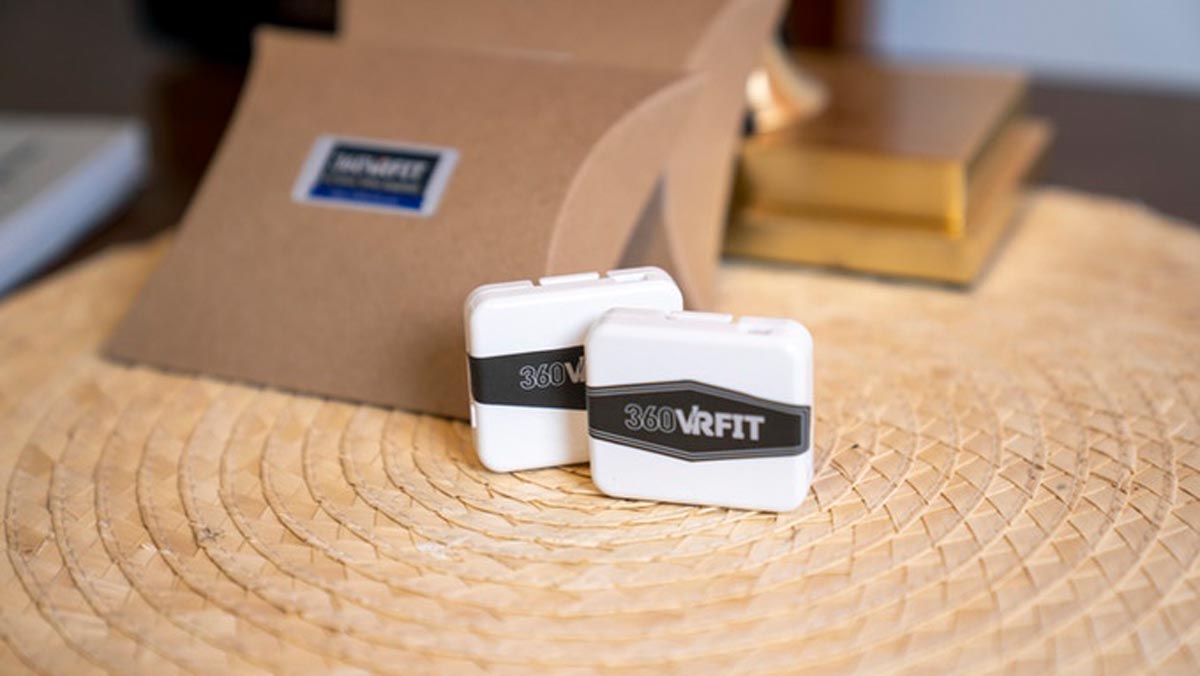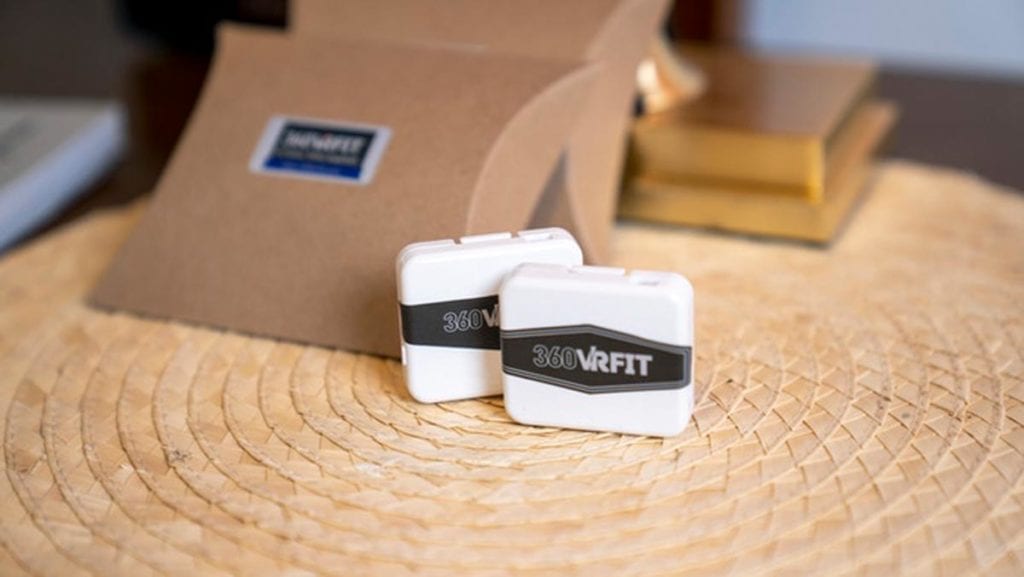 Sensor
The most notable feature of the 360VRFit is its attaching-type sensor. This is the world's first 360-degree VR fitness sensor. Meaning, it can recognize rotational and linear movements simultaneously or movements in the 3-dimensional space of the X, Y, and Z-axis. While there are other attaching-type VR devices, they only recognize a single directional motion. So why does this matter?
By recognizing linear and rotational motions, this sensor can accurately detect multiple types of exercises. Thus, making it capable of reflecting your speed and exercising intensity on the virtual screen in real-time. And with accurate data, you'll have a more efficient training and fitness experience. 
Another great thing about the sensor is its long battery life. You only have to charge it once, and you'll be able to use it for approximately 70 hours. That's months of working out without having to recharge.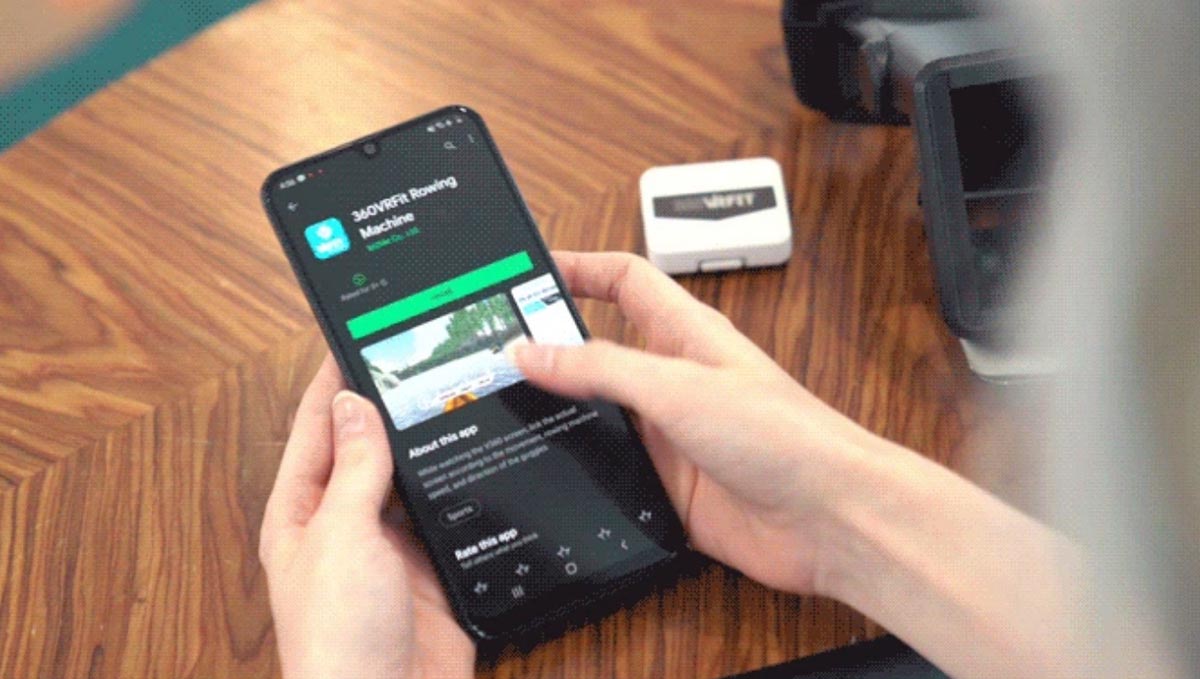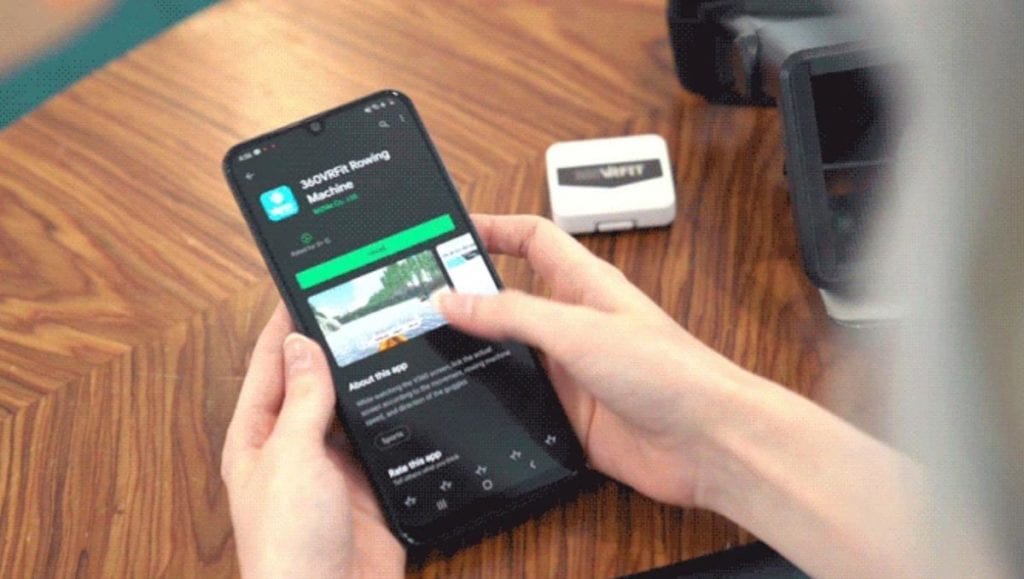 Application
M2Me, the developers of the 360VRFit, currently offers 6 applications with their product. Here's a quick rundown of each of them:
360VRFit Cycle1:

This app allows you to ride and cycle in the city of your choice while listening to exciting music. It supports scenic places such as New York, Greece, Chicago, Bulgaria, and the mountainous roads of Southern Europe.

360VRFit Cycle2:

You can use this app to play and cycle with an avatar from other actual players' records. 

360VRFit Rowing:

This app allows you to play a game of speed rowing across the water. You can also use it to set records and compete with another person. 

360VRFit Boxing:

Here's a rhythm game that requires you to perform jabs, uppercuts, and hooks to smash the blocks that come your way. It also features long sticks, which you need to avoid by squatting. All these movements together create a thrilling workout. To enjoy this app, you'll need 2 IoT sensors. So, it will cost you a little more (around $89).

VRFit Cycle Pop:

This app allows you to workout while watching videos on YouTube. In your view, your RPM and Watt are displayed. Then, it will provide you the results of your exercise in a graph.  

VRFit Rowing Pop:

Similar to the Cycle Pop, the Rowing Pop makes you exercise while watching a competition video on YouTube. It will also provide you the results and records of your exercise in a graph. 
Aside from these apps, you can use the 360VRFit to count your movements such as push-ups, squats, and other exercises through the company's VRFit Body and VRFit Counter.
Design
The 360VRFit has an open structure design. This is to prevent getting dizzy while using the device. By still being aware of your surrounding, your brain is less likely to get confused and panic – which is one of the reasons why you feel queasy when playing VR games. This design also makes it more hygienic and more comfortable since you don't have to worry about dampness. You can just quickly wipe away your sweat as you're working out in your indoor cycles and rowing or horse-riding machine. 
While this bare structure looks a little bit awkward and different, it can offer more benefits to a user. For one, you can comfortably use it with your eyeglasses. It also allows you easier access to your smartphone screen. So you don't have to take the gear off to make simple controls. 
For the IoT sensor, it has a simple design with just the logo in front and a switch and charging port on the side. It is made to attach to your exercise equipment through a Velcro tape, which is provided in the package.  
What's It Like to Use?
This is an extremely easy and simple to use VR device. You just have to attach the sensor to the frequently moving part of your equipment. For example, the pedal of an indoor cycle or the moving seat of a rowing machine. Then, open the fitness app that you want, wear the headgear along with your smartphone, and you can immediately start working out.  
Conclusion
This device can gamify your training and workout experience, making it more interesting and exciting. It gives you the feeling of being outdoors even when you're exercising indoors. Its open design also prevents you from feeling dizzy and queasy, unlike other VR goggles. So overall, if you are looking for a comfortable and affordable way to transform your regular training equipment at home into a virtual reality fitness machine, then the 360VRFit is certainly a great way to go. VR