Summary
If you're looking into saving space on your kitchen counter or making your meal preparations faster and easier, then the 4T7 is a must. It's an all-in-1 multifunctional cutting board that not only lets you chop, but also allows you to weigh, defrost, and time your meals.
Super early bird price of $89 with delivery beginning in May 2022.
Non-US orders will ship directly from our factory by air express. Orders will ship 10 days after the purchase date.
Pros
Free app for recipes, counting calories, and interacting with other users
Precise scales and timers
Helps defrost food 6 hours faster
Available in 2 colors to match any style
The 4T7 is a chopping board that combines smart features with a Lego-style stackable design. It puts together 7 different tools to create one device with multiple uses. So not only can you chop with it, but you can also use it to weigh, time, defrost, and even count the calories of your next meal. Pretty neat, right? Let's learn more about this new smart kitchen tool in this review.
Overview
Traditional wooden chopping boards, while effective in what they're designed for, have many issues. They easily get mouldy and messy, and they take up quite a bit of space for a single item. According to a news item from the NC State University, cutting boards can also be a source of contamination and foodborne illnesses since they are used to cutting practically anything – from raw meat to vegetables and fruits.
To prevent all these issues, 4T7 – a leading and professional daily dining supplier of kitchen utensils – designed the 4T7 Chopping Board. It features not just one but two full-sized cutting boards and a defrosting tray to help you prepare your food faster. This also means that you can avoid cross-contamination when cooking. As a bonus, it is built with a digital scale, timer, magnetic knife holder, and in-app calorie counter. All these can be neatly stacked up with each other, so you don't have to worry about the space it occupies on your kitchen counter.
Now, the 4T7 isn't the first or the only multipurpose cutting board with smart features. There's the Aurora Nutrio and ChopBox, which we had the chance to review as well. Compared to these two, the 4T7 offers the most uses. Its list price of US$189 for the whole package isn't too bad as well as it's a lot cheaper than the Aurora Nutrio and almost at the same price as ChopBox. Even better, you can enjoy the 4T7 at a much cheaper price, particularly if take advantage of the 42% off Super Early Bird offer of $89.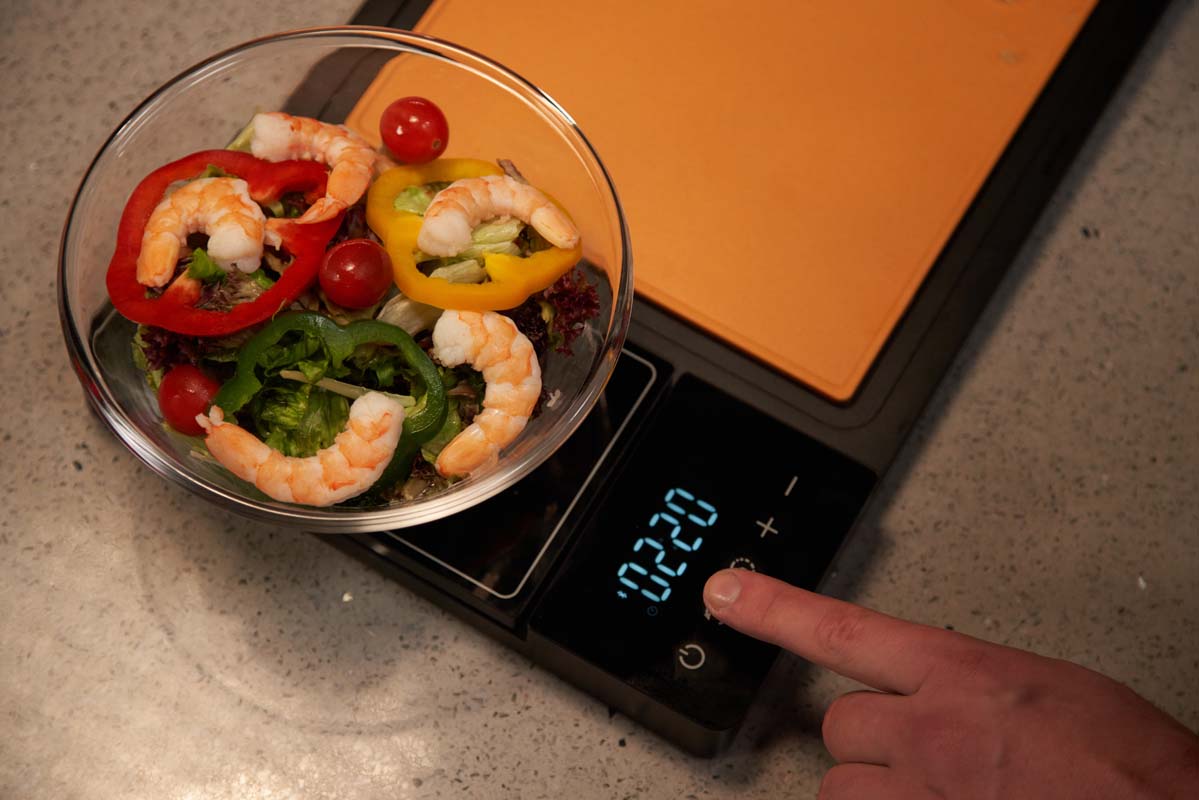 Multipurpose
The best thing about the 4T7 Cutting Board is its many different uses. With it, you can do the following:
Chop: The 4T7 has two boards. So you can use one for meat and the other for vegetables, keeping them separate and avoiding cross-contamination. This also means that you don't have to pause in the middle of your preparations to scrub and clean your cutting board just so you can chop other food items.
Weigh: What's great about the 4T7 is that it's built with a digital scale and calorie counter on the side. So you can cut your food, weigh it, and even count its calories. After dicing or chopping the ingredients or food, you can immediately slide them to the scale and find their exact weight on the board. To know the calories, you can check the app using your phone or any other device.
Defrost: The 4T7 comes with a defrosting tray, which you may or may not purchase. It is made of a special thermal material that can speed up the thawing process, specifically 6 hours faster. It also features a ladder-style groove design that channels air evenly across the food, warming more surfaces at once while at the same time keeping it away from bacteria. These grooves also help move juices away from the food as it thaws and makes cleanups easier. As a bonus, you can also use the defrosting tray as a baking pan.
Timer: With this smart chopping board, you can time your meals without needing to use your phone. It has a built-in digital timer that can go from a mere 10 seconds to 99 minutes and 59 seconds.
Magnetic Knife Holder
A knife isn't something you can leave anywhere, especially if you have kids around. With the 4T7, however, this isn't an issue. It has a magnet embedded into the corner of the cutting board where you can simply tap your knife or any iron kitchen tool on it and it will stay there until you need to use it again.
Spice Grinder
As if the 4T7 doesn't have enough uses already, it even has a spice grinder built into the second or extended board. Whether you need pepper, coriander, or garlic, here's a tool that can help you have it fresh and ready for your meals.
Smart App
To get the most out of the 4T7 cutting board, you can use its smart application. As mentioned, it allows you to check the calories for your every meal. This is great if you're cutting, bulking, or simply want to watch what you eat. It uses a massive up-to-date catalog of foods, so you can quickly count calories at any amount. It's also easy to understand with its graphs and diagrams.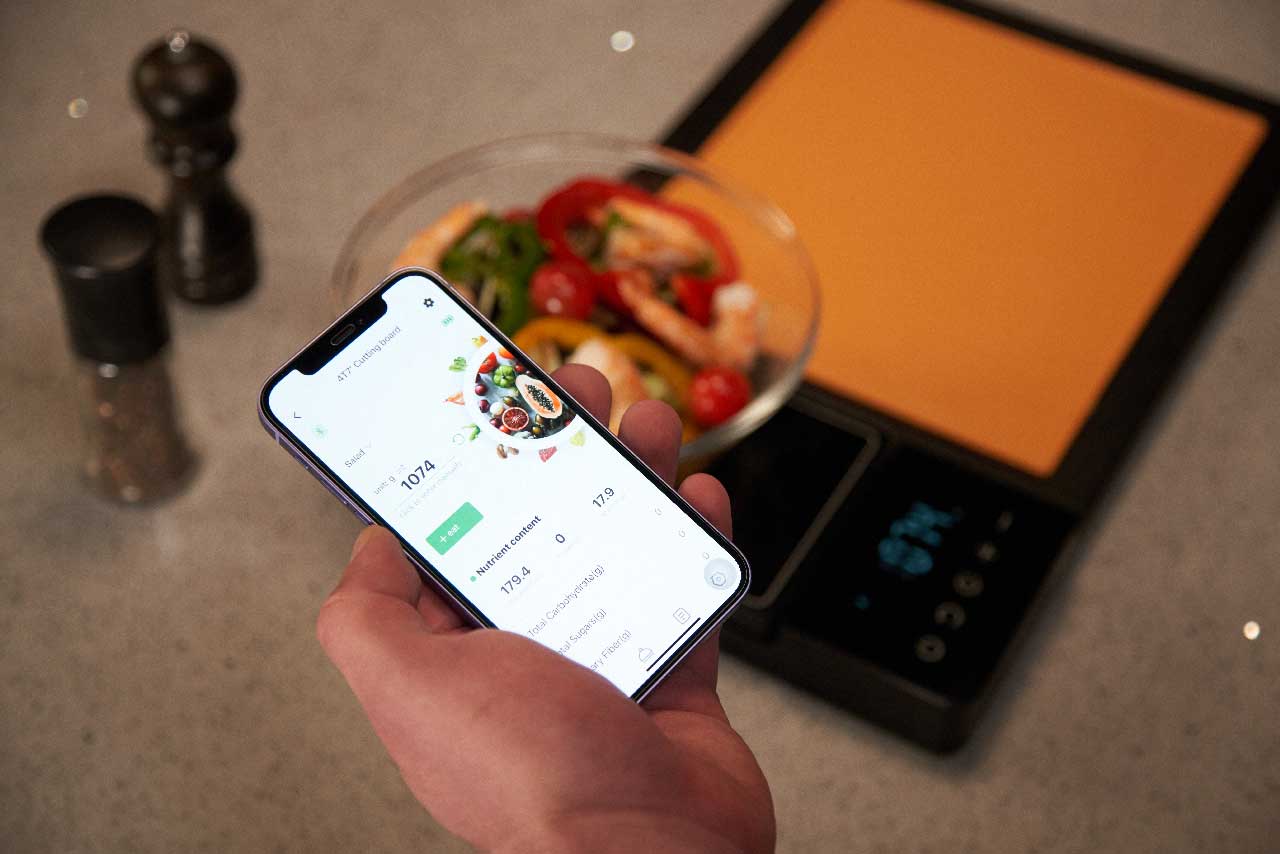 Aside from that, the app also offers you access to the entire 4T7 community. You'll see tons of recipe ideas from other users, so you can expand your cooking knowledge and improve your skills. You will also be able to read advice and cooking guides, and have other people support you on your meal-prep journey.
Specs
Dimensions (L x W x H)

Whole Base: 17.3 x 11.2 x 1.4 in
Main Board: 12.9 x 11 x 0.7 in
Extended Board: 11 x 9 x 0.2 in
Defrosting Tray: 11 x 9 x 0.3 in

Weighing Range
0.002 – 0.66 lb (1-300g)
Measurement Accuracy
0.0002lb (0.1g)
Measurement Unit
g / m / oz / lb
Battery Required
4 x AAA batteries
Bluetooth Transmission Distance
8m
Wireless Connectivity
Bluetooth 4.0
Automatic Shutdown Time
180s
Operating Temperature
50°F – 122°F (10 – 40°C)
Storage Temperature
-50°F – 122°F (-10 – 50°C)
Net Weight
6.17lb (2800g)
Compared to ChopBox and Aurora Nutrio, the 4T7 offers the most uses and features. Sure, it doesn't have ChopBox's UVC sanitizing and disinfecting features or a knife sharpener. But it does have a spice grinding area, knife holder, and add-on defrosting tray, which are all more commonly used to prepare meals. It even has a foldable backplane for storage, a recipe library, smart calorie counting, and a smart application that's offered for FREE. Aurora Nutrio's app has an annual fee of around USD$50 for the pro version.
The 4T7 is similar to the ChopBox in terms of weighing, too, as it features four units of measurement, such as g, lb, oz, and ml. So it will match any recipe you're using. It's also very accurate from 0.1 g to 3 kg, so you are sure to get garnishes and other ingredients right. Its timer, however, has a shorter max span as it can only be set up to 99 minutes whereas the ChopBox is up to 9 hours.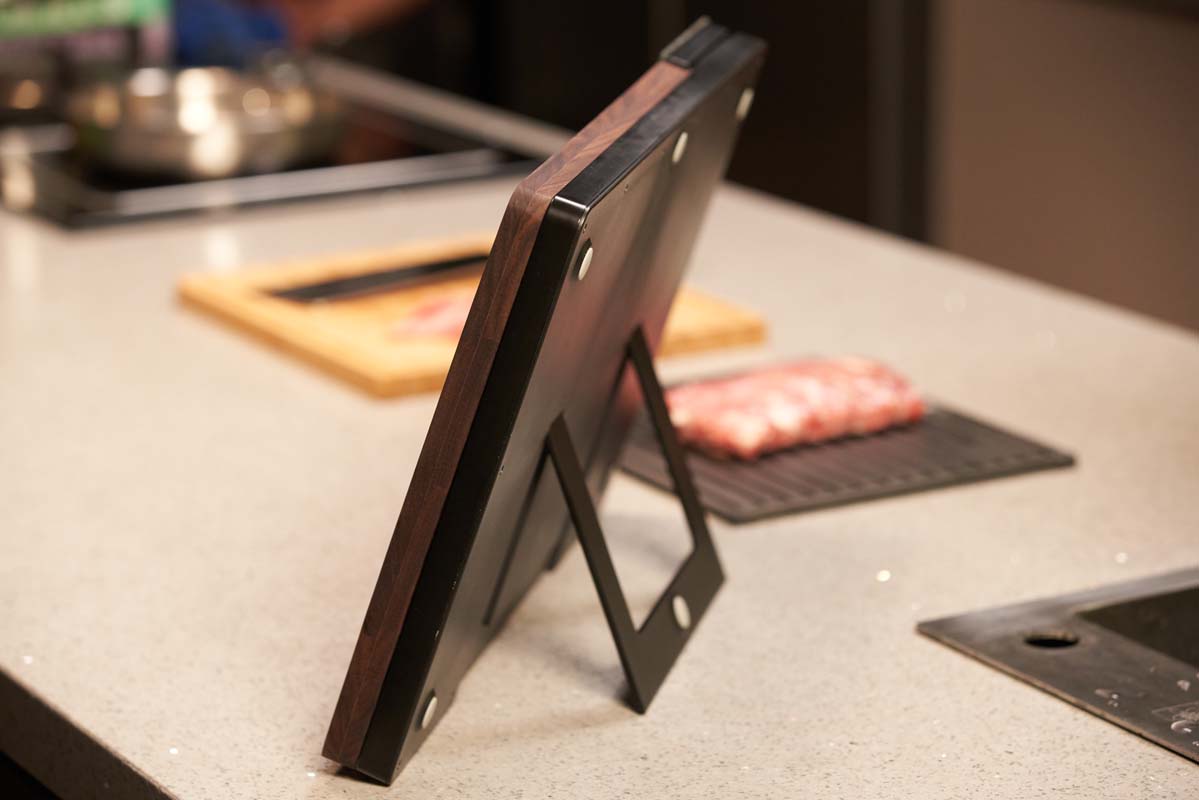 Design
The 4T7 is offered in two colors. You can go with the earthy dark brown walnut, or if you want something lighter, you can choose the bamboo. Both are subtle, elegant, and will certainly go well with your decor and kitchen counter.
Aside from their overall look, both chopping boards are applied with a varnish that's waterproof and non-toxic. This finish is an extremely important feature as it will help protect them from scratches and scars from knives, which can form into grooves where bacteria and mould can thrive. The extended board is also made with a silver ion antibacterial material that allows it to stay fresher for longer. This ensures that there won't be any bacteria carried over to your next meal as well.
Now, another thing we like about the 4T7 is its stackable design. Similar to Lego blocks, you can slip the boards securely underneath the other. All the pieces fit perfectly together, allowing you to take them apart, pull what you need, reassemble, and put them away with ease. It even has a foldable backplane or support stand, so you can store it vertically and allow it to dry faster without trapping any dirty smelly water.
We also like to mention the 4T7's digital scale and timer's tempered glass, which is waterproof, oilproof, and comes clean with just a wipe. So you don't have to worry about the clean-up.
Final Thoughts
Overall, the 4T7 just seems like a gift that keeps on giving. It has more uses and features than any other smart cutting board we've seen. With its two full-sized cutting boards, defrosting tray, timer, digital scale, spice grinder, and knife holder, it makes cooking faster and easier. It also frees up space on your kitchen countertop by putting all the most common tools you need to prepare your meals in a single device. Plus, it's easy to clean even with all the different pieces.
Take a look at the Indiegogo campaign here.