There are literally hundreds of kids hoverboards to choose from, some of which are significantly better than others and just a handful that we deem to be the best hoverboards for kids. We looked at over 100 kids hoverboards and whittled this list down to the 5 we felt were worth spending time reviewing.
The hoverboard space is not without concern from parents and as such, we have selected the kids hoverboards primarily around the safety concerns generally associated with the product. So, please make sure the appropriate safety gear is always worn and that an adult is supervising at all times.
How We Reviewed Kids Hoverboards
We scoured the internet looking for all the popular kids hoverboards that are currently available for purchase. We then looked at the following criteria:
Certification: We made sure that the kids hoverboards were officially certified with UL 2272 Certification. This means that the batteries are considered safe for use.

Safety: All of the kids hoverboards we considered have a superb safety record and have implemented all required safety features.
Price: We've included a range of kids hoverboards at different pricepoints to ensure that there is a hoverboard for any budget
After assessing the dozens of boards that meet these standards, we reduced it down to just five which we spent hours reviewing.
Best Kids Hoverboards Overview
1. SISIGAD Hoverboard
This is the best value for money kids hoverboard!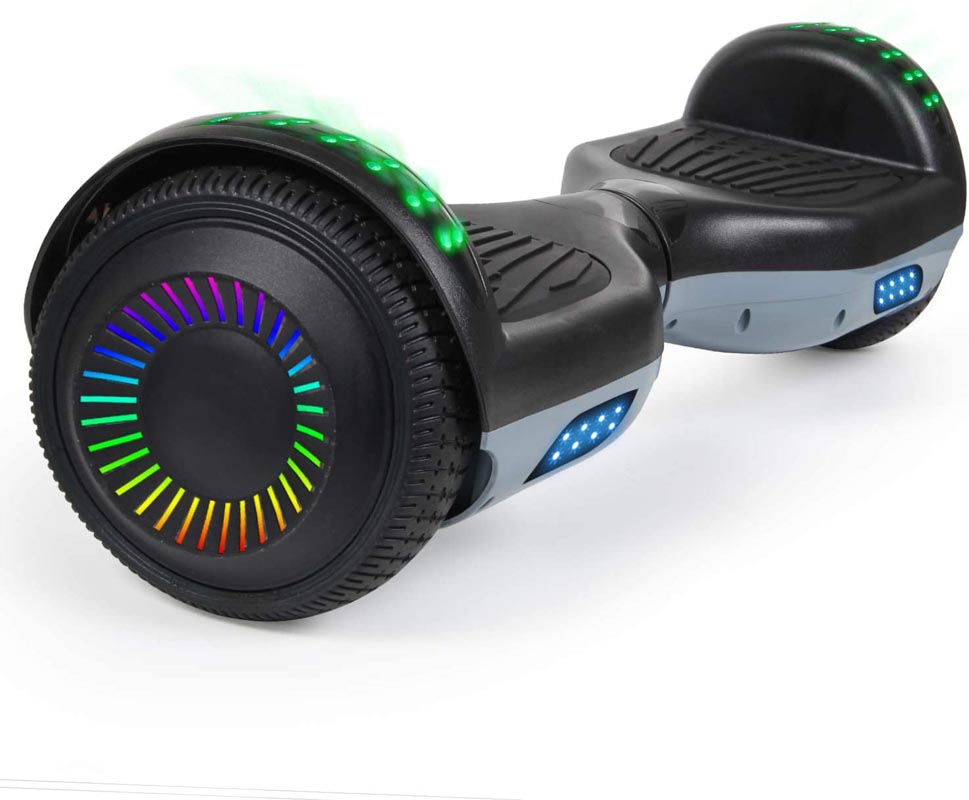 The Sisigad hoverboard is a relative newcomer to the hoverboard market but it has attracted quite the attention lately, as it quickly climbed through the top charts in 2019. Most, if not all, tech reviewers have chosen this product as one of their best budget hoverboards so far.
As a brand, Sisigad started out in 2018, centering its product line on top-quality, high-performance hoverboards. Having only one type of product to develop heavily assures consumers that the company is completely focused on the development of their hoverboards.
For its features, one of its highlights is that it's Bluetooth-enabled. This hoverboard has built-in Bluetooth speakers, making the whole outdoor stroll that much more fun. There's no need to bring your speakers along or take your phone out to play your favourite tunes.
Your kids will not have a hard time learning to ride the Sisigad hoverboard either since it is equipped with a smart self-balancing feature that makes riding a breeze, despite the fact that the device has no training modes. This will help your kids get on and off the hoverboard effortlessly.
To make the ride even more of an enjoyable and safe experience for your kids, this hoverboard is packed with flashing LED lights and sensitive turn signals.
Things you need to know:
It boasts 300-watt dual hub motors and can run up to a maximum of 6MPH.
Its high-quality rubber wheels are 6.5" high
Generally, the charging time is around 3 to 5 hours, but for the off-road series, it takes 4 to 6 hours to charge.
Can carry weight up to 20 lb/ 9 kg and for the off-road series, it's up to 30 lb/14 kg.
It's UL2272 certified
---
2. EPIKGO Self-Balance Board
Most-rugged childrens hoverboard!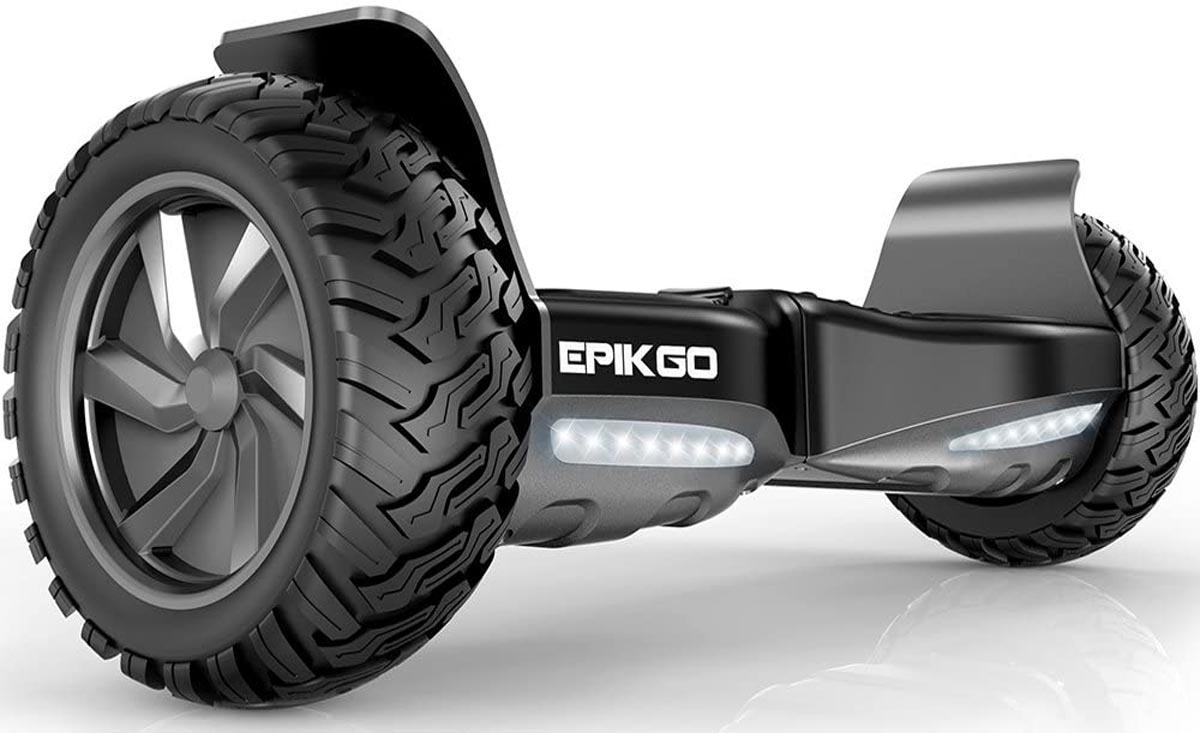 The EPIKGO Self Balancing Scooter Hover Self-Balance Board takes pride in producing indestructible self-balancing scooter boards. Not only is the balance board UL2272 certified, but it sports a study smart battery as well.
The company is based in Silicon Valley, focusing its product line to be durable enough for a multi-environment world. Their aim is to develop scooter boards that can travel over grass, dirt, sand, and even water, and they take pride and delight in producing the "safest ride out there."
It's twice as powerful as the other hoverboard products in the market and is 30% larger than its leading competitor. On a single charge, it can travel for 10 miles and its charging time is approximately 1 to 2 hours.
Compared to the Sisigid hoverboard, EpikGo packs powerful 400-watts dual motors and can climb over sheer slopes as steep as 18 degrees.
Because it is designed for multi-environment travel, its wheels are solid rubber tires for all kinds of terrain. It's 8.5" tall with alloy wheels and an aluminium alloy body frame for an impressive level of sturdiness, not to mention it's IP56 Waterproof certified which makes it semi-submersible.
Things you need to know:
Recommended for ages 13 and up.
Unlike the Sisigid, this scooter board is not equipped with any Bluetooth features (Unless you buy the Sport + or the Premier edition).
There's no app or other remote control device to control the speed of the board.
Can carry a maximum weight limit of 240 lbs (100kg)
Equipped with LED headlights
---
3. SWAGTRON T580
Most stylish kids hoverboard!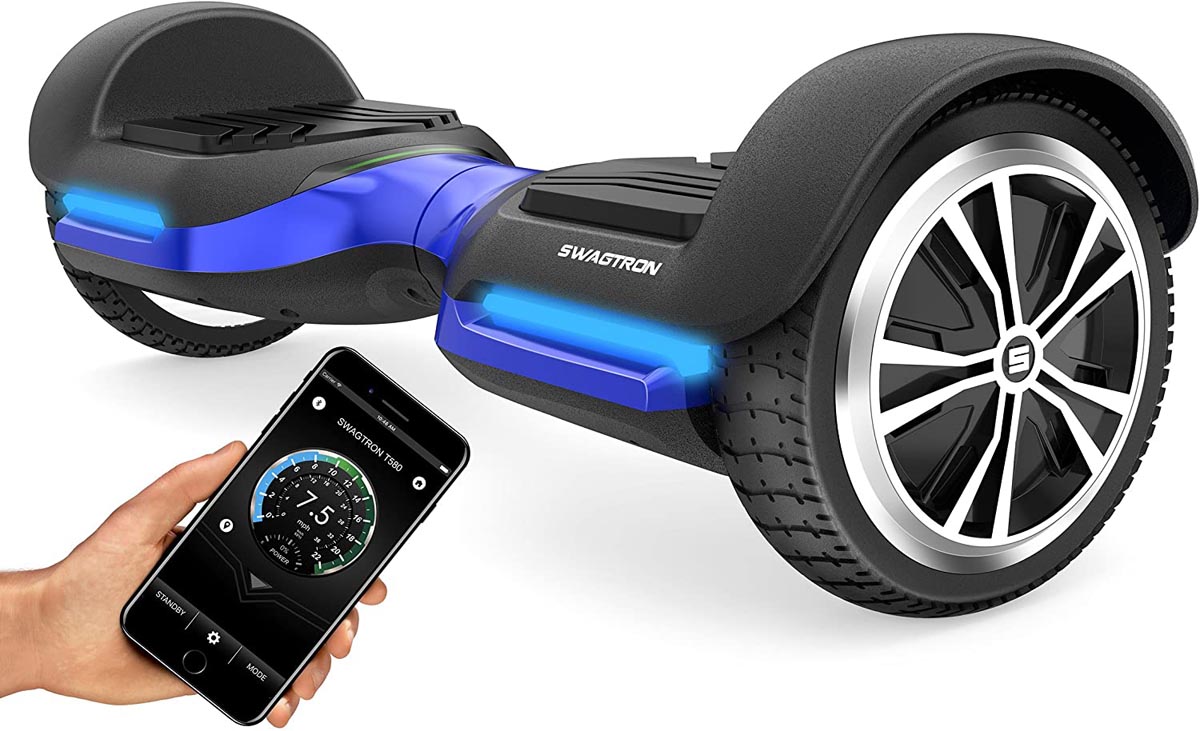 Ride in style with the SWAGTRON T580.
This hoverboard takes pride in being chock-full of features. Just like the Sisigid, it's packed with dynamic Bluetooth speakers, so get ready to cruise the streets with the latest music blasting from your wheels.
It comes with a companion app both for iPhone and Android which you can use to activate the advanced riding mode, unlocking the full potential of your Swagboard. You also have the option to play music through the app.
The app also has a map function, tracking your travels and how far you've gone. With its 6.5" wheel, it has a maximum speed of 7.5 mph and can travel as far as 8 miles on a single charge. And just like the rest, it is also UL2272 certified.
This smart self-balancing hoverboard has 3 riding modes that are good for beginner, intermediate, and advanced riders. Parents have testified that their kids have easily picked up on riding the Swagboard thanks to its dynamic equilibrium, with controlling the board being as simple as steering it with your weight.
Although it comes with a smart app, checking the battery and internal system can be done without pulling up the program, as riders can simply glance down at the board's two integrated LED lights.
Things you need to know:
Charging time is around 2 hours
Compared to EpikGo, this hoverboard is just for flat terrain
Unlike the first two products, the Swagtron T580 only packs 200-watts dual motors
Can carry a maximum weight of 220 lbs
---
4. Hover-1 Ultra Electric Self-Balancing Hoverboard Scooter
Safest kids hoverboard!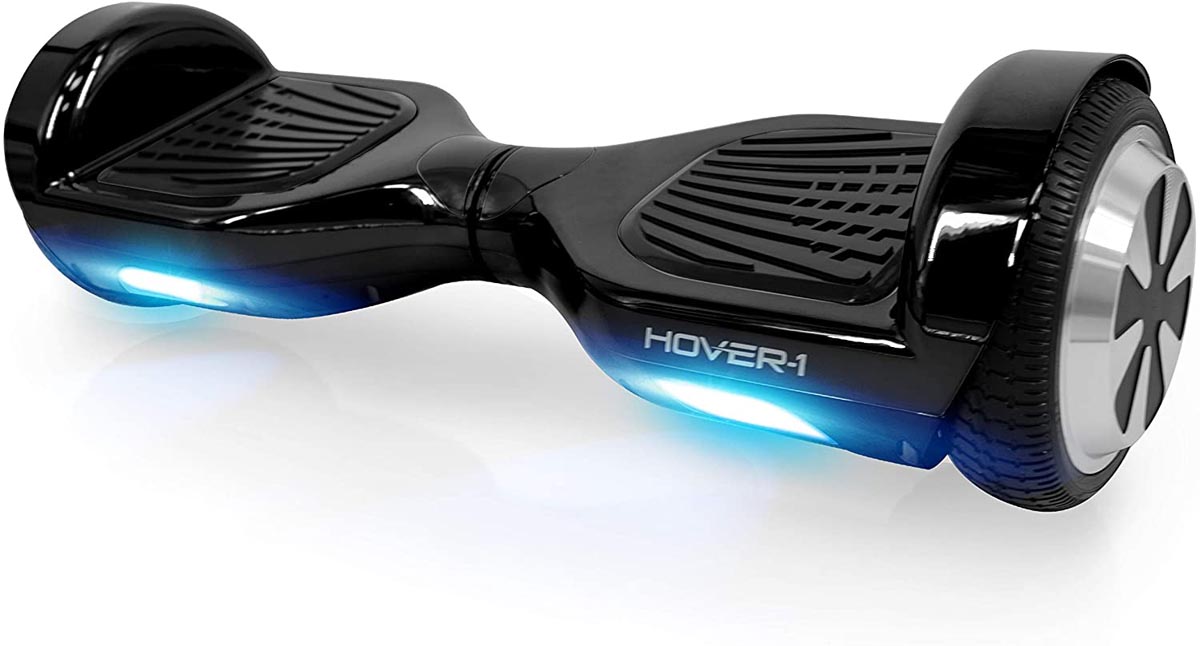 The Hover-1 Ultra Electric Self-Balancing Hoverboard Scooter has one of the sleekest designs out there.
It does take a bit longer to charge compared to the others, as it needs 4 hours to get fully juiced. But your fully-charged Hover-1 Ultra can travel up to 12 miles at 7 mph which is pretty impressive. It has 6.5" solid wheels and can carry a maximum weight of 220 lbs and it can light up your ride with its LED front sensor headlights for better visibility.
It carries a total of 500-watts power with its dual 250-watt motors.
Compared to the others, it's not as feature-filled but the main selling point of the Hover-1 Ultra is its safety systems. It has a battery shield to protect against fires, as well as overheat protection. It's also water-resistant.
The battery indicator can be found in the middle of the pedals, with the green light meaning that the battery is above 50%, while red indicating that you're down to 20% or lower.
It maintains basic travel purposes; so for kids, it's only for strolling around the neighbourhood, but it can easily manage an uphill path with a 17-degree inclination. For college students, it's great to have as a mode of transportation within the campus.
Things you need to know:
The board and its battery are both UL2272 Certified
It has an IPX4 rating
Equipped with Safety Shield Battery Enclosure and battery life indicator
It's not app or Bluetooth-enabled
It comes in three colours: Black, Red, and Blue
---
5. Hover-1 H1-100 Hoverboard
Coolest Looking KidsHoverboard!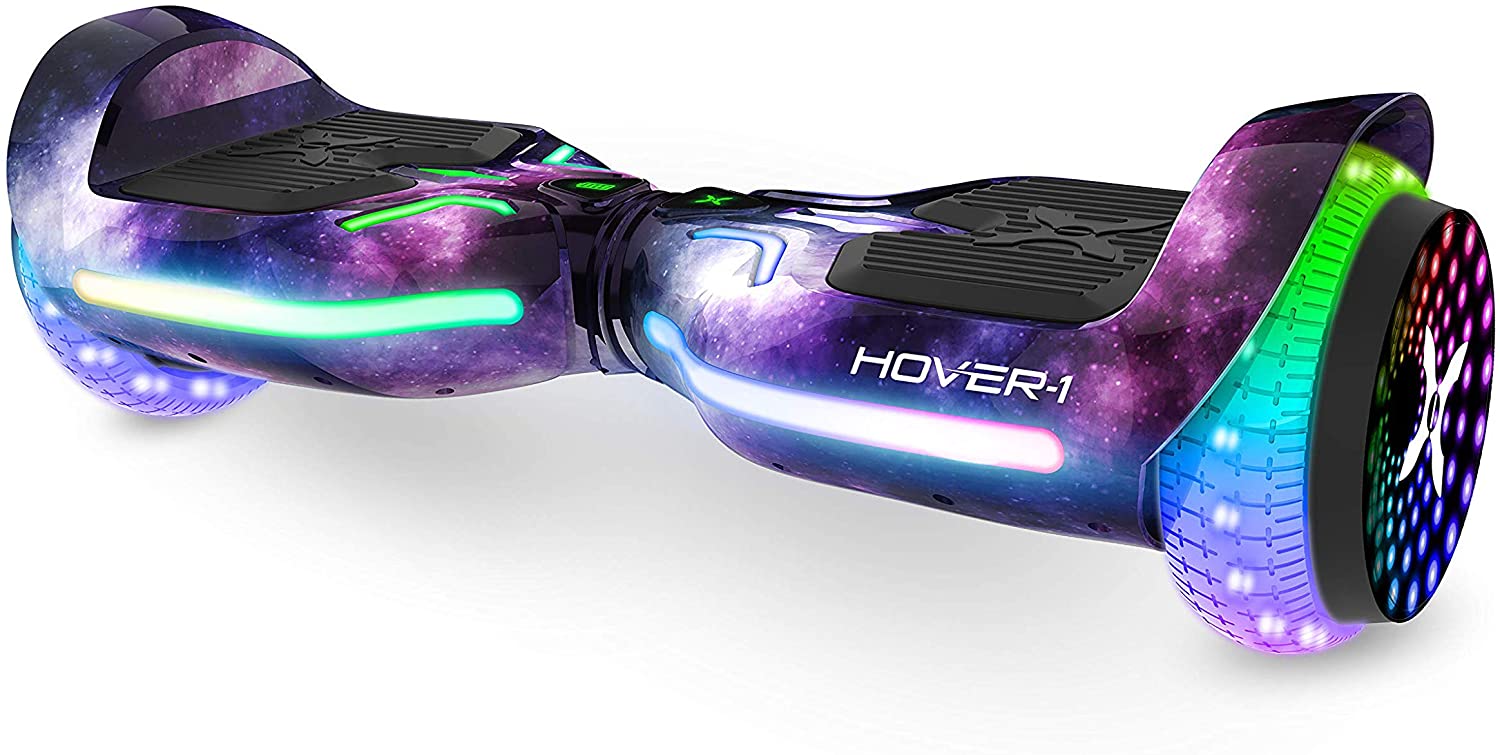 The Hover-1 H1-100 Hoverboard is like an upgraded version of the Hover-1 Ultra. Many are calling it revolutionary while others believe this may top the charts this 2021.
One of its main selling points is its foldable design. It also has a locking clamp attached to its carrying handle for easier and safer transport. It only takes less than 5 seconds to fold and unfold, making it a hundred times easier to carry and have around. It's worth noting, however, that this revolutionary board is a 29-pounder, so it may not be suitable for younger kids, but a better buy for parents instead. It being foldable makes it effortless to store inside the trunk of a car as well.
Among all the products in this list, the Hover-1 Rogue has the biggest wheels standing 10 inches tall. The tires are not solid though, as it's air-filled. It has a maximum speed of 7mph and a maximum distance of 7 miles.
Unlike its sibling, the Hover-1 Ultra, the Rogue is both app and Bluetooth-enabled. With the app, you can customize its LED lighting and change your travel modes from beginner, intermediate or expert. It also comes with a GPS tracking feature.
Of course, the Bluetooth feature is for your surround sound speaker experience while you're out on a ride.
Things you need to know:
The board and its battery are both UL2272 Certified
Charging time can take up to 5 hours
It's also 500W-powered
It doesn't come with a carrying case, only with the built-in handle
It can carry a maximum weight of 264 lbs
When collapsed, it is 19.13 inches wide and when folded, it measures around 10.8 inches.
---
Here are the aspects of kids hoverboards you should pay the most attention to:
Certification and safety
Hoverboards were once considered dangerous products due to the lack of certification across many different brands. The industry is much improved in 2021 and certification is the rule not the exception like it once was. Make sure that any kids hoverboard that you buy has UL 2272 Certification.
Local laws
There are different laws regarding hoverboards depending on the country or city you live in. Make sure you are legally allowed to use a kids hoverboard before you commit to purchasing one. For more information, contact your local authority.
Tires & Wheel Size
Tires and wheels play a huge role in the overall ride experience and heavily dictate things like grip, ride smoothness, and durability. Make sure you pay attention to the type of tires and wheels to ensure the device is fit for its intended purpose.
Battery Life and Charging Times
Pay attention to the battery size and time to charge. Both of these can hugely impact the overall enjoyability of a device. This is especially important if you are planning on using one of these devices for commuting.
Bluetooth Speakers
If you want a multi-functional device then look for a kids hoverboard with a built-in Bluetooth speaker. That way, you have a device that can take you from point A to point B and play your favourite tracks at the same time.
Controls
Different hoverboards come with different levels of control. Some hoverboards are designed to be paired with a companion app accessed from your smartphone or tablet. These apps allow for a greater level of control by adjusting things like speed and responsiveness.
It usually  also allows you to change and RBG lighting options.
Durable and Lightweight Construction
These  devices aren't exactly cheap, so durability should be towards the top of your priorities. Check things like Amazon reviews to see if anyone has found an issue with the durability of the model you're looking at.
Last update on 2022-01-13 / Affiliate links / Images from Amazon Product Advertising API