As a gamer on a budget, finding a decent gaming monitor after spending all your hard-earned cash on an entry-level rig can be a challenge. We recently reviewed the AOC C27G1 and while it performed extremely well considering its reasonable price tag, that's still a couple of hundred dollars more than the thriftier gamer is willing to spend.
CHECK TODAY'S PRICE HERE: See at Amazon
Acer KG221Q Review
Design & Build -

7.3/10

Features -

7.6/10

Ergonomics -

7.4/10

Image Quality -

7.6/10

Refresh Rate -

7.6/10

Ports -

6.8/10

Total Value -

9/10
Summary
If you can manage your expectations when it comes to looks and build quality, you'll be pleasantly surprised by how much the Acer KG221Q has to offer.
Its amazing contrast levels, blazing response time, and 75 Hz refresh rate are all hallmarks of a pricier monitor and you're even getting a sharper image because of the denser pixel pitch. Sure it's a little small, but that doesn't stop it from being one of the best ultra-budget gaming monitors out there.
Pros
Budget-friendly price
Fantastic contrast
Display looks especially sharp due to its smaller size
Top-notch response time
Above-average refresh rate
FreeSync capable
No ghosting
Cons
Plain design and cheap build
Colours lean towards a bluish hue
Lack of a DisplayPort or USB ports
The Acer KG221Q is the brand's ultra-budget option for people who don't mind giving up a few inches for some solid features and a great price. But considering the vast array of larger monitors out there that go for just a little extra, does this screen perform well enough to justify cutting corners in screen size? That's just one of the questions we're hoping to answer in this Acer KG221Q review.
Can't spare the time to read through the whole review? Click on any of the links below and we'll take you right to that section:
What is the Acer KG221Q?
Acer's KG1 line of monitors all share a similar "ZeroFrame" design and come at various prices from budget to mid-range. The KG221Q is the cheapest and smallest of the bunch, sitting at a very affordable price tag that hovers around $100 and a screen size that's just under 22 inches.
In spite of this, it still manages to boast above-average refresh rates and a quick response time, making it perfect for people who are looking to game casually or get some work done. In comparison, the AOC C24G1 is a couple of inches bigger and has double the refresh rate but costs around 40 bucks more.
The KG221Q isn't the most imaginative-looking gaming monitor in the world, given its one-tone colour scheme and overall plain appearance. But gamers who enjoy a minimalist approach will likely find something to like about its sleekness and simplicity.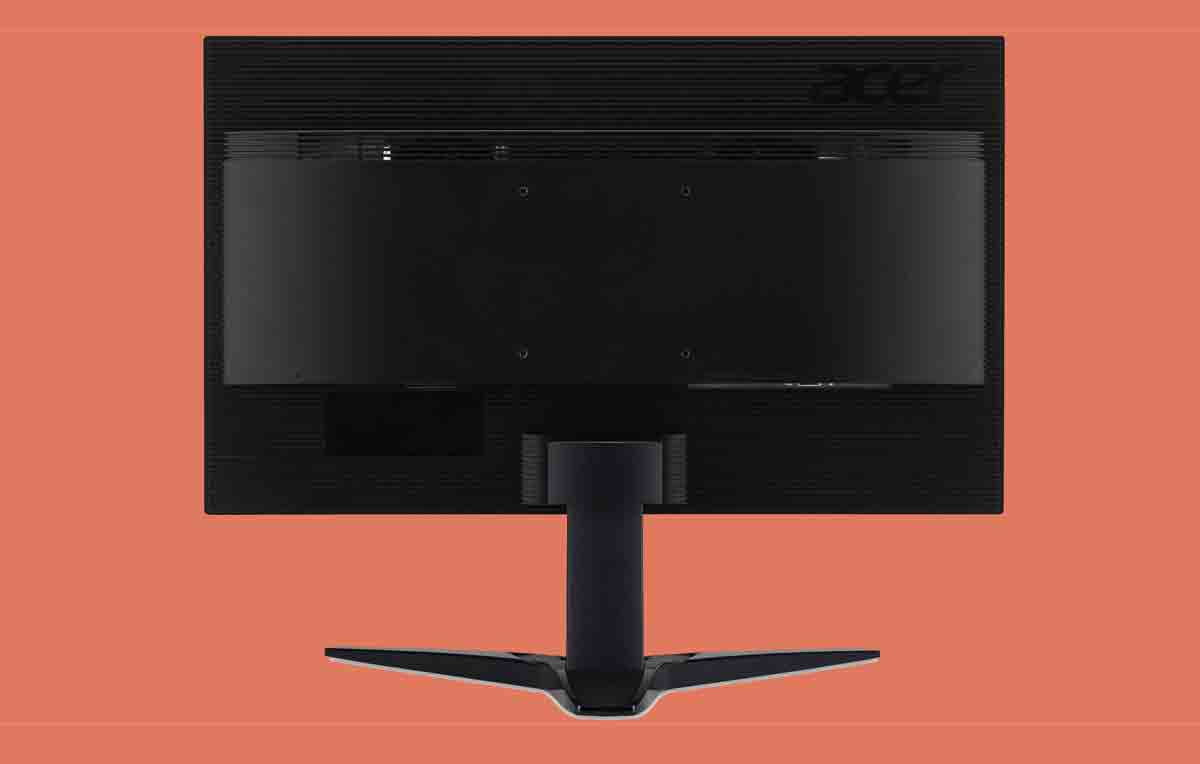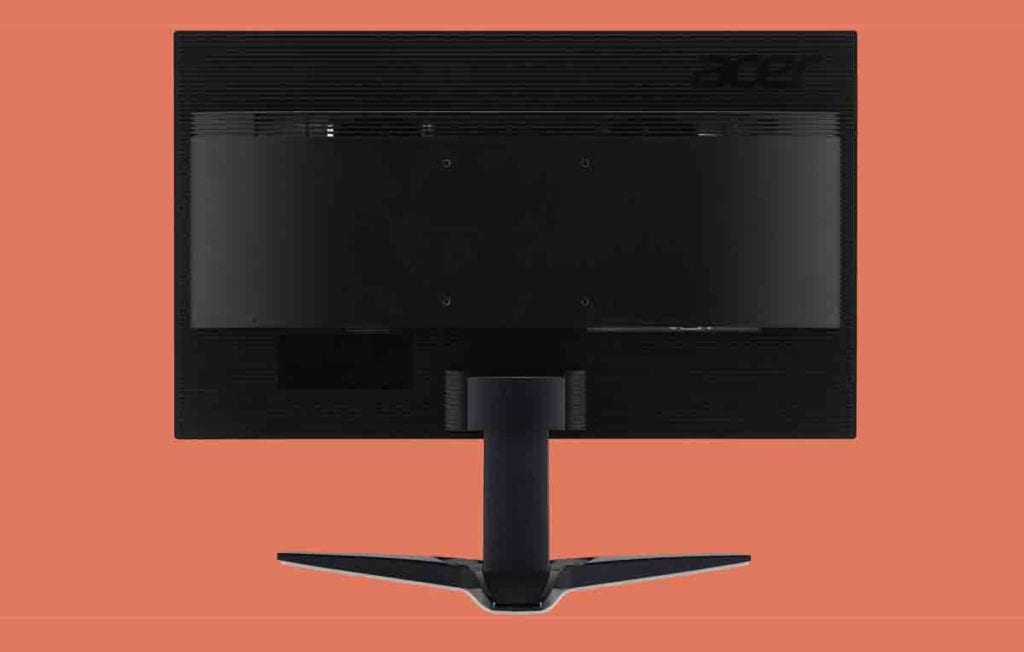 Features
Screen
The KG221Q's screen measures 21.5 inches and comes with a refresh rate of 75 Hz and a response time of 1 ms. The fact that it features a refresh rate over 60 Hz makes it great for all-around gaming, including competitive titles that you plan on playing for fun.
Panel Type and Stand
It features a Twisted Nematic (TN) panel and a tri-legged stand that tilts 15 degrees backward and 5 degrees forward. Sadly, the stand doesn't allow for any swivel motions which is severely limiting. But if it bothers you so much you can always just mount it instead.
G Sync/FreeSync
Acer built the KG221Q with FreeSync-supporting AMD graphics cards in mind. Since it only ranges from 40Hz to 75Hz, you'll be able to make full use of it even with a modest GPU.
Ports
This monitor is a little stingy on the ports, only offering an HDMI 1.4 as your primary port, a VGA port for legacy devices, and two 3.5mm audio jacks for your headset or speakers. Oddly enough, it's missing a DisplayPort, which has become standard in most modern monitors, and it doesn't come with any USB ports which is a bit of a letdown.
Picture Quality
The first thing you'll notice is how crisp the image looks in comparison to some of the larger screens. This is on account of the 21.5-inch monitor size packing the pixels together more densely – one of the greatest advantages of having a smaller display. It's accompanied by a pretty decent backlight though we had hoped for something a little brighter.
TN panels aren't known for having the most eye-catching of colours, especially when compared to an IPS one, but the KG221Q does fairly well considering its price tag. Images tend to look a little pale and slightly bluish, lacking any distinct flair. It's particularly obvious when you're staring at your desktop screen, but isn't nearly as noticeable while playing video games, which is great since this is a gaming monitor after all.
On the other hand, the monitor's contrast is superb and allow blacks to look deep and distinct and greyscale to appear with fantastic polish. Our test-run of OtherCide – a game that adopts a primarily monochromatic colour scheme – looked absolutely stunning, with the characters and backgrounds appearing exceptionally well-defined. Its response time was also terrific since we didn't detect a hint of ghosting. A huge win for this little guy.
What's it like to use?
Setting up the monitor is as easy as can be, especially since the HDMI port will likely be the go-to connection for most people. Unless, of course, you still have an archaic piece of hardware that's rocking a VGA connector.
The KG221Q's settings are pretty spot-on right out of the box, but you can fiddle with them using a set of buttons located along the bottom edge of the bezel. The buttons themselves are a bit shaky and their location makes them kind of bothersome to navigate, but they were responsive enough to register properly with each press.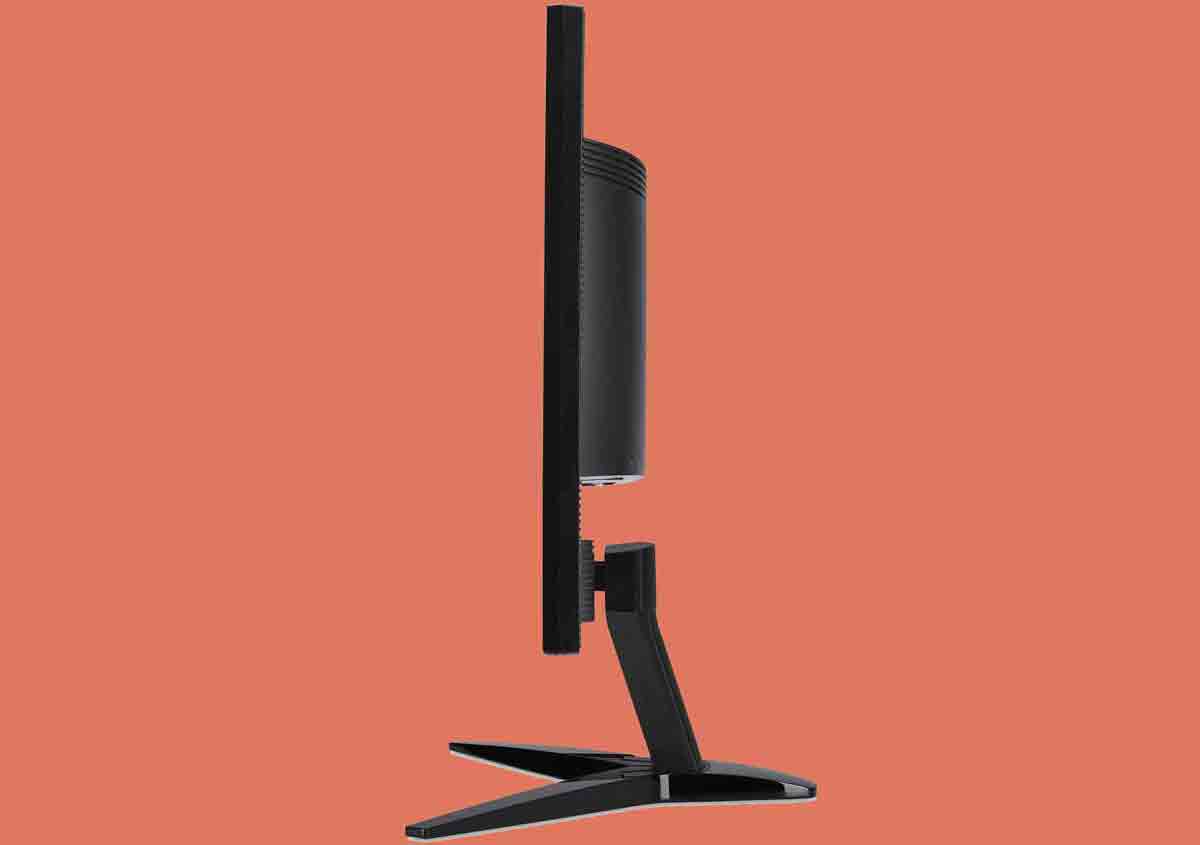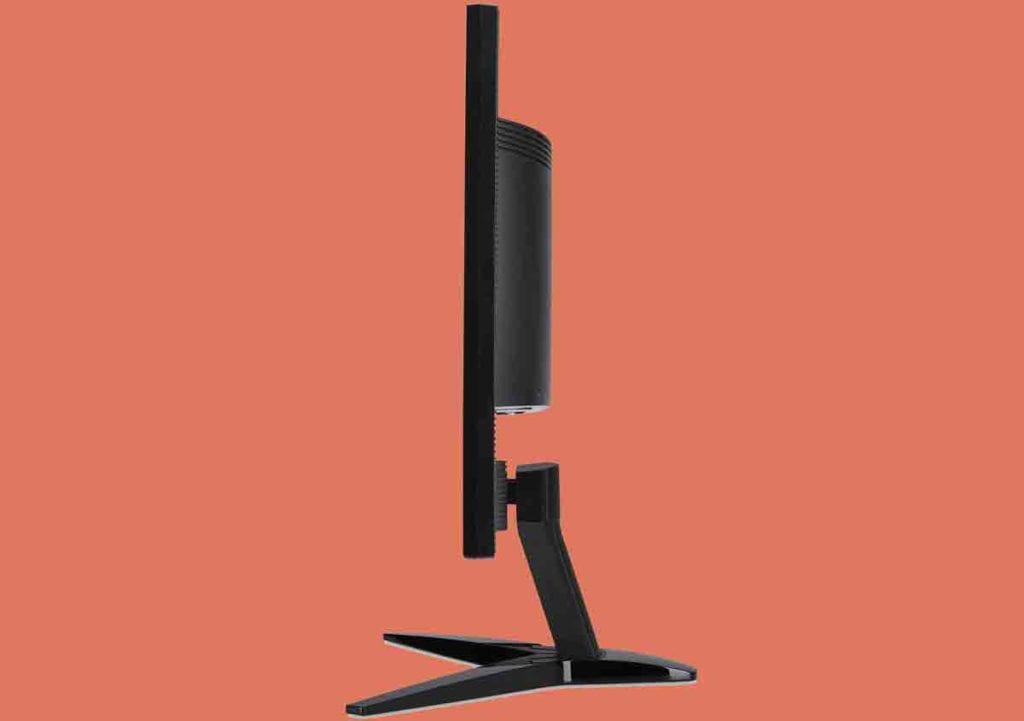 Aesthetics
Our expectations weren't very high in the looks department considering its status as an ultra-budget monitor, so we weren't really surprised with the KG221Q's mediocre build and design. Despite being called "ZeroFrame', the screen's thick bezels were made all the more apparent by the monitor's diminutive size and its glossy finish made it seem cheap and plasticky.
The Y-shaped stand gives it a nice sense of stability but doesn't allow for any swivelling and the display itself is a little wobbly. Acer had to give up a few things in pursuit of the KG221Q's low price, eye-catching aesthetics and a premium build were definitely two of them.
Final Thoughts
I'm not going to lie. Our expectations were pretty low coming into this review and some of those expectations were spot-on. The KG221Q's looks are bland and its build is rather flimsy, while its colour palette seems to slightly favour blue more than the rest. But what we didn't expect is how brilliant the contrast turned out to be and how well the monitor performed as a whole.
The blacks and greyscale were rendered wonderfully and the killer response time made gaming feel smooth and seamless. Its full HD resolution came across a lot sharper too due to the screen's small size and we didn't suffer from any ghosting, which was our problem with the AOC C27G1.
Underneath the Acer KG221Q's mundane exterior lies a fantastic budget gaming monitor that punches way above its weight class. A prime candidate if you've only got a hundred bucks to spare on a display.
Full Spec List
| | |
| --- | --- |
| Screen Size | 21.5″ |
| | |
| Maximum Resolution | (Full HD)1920 x 1080@75 Hz |
| | |
| Aspect Ratio | 16:9 |
| | |
| Contrast Ratio | 600:1 |
| | |
| Response Time | 1 ms GTG |
| | |
| Colour Supported | 16.7 Million |
| | |
| Adaptive Contrast Management (ACM) | 100,000,000:1 |
| | |
| Brightness | 200 cd/m² |
| | |
| Backlight | LED |
| | |
| Viewing Angles | 90° Horizontal |
| | 65° Vertical |
| | |
| Panel Type | TN (Twisted Nematic Film) |
| | |
| Stand | Tilt (-5°~15°) |
| | |
| Speakers | 2 x 1 W |
| | |
| Ports & Connectors | VGA |
| | Headphone |
| | |
| Power | 230 mW (Power Standby) |
| | 210 mW (Power Off) |
| | 19 W (Power On) |
| | |
| Environmental Certification | MPR II |
| | |
| Colours | Black |
| | |
| Tearing Prevention Technology | AMD Free-Sync |
| | |
| VESA Compatible | (Yes) |
| | 100 x 100mm |
| | |
| Dimensions (W x H x D) | 508 mm x 305 mm x 52 mm |
| | 508 mm x 406 mm x 189 mm (with stand) |
| | |
| Package Contents | 1 x KG221Q A Widescreen LCD Monitor |
| | 2 x Power Cord (EURO/UK) |
| | 1 x VGA Cable |
Last update on 2022-05-20 / Affiliate links / Images from Amazon Product Advertising API