Summary
With its floating battery design, wall-climbing capability, intelligent path planning, and powerful suction, you can finally enjoy your pool more and spend less time cleaning with the Aiper Seagull 3000.
Pros
Great on all pool shapes, sizes, and surfaces
More powerful suction
Longer runtime
Wide cleaning coverage
There's no shortage of products that can help you clean and maintain your pool. But if you want the best way that could cut down the work and give you more time actually swimming and enjoying it, then consider getting a robotic pool cleaner. And if you are in the market for one, check out the Aiper Seagull 3000.
The Aiper Seagull 3000 is the latest offering from Aiper, a leading company in the cordless robotic pool cleaning industry. It has launched over 7 different pool cleaning products in just 5 years, with many of them included in Amazon's Best-Sellers. But compared to the other pool cleaners in its lineup, the Aiper Seagull 3000 is more powerful, versatile, and hassle-free. How? Let's find out in this review.
Overview
Swimming pools are one of the greatest luxuries in life. But with the cleaning and maintenance it requires, it can also be quite a chore. Sure, they all have filters. However, there are things that filters can't remove. These can include leaves, dirt, bugs, and other debris, which can collect on the walls and floor of pools.
To clean such parts, you'll need a vacuum cleaner. But that will take several hours to complete, depending on the size of your pool. Not to mention that you have to do it every week if you want to keep your pool clean and safe. If this sounds too much work for you, then you might want to invest in a robotic pool cleaner.
There are many robotic pool cleaners in the market. You'll find corded ones which, while effective come with many issues. This includes tripping hazards, tangled cords, and electricity leakage hazard. On the other hand, there are also cordless pool cleaners. However, many of them have heavy built-in batteries with very limited capacity. Thus, offering a shorter run time. Their suctions were weak as well and they were difficult to operate.
Now, here comes the new Aiper Seagull 3000. With its innovative floating battery, it eliminates all the problems that come with most corded and cordless robotic pool cleaners today. It offers longer runtime, allowing it to clean a larger area in your pool at a time. Plus, since it's wall-climbing, it can clean all the surfaces of your pool, including the floor, wall, and waterline.
As with every robot pool cleaner, however, the Aiper Seagull 3000 isn't exactly cheap. It has an MSRP of US$1399, which is more expensive than many of the robot cleaners around, including Aiper's own Smart Cordless Robotic Pool Cleaner. It is, however, in the same price range and even slightly cheaper than some of the top smart pool cleaners in the market such as the Polaris 9650iQ and Dolphin Nautilus CC Supreme. The good news is, if you catch its campaign on Kickstarter, you can enjoy as much as a 50% discount and pay only US$699.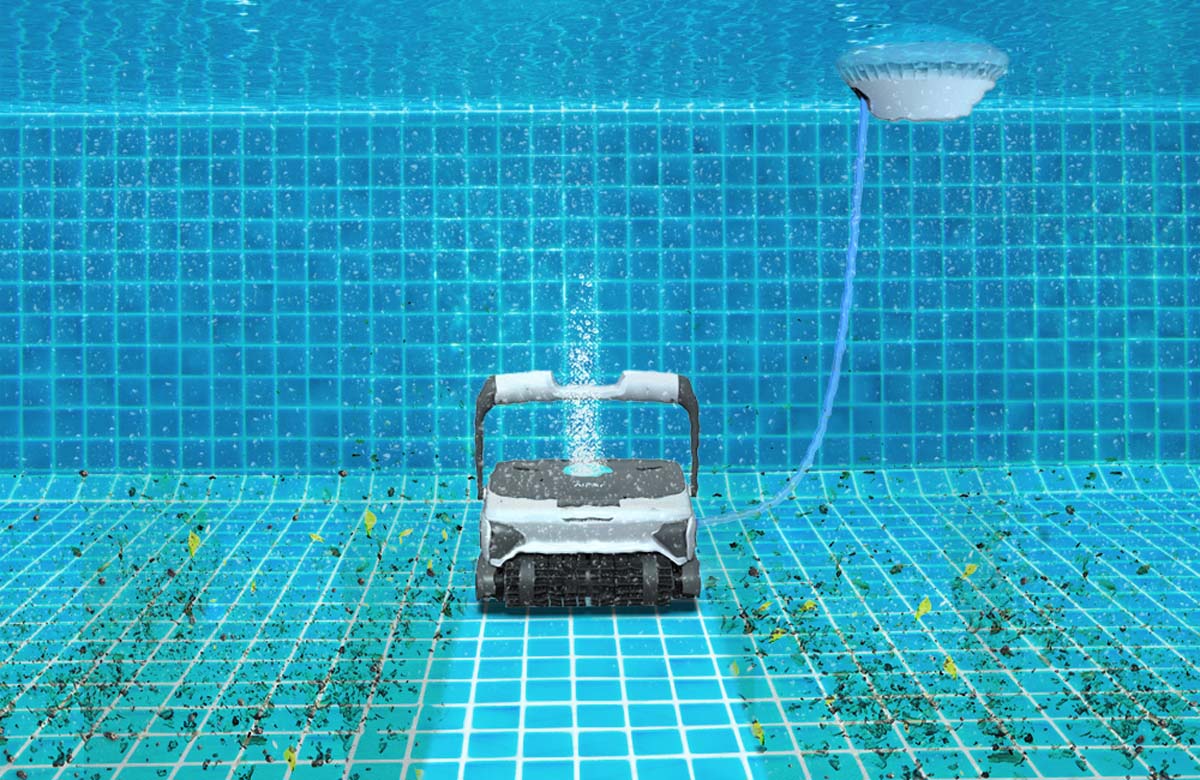 Features
Floating Battery Design
One of the issues with cordless cleaners is that they have poor cleaning performance. With their limited battery capacities, you'd have to recharge and run them two or more times before you can actually clean your whole pool.
Now, to solve such a problem, Aiper equipped the Seagull 3000 with a power station that floats. This way, they can incorporate a more powerful and larger power supply and provide you with a machine that can run longer and cover more surface area. Aside from that, this floating battery design also offers a more consistent Bluetooth connection. So you'd always be able to control the pool cleaner through its smart app.
120W Suction
Another issue with most cordless pool cleaners is their suction. With their weak power, they have a hard time sucking in mud, sturdy leaves, and crushed stones. But with the Aiper Seagull 3000, you don't have to worry about that. It is built with a powerful 120W motor, which is 2 times stronger than its competitors. This gives it a stronger suction capability at any angle, so your pool will always stay clear from the largest to the tiniest debris.
Water-line Cleaning
The Aiper Seagull 3000 has a superior wall-climbing ability and is equipped with durable PVC brushes. This allows it to clean every surface of your pool, including the waterline, floor, walls, and everything in between.
Smart Pool Cleaning
Many pool robots can only do 3 directions: right, left, and straight. However, they are not smart enough to cover all those spaces in between. But with the Aiper Seagull 3000, it's different. Featuring smart auto-turning, it can go in any direction and clean from all angles. This maneuver allows it to clean 30% more area than others and is better at cleaning pools with different shapes.
Aiper App
You can connect the Aiper Seagull 3000 to the Aiper App and choose how you want to clean your pool. It offers 4 different cleaning plans such as:
clean the floor only
the wall only
floor and wall together
clean the floor 3 times and the wall once
The app also has a manual mode, which allows you to control the device remotely. This is extremely useful if you see spots that require extra attention. So using your phone, you can steer the machine for better underwater cleaning. You can also drive it up the wall when you are ready to pull it up. No need to go in the water and get wet just to retrieve it.
Self Parking
What's neat about the Aiper Seagull 3000 is that it knows when to park itself. When done cleaning, it drives itself to a spot next to the wall of the pool and stays there until you tap the app to make it crawl right to your hands. So it will never get stranded in open water with a drained battery, and you'll never have to go in the water just to save it.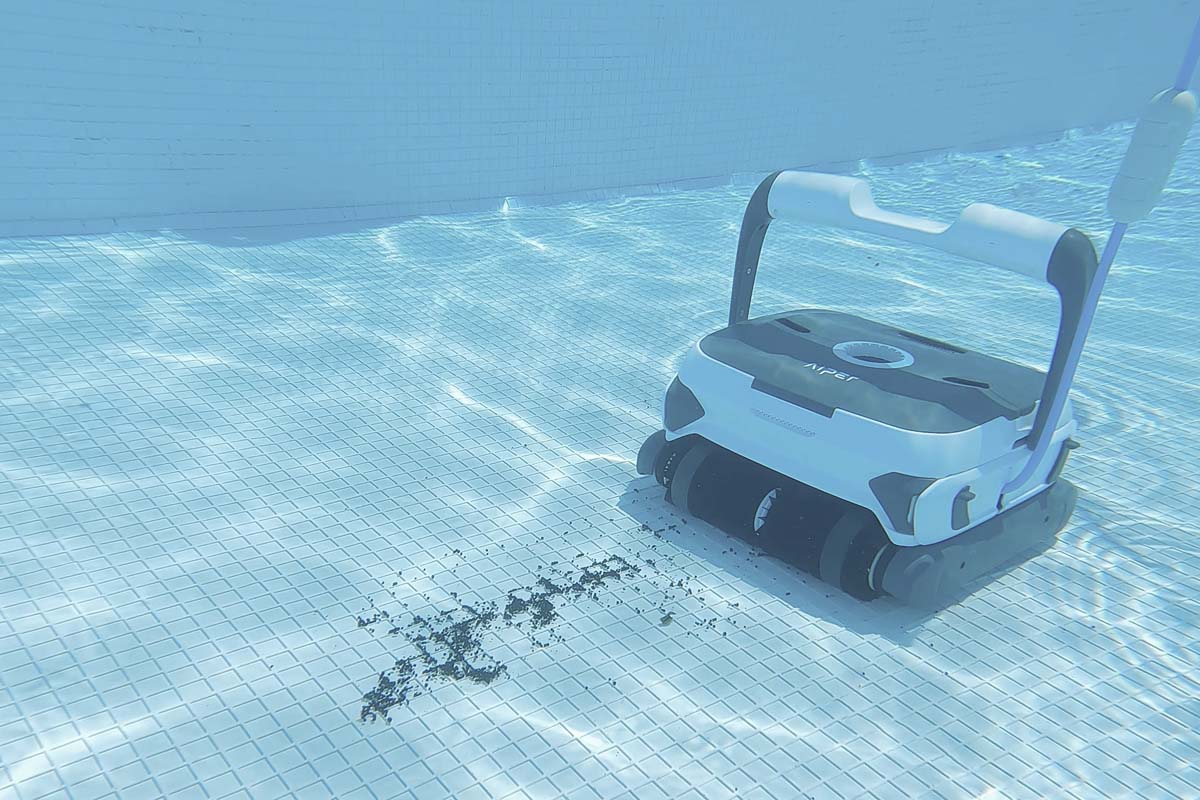 Specs
Rated Working Voltage
25.9V
Power
120W
Run Time
110 – 120 mins
Charger Input
110~240V, 50/60Hz
Charger Output
30V / 2A
Battery Capacity
7800mAh
Charging Time
Up to 3229sq. Ft (300sqm)
Pool Size
71GPM (267LPM)
Filter Capacity
180μm
Waterproof Grade
IPX8
Pool Water Temperature
50°F-95°F (10°C-35°C)
Pool Water PH Value
7.0-7.4
Charging Environment Temperature
41°F-95°F (5°C-35°C)
Max Water Depth
8.2ft (2.5m)
Dimensions (L x W x H)
16.93 x 15.35 x 8.66 in (430 x 390 x 220 mm)
Storage Temperature
4°F-113°F (-20°C-45°C)
RH ≤ 75%
The most unique thing about the Aiper Seagull 3000 is its 7800mAh power station that floats above it. Others, like the Cordless Robotic Pool Cleaner from Paxcess, only have a 5000mAh battery capacity. It is, however, lower than Aiper's Seagull 1500 which has an 8600mAh battery. That said, the Seagull 3000 can last at full strength up to 2 hours while the Seagull 1500 can only run for 90 minutes and the Paxcess Cleaner for 60 to 90 minutes.
With its battery, the Seagull 3000 can deliver up to 3229 sq. ft of cleaning on a single charge, which is enough to clean a really big pool or even six average pools. In comparison, the Seagull 1500 can only cover up to 1613 sq. ft on a single charge while the Paxcess can only do 860 sq. ft. The reason behind this is that the Seagull 3000's battery floats. See, pool robots that carry their batteries are slow and crawl like turtles. So their batteries run out before getting the job done.

Design
One of the things we love about the Aiper Seagull 3000 is that it's designed to clean all pool shapes, sizes, and surfaces. It can crawl walls of cement, vinyl plastic, and fiberglass. It also doesn't matter whether you have an above-ground, rectangular, or irregularly shaped pool – here's a robot cleaner that can quickly and effectively do the job.
In terms of design, the Seagull 3000 has twin oversized filter baskets. This is larger than what most of the other cordless robot cleaners have. As a result, it can carry more debris out of your pool. Specifically, it can hold an impressive 5.4 liters of debris in total at a time. It's also designed to keep trapped dirt and debris securely inside, so they won't float back into your pool.
Final Thoughts
Cleaning and maintaining your pool is a daunting task. But with the new Aiper Seagull 3000, it no longer is. Since it is cordless, you don't have to worry about looking after long and thick cords when using and storing it. No cords also mean that it can move around more freely, allowing it to cover more surfaces at a time. More importantly, this makes it safer, which makes it better if you have kids and elderlies around.
The biggest reason, however, to get the Aiper Seagull 3000 is its power and surprisingly longer runtime. This makes it capable of cleaning your pool consistently, quickly, and without hassle to you as the owner. With it, you can finally enjoy and swim more and worry less. More importantly, Seagull 3000 is available on Kickstarter now wIth Early Bird Offer at only $699, which is half the price of cordless robotic pool cleaner with the similar performance.