Amazon may be best known for its powerhouse selling platform, but what some people don't realize is that the brand has its own budget-conscious line called AmazonBasics which includes PC and laptop peripherals and accessories. In this AmazonBasics Wireless Keyboard review, we're trying out Amazon's cordless keyboard option that promises a comfortable and quiet typing experience at a very low cost.
[wd_hustle id="98″ type="embedded"/]
Amazon Basics Keyboard Review
Design & Build -

7/10

Features -

6.5/10

Battery Life -

7.5/10

Ergonomics -

6.8/10

Typing -

6.8/10
Summary
As long as you don't mind its shoddy build quality and boring design, the AmazonBasics Wireless Keyboard is a surprisingly capable peripheral that feels comfortable to use and hardly makes a sound. And the best part? It costs just about as much as a decent portable charger.
Pros
Low-profile membrane switches are ridiculously quiet and comfortable to use
Textured keycaps don't attract annoying fingerprints and grease marks
Incredibly low price
Easy to set up
Cons
Flimsy build quality
Design is bland
The battery isn't rechargeable
Is there a surprisingly capable device behind its bare-bones facade, or is it just another cheapo wireless keyboard whose only selling points are its low price and high-profile brand name? Stick around and find out.
Can't spare the time to get through the entire review? Just click any of the links below and we'll take you straight to that section:
What is the AmazonBasics Wireless Keyboard?
As its name suggests, AmazonBasics is the American e-commerce brand's budget-friendly line of products that includes everything from kitchenware to computer peripherals. The AmazonBasics Wireless Keyboard is, as you'd expect, a basic handsfree typing peripheral that still manages to feel relatively comfortable to use and easy to set up.
It isn't much to look as its design is fairly bland, but you really shouldn't be expecting too much out of a keyboard that retails at a fraction of the cost of the already reasonably-priced HyperX Alloy Core RGB. This keyboard was developed strictly for general use and entry-level clientele and it makes little attempt to mask that with its looks and features.
Features
Switches
The AmazonBasics Wireless Keyboard utilizes standard membrane switches but manages to maintain surprisingly silent and responsive keystrokes.
Connection
It's a strictly wireless keyboard that utilizes a miniature USB receiver in order to connect to your device of choice. You'll need 2 triple-A batteries to get this guy running which Amazon has thoughtfully included in the box.
Accessories
Don't expect any freebies with this keyboard, as the only things you'll find in the box are the peripheral itself, its wireless USB receiver, and a couple of batteries.
Media Controls
While they aren't dedicated, the AmazonBasics Wireless Keyboard offers hotkey media controls in the form of alternate functions to the F1-F8 keys.
Backlight/RGB Lighting
Since this peripheral is both basic and non-gaming, you won't be getting a backlight or any RGB capabilities, so you best keep a desk light handy if you're planning to use it in dim environments.
Software
Unsurprisingly, the AmazonBasics Wireless Keyboard doesn't come with any form of companion software and is purely a plug and play device.
Specs
| | |
| --- | --- |
| Dimensions | 45.21 x 14.27 x 3.71 cm |
| Weight | 470 g |
| Switches | Membrane |
| Media Controls | Function button hotkeys |
| Connection Type | Wireless |
| Battery Type | 2 x AAA batteries |
| Backlight/RGB Lighting | None |
| Number of Keys | 104 |
| Software | None |
| Accessories | None |

Aesthetics
It's not that the AmazonBasics Wireless Keyboard is ugly per se, it just looks a little bland and seems a bit uninspired with its shiny all-black colour scheme and bright white characters. It could've taken a page from the book of the DELL 5WH32 – another budget wireless keyboard that puts a whole lot more effort into its sleek, professional-looking design.
The AmazonBasics keyboard's edges are rounded out for a slightly more ergonomic look with the top part sporting a glossy finish, while the majority of its face is textured for a non-slip typing experience. As a bonus,  you won't be leaving pesky, grease marks and fingerprints on this bad boy.
The keys are low-profile and are a lot shallower than your standard keyboard, making it wonderfully slim and compact. There are 3 LED indicators on the top-right corner of the peripheral that indicate Caps Lock and Num Lock respectively, while the final indicator blinks for 10 seconds to let you know that your batteries are on their last legs.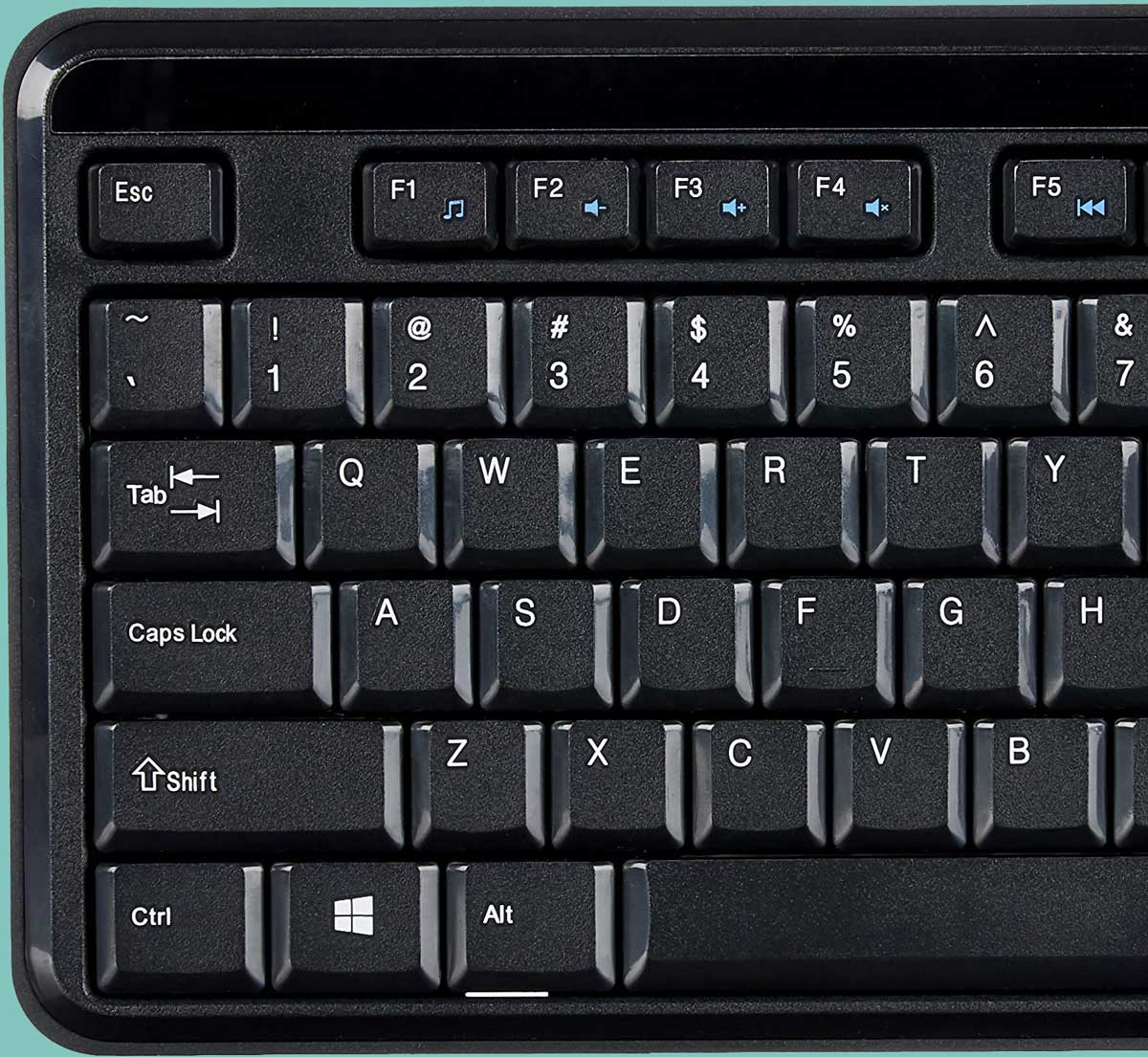 [wd_hustle id="98″ type="embedded"/]
What's it like to use?
Having no accompanying software may be limiting in terms of customizability, but that also makes setting up your keyboard nice and simple. All you have to do to get the AmazonBasics Wireless Keyboard up and running is plug the wireless receiver into one of your machine's USB ports and give your OS a few seconds to get the drivers going. After that, you should be good to go.
Despite mechanical switches quickly taking over the keyboard scene with their superior responsiveness and satisfying keystrokes, this keyboard's outdated membrane switches manage to stay relevant thanks to how remarkably quiet and responsive they are. No more annoying your officemates with your angry typing. It achieves this through its shallow, low-profile keys that come with a shorter actuation distance and flatter keycaps. As far as membrane switches are concerned, these are top-notch.
470 grams for a full-sized keyboard is pretty light and it does this by implementing a lightweight, all-plastic build. As a result, however, the AmazonBasics Wireless Keyboard feels flimsy and fragile, so you might want to fight the urge to lug it around where you go since it likely isn't the type that can withstand much wear and tear. If transporting it regularly can't be avoided then make sure to do so carefully and in a bag with lots of padding.
The Verdict
Finding an ultra-budget wireless keyboard that feels responsive and comfortable to type on can be a tall order, especially one that's compact and is just as quiet as advertised. The AmazonBasics Wireless Keyboards remains true to its word of sporting a smaller form compared to most full-sized keyboards along with low-profile membrane keys that are indeed extremely quiet no matter heavy-handed your keystrokes are.
[wd_hustle id="98″ type="embedded"/]
Its boring aesthetic leaves much to be desired and its cheap, plasticky build means that it likely won't be able to handle a lot of damage, but these are things that should've already crossed your mind given this keyboard's incredibly low price.
In the market for a comfy all-around wireless keyboard that types like a whisper, performs well, and comes at a price that anyone can afford? In that case, the AmazonBasics Wireless Keyboard might just be the one for you,