Welcome to our Anker Soundcore Liberty 2 Pro review! Anker has done an excellent job with the Soundcore Liberty 2 Pro. Most reviews rave about the quality of the charging case (and rightly so) but don't let that distract you from the consistent quality seen throughout this pair of wireless earbuds. In fact, the Liberty 2 Pro features on our list of best wireless earbuds in 2020.
These guys have it all and our worth competitors for some of the more established brand in this space. Let's jump in!
CHECK TODAY'S PRICE HERE: See at Amazon
Anker Soundcore Liberty 2 Pro Review Box
Look Station

Features

Total Value
Summary
These are top quality pair of wireless earbuds and should be heavily considered if you're in the market. They may not boast the best features on the market but they are certainly up there!
Pros
✓ Nice sound quality
✓ Great charging case
✓ USB-C input
If you're short on time, feel free to skip ahead to the different sections of this Soundcore Liberty 2 Pro review:
Sound Quality
The Soundcore Liberty Pro 2's sound quality is up there with the best of them. They offer a very good out fo the box experience and offer a lot of in-app flexibility.
The Soundcore app is surprisingly good for a companion app and trumps most others. There is a graphical EQ with 22 equalizer profiles to test However, the default sound profile is lively and should be suitable for most peoples' preference.
Sound Profile
These wireless earbuds deliver a very nice lux bass that does not overpower the mids of the highs. The bass is the sort of bass that feels visceral and complete. It could be argued that they have turned up a tad too strong but I enjoy bassy music.
The mids lose out slightly to the lows and highs but not so much that it's bothersome. If you listen to a lot of music that relies on clean mids to be enjoyed then you may want to tinker around in the Soundcore app or look for a slightly more balanced pair.
The accuracy of the treble is very well done. At no point did the vocals force themselves to the front of the mix, or did any of the instrumentals sound too tinny.
All in all, the Anker Soundcore Liberty 2 Pro offer an excellent sound profile that punches slightly above their price point.
Noise Cancellation
In an ideal world, every pair of wireless earbuds would have ANC (active noise cancellation) but unfortunately, these do not! This isn't really a surprise because very few models do off this feature and they are priced higher than these usually.
However, the passive noise cancellation is pretty good and better than most. It won't stop deep rumbles from cars or trains but it will do an OK job of toning down voices and other mid-range sounds.
For better noise cancellation, play around with the different included earbuds to try and get a tighter seal.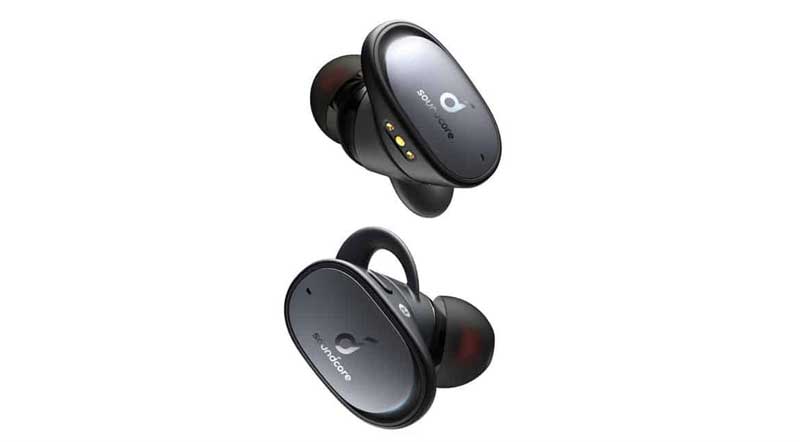 Design
There's no getting away from the bulky design. These guys are big and they do protrude from your ear noticeably. However, the size doesn't affect the comfort. And these are comfortable!
Anker has been generous with their tip inclusion and provided 7 different pairs of ear tips. So you'll be hard-pressed to find a set that doesn't suit your ears. Not only do these almost guarantee a good fit, but also a firm one. At no point in our review did these feel like that could fall out.
It would be fair to say that the Liberty Pro 2s could be used for most types of exercise, but as with all earbuds of this variety, there are limits. Jogging and deadlifting will be fine. Bouldering not so much. If you are looking for a pair of wireless earbuds purely for working out, there are better pairs out there like the Beats Powerbeats Pro. The IPX4 rating means that the Ankers are sweat resistant but not waterproof.
After around an hour of wearing these, they did show signs of discomfort. And this wasn't an hour of exercise but just sitting around working. This isn't entirely unusual for a pair of wireless earbuds, but in this case, it is due to their bulky and heavy design. It's a bit unfortunate because it detracts quite greatly for a quality device.
Despite their bulkiness, they look pretty good. They don't stand out aesthetically but if you prefer a more lowkey aesthetic then these could be perfectly suited to your taste.
Useful Features
Anker has done a good job packing in a lot of useful features into the Liberty 2 Pros. Let's start with some of the hardware.
Speaker Drivers
Anker has included 11mm ACAA drivers into these earbuds, and they really are a great feature. According to the official Soundcore site, these drivers are:
 state-of-the-art design which integrates a customized Knowles balanced armature and an 11 mm dynamic driver into a single body. Aligned direct-to-ear, Astria eliminates interference while creating harmonized treble and bass for the most natural and expansive sound ever heard from earbuds. Music is played at stadium scale with breathtaking clarity and fidelity.
And in all honesty, you can tell. We already touched on the high-grade sound quality previously, but this design feature is one of the key reasons why they sound so good!
Standards and Codecs
To back up this great hardware, Anker has included support for Bluetooth 5.0, which creates a very stable connection to your phone or music player. There's nothing more frustrating than moving just a few meters away for the audio to quality to start degrading. You won't have this problem with Bluetooth 5.0, which promises to deliver 10m of quality connection.
This also greatly compliments the inclusion of the aptX codec.
aptX is a proven technology that compresses and then decompresses audio as it travels from a source device like a phone, to a receiving device like a wireless speaker, in a way that it can be transmitted over Bluetooth without damaging the quality. This ensures that you get the very most from your audio.
aptX is certainly becoming the industry-standard codec for consumer-grade audio devices and rightly so. However, the Liberty Pro 2 is also compatible with AAC codec Astria Coaxial Acoustic Architecture), which is actually preferred by Apple devices, so keep that in mind. AAC is similar to Aptx but it is more processor hungry, which for now, means Android devices don't support it.
Because Anker has included two of the most popular codecs, you won't be missing out no matter what device you choose to play your music from.
Voice Assistants
There is support for both Siri and Google Assistant. However, due to the limited buttons available on these earbuds, you'll have to sacrifice functionality to include smart assistants. This can be set-up through the Soundcore app if you do choose to have it available at the press of a button.
HearID
HearID is a feature that allows you to customise the EQ in accordance with your ears' ability to hear different frequencies. If you activate HearID through the app, the earbuds will play a hearing test of different frequencies to help determine the limits of your ears. After you have told the app which frequencies you can and can't hear, the app will then adjust the EQ accordingly. Pretty cool!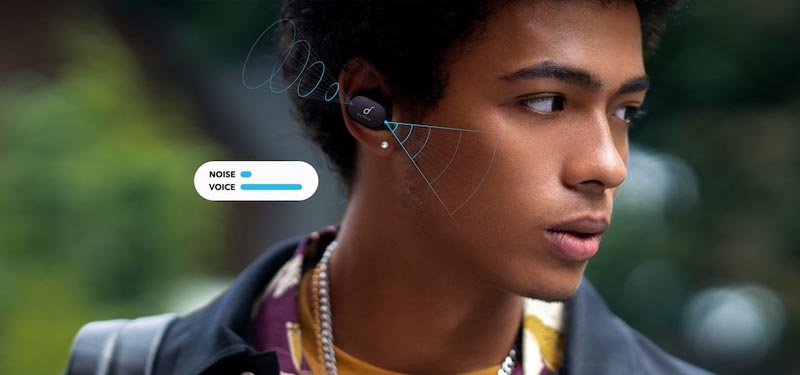 Mic Quality
Mic quality is probably the biggest negative we found in our Soundcore Liberty Pro 2 review. They're just simply bad at clearly picking up up the wearer's voice. Of course, this isn't the primary function of earbuds and there are other types of devices better suited for calls. But even for wireless earbuds, these are low on the list.
I've seen other reviews refer to the voice sounding thin, but I think that's too generous… it sounds like you're in a distant hole. An upside of the Liberty 2 Pro's microphones is their ability to block ambient noise, which is actually pretty good.
Another useful feature of the microphones is their ability to pass through ambient noise if you so wish. For example, if you are walking in a busy city and want to be able to hear the card around you then activate Transparency mode. This will use the mics to listen in for the noise around you and relay them through the in-ear speakers. On paper, this is great, and is very useful for over-ear headphones, but not so useful on earbuds, simply because the noise cancellation isn't nearly as comprehensive.
Battery Life
Anker, who come from a portable battery background has managed to squeeze in some serious juice into the Liberty 2 Pros. The earbuds themselves hold approximately 8 hours, with some tests actually showing and extra 30 minutes of playback time over the officially stated 8 hours. This is exceptional with more premium brands offering a much lower 5 hours! Cough cough Apple.
There is also fast-charging which can generate an impressive 2 hours of battery life from 10 minutes of charging! That's insane really and incredibly useful for power users who are constantly using their earbuds.
The charging case holds a further 24 hours of battery bringing the total to 32 hours! Battery life is certainly one of the strongest aspects we found in this review. More on the charging case now.
All in all, the battery life is definitely one of the stronger aspects here, which isn't surprising given that Anker is a company known for its wireless chargers.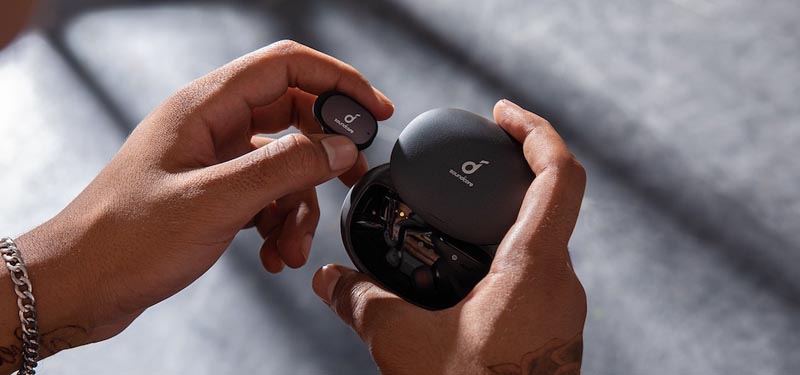 Charging Case
Although the charging case is larger than most others, it's still really well designed and still fits in a pocket. It looks cool too. The finish is matte grey and the plastic feels solid. It's not much of a fingerprint magnet so it should maintain it's clean and sleek aesthetic even after a lot of use.
Once opened, using the unique sliding mechanism, you'll find that the earbuds have automatically paired with your device. It's just so seamless it seems to good to be true, but it isn't!
The case itself uses USB C to charge and has a USB port on the back of the case hidden underneath a cover. The battery level indicator is on the front of the case to signal its charge level. Nothing groundbreaking but still useful and USB C is fantastic to see!
The case is top-notch and despite being larger than average it's not so bulky that it won't fit in your pocket
Review Summary
The Anker Soundcore Liberty 2 Pro is excellent value for money. They offer audio quality that is above their price point and have some of the best battery life on the market. The biggest downside is their bulky design and poor mic quality but overall these offer some of the best value on the market. These are easy to recommend to someone who wants a cheaper alternative to some of the premium devices out there.
Thank you for taking time out of your day to read our Anker Soundcore Liberty 2 Pro review. We hope you found it useful and if you have any comment please leave them in the comments section below!
Last update on 2022-05-18 / Affiliate links / Images from Amazon Product Advertising API