AOC may not be the first brand gamers look towards when it comes to monitors, but they've been in the display industry longer than most and have taken home many impressive awards over the years. The AOC C27G1 seeks to provide a curved 144 Hz full HD experience to gamers that are looking for something a little more affordable.
CHECK TODAY'S PRICE HERE: See at Amazon
30 Second Review: AOC C27G1
Design & Build -

7.6/10

Features -

7.7/10

Ergonomics -

8.3/10

Image Quality -

7.9/10

Refresh Rate -

8.9/10

Total Value -

8.6/10
Summary
The AOC C27G1 is far from perfect. Ghosting issues, lack of USB ports, and a dim screen are some pretty notable disadvantages. The good news is, it's able to make up for all that with its spot-on colours, speedy refresh rate, and overall great performance.
If you're looking for a 27-inch screen that's built for competitive titles but aren't keen on spending a fortune, the AOC C27G1 might just be the one for you.
Pros
Vibrant colours and deep blacks
Great refresh rate
Reasonable price point
Sharp images despite its 1080p resolution
Has a good variety of connections
Attractive design
Cons
1080p is still low for a 27-inch monitor
Display is pretty dim by default
Lack of USB ports is a bummer
There's a fair bit of ghosting without the Overdrive feature turned on
Traditional button scheme feels clumsy
With big names like Dell and Asus dominating the budget gaming monitor market, does it have enough under the hood to lure gamers away? We're eager to find out just how gaming feels with AOC's lower-priced offering, in this AOC C27G1 review.
Can't spare the time to read through the whole review? Click any of the links below and it'll take you right to that section:
What is the AOC C27G1?
The AOC C27G1 is essentially a larger version of the 24-inch C24G1, retaining the high refresh rate and stellar response time that makes it such a capable gaming monitor. Its gaming purpose is made quite obvious through its aesthetic which includes a talon-like stand and some tasteful red highlights, though it manages to stay classy enough for low-profile gamers to enjoy.
Its modest $325 retail price tag is especially attractive considering its high performance, and you'll likely find it at an even lower price since it's already a couple of years old. This puts in around the same range as the formidable MSI OPTIX MAG273R and at the opposite end of the spectrum from the Razer Raptor 27!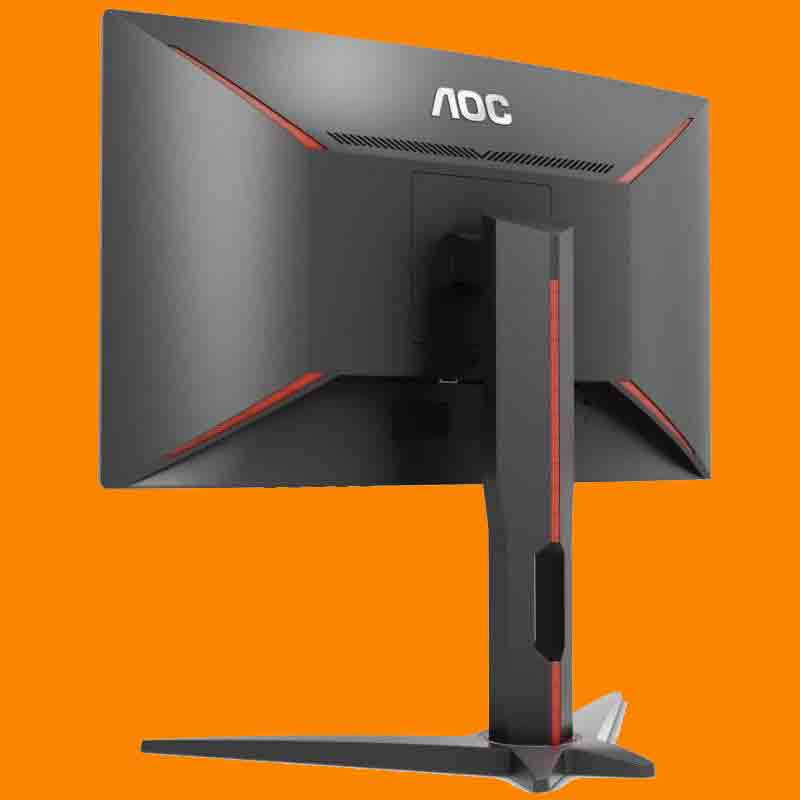 Features
Screen
The C27G1 sports a curved 27-inch screen with a solid 144 Hz refresh rate and 1 ms response time that make it great for competitive games that require higher frame rates such as Overwatch and Warzone. Unfortunately, it's limited to a 1980×1080 resolution which is a little on the low side for its screen size.
Panel Type and Stand
It utilizes a Vertical Alignment (VA) panel that's highly adjustable, allowing it to tilt 21 and a half degrees backwards, four degrees forward, and 34 degrees to the left or right.
G Sync/FreeSync
This monitor was built primarily for AMD graphics cards as it offers full FreeSync support to prevent screen tearing. Bear in mind that you'll need to use a DisplayPort as opposed to an HDMI one if you want to maximize the monitor's FreeSync range.
Ports
AOC's C27G1 comes with no shortage of ports, which includes a PC DisplayPort 1.2, a couple of HDMI 1.4 ports in case you want to hook up your consoles or extra displays, and a VGA port for all your older devices. There's also a 3.5mm audio jack that you can connect your speakers or headset to. It's a shame they didn't throw in a few USB ports as well.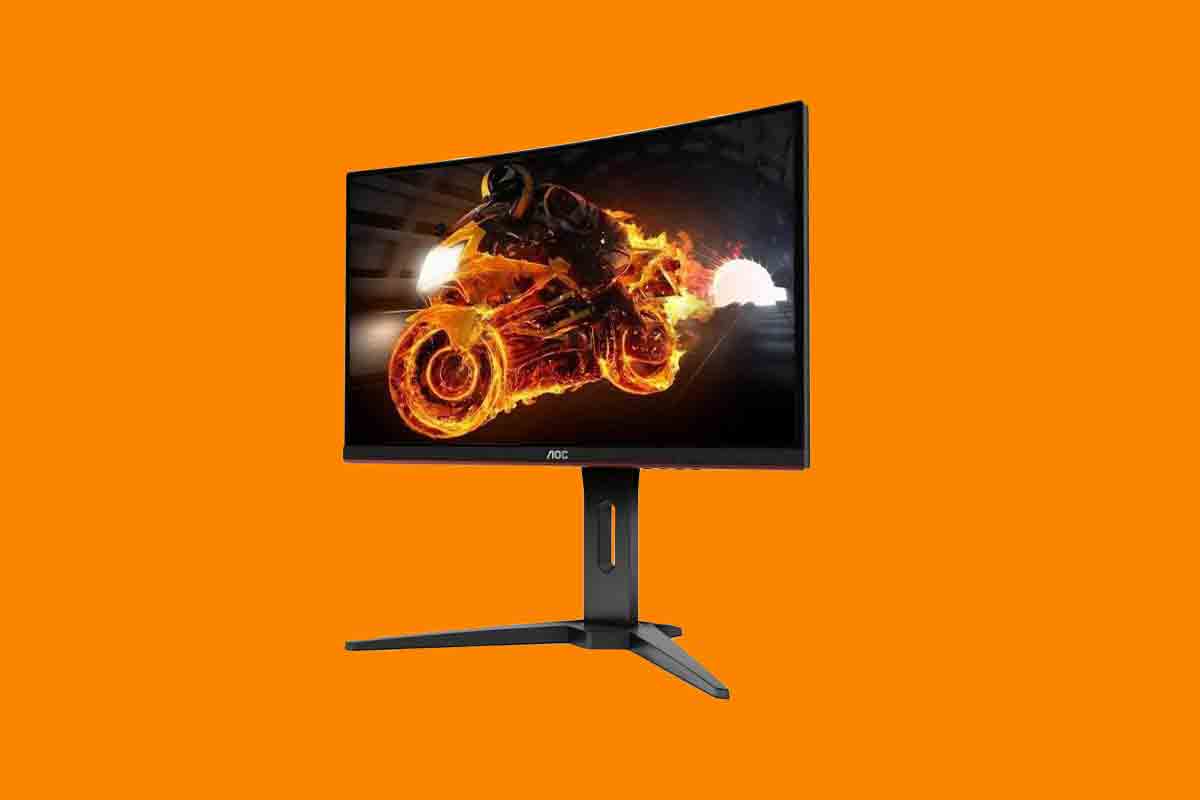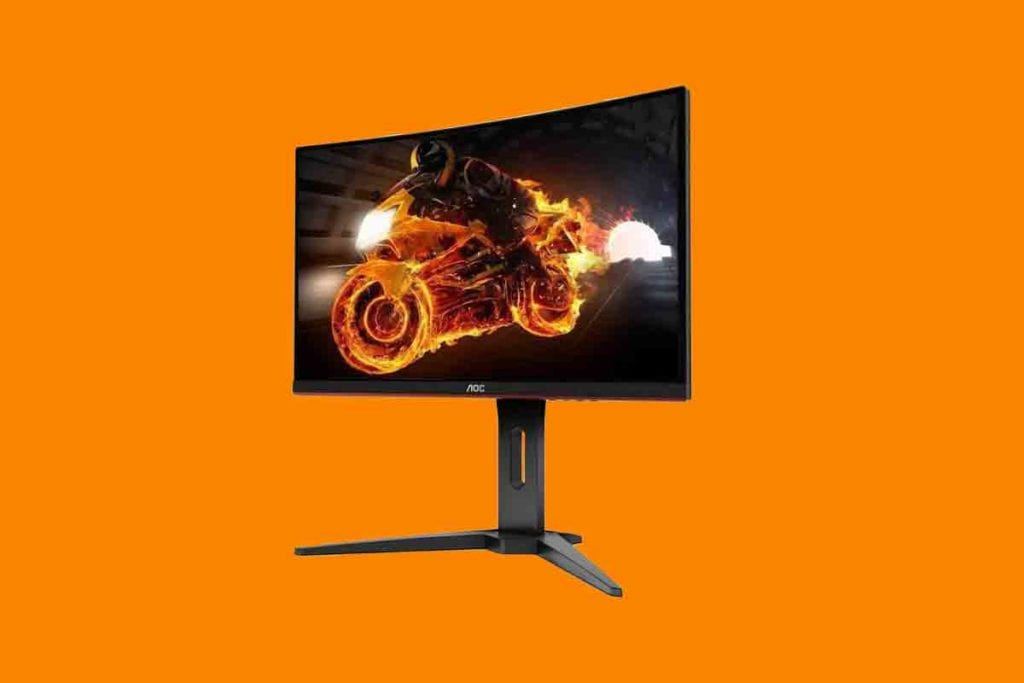 Picture Quality
Right out of the box, the AOC C27G1's colour rendering is impressively accurate and features fantastic black and white levels. This means that your image will look great even without any tinkering. It does, however, come with a weakness that most VA panels suffer from – a lacklustre grey-to-grey response time.
The 1 ms response time AOC boasts in its specs is a bit of a white lie, referring to its moving picture response time as opposed to the grey-to-grey that's usually shown off by most gaming monitors. In reality, the C27G1's response time is 4 ms which can cause some flickering and ghosting in certain areas.
This was the case during my playthrough of The Witcher 3: Wild Hunt despite it not being a particularly fast-paced title. While the game's colours were beautifully vibrant and sported deeper blacks than most displays can manage, the game's grander set-pieces and larger-scale battles often introduced some heavy ghosting.
Fortunately, the monitor comes with a great Overdrive feature that helped significantly reduce the problem. The option is set to OFF by default and setting it to "medium" or "high" can give you some great results. Be warned, though. Overdrive isn't flawless by any means and may bring in unwanted screen artefacts, so you might want to play around with the different settings till you hit that sweet spot.
The screen's underwhelming 1080p resolution is as noticeable as you'd expect while you're on your desktop but isn't nearly as obvious once you jump into your favourite games. Images are surprisingly sharp, even though it's a 27-incher, though you'll probably want to turn up the monitor's brightness levels because they're fairly low by default.
What's it like to use?
The AOC C27G1's variety of ports make it easy to connect to no matter the device and setting up multiple displays is a breeze. It even has a VGA port for more old school devices and a couple of HDMI ones in case you're planning on doing some console gaming.
There are a bunch of settings for you to fiddle with which can be accessed via the line of buttons along the bottom edge of the screen. The position and size of the buttons make navigating those settings feel awkward and clumsy, so you'll want to get that out of the way as soon as you can.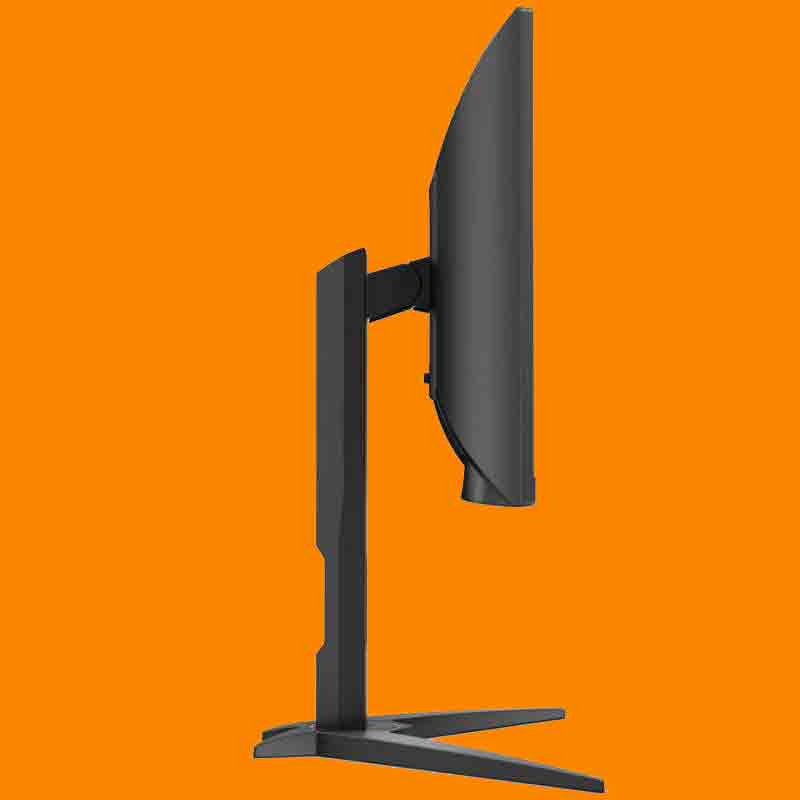 Aesthetics
If you enjoy gaming monitors with a more lowkey look, the AOC C27G1's frameless design and jet-black finish will likely be right up your alley. Its claw-like base and the red accents that line the bottom of the screen provide that dash of edginess you'd expect out of gaming hardware but keeps it tastefully subtle.
The monitor's 1800R curvature is fairly understated and likely won't do much in the realm of immersion, though that also minimizes the excess glare that usually comes with curves screens.
Its sturdy yet flexible stand allows it to bend safely in a variety of angles and the nature of the stand gives it a great centre of gravity. Despite it not having any RGB capabilities, the C27G1 still manages to come off looking very much like a gaming monitor without having to try too hard.
Final Thoughts
Finding a great gaming monitor can be a costly endeavour, especially when you're eyeing one that's good for competitive video games. Luckily enough, the AOC C27G1 comes with the high refresh rate you need for that silky smooth gaming experience, along with accurate colours and intense blacks that make it all look good in the process. The fact that this monitor is rather handsome is a nice bonus too.
Although the ghosting can be mitigated with the Overdrive feature, it still remains a fairly serious drawback, and the brightness should've definitely been taken up a few notches. But all things considered, the AOC C27G1 gives you a lot of value for its reasonable price tag, earning its place as one of the best high-performance budget gaming monitors.
Full Spec List
| | |
| --- | --- |
| Screen Details | |
| Monitor colour | Black |
| Screen size (inch) | 27 inch |
| Resolution | 1920×1080 |
| Refresh rate | 144Hz |
| Response Time | (MPRT) 1 ms |
| Panel Type | VA |
| Sync Range 3 | 0-144 |
| Sync Technology | FreeSync Premium |
| Low blue light | |
| Backlight | WLED |
| sRGB Coverage (%) | 102 |
| Flicker-free | |
| Aspect ratio | 16:9 |
| Brightness (typical) | 250 |
| Contrast (dynamic) | 80M:1 |
| Contrast (static) | 3000:1 |
| Pixel Pitch | 0.3114 |
| Active Screen Area (HxW) | 597,88 x 336,31 mm mm |
| Viewing angle (CR10) | 178/178 º |
| Display Colours | 16.7 Million |
| Bezel Type | Borderless |
| Weight without stand | 4.58 kg |
| Scanning Frequency | 30 -160KHz (H) 48-146Hz (V) |
| Hard Glass 3H | 75 |
| Connections | |
| Signal Input | HDMI 1.4 x 2, DisplayPort 1.2 x 1, VGA |
| Displayport Version | 1.2 |
| Audio output | Headphone out (3,5mm) |
| Whats in the box | |
| HDMI cable 1,8 m | |
| Displayport Cable 1,8 m | |
| Ergonomics | |
| Swivel | -34/34 ° |
| Tilt | -4/21.5 ° |
| Height Adjust Amount | 130mm |
| Removable Stand | |
| Vesa Wallmount 100×100 | |
| Power | |
| Powersupply | External |
| Powersource | 100 – 240V 50/60Hz |
| EnergyClass | A |
| PowerConsumption On (Energystar) | 23 watt |
| PowerConsumption Off (Energystar) | 0.5 watt |
| PowerConsumption Standby (Energystar) | 0.5 watt |
| Dimensions | |
| Product Dimensions (incl base) | 535x612x245 mm |
| Packaging Dimensions (L x W x H) | 694x250x473 mm |
| Net Weight (excluding package) | 6.11 Kg |
| Gross Weight (including package) | 8.083 Kg |
Last update on 2022-05-15 / Affiliate links / Images from Amazon Product Advertising API