Which Is Better For Pro Gamers
With the new 10th generation Intel processor and NVIDIA RTX SUPER graphics cards coming out, a lot of laptops are launched and introduced as the next best thing. Two of the latest gaming laptops to enter the market are   and  MSI GS66 Stealth. Both models have a brand new design and have made a strong leap forward in performance. This has attracted many comparisons from pro gamers. For this reason, we have decided to write an in-depth review of these gaming laptops. Are they worth the hype? But more importantly, which one is better?
In this article, we've decided to have a comparison between AORUS 15G and MSI GS66 to show you which one is a better gaming laptop. Who knows, this may just be the article you're looking for to make up your mind about which laptop to buy?
Aesthetics and Design
| | | |
| --- | --- | --- |
| | AORUS 15G | MSI GS66 |
| Per-key RGB Keyboard | Omron Mechanical keyboard with numeric keys | Membrane RGB keyboard, no numeric keys |
| Special chassis design | Strong CNC chassis and 3mm thin frame | Soft chassis, 5mm frame |
| Dimensions | 356 (W) x 250 (D) x 25 (H) mm | 358.3 (W) 248 (D) x 19.8 (H) mm |
| Weight | 2.2 kg | 2.17 kg |
| Color Scheme | Iron Silver with an aggressive style | Pure black |
At first glance, AORUS 15G is more likely to catch your attention. It has this silver aggressive and extreme looking housing that is inspired by sports cars. Its chassis is made fully with CNC aluminium and almost has no bezels on display. With a 25 mm height, it's not particularly thin but it is surprisingly light at 2.2 kg. It is also the world's lightest and most compact mechanical keyboard. This truly is a pro gaming notebook for pro gamers on the go!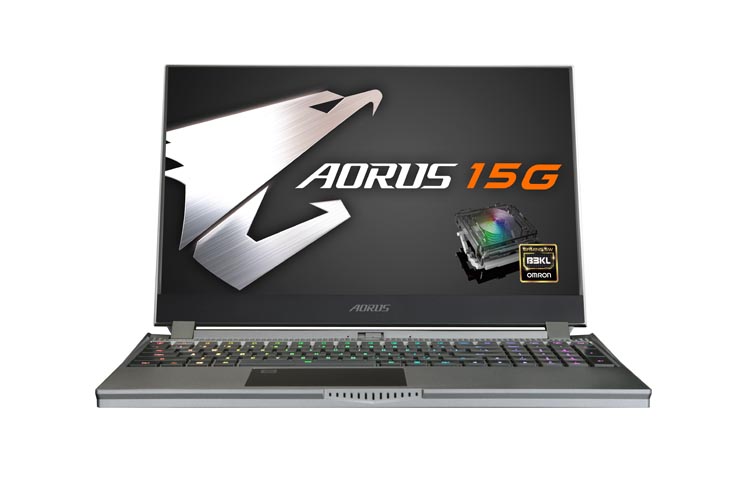 On the other hand, MSI GS66 has a pure black, look that ID is simple and plain. You'd hardly think it's a laptop for gaming. It's maybe thinner but almost as heavy as the AORUS 15G. However, in terms of workmanship, it does need some improvement. It is slightly less durable chassis quality compared to the AORUS 15G and its transitions between elements are not as clean.
So far, based on my analysis and use of both devices thus far, I would say for a professional setting, say giving presentations at work, the MSI GS66 blends in well. But if you're looking for a gaming laptop that stands out with design, keyboards and more ports, the AORUS 15G is really a better option. In terms of thickness, there are certainly thinner laptops around. However, we've seen other manufacturers compromise performance for thinness and we don't want that. The gains of some extra millimetres certainly outweigh the benefits in look for a thinner design.
Display  
| | | |
| --- | --- | --- |
| | AORUS 15G | MSI GS66 |
| Panel | 15.6-inch | 15.6-inch |
| Resolution | Full HD 1920 x 1080p | Full HD 1920 x 1080p |
| Refresh Rate | 240Hz | 300Hz |
| Color Calibration | X-Rite Pantone, 100%sRGB | Close to 99%sRGB |
This year, gaming notebooks are dominated by 240 to 300Hz display. While both gaming laptops have the same panel size and resolutions, they do have different refresh rates. And MSI GS66 took it to the highest level, having a refresh rate of 300Hz. Meaning, it can display up to 300 fps. 
However, we must note that the difference between a 240Hz and 300Hz display is hardly noticeable. In fact, you'd barely reach a stable 300fps in any of today's big-budget games. Displays with high refresh rates do come in handy in competitive multiplayer games such as Counter-Strike, League of Legends, or Fortnite. For such games they could give stable 150fps~200fps with highest SPECs, even the 240Hz can give you a smoother experience.
So in terms of refresh rate, there's not too much difference with MSI GS66 and AORUS 15G, especially since you'd rarely use them at maximum. However, the AORUS 15G is X-Rite Pantone certified, which, in my opinion, gives it the edge overall.
Performance and Gaming
| | | |
| --- | --- | --- |
| Media Review SPEC. | AORUS 15G | MSI GS66 |
| CPU | Intel Core i7 10875H | Intel Core i7 10750H |
| GPU | NVIDIA GeForce RTX 2070 Super with Max-Q Design GDDR6 8GB | NVIDIA GeForce RTX 2080 Super with Max-Q Design GDDR6 8GB |
| Storage | 512GB/1TB, 2x M.2 PCI-E SSD | 512GB/1TB, 2x M.2 PCI-E SSD |
| Memory | 16GB, Up to 64GB Max (Supports 2 slots) | 16GB, Up to 64GB Max (Supports 2 slots) |
| 3D MARK Fire Strike | 18320 | 17440 |
| CinBench R15 | 1650cb | 1210cb |
| FARCRY 5 | 106fps | 102fps |
As you can see, there is not much difference between the MSI GS66 and AORUS 15G and their varieties in terms of CPU, GPU, storage, and memory. 
Both laptops are equipped with 10th Gen Intel Core i7 processors and NVIDIA's GeForce RTX Super GPUs that are very new in the industry. The AORUS 15G have 8 core 10875H processors, and GS66 with the 10750H Core i7 of 6 Cores processor, have little difference in clock speed with AORUS 15G having 5.1GHz and MSI GS66 with 5.3GHz. Thus, their performance and gaming experience are different when we look on benchmarks or games. There is a slight difference, however, when tested for productivity and graphics. For cooling issue reasons, the MSI GS66 falls a little behind the AORUS 15G in most areas. 
Not only for gaming but also working and video streaming, AORUS 15G that comes with Core i7 10875H CPU and RTX 2070 SUPER graphics runs better on most usages than GS66 with Core i7 10750H and RTX 2080 SUPER graphics. The 3D benchmarks as 3D Mark Fire Strike, AORUS 15G at 18320 is 5% faster. On pure CPU benchmark comparison the performance gap is much bigger, AORUS 15G gave it 1650cb which is 36.3% faster than GS66 of 1210cb. Even on the gaming as FARCRY 5, AORUS 15G got 106fps which is 3.9% faster than GS66 at 102fps. 
Other Important Components to Consider
Cooling System
| | | |
| --- | --- | --- |
| | AORUS 15G | MSI GS66 |
| Cooling System | Windforce Infinity Cooling System (4 Exhaust Vents, 5 Heat-Pipes, and 2 Fans) | Cooler Boost Trinity+ (3 Fans and 7 Heat-Pipes) |
| | | |
Picture source: Notebookcheck 
The MSI GS66 and AORUS 15G both promise optimal thermal dissipation. However, they are equipped with different cooling technologies. For us, the AORUS 15G takes the lead in this one. 
With two 12V fans, each having 71 blades, 4x exhaust vents, and five heat-pipes, the AORUS 15G has an increased cooling efficiency of 30% compared to older AORUS laptops. So it can help you achieve 100% outputs from your CPU and GPU without sounding like it's going to explode. But make no mistake, it isn't quiet, especially when set at max cooling. When we look at the surface temperature as table 2 of the image, GS66 got hotter keyboard side temperature.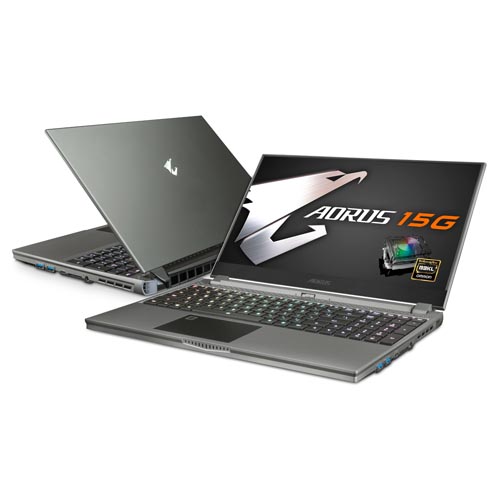 AORUS 15G's cooling is extremely efficient. The housing around the keyboard stayed cool even when we've been playing a heavy game like Hitman 2 for a very long period. There wasn't even signs of overheating, lagging, or slowing down. This can be due to the 3 heat pipes that are dedicated to dissipating heat from the CPU and GPU. 
Mechanical Keyboard is the King
For the keyboard, MSI GS66 is good but not remarkable. Its keys have customizable lighting effects and are responsive. But personally, they are a bit shallow and might feel flat – like you're hitting the bottom too soon. 
Thus, we prefer AORUS 15G's Blue Switch mechanical keyboard by Omron. And if you're a hardcore gamer, you'd love it too. It has a 2.5mm key travel and 1.6mm actuation point. So it feels good to touch. While this isn't much compared to a gaming keyboard, it is a lot better than most keyboards on other gaming laptops. 
Battery
AORUS 15G
MSI GS66

Max Battery Life (according to their press release)

Up to 8 hours

 

(official information) 

Up to 8.5 hours

 

(official information)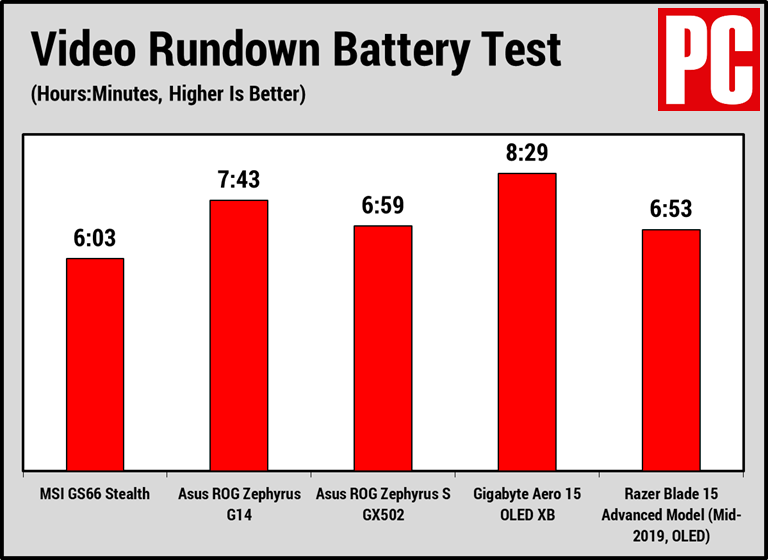 Picture and research source: PCMag
(The 8:29 battery test benchmark from AERO 15 OLED XB, AORUS 15G could share a similar result) 
AORUS series laptop supports different fan speed and the Microsoft Azure AI will adjust it automatically. However, the user can still manually adjust fan settings by choosing different modes or customize the speed
The MSI GS66 is equipped with a 99.9Wh battery while the AORUS 15G has a 94Wh battery. While there's a huge difference in capacity, their battery life isn't all that different. 
If you're going to run your laptop on idle, without WLAN, no loading, and minimum brightness you might reach their promised battery life: AORUS 15G for 8 hours and the GS66 for 8 and a half hours. But since you won't use a laptop just to let it sit and do nothing, we had to see which one can last longer when playing the same video on loop with the same settings. 
In this test from PCMAG review, even GS66 with the MSI's bigger battery, it falls shorter against that of AORUS'. However, do take note that MSI GS66 still provides decent battery life for a portable laptop to over 6 hours – it's just not the same with the AORUS 15G to over 8 hours.
Final Verdict  
There's one last thing you have to consider about these two laptops: their price. The AORUS 15G is available in Australia for $3,399 to $4,999. On the other hand, the MSI GS66 Stealth costs around $4099 to $5599. Obviously, the MSI GS66 is way, way more expensive than the AORUS 15G – which we think is a huge factor when choosing which one is better. 2
No products found.
Sure, the MSI GS66 Stealth is a strong contender in the newer gaming laptops of today. However, for its price, you might want to look elsewhere. This is why we believe AORUS 15G is better even with its thicker and heavier features. It performs just as well, sometimes even better than MSI GS66, but still at a price that you can afford. 
Last update on 2022-05-15 / Affiliate links / Images from Amazon Product Advertising API