Apple AirPods have been a huge success since they launch but despite this success, the original Airpods and the AirPods 2 have had their critics. Apple's latest wireless earbuds, the AirPods Pro is their attempt at rectifying some of the issues from past models. But not only have they solved the majority of these issues, but they've also introduced some new and very useful features, like ANC (active noise cancelling).
This Apple AirPods Pro review is a comprehensive look at what makes these earbuds Apple's best AirPods yet and contenders for the best wireless earbuds 2020! Let's jump in.
CHECK TODAY'S PRICE HERE: See at Amazon
Apple AirPods Pro
Look Station

Features

Total Value
Review Summary
The aPple AirPods Pro is a significant upgrade over the regular AirPods and almost make them redundant. For the extra money, you get so much more quality and so many more features. The active noise cancellation alone is worth the extra cash. The design is still controversial but if you like it and you're an Apple user it's hard to find a better pair of all-round wireless earbuds.
Pros
✓ Active noise cancellation
✓ Great sound quality
✓ Wireless charging
✓ Apple integrations
Cons
✗ Questionable design
✗ Average battery life
If you're reading this AirPods Pro review and you're short on time, use the links below to skip ahead:
Who are these for?
It's simple, the AirPods Pros are for Apple users who either want to upgrade from their standard AirPods or for Apple users who currently do not own a pair of wireless earbuds.
If you're an Android user, you can still pair the Airpods Pros with your phone, but you miss out on a few useful features exclusive to the Apple ecosystem.
What are the AirPod Pros like to use?
Apple is all about creating the best user experience possible and this starts with opening the box. And yes, you guessed it, it's a great experience that sets high expectations for the rest of the product experience.
Pairing the AirPods Pro
To pair the AirPods Pro with an iPhone or iPad is a wonderfully simple process that involves just one step – opening the case near your iPhone or iPad. It's that simple. As long as you have the up-to-date software on your devices the AirPods Pro will pair in a matter of seconds after flipping the lid on the case. It's really that easy and continues the frictionless experience so far.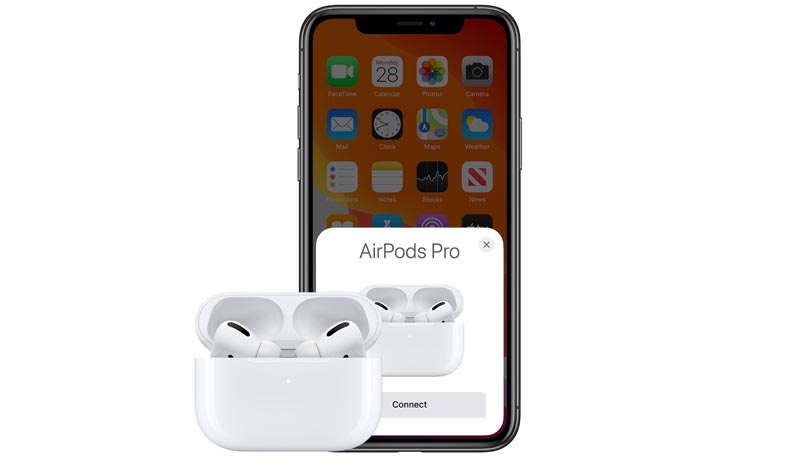 In addition to pairing with your iPhone or iPad, the AirPods Pro will also pair with any other Apple devices connected to your iCloud account, such as your Apple Watch. Clever stuff.
Ear Tip Fit Test
Apple has taken the guesswork out of finding the most suitable ear tip size by including a software solution that measures how well the sound is reaching your ear canal. It doesn't take into account comfort (that's up to you) but it will let you know if there's too much sound leakage.
All you have to do is place the earbud into your ear and navigate to the AirPods section in the iOS settings. From there you'll find the Ear Tip Fit Test. This test will play music through the earbuds and use the internal microphone to assess how the soundwaves are reaching your inner-ear. Apple's software will then let you know if the ear tip you're using is creating a suitable ear seal and allowing the sound waves to behave as they should be.
If Apple is happy with the fit the test will give you 'Good Seal' approval message and if not it will ask you to try again with a different-sized tip. This is a very cool and useful feature that makes the set-up process that much easier!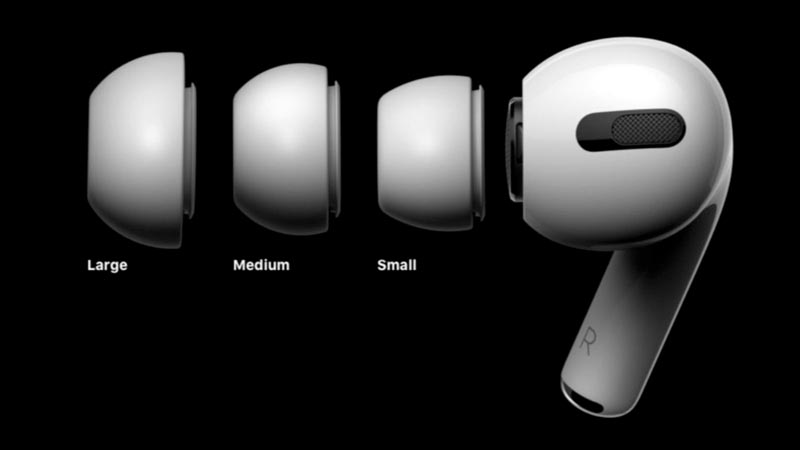 AirPod Pro Comfort
The discomfort experienced by a lot of Apple AirPods users was a common complaint and something that Apple has worked hard on resolving with the AirPods Pro. Apple is now including three different-sized silicone ear tips to help their customers find a comfortable fit without having to look at third-party solutions. Why Apple didn't include silicon tips with the original AirPods is beyond us. Almost every other wireless earbud product has included ear tips from day 1, so Apple really had no excuse. Thankfully they have finally learned their lesson and have actually done a really good job.
Controls
Controlling the AirPods Pro is a massive improvement over the standard AirPods. Previously you would have to press on the bud section of the earbud, now it's the stem, which we found to be a lot more comfortable. Apple has included, what it calls the Force Sensor (and it doesn't measure midi-chlorians for you Star Wars fans) that is essentially an accelerometer that can measure the taps.
Below are the different controls:
Press once to play, pause or accept a phone call
Press twice to skip forward and hold to fast forward
Press three times to skip back on a track and hold to rewind
Press and hold to switch between ANC & Transparency Mode
A huge negative is the lack of volume control on the buds themselves. Why would you design earbuds without volume control on the device itself? You'll have to lean on Siri for this or use your device. Very frustrating.
Despite the lack of volume control, the controls are simple and very intuitive. It will be no-time before you have the muscle memory and controlling these feels completely natural.
Battery Life
One of the most frustrating parts of wireless earbuds is the need to recharge them frequently and this is an area where historically Apple has been slacking. The AirPods Pro is no different and only offer 5 hours of listening time from a single charge. This isn't absolutely terrible (same as the Pixel Buds 2), but it's a huge downgrade compared to some other premium wireless earbuds like the Powerbeats Pro's 9 hours!
Most people rarely exceed the 5 hours in one sitting so it shouldn't be much of an issue most of the time. However, when they do run out of battery it is frustrating. Thankfully they have a very quick charge time and can deliver 1 hour of listening or talk time from 5 just minutes in the charging case.
Charging Case
We've always been fans of the AirPods charging cases and the AirPods Pro charging is probably our favourite. It is marginally larger and heavier than previous versions but it's barely noticeable and is still easily one of the smallest charging cases on the market.
The AirPods Pro charging case can hold an additional 19 hours of listening time, which brings the total to approximate 24 hours, which is quite good and on par with the vast majority of other premium wireless earbuds.
In order to check the charging case's battery level, you'll have to refer to your phone to get an exact percentage, if not there is a light indicator the case which isn't too helpful with just an amber and green light signalling the charge level.
Unfortunately, and in typical Apple fashion, they have included a lightning to USB-C cable, because, well they're Apple. It's the little things like this that really detracts from the user experience. Why can't they just move everything over to USB C and be done with it? This is just one extra cable to carry around.
The plastic casing is high quality and does a good job of not picking up dirt or too many fingerprints. It feels robust and premium and the extra weight actually makes it a more attractive object in our opinion. There's a certain charm to holding something that has some weight to it – it just feels premium.
Apple has included Qi-wireless charging, which is fantastic and makes charging an absolute breeze. Just plonk the case down on the charging pad and they'll begin charging.
What are they like to use for workouts?
The Apple Airpods Pros are quite well-suited to workouts thanks to a much more secure fit over the previous version and their IPX4 rating. We found the Pros to be much more secure than the originals and didn't come loose or even feel loose during a running session. They're also quite bass-heavy so could be good for getting you going in the gym or helping you keep to a certain cadence while running. We wouldn't recommend doing anything like skipping as they could come loose from more vigorous movements.
Overall these are suited to light workouts and running.
What are they like to use in the office?
Thanks to the new inclusion of ANC (active noise cancellation), these are excellent wireless earbuds for office work. They do a good job of cutting out noisy distractions while also giving you the option to feed through outside sound with Transparency Mode. Transparency mode uses the external microphone to feed through sounds to the speaker. This is great if you need to have a quick chat in the office and can be turned on by simply holding your finger on the Airpods Pro's stem. Once you're done chatting, hold it again and you're back in ANC mode.
In addition, these guys can take calls and the microphone quality won't cost you you're job or lose an important deal. Let's be clear, the microphone isn't good but it is passable, which is all anyone can expect from wireless earbuds.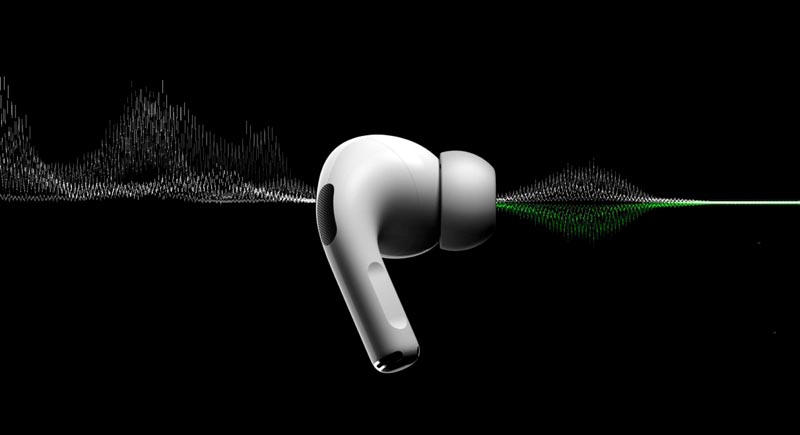 Are they good enough for pure audio enjoyment?
The Apple AirPods Pro is a significant upgrade over the AirPods 2 and delivers an excellent listening experience. They may not deliver the same acoustically brilliant sound quality you can expect from audiophile-grade earbuds, but they're definitely good for the money.
Bass Performance
The AirPods Pro delivers very good bass performance that is balanced across the range from low bass to high bass. They do a much better job than regular AirPods thanks to their closed-off design which massively reduces bass leakage. They're not quite as bassy as the Powerbeats Pro, but that's to be expected.
If you're a bass-heavy music fan then these will not disappoint you. They will deliver a thumping bass that doesn't drown out everything else.
Mids Performance
The mids on the AirPods Pro sound fantastic. They do an excellent job of representing lead vocals in the mix without overshadowing any other part of the track. The mids are very well balanced across the range which results in a consistent sound
Treble Performance
Treble performance is excellent. The AirPod pros do a wonderful job representing the highs with great clarity. High tones are clean without being piercing and cymbals sound crisp.
Codecs and techy stuff
The AirPod Pros utilise Apple's clever H1 chipset. This chipset is the brain responsible for the active noise cancellation (which adjusts over 200 times per second) and for the low audio latency. Audio latency can really kill an earbud if it's too long as this it will result in the sound not matching the video. That's no issue with these. We also tried this with an Android device and found the experience equally good.
Apple has worked really hard to make the AirPod Pros sound fantastic and deliver a truly excellent listening experience. If you want to watch a movie and use these, well you're in luck. The Pros are compatible with 5.1, 7.1 and even Dolby Atmos videos. They do this using their "Spatial Audio" technology which simulates additional speaks. The onboard, accelerometer then adjusts these virtual speakers in accordance with your head movements. We watched a few films with these and honestly, they were brilliant!
Apple Integrations & Ecosystem
Apple users can't get enough of the Apple Ecosystem and for good reason. If you're an Apple power user, you really do get a lot of useful synergistic value and the AirPods Pro is no different.
Thanks to the H1 chipset, you have the option to have an always-on Siri experience. Which is super useful for setting quick reminders, asking questions and getting directions without getting your iPhone out of your pocket.
The Look Station
Well, this is a bit of a hot topic in the world of earbuds – you either love the AirPod's stem design or you hate it. We have mixed opinions in the office but overall it's positive. The AirPods Pro has a shorter stem than the originals and to our eyes, this makes for a more aesthetically balanced product. There is also an air of high performance in the design language which is expressed through the external vent.
Even after 20 hours of reviewing the AirPod pros, they remained surprisingly clean. This is largely due to the high-quality plastic used for the out case. The earbuds also remained clean, but this may be more about ear-hygiene than anything else!
The case looks great too. It's made from the same high-quality plastic and also remained clean through the review. It's almost identical to the originals' charging case but is slightly chunkier. This extra fat doesn't detract from the simple minimalist design we are used to from Apple.
Overall, these are a good-looking, sleek product that current AirPod owners will love. However, if you're not a fan of the originals' design, then you won't like these either.
What's in the AirPod Pro box?
We touched on the box opening experience earlier in the review, but what exactly do you get in the AirPod Pro box? Well, not a whole lot, but everything that you need, except for a charging block!
AirPods Pro
Wireless Charging Case
Three different-sized silicone ear tips
Lightning to USB-C Cable
Manual & Documentation
AirPod Pro Review Summary
Overall, the AirPods pro is an excellent pair of wireless earbuds and a huge upgrade over the regular AirPods. It's fair to say that if you're looking for a pair of earbuds and you're an Apple user, then you can't look past the AirPods Pro. They may not be the best at anything, but they are good at almost everything!
We hope you enjoyed our review of the Apple AirPods Pro. Our aim is to help our readers become more informed about the technology that you are interested in. We hope our AirPod Pro review has done just that. If you have any questions, comments or feedback, please let us know in the comments!
AirPod Pro (official) Specs
Check out the full spec list on Apple's official page.
| | |
| --- | --- |
| Audio Technology | Active Noise Cancellation |
| | Transparency mode |
| | Adaptive EQ |
| | Vent system for pressure equalisation |
| | Custom-built high-excursion Apple driver |
| | Custom-engineered high-dynamic-range amplifier |
| | |
| Sensors | Dual beamforming microphones |
| | Inward-facing microphone |
| | Dual optical sensors |
| | Motion-detecting accelerometer |
| | Speech-detecting accelerometer |
| | Force sensor |
| | |
| Chip | H1-based System in Package |
| | |
| Sweat and Water Resistance | Sweat and water resistance (IPX4) |
| | |
| Size and Weight (Each) | 21.8 mm (0.86 inch) |
| | |
| | 30.9 mm |
| | (1.22 inches) |
| | Height: |
| | |
| | 30.9 mm (1.22 inches) |
| | Width: 21.8 mm (0.86 inch) |
| | Depth: 24.0 mm (0.94 inch) |
| | Weight: 5.4 grams (0.19 ounce) |
| | 60.6 mm (2.39 inches) |
| | |
| | 45.2 mm |
| | (1.78 inches) |
| | 21.7 mm (0.85 inch) |
| | Height: |
| | |
| | 45.2 mm (1.78 inches) |
| | Width: 60.6 mm (2.39 inches) |
| | Depth: 21.7 mm (0.85 inch) |
| | Weight: 45.6 grams (1.61 ounces) |
| | |
| Charging Case | Works with Qi-certified chargers or the Lightning connector4 |
| | |
| Battery | AirPods Pro |
| | Up to 4.5 hours of listening time with a single charge (up to 5 hours with Active Noise Cancellation and Transparency mode turned off)5 |
| | Up to 3.5 hours of talk time with a single charge6 |
| | AirPods Pro with Wireless Charging Case |
| | More than 24 hours of listening time7 |
| | More than 18 hours of talk time8 |
| | |
| | 5 minutes in the case provides around 1 hour of listening time9 or around 1 hour of talk time10 |
| | |
| Connectivity | Bluetooth® 5.0 |
Last update on 2022-05-20 / Affiliate links / Images from Amazon Product Advertising API