The legal battle of Apple vs Epic is seemingly getting pettier by the minute, as both sides continue to throw new jabs at one another every chance they get. With the whole squabble going as far back as August of last year. It's hard to keep track of everything that's happened so far with this debacle.
That's why we've decided to condense all the events that lead up to this into one handy primer so that anyone who's been missing out can quickly get up to speed.
How did Apple vs Epic Begin?
It all started with Fortnite. The nastiness all began on August 13 last year, when Epic rolled out an update for the mobile version of their hit online shooter Fortnite. Essentially, players would be able to buy V-bucks (the game's online currency) straight from Epic Games themselves, as opposed to having to do so via Google Play for Android or the App Store for iOS devices.
As some of you may know, both the App Store and Google Play charge a 30% transaction fee for anything purchased from either platform, meaning Epic added a method of purchasing V-bucks that would pretty much cut Apple and Google out entirely. This did not sit well with either company, as you can imagine.
The iPhone creator swiftly retaliated by delisting the game from their App Store, with Google following suit shortly after. The response was far from surprising since Fortnite is one of the most played games in the world and one of the sparks that ignited the Battle Royale phenomenon. So if you take away revenue from a source of that magnitude, Apple and Google are bound to make a fuss.
Fortnite's  parody video
The Apple vs Epic saga would not end there, however, as Epic Games was not about to take the delisting of their beloved title lying down. The Fortnite developer released a parody video that featured a monitor showing a talking apple with part of its head bitten off, followed by a Fornite character chucking a large unicorn axe at the screen. The video ended with the following message:
"Epic Games has defied the App Store Monopoly. In retaliation, Apple is blocking Fortnite from a billion devices. Join the fight to stop 2020 from becoming '1984'. #FreeFortnite"
This is an obvious jab at Apple's 1984 Macintosh commercial about going up against corporate dominance which played out in almost exactly the same way.
In addition to this tongue in cheek corporate video propaganda, Epic announced a Fortnite tournament where the aim of the game was to eat as many in-game apples as possible, with players who perform well winning some cheeky merch and the Tart Tycoon in-game skin.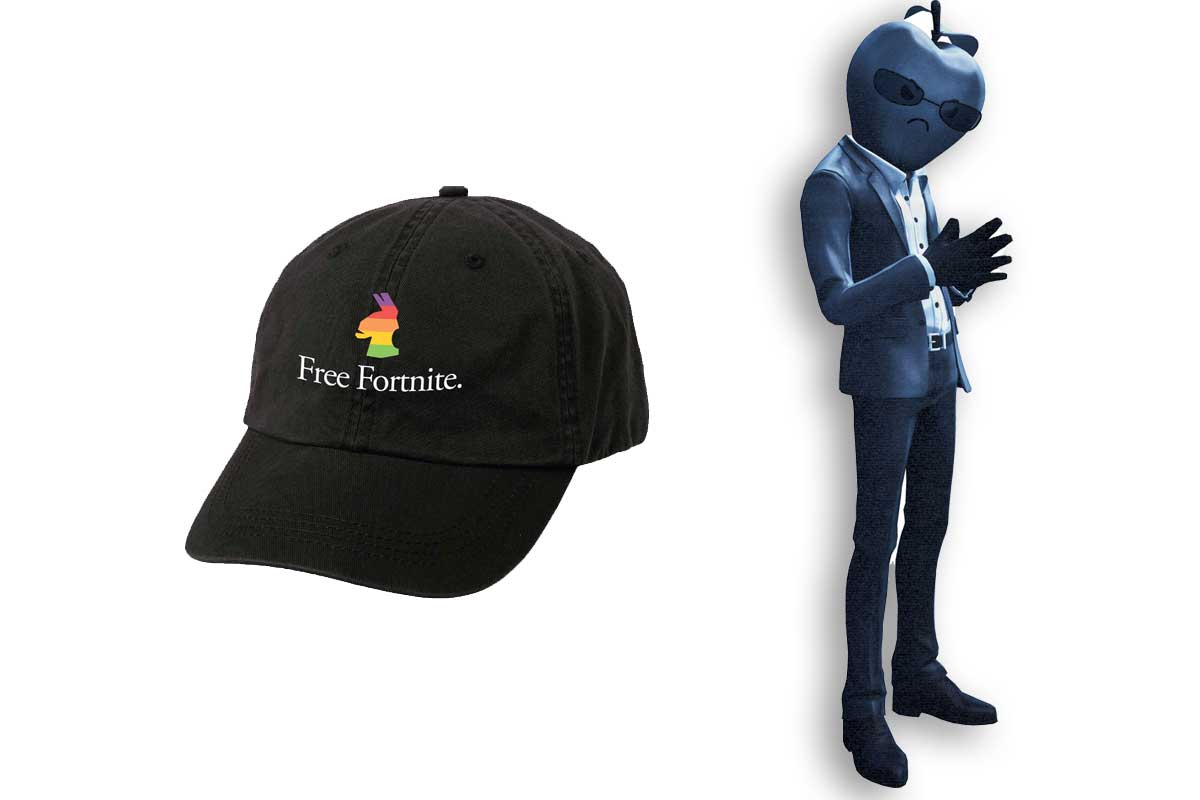 Epic's lawsuit over App Store dominance
The video wasn't the only thing Epic threw at Apple. Shortly after the video was released, Epic filed a suit in California aimed at Apple (read the filing here), which stated that the video game developer and publisher would have gladly launched its own app on iOS devices if it hadn't been for Apple's restrictive policies.
In short, what Epic wanted out of the lawsuit was that, instead of having to charge more for V-bucks on account of the App Store's 30% transaction fee, they should have their own storefront app on iOS devices apart from the existing App Store. This, of course, would open up the opportunity for other devs to do the same.
Apple's longtime rival rallies behind Epic
In a surprising move, tech giant Microsoft was quick to come to Epic's aid, filing a 4-page letter of support in their suit against Apple. Microsoft argued that blocking Epic Games from utilizing and updating the Unreal Engine for iOS devices would spell disaster for any game on an Apple device that made use of the said engine. This means no more bug fixes and updates.
Of course, Microsoft's own checkered past with Apple should also be considered. Just last year, when Microsoft was testing its new xCloud technology, Apple only allowed for one game to be tested on iOS devices which was Halo: The Master Chief Collection. In comparison, the Android beta was allowed an impressive repertoire of titles.
Upon the xCloud beta test's conclusion, Microsoft was convinced that xCloud wouldn't fly on Apple devices thanks to the company's unreasonable terms, while the streaming service was successfully released on Android where people could enjoy hundreds of games at any time.
Should Epic win the lawsuit over Apple and succeed in allowing third-party storefronts to iOS devices, there would be nothing stopping Microsoft from launching xCloud on iPhones and iPads everywhere.
Apple's brief win over Epic
Towards the tail end of August last year, a US District Court Judge ruled in favour of Apple, albeit temporarily, stating that the Mac developer was not required to immediately reinstate Fortnite into their App Store.
It wasn't a complete win for Apple, however, as the court also ruled that Epic should maintain access to the Unreal Engine despite Fortnite being absent from the Apple storefront.
Apple vs Epic heads towards a crescendo
On October 7, 2020, it was made public that Apple and Epic Games would take the matter to court, with a court date set on May 3 the following year. The focus of the hearing would be Apple's enforcement of the 30% transaction fee as part of its monopoly over the distribution of apps.
The Apple v Epic in app payment trial date is set for May 3rd, 2021.

Apple and Epic both agreed to a bench trial rather than jury trial.

Focus will be on Apple as a monopoly over app distribution, forcing 30% cut. pic.twitter.com/Fjl0oxSmjW

— Daniel Ahmad (@ZhugeEX) October 7, 2020
Epic goes after Apple and Google UK
Epic also filed a claim to the Competition Appeal Tribunal against both Apple and Google, stating that both companies had "abused [their] dominant position" in the market and "engaged in anti-competitive agreements/concerted practices" both in the United Kingdom and the European Union. The claims were filed on December 8 and 29.
Epic Games vice president of communications and policy Tera Randall reached out to online publication GamesIndustry.biz with the following statement:
"We believe that this is an important argument to make on behalf of consumers and developers in the UK and around the world who are impacted by Apple and Google's misuse of market power. Epic is not seeking damages from Apple or Google in the UK, Australia or the US, it is simply seeking fair access and competition that will benefit all consumers."
Apple responded with a statement of its own, which reads:
"For twelve years, the App Store has helped developers turn their brightest ideas into apps that change the world. Our priorities have always been to provide customers with a safe and trusted place to download software and to apply the rules equally to all developers. Epic has been one of the most successful developers on the App Store, growing into a multibillion-dollar business that reaches millions of iOS customers around the world, including the United Kingdom. In ways a judge has described as deceptive and clandestine, Epic enabled a feature in its app which was not reviewed or approved by Apple, and they did so with the express intent of violating the App Store guidelines that apply equally to every developer and protect customers. Their reckless behaviour made pawns of customers, and we look forward to making this clear to courts in the UK."
Epic Games isn't the only one going after Google, as the multinational company was recently hit with a class-action lawsuit on account of the Google Stadia streaming service failing to live up to its promise of running all its games at 4K and 60 fps.
Fornite remains delisted from the App Store, with a trial pending this coming May.