Aurora View Projector Quick Review
Summary
Aurora View is a simple retro device that can help develop your child's creativity and imagination. With the device's images and sounds, you can teach, realistically convey stories, and create unforgettable moments with your child.
Pros
Cute and handy design
Many available reel themes
No shadow distortion
Cons
Relies heavily on your storytelling and creativity to work
Expensive
Sometimes, simple books may not be enough to make a child pay attention. You'll need to incorporate visuals and sounds into your stories to make them more appealing and stimulating. But how do you do that without using a smartphone, tablet, or other electronic devices? Well, let the Aurora View help you.
The Aurora View is a simple sound shadow projector that you can use to bring your stories to life. How? Well, let's find out with this review.
In a rush? You can click on any of the links below to skip to that section of the Auoroa View Projector review:
Overview
Many children today are addicted to TV, computers, smartphones, tablets, and iPads. While these devices have their advantages, too much of them can affect a child's ability to think independently. They can also harm their creativity and development. So as parents ourselves, we were thrilled to hear about Aurora View. With its many images and sounds, it can be the perfect addition to your playtime and bedtime routine. No need to depend on electronic books from tablets and smartphones, which means, you can lessen your child's exposure to gadgets and damaging lights.
Aurora View offers various shadow images and sounds, which can help activate your child's brain and stimulate his/her imagination. It is based on the old toys surely many of you have come to know. Basically, it is a shadow story reel but equipped with realistic sounds. The best part is, it's designed so both parents and children can use it.
On the downside, Aurora View is a lot more expensive than many projector toys around. With a list price of US$65, it is pricier than the Yeelan Slide Projector, USATDD, and Moonlite. The good thing is, Aurora View will be offered at a much cheaper price on Kickstarter where you can purchase it for US$39.
[wd_hustle id="147″ type="embedded"/]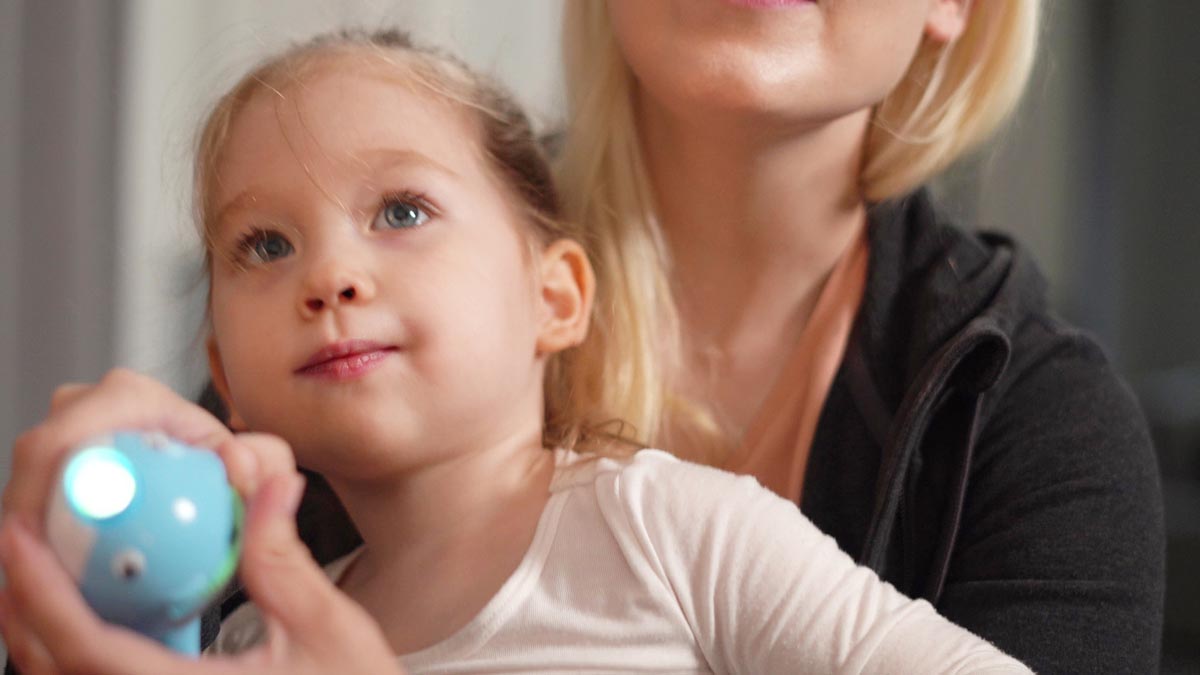 Features
Many Reel Themes
One of the reasons why Aurora View is more expensive than other similar products is the number of reel themes it includes. Each projector comes with 1 shadow film reel set, which consists of 5 individual reels. Every reel has 8 images and follows a single theme, like various vehicles, birds, farm animals, the life cycle of frogs, and more.
You may choose 1 out of 3 sets. So overall, Aurora View offers 15 reels, each with unique themes. If 5 reels aren't enough, additional reels will be available for purchase on the company's official website or through Amazon. Now, compared to other products, Aurora View offers more reel options upon purchase (5 reels). Moonlite only comes with 1 reel, which follows a single storyline, while Yeelan comes with 3 reels and USATDD with only 4.
Shadow Quality
Another notable feature of the Aurora View is its big shadow size. Its shadows are about 40 inches (1m) in size, making it relatively bigger than other similar products. If you've tried Yeelan or USATDD, you'll instantly see a huge difference. On top of that, it has a sharpness adjustment function and its shadow quality does not get distorted. However, since it's all shadows, don't expect to see any color.
Realistic Sound
What really makes Aurora View different from other similar products is its addition of sounds within the device itself. It features sounds that match the shadows, helping make your stories even more realistic and interesting.
Specs
| | |
| --- | --- |
| Size | 4.33 x 2.75 x 2.16 inch (110 x 70 x 55 mm) |
| Material | ABS plastic |
| Battery | AAA (3) |
| Weight | 2.82 oz (80g) |
Aurora View is equipped with a light and speaker, allowing it to cast a shadow and produce sounds all on its own. Unlike Moonlite, you won't need additional devices to make it work. Just pop in three batteries, insert the reel you want to play, and turn it on. No need to install an app or take your smartphone out.
What we love about the Aurora View is that it doesn't have blue light, which causes eyestrain, dry eye, or blurry vision. And unlike smartphones and other electronic devices, it will not keep children from sleeping. So if you're looking for something to play with your child without bringing out the gadgets, this is certainly a great option.

Aesthetics
Aurora View comes in a cute baby dolphin design, which is probably already familiar to every child. We love that it's made this way because it seems more friendly and toy-like, unlike Moonlite. Its size and weight are also perfect for children, allowing them to explore and play with it on their own.
Using Aurora View is quite easy too. Switching from one image to the other is quick and smooth, and the reels don't fall off either. There's also a convenient button to play the sounds and a little switch in the back for the lights.
Final Thoughts
Aurora View is a simple children's toy that functions as a projector. But unlike many similar products in the market, it offers interaction and variety. It allows parents to create more enticing and interesting stories, which can expand your child's imagination and creativity. It can even help your child learn a few things before going to bed. Overall, this is a better and healthier option than giving your child gadgets before bedtime.
Take note, however, that Aurora View works best with you around. Its effectiveness comes from the stories you make for your child. Since there's no fixed story for you to base on, you can make up a different story every single time, from simple short stories to fairytales and lullabies. So you may have to tap into your creative and imaginative side to make the Aurora View work.
Check out the full campaign here.
Last update on 2022-05-15 / Affiliate links / Images from Amazon Product Advertising API