Any pair of Beats comes with a certain level of expectations and the Powerbeats Pro deliver. This review dives deep into why these wireless earbuds made it on our list of best wireless earbuds and why they deserve your careful consideration. These are touted as Airpod 2 competitors, but honestly, they're a step above!
CHECK TODAY'S PRICE HERE: See at Amazon
Beats Powerbeats Pro Review
Look Station

Features

Total Value
Summary
If you're in the market for a premium pair of wireless earbuds to use in the gym or for running, then the Powerbeats are probably the best on the market. They are premium in every way but you pay for the quality you are receiving!
Pros
✓ Sound quality
✓ Battery life
✓ Secure fit
Cons
✗ Recessed mids
✗ Poor isolation
✗ Pricey
Apple's acquisition of Beats has done brilliantly and it has allowed Apple to create a line of audio products that have different target audiences in mind.
Apple's self-branded earphones are for everyday usage whereas the Beats Powerbeats Pro is designed for users with a more active lifestyle. However, it's fair to say that the Beats are just as good as the AirPods as an everyday pair! Let's jump into the review and find out why!
If you're short on time, skip ahead to the different sections of theBeats Powerbeats Pro review:
Audio quality
IF you don't know about the bass-heavy signature sound profile Beats are famous for, well, where have you been?! A first-time listener would group these up with some previous versions of over-bassy Beats. But Apple has been refining and improving the balance with each iteration, and these are the best sounding Beat's earbuds yet! Let's take a look at the sound profile in more detail:
Bass
As expected, the Powerbeats Pro excels in the bass department. They have one of the lowest low-frequency extension on the market, which means they can produce very low, bassy sounds without distortion. If you listen to bassy music, these will absolutely blow you away! Even on incredibly bassy music, there is little to no distortion what so ever.
Mids
The audio quality doesn't stop at the bass. The mids are also very very impressive. Even with strong bass, the mids do not recede much into the mix. Vocals are crisp, clear and balanced.
Treble
If there were any complaints about the sound profile it's with the treble. It's not bad but doesn't hit the heights of the mids or bass. The treble is a bit under-emphasized which results in toned-down highs which may bother some audiophiles. It's not really noticeable to the average wearer but it's something to be made aware of.
These are a noticeable improvement over previous Beats earbuds and Apple have fulfilled their claim of the Powerbeats having 60% less harmonic distortion. You'll be able to clearly hear each layer and instruments within the song and take pleasure in-depth and complexity that the song has to offer. These are not quite at audiophile levels of sound quality but wow do they sound good! The only downside is the lack of ANC.
Noise Cancellation
Unfortunately, the Beats do not have ANC (active noise cancellation), but they do offer excellent passive noise cancellation thanks to their well-fitting design. This might be deal-breaker for those of you who commute a lot but if you are after noise cancellation, you're better of getting a pair of headphones rather than earbuds! These will do a pretty good job or reducing chit chatter around you but dull drones will still get through.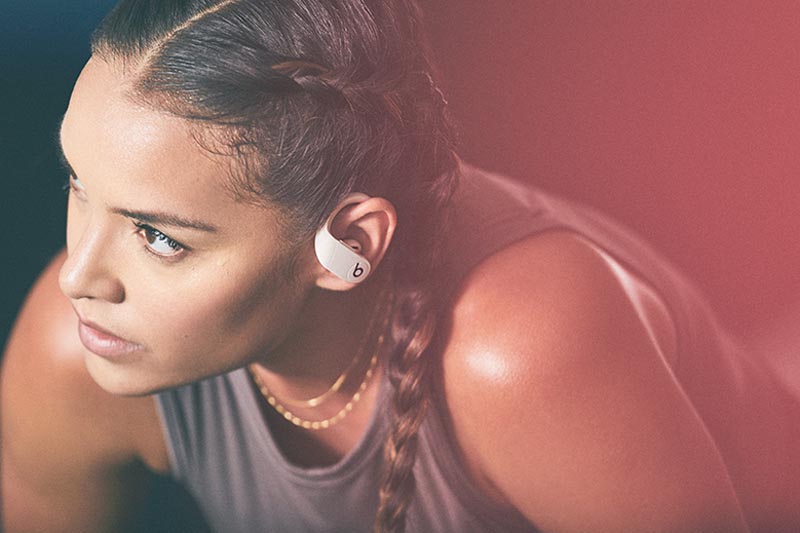 Comfort
The Powerbeats Pro is an incredibly comfortable pair of wireless earbuds that utilise premium materials and clever design to achieve this. The buds are covered in a premium rubber that feels nice but also provides a comfortable grip. The ear hooks are adjustable and can be bent to the shape of your ears. Within the box are 4 different sizes of ear tips to help you find the best fit for your ears. The result is an incredibly comfortable, compact and sturdy fit.
The comfort doesn't stop at just wearing the Beats, they continue to offer better comfort than other buds while listening to music. The Powerbeats are designed to reduce any in-ear pressure built up from using tight-fitting wireless earbuds. In-ear pressure is a result of the earbuds adding air to your ear canal but not providing the air an escape route. The Powerbeats solved this by including a micro-laser barometric venting hole to release the pressure. Very cool!
During workouts, these guys are absolutely perfect. They're so comfy it's easy to forget you're even wearing them. They're also just so securely fitted that even workouts like skip rope are no problem. Don't worry about getting them sweaty, they have an IPX4 rating which means they are sweat and water-resistant – but not waterproof, so no swimming!
Controls
So, the Beats Powerbeats deliver high-quality audio in a comfortable package, but what are they like to control? Oftentimes, earbud manufacturers miss the mark on what is one of the most important design aspects, so how do the Beats fare?
Short answer, very well! Each earbud mirrors the button layout and control options of the other which is an excellent design choice. You won't be fiddling around on the left earbud only to realise its the right earbud that skips forward and back.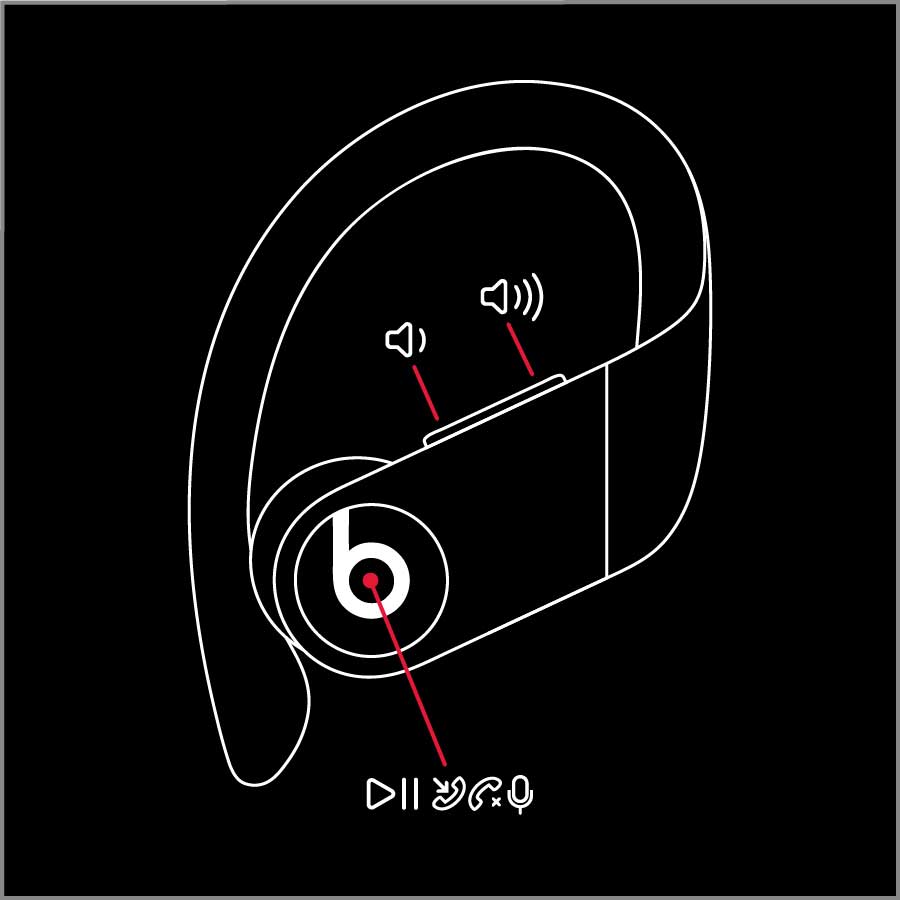 The primary function button is the Beats symbol on the outside of each bud. Some of the functions are:
press the Beats logo button once to pause or play audio
press the Beats logo button twice to skip to the next track
press the Beats logo button three times to listen to the previous track
press the Beats logo button once to answer or end a phone call
press and hold the Beats logo button for 1 second to decline an incoming phone call
The volume is adjusted by a volume rocker positioned above the Beats button that has a satisfying movement letting you know you have actually pressed it.
Of course, as with all Apple products Siri is included and is activated either by saying "Hey Siri…" or by holding the Beats button until you hear a little noise. Nothing groundbreaking but a useful inclusion nonetheless.
A very nice quality of life feature is the in-ear detector sensors that will automatically pause and start playback depending on whether the buds are in your ears. This means if you take your earbud out to speak to somebody the music will automatically pause and then restart when you're ready again!
Setup
Apple wants all of its products to have a friction-free set-up as possible. This means that the Powerbeats Pro almost completely friction-free, especially with other Apple devices. To pair these simply flip open the case within 2 inches of your iPhone, iPad or iPod and follow the device's instructions. Simple!
There is a slightly lengthier process for non-Apple devices and Macbooks but no more than what you would find from other wireless earbuds. Simple turn Bluetooth on, press the pairing button on the inside of the charging case and wait for the devices to show-up and press and pair.
Full-setup instructions can be found here: https://support.apple.com/en-us/HT209544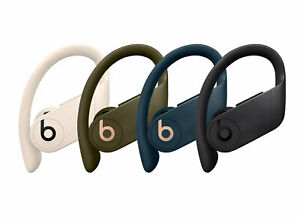 Aesthetics
These guys look fantastic. They have an excellent aesthetic pedigree and build-upon the minimalist design philosophy commonly found in Apple products by adding an air of aggressiveness. This is a good deviation when you consider that these are designed for a more active lifestyle and aimed at people who are always moving.
As mentioned in the comfort section of this Powerbeats review, the buds are covered in a premium-rubber that adds a great matte finish. This not only looks great but also eliminates fingerprint marks.
The Powerbeats can be bought in a total of 9 different colours, all of which look good and can easily be matched to your workout gear.
PowerBeats Pro Specs
The Powerbeats Pro has an impressive spec list:
Powerbeats Pro earphones:
Height: 2.2 in/5.6 cm
Weight: 0.71 oz/20.3 g
Form factor: in-ear
Power: rechargeable lithium-ion
Powerbeats Pro case:
Height: 3.04 in/7.7 cm
Power: rechargeable lithium-ion
Apple H1 chip
Powerbeats: Class 1 Wireless Bluetooth®
Charging case: Lightning connector
Dual beam-forming microphones
Dual optical sensors
Motion-detecting accelerometer
Speech-detecting accelerometer

Battery Life and Charging Case
Wow, 9 hours, this is absolutely ridiculous and smashes most other earbuds. It's rare that you would use these for a full 9 hours a day but if you're a power listener, then you're in luck. In addition to the insanely good 9 hours on the buds themselves, the charging case can hold an additional 15 hours, bringing the total battery life to 24 hours!
The case looks good and feels premium. The opening mechanism is well designed and open in a satisfying manner. Think of how satisfying the packaging is on Apple products and you know the feeling. A massive downside is the lack of USB C or wireless charging. These require a lightning cable which is a bit of a downer.
Beats PowerBeats Pro Review Summary
The Powerbeats Pro is an awesome pair of wireless earbuds that excel in almost every aspect. They offer some of the best audio quality, comfort and aesthetics on the market. They're versatile and can be used for casual listening or for intense cardio workouts.
The only real downside is the cost, but you can't have all of the niceties without paying for them! These are easy to recommend to people with an active lifestyle who want a pair of comfortable wireless earbuds. Thank you for taking the time to read our Powerbeats Pro review. We hope that you found it helpful!
FAQs
Yes, the Powerbeats Pro are absolutely worth considering as your next pair of wireless earbuds. They offer excellent audio quality, style and comfort.
Last update on 2022-05-20 / Affiliate links / Images from Amazon Product Advertising API
It's hard to say what is better than the Powerbeats Pro, but take a look at our list of best wireless headphones 2020 for some alternative options.
Last update on 2022-05-20 / Affiliate links / Images from Amazon Product Advertising API
The Powerbeats Pros are not fully water-proof but are water-resistant. They have an official rating of IPX4. They're more than certified for exercise, just don't go for a swim!
Last update on 2022-05-20 / Affiliate links / Images from Amazon Product Advertising API
No, the Powerbeats Pros do not offer active noise cancellation (ANC). However, they do block some sound due to well-fitting desgin.
Last update on 2022-05-20 / Affiliate links / Images from Amazon Product Advertising API
Last update on 2022-05-20 / Affiliate links / Images from Amazon Product Advertising API