This BenQ Zowie RL2455S review is another review that demonstrates the value of a budget gaming monitor. Display tech has come a long way and even budget monitors can do a pretty great job at delivering some quality.
CHECK TODAY'S PRICE HERE: See at Amazon
30 Second Review: BenQ Zowie RL2455S
Design & Build -

7.1/10

Features -

7/10

Ergonomics -

7.8/10

Image Quality -

7.6/10

Refresh Rate -

6.5/10

Ports -

6.5/10

Total Value -

8.3/10
Summary
The BenQ Zowie RL2455S may be a fair bit more expensive than the Acer KG221Q, but its overwhelming amount of gaming features, larger display size, and superior build make it well worth the added coin. It's just a shame that BenQ didn't bother adding G-Sync or FreeSync support.  
Pros
Tons of gaming-specific features
Great refresh rate and response time make for silky smooth gameplay
Affordable
Built-in speakers
Sturdy build
24-inch screen size is perfect for 1080p gaming
Decent amount of ports
Doesn't strain the eyes even during long sessions
Cons
TN panels are inferior to IPS or VA ones in terms of colour
No G-Sync or Free-Sync support
Dull design
Stand is tilt-only
Our recent review of the Acer KG221Q showed us that a quality gaming monitor need not cost you more than a hundred bucks, though its 22.5-inch display might be a little too small for some. If you liked what Acer's ultra-budget offering brought to the table but are willing to spend more for something a notch wider, the BenQ Zowie RL2455S might be just the ticket.
It comes with all the performance plus some great gaming-specific features and a bigger 24-inch display. But is it worth ponying up the extra expense or should you stick with the cheaper Acer alternative? That's what we're here to find out in this BenQ Zowie RL2455S review.
Pressed for time and can't get through the whole review? Just click any of the links below to skip right to that section.
What is the BenQ Zowie RL2455S?
Zowie is what BenQ calls its gaming division which has been producing quality gaming peripherals and accessories for the past five years. The BenQ Zowie RL2455Sserves a successor to the RL2455HM (also known simply as the RL2455) and is almost identical to its predecessor, save for the fact that it overclocks all the way up to a 75 Hz refresh rate.
Other than that, it still has the great response rate and low input lag that made the original so popular with console gamer and Real-Time Strategy fans. It doesn't have much to offer in the looks department as its form factor is rather simple, but it's nice and sturdy and comes with some good viewing angles.
Its $170 price tag is quite a bit higher than the Acer KG221Q which only costs a hundred bucks, but it's still a good deal for a 24-inch monitor that comes with lots of nifty extra features.
Features
Screen
The RL2455S boasts a 24-inch screen with a maximum resolution of 1920×1080. Its standard refresh rate sits at 60 Hz but can be overclocked up to 75 Hz, and it offers an impressive 1 ms grey-to-grey response time. The high refresh rate and low response time make it great for gaming in general and a decent budget option for eSports titles. Bear in mind that its overclocking option only applies for PC.
Panel/Stand
It utilizes a Twisted Nematic (TN) panel and a well-balanced tilt-only stand with a wide rectangular base. It's capable of tilting 5 degrees forwards and 15 degrees backwards. Unfortunately, it's incapable of swivelling in any direction.
G-Sync/FreeSync
Unlike the FreeSync-supported KG221Q, the RL2455S comes with neither Nvidia G-Sync nor AMD FreeSync support, which is one of its bigger disadvantages. 
Speakers
This monitor comes with a built-in pair of 2-watt speakers that function just fine. But if you're looking for a higher level of immersion, you're better of investing in a decent headset.
Ports
You'll have a decent amount of ports work with, including two HDMI 2.0 ports for your console and other devices, a DVI-D port for your PC, a VGA port for legacy hardware, and a headphone jack for your listening device. Since it comes with a pair of speakers, there's also an audio line-in jack.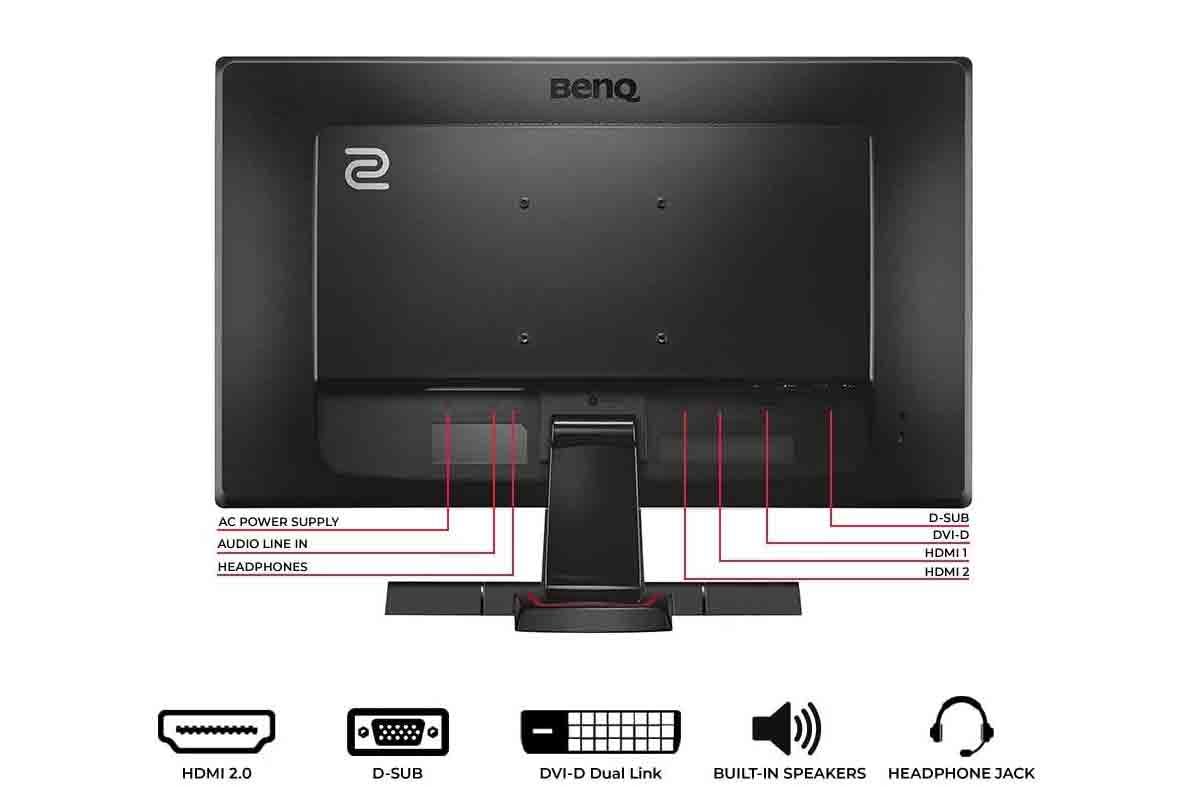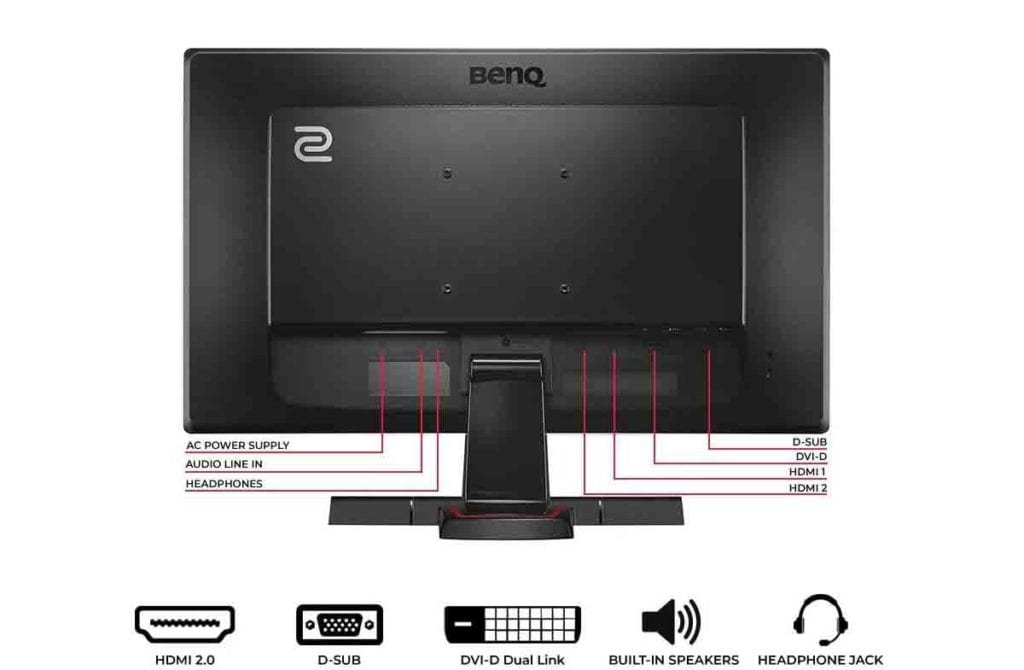 Picture Quality
The RL2455S uses a TN panel that's able to render colours fairly accurately and offers decent colour vibrance for its class, though it still lags behind IPS and VA panels quite a bit. It features great contrast, allowing blacks to come across nice and deep, and its brightness levels are well above average.
It has some awesome gaming features like Black eQualizer and Colour Vibrance which allows objects to appear more visible in the dark and increases colour intensity respectively. These options worked especially well in our test run of Resident Evil 2 Remake, where zombies were more visible even in dimly lit areas and the game's colours really popped in brighter environments.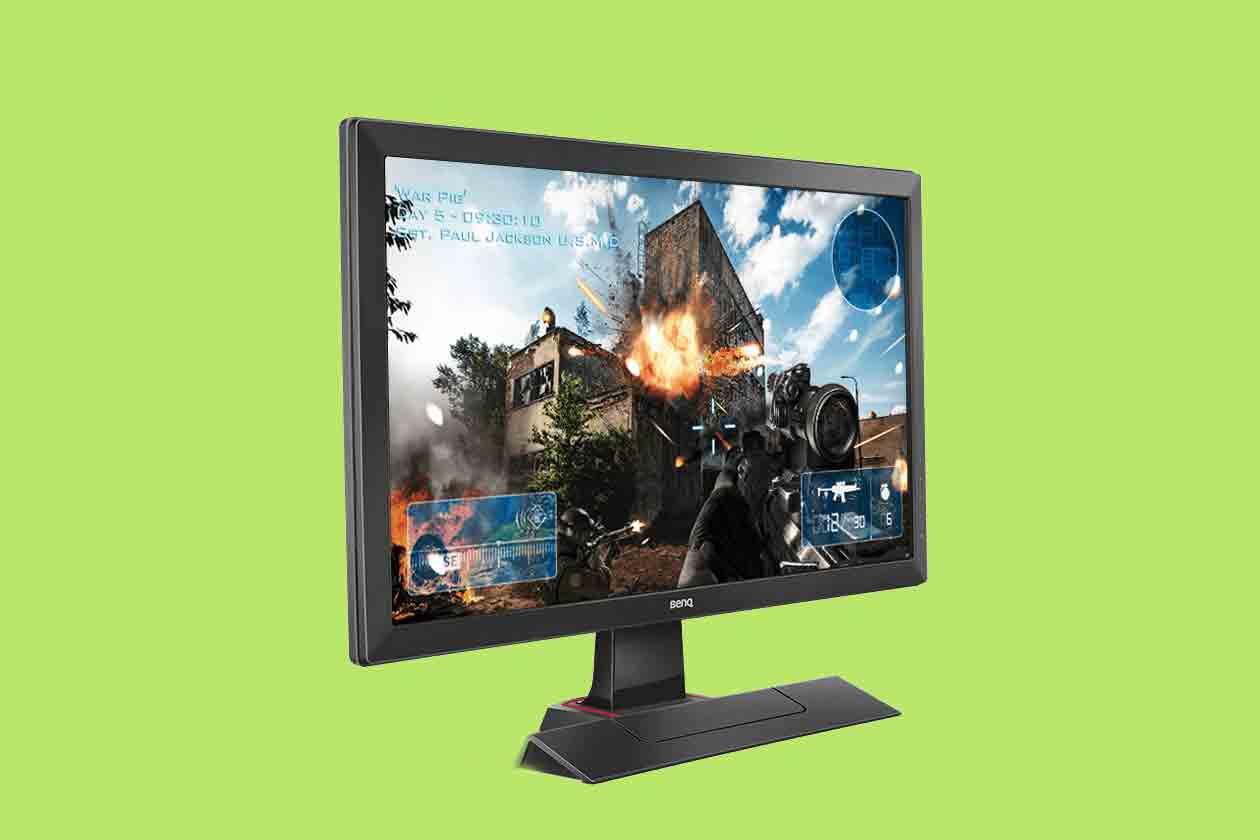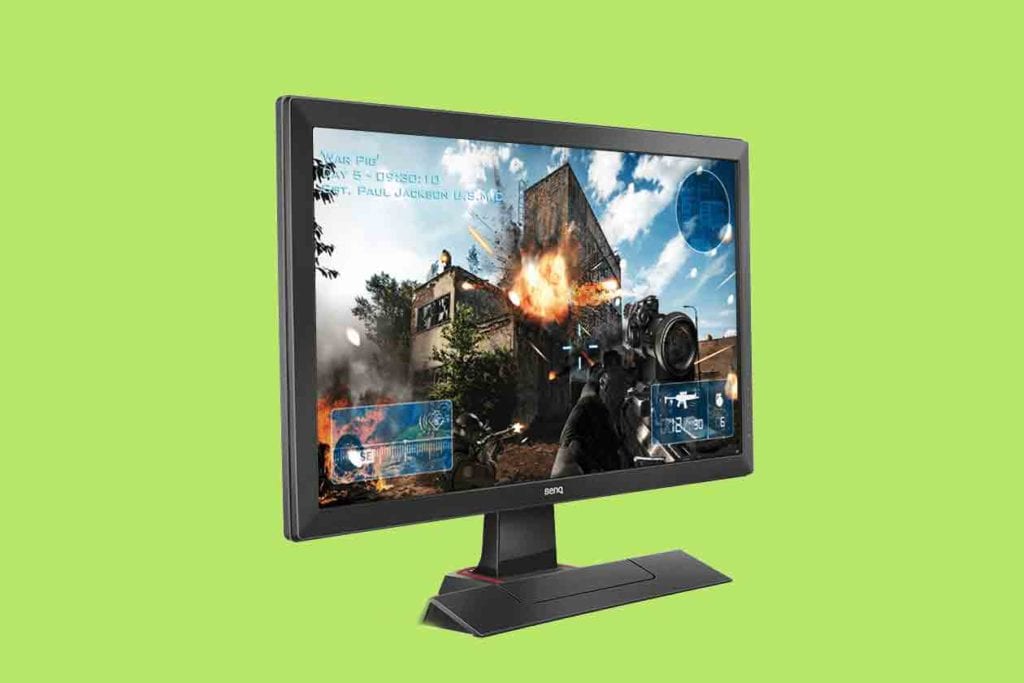 There are also tons of picture presets to suit different genres of video games and a Display Mode that lets you use various screen sizes/aspect ratios with minimum distortion.
One of its most useful features is Advanced Motion Acceleration (AMA) which throttles your response time for a smoother gaming experience. It's turned off by default but you can set it to either "high" or "premium". You'll want to leave it at "high" since, in our experience,  setting it to "premium" introduces some notable inverse ghosting.
As the proverbial icing on the cake, the RL2455S come with a low blue light filter and a flicker-free backlight which significantly reduces the monitor's strain on your eyes allowing you to game for longer with minimal discomfort.

What's it like to use?
Right out of the box, setting up the RL2455S is simple and straightforward. The base, stand, and display are laid out separately and all you have to do is snap them all in place and you're good to go.  The DVI-D and two HDMI ports ensure that you have enough slots to plug in your PC and a couple of consoles simultaneously and just switch between them depending on which one you feel like playing.
All of the monitor's buttons can be found along its right edge, making it easier to access compared to monitors that opt to place their controls along the bottom. There are quite a few options to cycle through in the On-Screen Display(OSD), but doing so is fairly easy thanks to the well-spaced button scheme.
Aesthetics
It's hard to say if the RL2455S looks good or bad since its unremarkable design may be considered attractive to those who enjoy a minimal aesthetic. Gamers who prefer gaudier and more over-the-top hardware, however, will be sorely disappointed.
It features a jet-black colourway with a matte texture all around and thick bezels bordering the display. The only thing that breaks the one-tone colour scheme is a thin red stripe near the base of the stand, the front of which looks sort of like a sloping rectangle that's great at giving the monitor a steady centre of balance. The RL2455S feels rugged and well-built and has no rickety or loose sections like most budget monitors do.
Final Thoughts
If you're like me and enjoy PC AND console gaming, the RL2455S offers some great features for both worlds. Its high refresh rate and low response time work wonders when playing on your PS4 or Xbox One and you can crank up that refresh rate all the way to 75 Hz for that extra smooth PC experience.
Its gaming settings are also fantastic, allowing you to shift your presets to match the type of game you're playing and even pumping up the vibrance of your colours and enhancing the clarity of objects in the dark. All of that more than makes up for the monitor's dull design, though the lack of G-Sync or FreeSync capabilities is still quite the letdown.
If you're looking to tighten your budget as much as possible, then you're better off with the $100 Acer KG221Q. But if you've got an extra 70 bucks lying around, the BenQ Zowie RL2455S is one of the best 24-inch budget gaming monitors you can find.
Full Spec List
| | |
| --- | --- |
| DISPLAY | |
| LCD size (inch)‎ | 24 |
| | |
| Aspect ratio‎ | 16:9 |
| | |
| Max. resolution (PC/Laptop) | 1920 x 1080 (75Hz, 60Hz – optimized for console) |
| | |
| Display area | 531.36 x 298.89 |
| | |
| Pixel pitch (mm) | 0.276 |
| | |
| Typ. brightness (cd/㎡)‎ | 250 |
| | |
| Typ. contrast ‎ | 1000:1 |
| | |
| Typ. DCR (DyNamic Contrast Ratio) ‎ | 12M:1 |
| | |
| Panel type‎ | TN |
| | |
| AUDIO | |
| Speaker | 2Wx2 |
| | |
| Electricity‎ | |
| Power supply | Built-in |
| | |
| Power consumption (On mode)‎ | 33W |
| | |
| SIZE & WEIGHT | |
| Dimensions (HxWxD mm)‎ | 435 x 579 x 189 |
| | |
| Dimensions with wall mount (HxWxD mm) (w/o Base)‎ | 350 x 579 x 63 |
| | |
| Net weight (kg)‎ | 4.1 |
| | |
| Gross weight (kg) | 6.7 |
| | |
| Stand‎ | |
| VESA wall mounting 100×100 mm‎ | |
| | |
| Tilt (°)‎ | -5~15 |
| | |
| FEATURES | |
| Black eQualizer | |
| | |
| Color Vibrance‎ | |
| | |
| Low Blue Light‎ | |
| | |
| Flicker-free | |
| | |
| K Locker‎ | |
Last update on 2022-05-20 / Affiliate links / Images from Amazon Product Advertising API