Let's be real, we all love a beer or two to help us relax and enjoy life. But things can get pretty stale in the beer world. This is why we have put together a list of the best beer gadget to buy 2021! Take your beer game to the next level with these awesome beer gadgets that are guaranteed to improve your beer drinking experience.
Whether you want a beer gadget to keep a cold one cold, or a beer gadget to help make the beer in the first place, we've got you covered.
Also, if you're more of a wine drinker, click here to look at our favourite wine gadgets!
Feel free to click on the links below to skip to any of the beer gadgets that grab your attention!:
GrowlerWerks uKeg Carbonated Growler
If there are thermal bottles to keep your water or coffee hot, then there's to keep your beer fresh and carbonated for weeks!

At first glance, you might think it's a simple kettle but it does so much to maintain the freshness of your beer. The body (called the uKeg) is what keeps the beer fresh while the carbonation cap is what regulates the pressure to optimally carbonate it.
And, of course, there's the customizable tap which has its own lock to ensure there's no leak and there's a sight glass on its body so it's easier for you to monitor the content inside without the need to open the carbonation cap.
Things you should know:
It's easy to clean
It keeps the beer fresh and carbonated for weeks
It's best for get-togethers and parties
It may come with a hefty price tag
No products found.
---
BACtrack Mobile Smartphone Breathalyzer | Professional-Grade Accuracy
The BACtrack Mobile Smartphone Breathalyzer  marks a whole new level for responsible drinking.
Sometimes when we drink outside, we think we're still okay to drive. But then, a police car comes out from nowhere signalling for you to pull to the side. You'll deny you had a few drinks but the breathalyzer says otherwise.
Next thing you know, you're not only getting fined but you might also spend some time in jail for drinking under the influence.
With BACtrack, it'll intelligently tell you if you're safe to drive or not. It has a high level of accuracy and it also comes with an app — that can call an Uber for you when needed.
Things you should know:
Utilizes the same technology that law enforcement uses.
It also has an alcohol track feature to track your drinking.
It can estimate the time to when you become sober
The app and device integration may be difficult for the non-tech savvy
Because it transmits data via Bluetooth, you have to make sure that your phone's battery won't die while you're out drinking.
---
Magnetic Bottle Hanger (holds 6 bottles)
BottleLoft by Strong Like Bull Magnets  is the world's first magnetic bottle hanger. It can hang 6 bottles, in total, with two strips per package.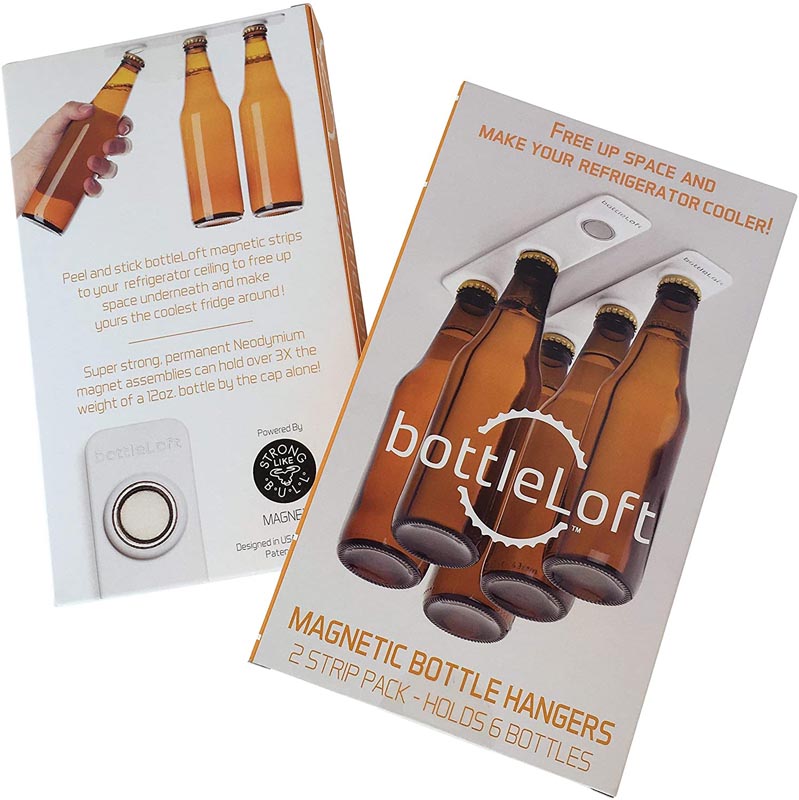 The installation is very easy — as simple as peeling the adhesive cover and sticking the bottle hangers where you want them.
Things you should know:
It's great for optimizing storage space inside the fridge.
It's durable
It may not be movable because of the adhesive. Once you decide to stick it to a certain place, it's there for good, unless you buy and use other strong adhesives.
---
Beer Aerator – Sonic Foamer – Release The Full Aromatic Potential
The Beer Aerator  creates the "perfect beer head" — every craft beer lovers' satisfaction!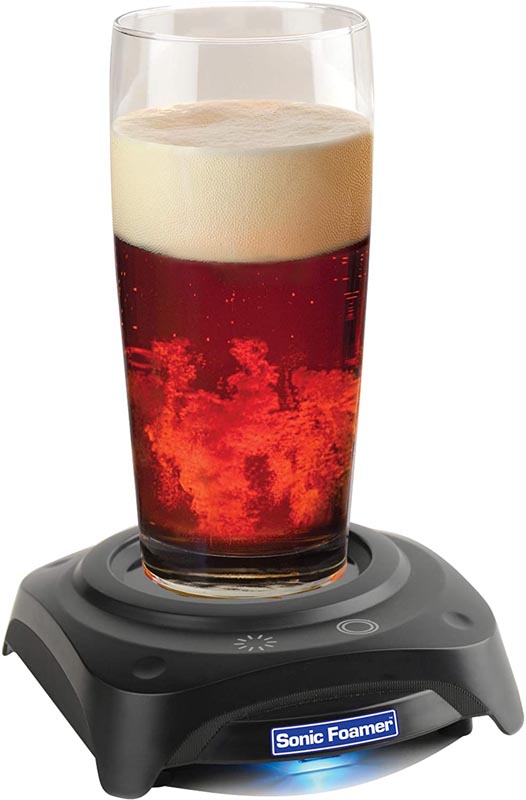 Basically, it gives you the ultimate aromatic craft beer drinking experience. Not only that, the Beer Aerator is made through science, by using sound waves to generate the bubbles from the bottom of the glass.
Things You Should Know:
The top surface where you place your beer is stone-like so it helps greatly in keeping your beer cool.
The product is made for your ultimate aromatic drinking experience
Best for pubs, bars, and restaurants for a great presentation to customers.
The product requires 6 AA batteries which are not included in the package.
You have to use a beer glass with a thin base to get better foam results.
---
PicoBrew Pro Craft Beer Brewing Appliance for Homebrewing
Brew 5 litres of beer at a time and within the convenience of your home with the PicoBrew Pro Craft Beer Brewing Appliance for Homebrewing!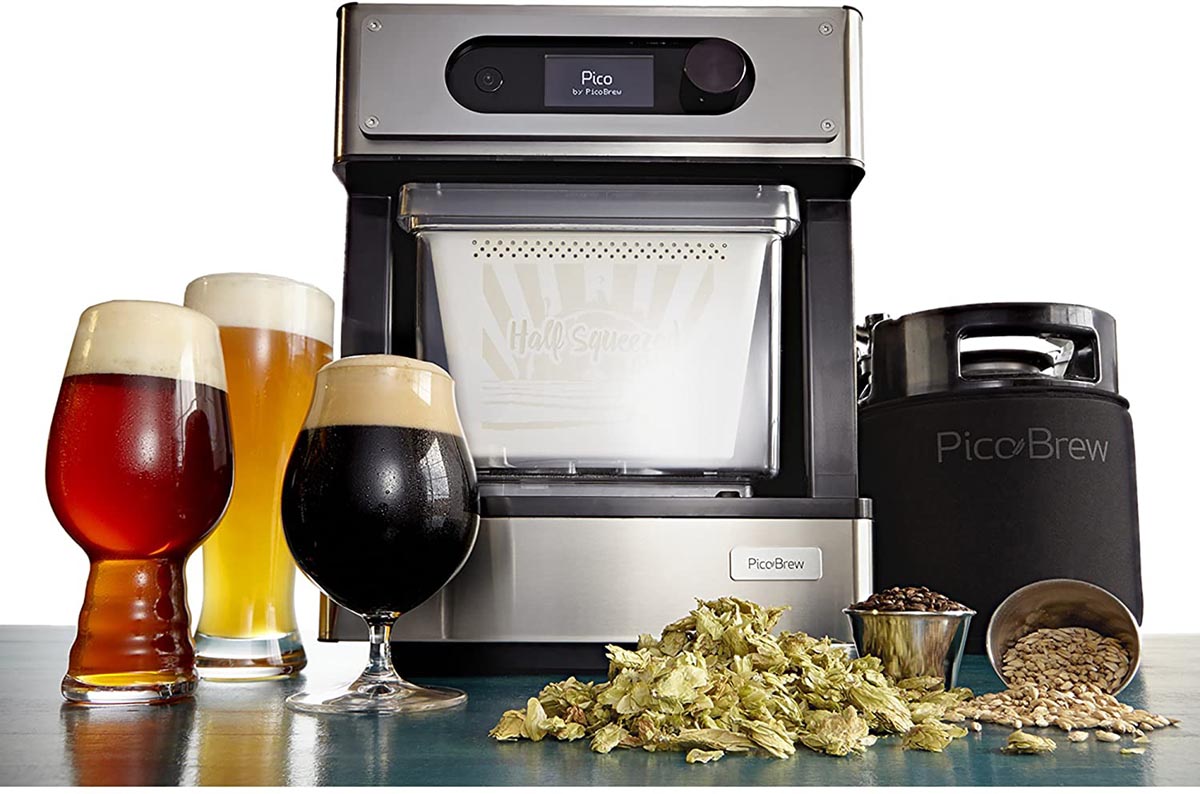 It's the perfect appliance package for your very own premium homebrewing experience.
It has two product models, the PicoBrew Pro and the Pico Model C. With the Pro model, it comes with two 6. 6 litres (1. 75 gallons) ball-lock kegs.
For easy clean-up, PicoBrew's built-in components are steam cleaning and dishwasher-safe.
PicoBrew can brew any style beer that you desire, whether it be IPAs, session ales, stouts, or porters — all with a press of a button. You can even make your own custom bear, with the Freestyle PicoPaks.
Enjoy your homebrewed, fermented and carbonated beer in a little over a week.
Things You Should Know
Homebrewing has been made easy and high-tech
Easy to clean
It has a Professional Co2 force-carbonation system making the whole process even faster
The PicoPak may not be included in the whole package
It has a hefty price tag
Its modernized brewing process may take time to get used to or may disappoint others who are used to the traditional process.
---
Corkcicle Decapitator Bottle Cap Opener
Out with the old and in with the new — says the Corkcicle Decapitator Bottle Cap Opener.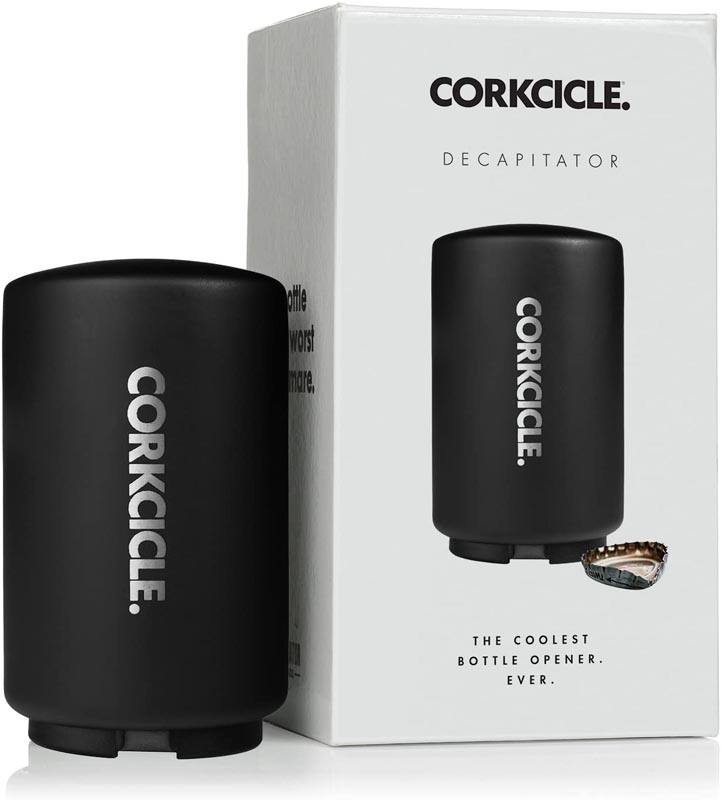 Generally, the Corkcicle Decapitator is aesthetically pleasing to look out compared to the ole' reliable bottle opener. It's best for bars, pubs or your home!
No more flying bottle caps everywhere!
It has a magnetic feature that holds the cap in place. There's no extra force needed as well, as with one firm push, the bottle caps come right off with ease.
Things you should know:
There's no need for batteries
Perfect for non-twist off bottle caps
Aesthetically pleasing — best for bars and pubs
It won't bend bottle caps so you can recycle (for other purposes)  those afterwards
Great for gifts, even as a wedding gift
Spare parts for the product (when broken) may be hard to find.
---
Fizzics FZ403 DraftPour Beer Dispenser
The Fizzics FZ403 DraftPour Beer Dispenser can turn your favourite beer —either canned or bottled— into a perfect and foamy draft beer.

It can accommodate all cans and bottles up to 750ml — without risking its freshness. It even has the ability to enhance your drinking experience, because it can convert any beer's natural carbonation into micro-foams (uniformed sized bubbles) giving you a rich and creamy foam head. So there's enhanced aroma, flavour, and mouthfeel!
It's a long-lasting beer gadget. Although it does come with a hefty price tag, it will be worth the price because it's built to last.
It's also very handy. It has two options for power supply — battery-powered (2 AA) and via USB. So you can carry it to any picnic, camping, and to the beach.
Things You Should Know:
It's great as a gift for your beer-lover friends and loved ones.
Its best for get-togethers like Sunday barbeques with your neighbours
Works with almost all types of beer bottles and cans (up to 750ml)
Batteries are not included
---
Asobu Frosty Beer 2 Go
The Asobu Frosty Beer 2 Go is a highly-innovative beer cooler.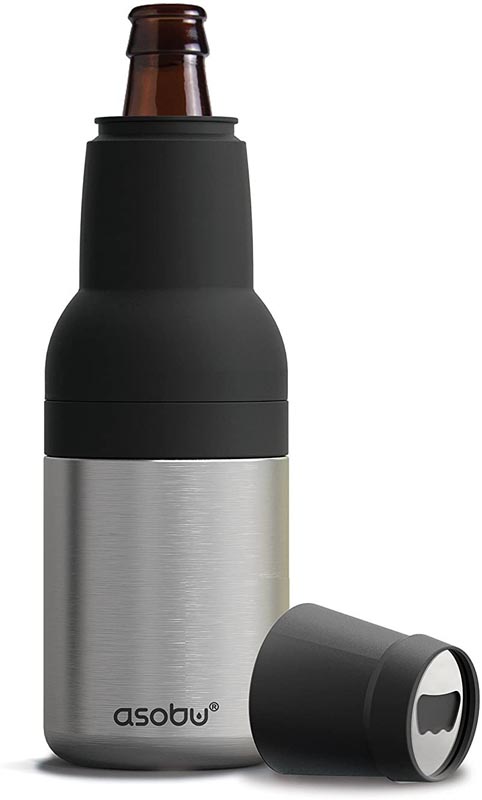 It's like your thermal bottle for your beer! But you won't need to pour it over the container, you just need to place the whole bottle or can inside.
Yes, you read it right! It can accommodate both botted and canned and the top cap is a bottle opener. You will just need to twist off the upper part of the bottle for the can to sit inside.
It's made with double-walled stainless steel insulation technology. It's eco-friendly and it's BPA free.
Things You Should Know:
You can conveniently carry it around like any normal thermal bottle
It accommodates both can and bottle
It comes with a variety of colours
Not all bottle and can sizes will fit. Only the standard ones.
Last update on 2021-09-30 / Affiliate links / Images from Amazon Product Advertising API