With the relatively recent shift to mechanical switches, gaming keyboards have become increasingly more expensive throughout the years, with more established brands pricing them at well over the $200 mark nowadays.
That being said, to cater to thriftier gamers obscure brands have begun immerging with far more affordable options which have caused even some of the big boys to release cheaper models. With so many great products to sift through, we've decided to pick out what we consider the best budget gaming keyboards that are as affordable as they are satisfying to use.
Product Name
STOGA mechanical keyboard
E-Element Z-88 mechanical keyboard
Budget Gaming Keyboard
What's so good about gaming keyboards?
Sure there are tons of keyboards out there both mechanical and membrane that weren't built particularly for gaming. And they'd likely work just as well while playing video games if we're being totally honest. But they'd be missing a lot of features that could enrich your gaming experience, like RGB lighting, rugged designs that are built to withstand punishment, and gaming-specific features and shortcuts.
VicTsing Mechanical Gaming Keyboard
Ever hear of the VicTsing brand of gaming peripherals? Neither did we before trying out their mechanical gaming keyboard which actually turned out to be one of the best and cheapest keyboards we've ever had the opportunity of reviewing. Here are some of the things we loved about it:
No products found.
If you're looking for a good jump-off point for your mechanical keyboard journey, the VicTsing RGB Mechanical Gaming Keyboard is one of the best places to start. With good switches, a tough build, and brilliant lights, what more could you ask for?
Full VicTsing review can be found here
---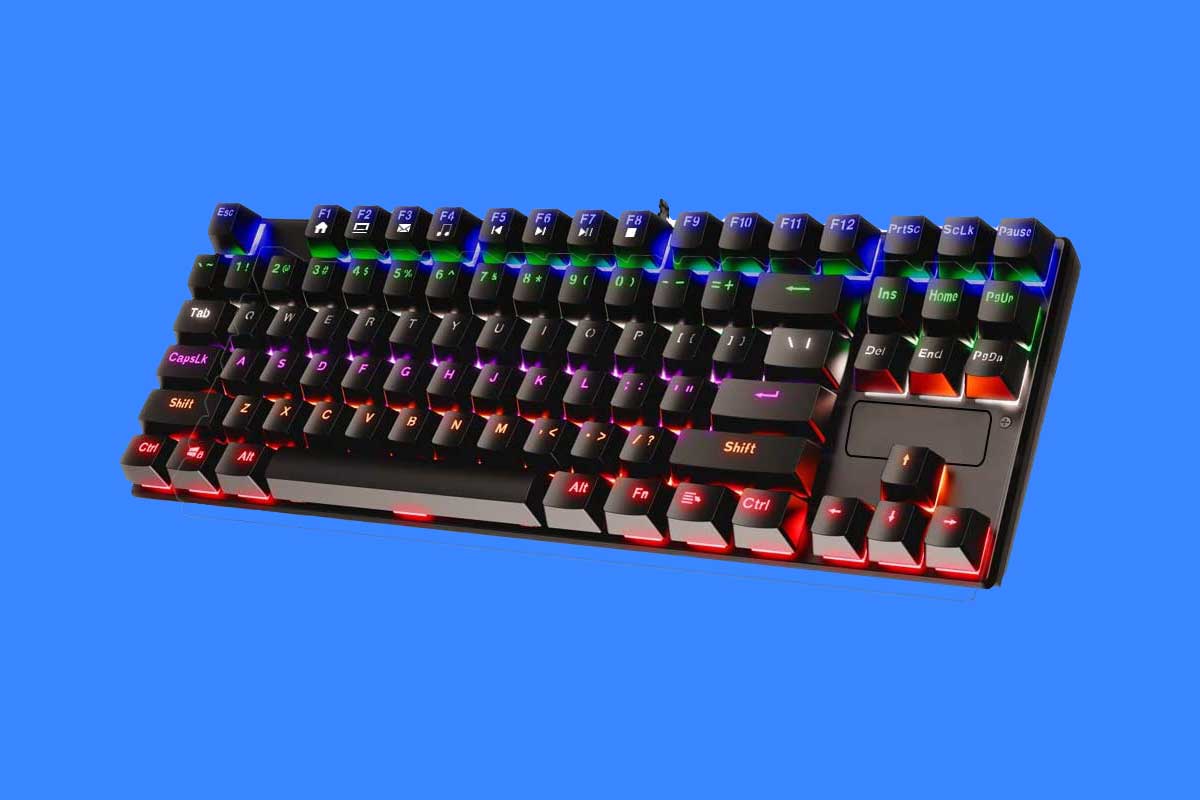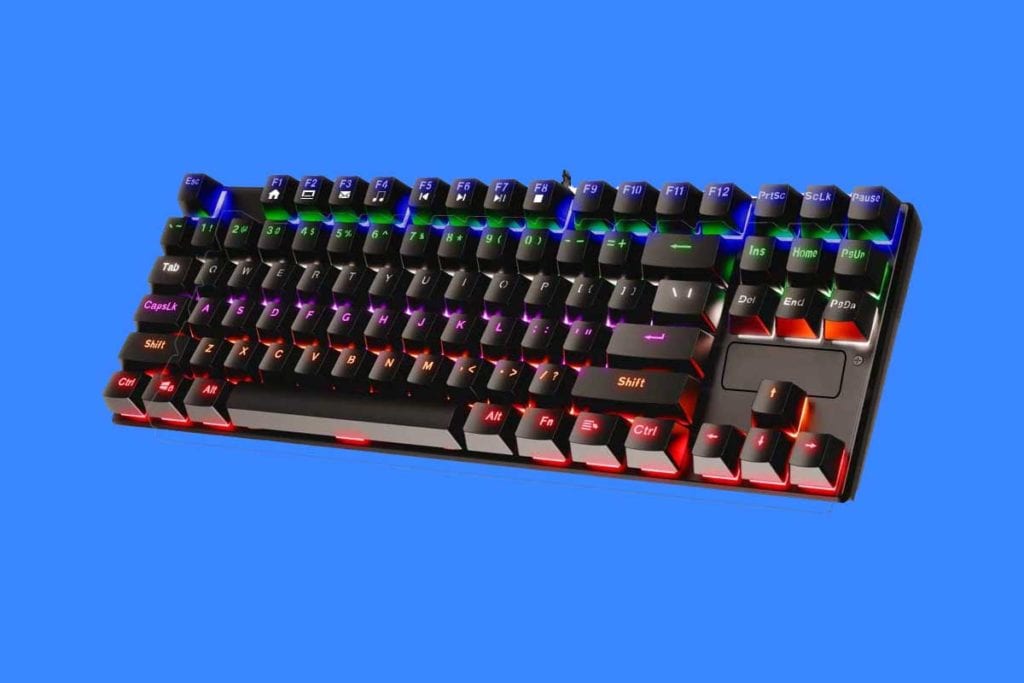 STOGA Mechanical Gaming Keyboard
STOGA is another gaming peripheral brand that's relatively obscure, though their mechanical gaming keyboard is just as impressive and equally as affordable as VicTsing's. While the previous entry in this list was a full-sized keyboard, the STOGA's offering is a tenkeyless option. Here are a few of the aspects that helped it stand out:
STOGA mechanical keyboard
Despite its small size, the STOGA feels weighty and tough, allowing it to take some serious punishment while remaining stable on your desk no matter how intense your gaming session is going.
The mechanical switches offer a satisfying amount of tactile feedback and feel surprisingly tight and responsive for a budget keyboard.
The keyboard's small stature will save you a lot of desk space and would also work great as an external keyboard for your laptop.
Full STOGA review can be found here
---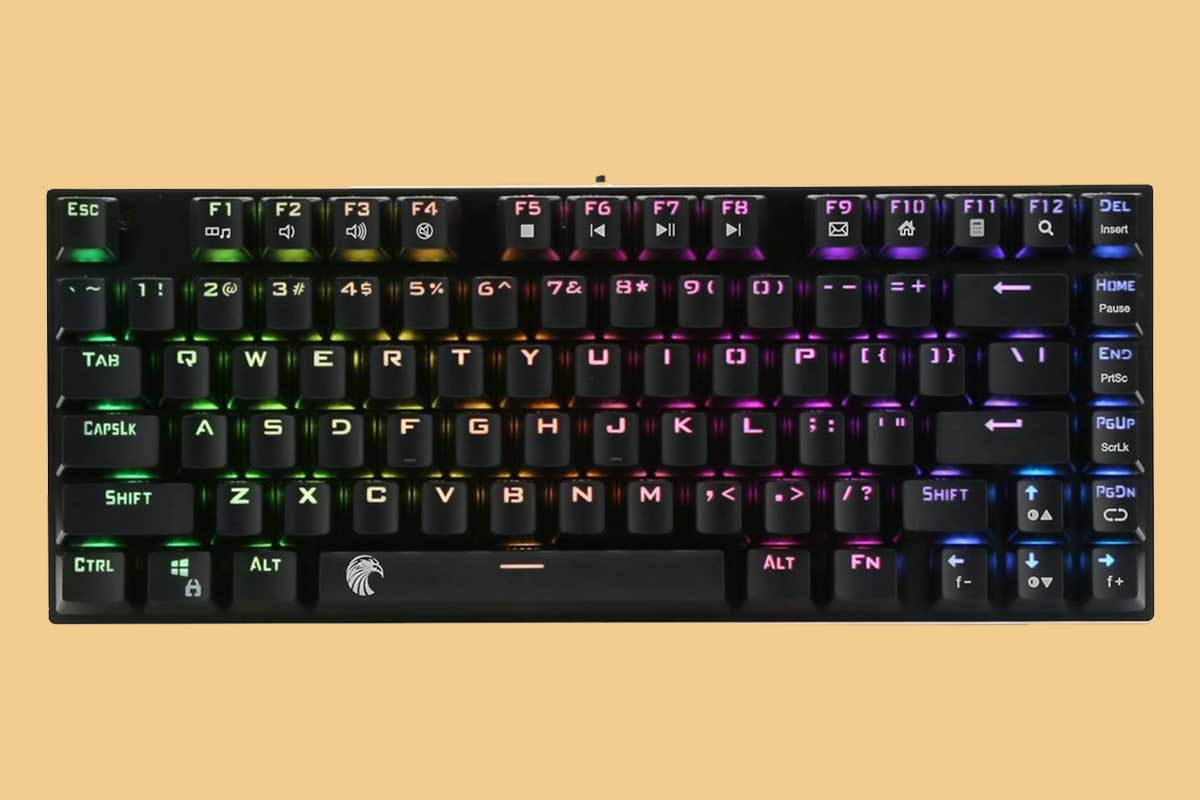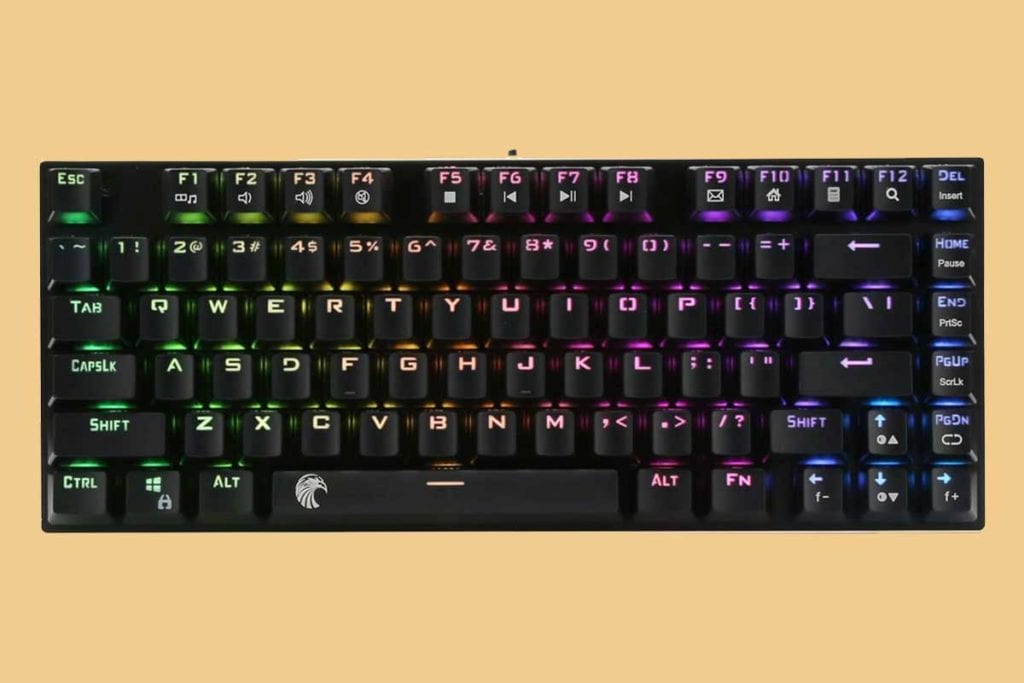 E-Element Z-88 Mechanical Keyboard
If you enjoyed the STOGA's compact design but are looking for something with a  little more flair, E-Element Z-88 is another peripheral from a relatively unknown brand that offers a higher quality than you'd expect. With a great set of keys and an awesome assortment of colours,  you're getting a great gaming keyboard for just shy of 50 bucks. Here are some of its best features:
E-Element Z-88 mechanical keyboard
❤ Outemu RED Switches ▶ Custom mechanical switches are designed for...
❤ Anti-Ghosting 81 Keys, N-key Rollover ▶ Allowing multi-keys to work...
❤ Preset 21-mode RGB Backlit and Color-Flashing Speed ▶ Double-shot...
❤ Key Shortcuts and Ergonomic Design ▶ Convenient Multi-media Keys...
The E-Element Z-88's variants can add a lot of colour to your gaming setup and its Oetemu switches provide a nice layer of customization that's absent from a lot of the more expensive gaming keyboards on the market.
Full E-Element Z-88 review can be found here
---

Redragon K502
Redragon has become exceedingly more popular in recent years, racking up a large roster of gaming keyboards that come in all shapes and sizes. The is a full-sized keyboard that manages to keep its price tag budget-friendly on account of its membrane switches. Here are some of the reasons it made this list:
Redragon K502
The Redragon K502's tastefully gamer-esque red and black design is one of our favourites among all the budget keyboards we've come across.
Its low-profile keys and wrist rest come together to provide a comfortable and incredibly quiet typing and gaming experience.
The keyboard comes with lots of RGB settings and gaming shortcuts to fiddle around with.
While membrane keyboards really can't beat out their mechanical alternatives in terms of performance, the Redragon K502 manages to stay relevant by offering gamers a quiet, high-quality experience and a kickass design which could be enough of a reason to skip the transition to mechanical.
Full STOGA Redragon K502 review can be found here
---

Our last entry on this list also happens to be the most popular thanks to the lofty Hyper X name. Similar to the Redragon K502, the Alloy Core RGB manages to keep its price tag just under $50 by sticking to membrane keys. But it doesn't survive on name alone, as the keyboard offers some excellent features that you're sure to love. Here are some of our favourites:
Price reduction
HyperX Alloy Core RGB
The Alloy Core RGB's gorgeous low-profile design looks fantastic for both work and play and wouldn't look at all out of place in an office setting as long as you turn down the lights.
The keyboard comes with full RGB lighting and contains a lot of the settings and effects that are found with the brand's more premium models.
Despite being membrane switches, they offer a surprising amount of tactile feedback and remain wonderfully quiet while gaming or typing.
In case you prefer a more reputable brand and don't mind the inferior membrane switches, the HyperX Alloy Core RGB is a fantastic gaming keyboard that'll save you a lot of cash and will look darn good while doing it.
Full HyperX Alloy Core RGB review can be found here
---
Final Thoughts
Whether you're going membrane or mechanical, full-sized or tenkeyless, popular or obscure, there are some amazing options out there that don't have to cost you a pretty penny. This list is comprised of our favourite budget keyboards that should cater to all sorts of tastes and needs, but if you think there are other keyboards that deserve to make the list then we're all ears! Just drop us a message in the comment section below.
Product Name
STOGA mechanical keyboard
E-Element Z-88 mechanical keyboard
Budget Gaming Keyboard
You may also be interested in:
Last update on 2021-12-03 / Affiliate links / Images from Amazon Product Advertising API