If you're anything like us, your dog isn't simply a companion. Your dog is a key member of your family. When it comes to rewarding your pooch, we will venture to say that your furry friend deserves the best money can buy. As such, we've devised our top 7 best dog gadgets of 2019 in the comprehensive guide. Whilst dog gadgets have come increasingly cool over the years, we've managed to whittle this down to 7 of the best and most useful dog gadgets available today.
We all know that technology can't replace the tender love and affection that every dog deserves. But it can go a long way towards making your pooch happier and healthier – even whilst you're not around.
After all, your dog isn't just a good boy, he's the best boy.
From dog cameras that double as treat dispensers to the ultimate fetch toy, our list of must-have gadgets for your pooch has something for everyone – owners and K9s included. Don't forget to hit us up in the comments when you're done. From how you reward your pooch to other gadgets that you've stumbled across, share it all!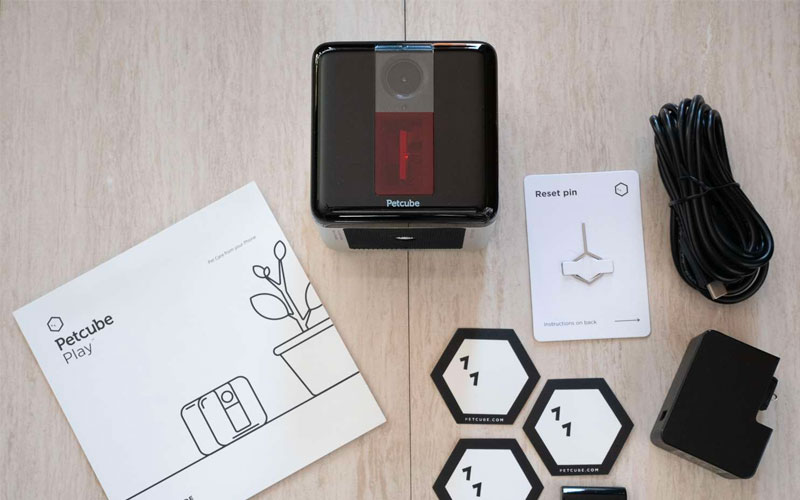 1. Petcube Play Smart Pet Camera
The Petcube is a modern dog gadget that keeps you up to date with your pooch (or cat, or anything really!) while you're away from the house. We all feel a little guilty while we're at work or out for dinner but this dog gadget should help put you and your pet at ease. The Petcube Play Smart Pet Camera is a compact, cube-shaped (surprise), an audio-enabled smart camera with a modern and sleek design. It is certainly one of the two best pet wi-fi cameras on the market and with the ability to beams pet-friendly lasers easily from your smartphone, potentially the best.
The two-way audio system means it is more than just a pet camera. It's a way of comforting your pet while you're away.  The pet camera works well enough in low light to ensure you can see your pets are at home, happy and safe, even at night time with the lights off.  The pet camera records to the cloud and outputs video in Full HD at 1080p. With a full 138-degree wide-angle lens, this could be the last pet cam you'll ever need.
Are you in the market for a wi-fi enabled pet camera to watch your pets at home? If so, consider this dog gadget as a gift to yourself and your favourite good boy!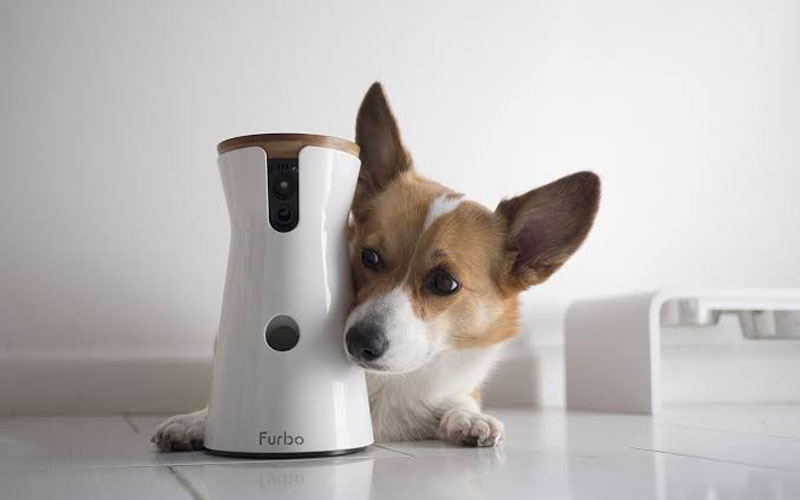 2. Furbo Dog Camera
The Furbo Dog Camera offers all of the usual features you would expect from a pet camera. It has live streaming 1080p HD video to your phone, a 2-way audio system for reassuring good boys, low-light ability using an infrared LED light vision and 160° wide-angle lens to capture moments good and bad!
On top of all of this great functionality, the Furbo Dog Camera has an ace up its sleeve! It can toss treats on your command to help keep your pets happy while you're away. The 'treat tosser' as its know can hold up to 100 small circular treats that can be tossed and the press of a finger on your phone. If you give your dog a command over the speaker, you can reward their good behaviour. What else would you want when you're away. Now, if your dog is a bit more boisterous than the average pooch, worry not! The Furbo Dog Camera is spill-proof and uses industrial-strength 3M adhesives to keep it securely stuck to your desired surface. Bamboo is used for the casing. Bamboo is highly durable and should deter even the most persistent pooches.
This cool tech combines with high-quality video streaming that rivals that of the Petcube and other top-of-the-line pet cameras. Best of all, the Furbo comes with Amazon's Alexa built right in, which means this device can seamlessly integrate with your current smart home.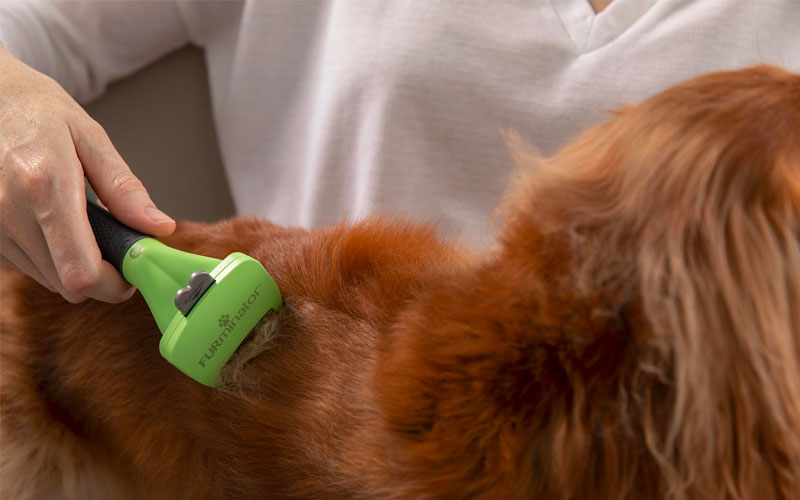 3. FURminator deShedding Tool For Dogs
If you like a clean home, this is one of the dog gadgets for you! We all know the frustration that comes with arriving home only to see your furniture covered with dog hair. Thankfully, the FURminator deShedding Tool can make this common issue a thing of the past and keep your dog cooler than ever.
This dog gadget promised to reduce de-shedding by up to 90%. That sounds a little too good to be true, but for certain types of dog hair, it's plausible. Lassie might be a bit too much to handle for the Furminator, but your little Frenchie Luna is easy-peasy.
Thankfully for dog owners, Furmintor offers a range of different designs to help tackle dog hair and cat hair of all types. Short hair, long hair, big dog, small dog (and cats of all sizes), the FURminator range has it covered. Spend a few minutes running this comb through your pet's coat and watch your shedding problems disappear. You'll be able to go back to enjoying your pooches company in no time.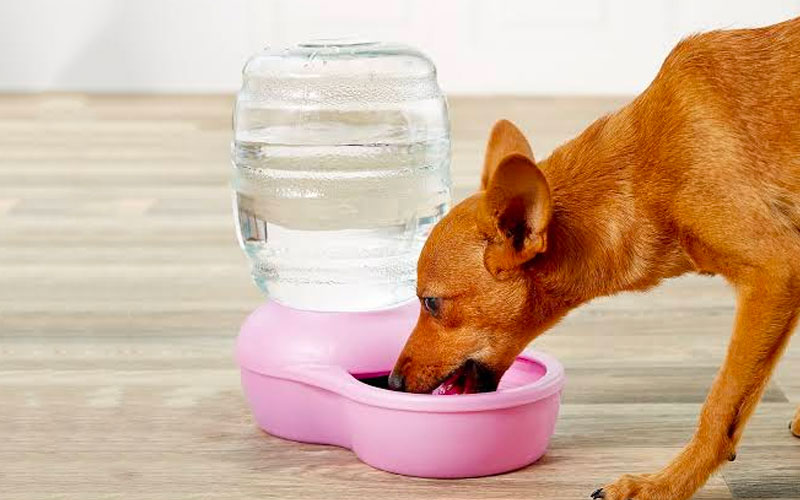 4. Petmate Replendish Gravity Water Bowl
We all love our dogs, but it's next to impossible to be home every time they'll need us throughout a day. This is especially true for those of us that work long days or odd hours. This can make feeding and watering your pooch difficult. Don't worry,  the Replendish dog gadget can help you out!
This dog gadget comes with a generous water bowl that will automatically replenish your dog's water supply as they drink throughout the day. More importantly, it comes with Microban antimicrobial protection and a water filtration system so advanced it can remove almost any contaminates. With access to water like this, your pooch will (hopefully) never bother the water hose again!
With Summer just around the corner, now is a better time than ever to make sure your pets are hydrated, happy and healthy!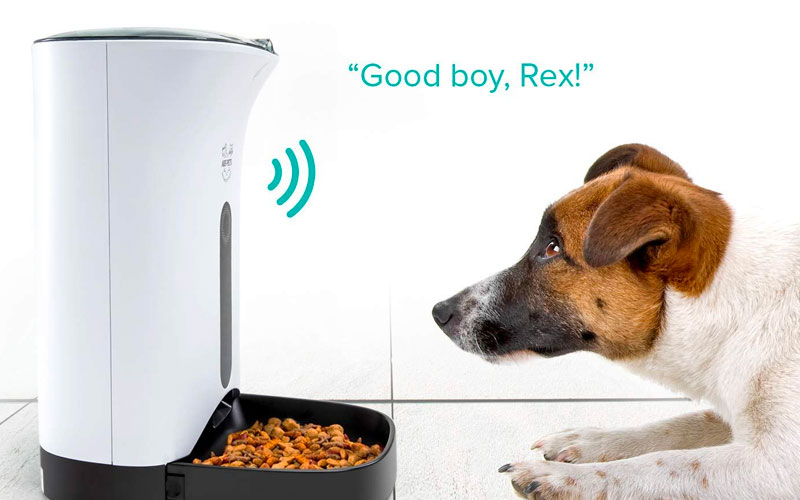 5. Arf Pets Automatic Pet Feeder
Why not pair an automatic water bowl with an automatic pet feeder? After all, your dog's diet must be consistent if you want to raise a happy and healthy pooch. This automatic food dispenser has been designed with dogs in mind, and it makes feeding far less stressful for dog owners who may have to be away from home for most of the day.
Featuring a time system that allows users to program their dog's meals throughout the day, this feeder leverages portion control technology to ensure your pooch isn't overeating by mistake. It also offers the option for voice recordings at mealtime, so you can tell your furry friends to, "come and get it!" when it's time to eat.
The pet feeder has a capacity of 1.14 gallons can be programmed to distribute up to 4 meals a day, with a meal consisting of 24ml-sized portions ranging in sizes of 1-10 portions. That's a lot of flexibility for a pet feeder and should help you find the perfect blend for your pet.
Now, we love dog gadgets, but if we're being honest, most of them are a little ugly. This is not the case with this automatic pet feeder. The Arf Pets Automatic Pet Feeder Looks fantastic. With a modern, sleek and minimalist design the feeder is completed unoffensive to most design schemes and should blend in with your home's other devices.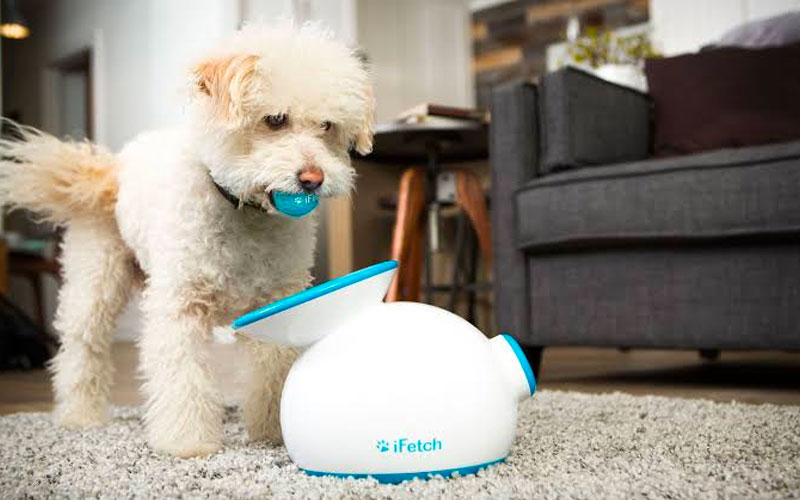 6. iFetch Interactive Ball Launcher Series
Do you love the feeling that comes with playing fetch with your dog but don't have the time or energy to throw a ball for hours upon end? If this sounds like you, then the iFetch Interactive Ball Launcher may be the right gadget for you. Committed to developing new and innovative dog toys, the iFetch range has a ball-launching solution for all dogs and accomplishes this through three different products:
All Dogs – iFetch Frenzy
Small Dogs – iFetch Original.
Large Dogs – iFetch Too.
All of the above products keep your dogs entertained and mentally stimulated with almost zero human interaction required. Let's run through them quickly.
–
iFetch Original
The original, the one that kept dogs coming back for more and more. iFetch Original is suited towards dogs of all sizes and indoor and outdoor play.  It uses a motor to launch the ball from the device up to 12 meters for your dog collect. As with the Frenzy, your dog can replenish the launcher itself to keep the game up for as long as the dog wants.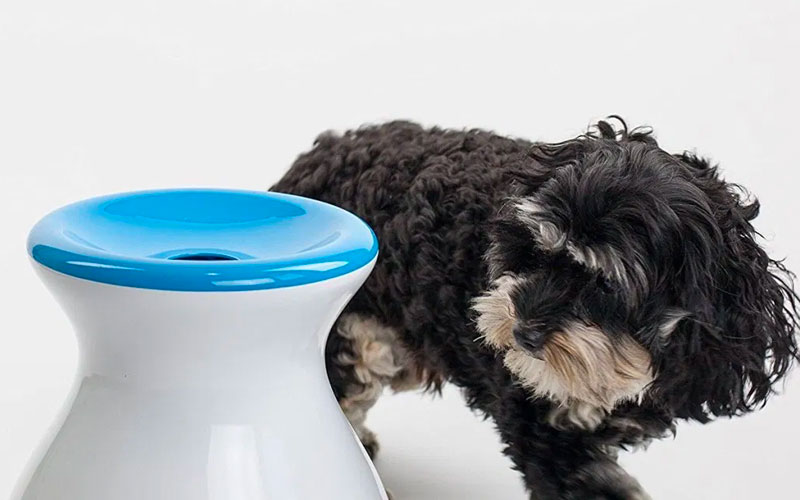 iFetch Frenzy
Introducing the iFetch Frenzy is a gravity-driven ball roller that keeps your dog occupied. It is the budget version from this range as there are no motors and it is only the force of gravity that propels the balls across the floor. This is perfect from small dogs and indoor play!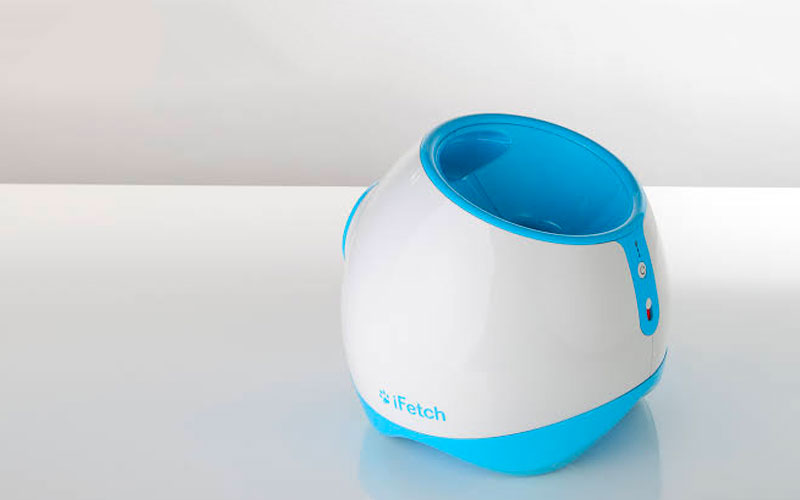 iFetch Too
This is the alpha of the pack and this can be seen in its power and price. The iFetch Too is geared towards larger dogs with a bigger appetite for fetch. Launching full-sized tennis balls, this device satisfies bigger dogs and their urge to chase bigger 'prey'. Thankfully it also works with generic tennis balls and heavier-duty dog balls. It also has a rechargeable battery, meaning you can take this anywhere with your dog.
Want to know more? Check out our iFetch Too Review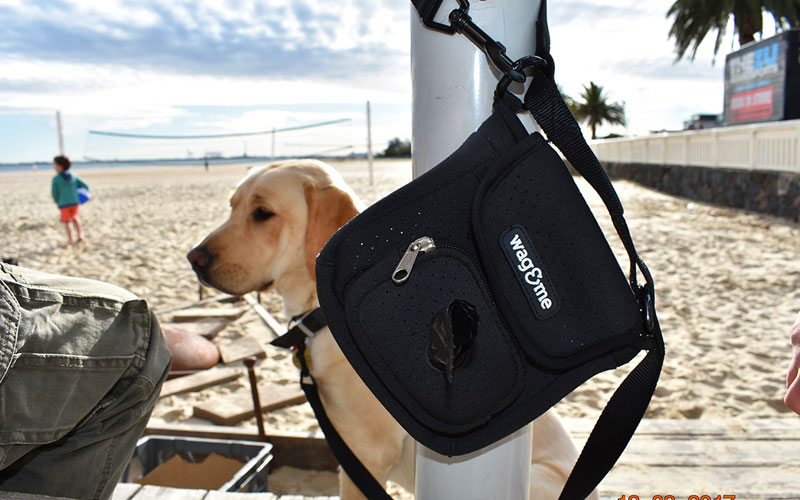 7. The Poochette By Wag & Me
Now, this product is more for you than for your dog. But it's by far one the best dog gadgets available within Australia. Introducing the Poochette by Wag & Me. As a product that dangles by your waist-side, the Poochette is a versatile 5-in-1 dog walking bag that looks the part too. Serving as a poop bag dispenser, washable treat bag, convenient storage unit, lead strap and smell insulated compartment to store used dog poo, this bag has it all. Wait, did you just say it stores dog poo?
Yes, we did. Now whilst this might sound like a strange feature, there is absolutely zero smell and it's a surefire way to stop people throwing poop bags on the ground when there is no bin! Available in 3 different and stylish colours, the Poochette is perfect for every outing. Not to mention, it's only $45!