Electric scooters have gone mainstream and have become incredibly popular among city commuters and those looking for a quicker way to zip around. The best electric scooters include a powerful motor, great build quality, a lightweight frame and ideally a bit of style! We spent many many hours creating this list of best e-scooters and attempted to include an electric scooter for any budget.
The Best Electric Scooters
After completing the research we have shortlisted the best electric scooters. Whether you need something that charges super quickly like the SPLACH with its 3 hour charge time, or if you need something that can comfortably climb hills then go for the Segway Ninebot ES4. Below is an overview of the best electric scooters and then we move on to the individual scooters.
OK, let's jump into each individual electric scooter review overview:
1. Razor E Prime Adult Electric Scooter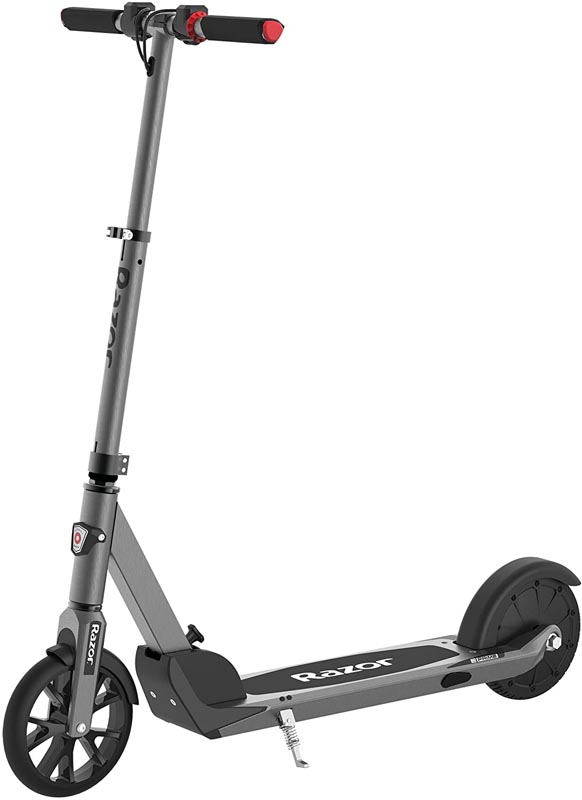 The Razor E Prime Adult Electric Scooter ensures a rattle-free ride.
Razor, as a brand, has long been in the game of reinventing the traditional concept of a scooter. It has been around transforming scooters since the year 2000.
Its E Prime electric scooter, launched in 2017, has a durable, aluminium frame that is equipped with an anti-rattle and easy folding technology. The clamp is double-stacked, it has a retractable kickstand, and it can carry a maximum weight of 80 kg.
It can speed up to 15 mph (24 km/h) and range up to 10 miles. Or, if you like just strolling around the quadrangle, within a park maybe, this scooter can be used continuously for up to 40 minutes.
It also has a "ride in comfort" feature with its 8" (200 mm), airless, flat-free front tire and an 8" (200 mm) abrasion-resistant, flat-free rear wheel.
One of the great things about this e-scooter is that it is thumb-activated. No, it's not fingerprint-enabled, but instead of twisting the handlebar (like what you do with a motorcycle), you can easily flip the paddle control with your thumb. The electronic throttle is located on the handlebar which is within the reach of your thumb, which will power up your high-torque, hub motor.
Razor E Prime Adult Electric Scooter
Modern design and craftsmanship with the excitement and efficiency of our...
Electronic throttle with thumb-activated, variable-speed, paddle control...
Features easy-adjust handlebars to accommodate taller riders
Extra-large, aluminium deck provides ample foot room for extended ride...
Things you need to know: 
Charging time is 7 hours
Has a 5-stage LED battery indicator display
---
2. SPLACH Turbo Ultra-Smooth Suspension E-Scooter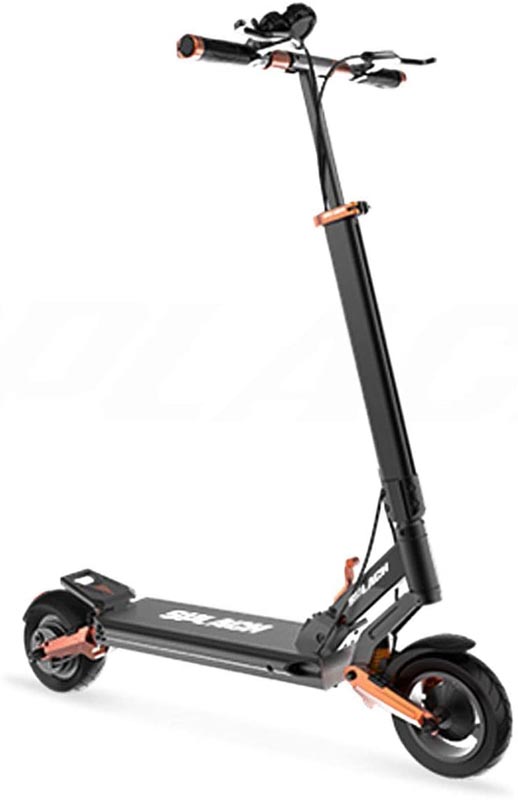 SPLACH Turbo Ultra-Smooth Suspension E-Scooter
No products found. gives a bit of a different experience—riding it feels like flying.
For one, the wheels are not of the same height. The front tire is taller, measured at 8.5" while the rear tire is only at 8". Both ends are equipped with ultra-smooth, aviation-grade aluminium for all-terrain flexible suspensions.
Basically, with this product, Splach aims to eliminate the uncomfortable feeling when riding an e-scooter, most especially on bumpy roads. Its front and rear suspension system can be adjusted manually for the personalized convenience of its different users.
Paired with its powerful motor (up to 500 watts of peak power), It can ride up steep ramps of up to 25 degrees. Packing a maximum speed of 25 – 28mph (45km/h), with a maximum range of 31 to 37 miles.
It's equipped with an optimum brake system as well. It aids in controlling your speed during steep climbs or when there's a need to make a sudden complete stop.
It also has a great folding system which makes it handy to carry around when commuting. It measures around 3'7″ x 8″ x 1'4″ when folded so you can just store it conveniently under your desk when you arrive at work.
No products found.
Things you need to know: 
It has an Anti-theft alert system
There are built-in LED headlight and undercarriage light to illuminate your path during dark rides
There's double port charging
It needs 3 hours of charging time
---
3. Gotrax GXL V2 Commuting Electric Scooter
Gotrax GXL V2 Commuting Electric Scooter
No products found. is inexpensive compared to other e-scooter but it is still full-featured like the rest. So it's ideal for beginners who are looking out for a decent e-scooter that won't hurt their wallets so much.
It's equipped with the safety and ride quality features that many consumers are looking out for. It has a top speed of 15.5 mph that can travel up to 9 to 12 miles and carry a maximum weight of up to 220 lbs. It packs a 250-watt motor, with a 36V5.2AH Extended Range lithium Ion Battery, having a charging time of 4 hours.
Gotrax GXL V2 is the second version of its original model. One of the improvements made is how the rear disc brake is activated. Instead of stepping on the foot pedal, it can now be controlled through the hand lever.
Its dual braking system is designed to have a responsive braking effect. So aside from the improved disc brake, it also equipped with ani EABS anti-lock braking system.
It's also more sturdy than the original model since the V2's rear fender was reinforced.
No products found.
Things you should know:
There's a digital display on the handlebar to let you see your speed, your E-scooters battery life and an option to turn on your headlight.
It's lightweight and can easily be folded down for easy storage or and when carrying it around.
---
4. Glion Dolly Foldable Lightweight Adult Electric Scooter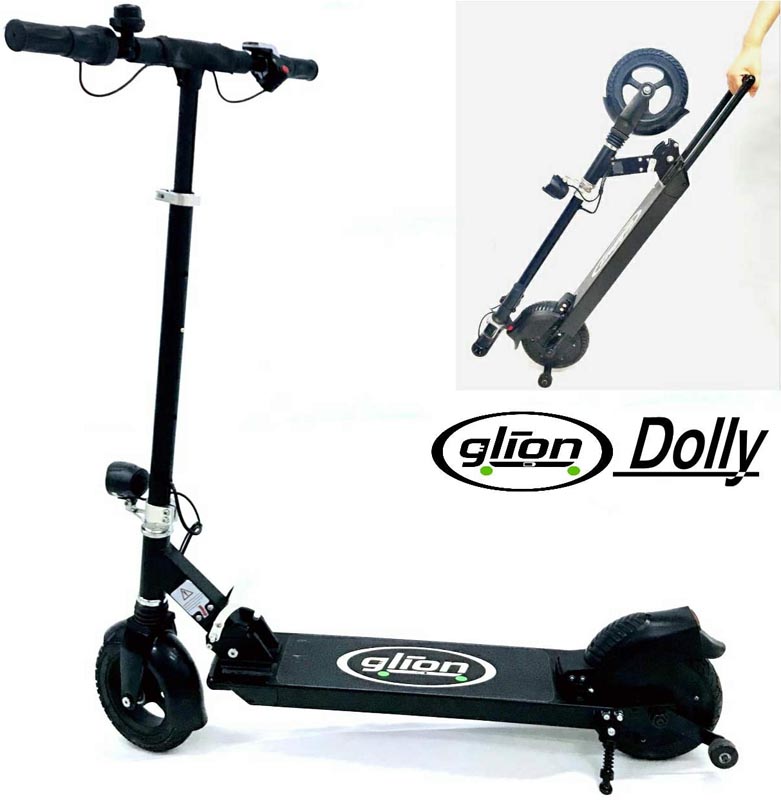 Glion Dolly Foldable Lightweight Electric Scooter
One important thing to note is that the No products found. is definitely not a toy. It means business.
It's designed specially for adults' daily use, like commuting or running errands. It has an aircraft aluminum frame (built to last) with a patented dolly and a vertical self-standing feature. This e-scooter is created in such a way that you can drag it around like a trolly when not in use.
It may not be for kids but that neat future seems very much enjoyable for me as an adult
It has a top speed of 15 mph and can run up to 15 miles for every single charge. It's military-developed, with a honeycomb interior, 8-inch tires never go flat, eliminating any tire maintenance needed.
It has rear electric brakes, s a built-in tail reflector and a bright headlight to keep its riders safe especially at night. It's headlight is quite efficient, brightening your path enough, not only to see the road but also enough for incoming cars to see you.
No products found.
Things you need to know: 
It packs a 250-watt (600-watt peak) brushless DV hub motor that requires 1 Lithium-ion battery.
Charging time is 3.5 hours.
---
5. Razor E300 Electric Scooter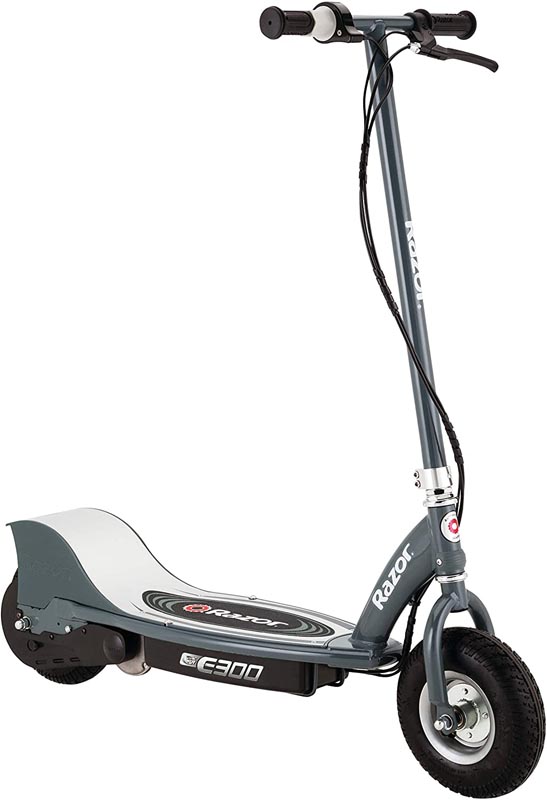 Razor E300 Electric Scooter
Early on this list, we've talked about how Razor is a brand dedicated to continually develop e-scooters. Similar to the E Prime, the No products found. can be enjoyed for up to 40 minutes of use, with a 10-mile range. Also with a maximum speed of 15 mph.
Its wheels are an inch higher and wider, having 9 inches pneumatic front and rear tires and can carry a maximum weight of 100 kg. This Razor E-scooter is powered b a 250-watt, high-torque, single-speed,chain-driven motor that has two 12v rechargeable sealed lead-acid battery system.
The E300, however, has fewer features. It's a bit basic with a bit of a style.
No products found.
Things you need to know: 
There's no charge indicator
The brake is located on the rear and is hand operated through the left handlebar
The speed can be controlled through the right handlebar
---
6. Segway Ninebot ES4 Electric Kick Scooter
Segway Ninebot ES4 Electric Kick Scooter
The No products found. highly-reviewed. It's function meeting fashion, as the company would say. It takes pride in being "the next level of e-Scooter".
So, what makes it great? Well, it's faster, it travels farther and it's powerful. It has a top speed of 18.6 mph with a 28 miles (45 km) range, having a 15% hill grade. It packs a whopping 800 watts of power with dual batteries (internal and external).
It is also equipped with a Smart Battery Management System (Smart-BMS) which monitors the battery cells, ensuring the safety of your scooter's batteries and its extended life.
To make use of its powerful machine, Segway ES4 is feature-rich. It has both an electrical brake and a mechanical brake, a dual suspension system (absorbing shock from the front and back—even at high speed), and it comes with a mobile app.
All of these are encased in a durable, aerospace-graded aluminium alloy, with a silver-grey finish. It's also designed to be portable as this e-Scooter is equipped with a one-step folding system. So it's sleek, it's highly functional, and it's handy and easy to carry around.
No products found.
Things you need to know: 
Charging time is 7 hours
Recommended for riders ages 14 and up
Has 8″(F)/7.5″(R) Large Solid Non-Pneumatic Tires
It has a customizable LED light and a separate front LED light to illuminate your path ahead at night.
---
You may also be interested in:
---
Electric Scooter Buyer's Guide
Below are the key considerations that anyone buying an electric scooter should consider. These points are in no particular order other than the first point which is Certification. The batteries used in electric scooters are potentially dangerous if the unit is uncertified as such, always purchase an electric scooter with certification.
Certification
Certification used to be quite rare in the electric scooter space. Thankfully this is now very rare and almost all electric scooters come with UL 2272 certification. This certification is awarded to electrical mobility devices that meet incredibly strict electrical and mechanical standards. Ensure that the unit you are considered has this certification.
Tires & Wheel Size
Make sure that you assess the size of the wheel and the type of tire used. Both aspects of an electric scooter are incredibly important to both the smoothness of the ride but also which surfaces you are able to ride on. Larger wheels are generally better in most circumstances, however, smaller wheels are fine for a typical commute.
Battery Life
Battery life is fundamental to distance range and power output over time. The larger the battery, the larger the range, or greater average speed over distance. Although larger batteries are recommended for most, they are heavy and if you're only travelling short distances perhaps the large battery is unnecessary.
Charge Time
It's important to consider the charge time when buying an electric scooter if you need to use your scooter multiple times a day or just want an efficient unit. Generally speaking, larger batteries have a longer charge time compared to smaller batteries. However, some electric scooters do have better charging efficiencies than others.
Motor
Different motors deliver a different amount of power. Simply speaking, a more powerful motor delivers greater speeds than less powerful motors. There are drawbacks to more powerful motors, mainly with limiting the battery life due to a greater energy draw. However, more often than not you would want to opt for a more powerful motor.
Weight & Construction
Electric scooters can get heavy and become very cumbersome when carrying it onto trams or upstairs. ake sure that you buy an electric scooter that is lightweight as possible without compromising too much on the performance or quality. In addition, if you do plan on using your electric scooter a lot, then make sure you buy one with quality construction and materials.
How We Review The Electric Scooters
We compared over 100 different electric scooters from almost every electric scooter brand globally. From these 100 electric scooters, we shortlisted 10 which deemed to be worthy of a more in-depth review. From these 10 we took a deep dive and assessed in detail their pros, cons and costs. From these 10 we found 6 to be good enough to recommend to our readers. These 6 electric scooters represent the best of the best and there should be an electric scooter for every budget.
Best Electric Scooters FAQs
An electric scooter is certainly worth buying if it will help you save a meaningful amount of time or produce a meaningful amount of enjoyment. A good electric scooter isn't cheap so make sure you have a really purpose for buying an electric scooter to ensure it is worth buying.
Last update on 2021-09-22 / Affiliate links / Images from Amazon Product Advertising API
It is impossible to provide a general answer since it entirely depends on your location. Please check with your local authority as to the specifics laws and regulations which govern electric scooters in your area.
Last update on 2021-09-22 / Affiliate links / Images from Amazon Product Advertising API
Electric scooters can vary greatly in cost but generally speaking they range from $100 for a really bad unit to around $3000 for something very premium. =
Last update on 2021-09-22 / Affiliate links / Images from Amazon Product Advertising API
Absolutely yes, we recommend wearing a safety helmet at all times when riding an electric scooter. A lot of electric scooters output some serious speeds that easily rival bikes. A fall at these speeds can cause serious injuries and therefor a helmet should be worn at the very least.
Last update on 2021-09-22 / Affiliate links / Images from Amazon Product Advertising API
Last update on 2021-09-22 / Affiliate links / Images from Amazon Product Advertising API