Whether you're a fan of MOBAs like Dota 2 and League of Legends or FPS titles like Warzone and Overwatch, finding the best gaming keyboard for you is essential in achieving the optimal video game experience. After all, who wants to end up with an embarrassing death just because of your keyboard's shoddy response time or sticky keys.
That being said, we've searched high and low and put together a list of the best gaming keyboards out there in hopes of catering to a wide variety of gamer tastes and budgets.
Don't have the time to read through the entire list? Just click any of the links below and we'll take you right to that section.
What's so special about gaming keyboards?
The first thing that stands out about gaming keyboards are their edgier aesthetic that is intended to mesh well with gaming rigs and are almost always accompanied by RGB capabilities. I'm sure you wouldn't want your meticulously designed gaming PC to be paired with a dull office keyboard.
They also often come with certain quality of life features, like dedicated media controls and programmable buttons. Most gaming keyboards nowadays feature mechanical keys due to their high durability and speedy response times, but there are a few outliers that still utilize membrane keys in exchange for a cheaper price tag.
Gaming Keyboard
Gaming Keyboard
Gaming Keyboard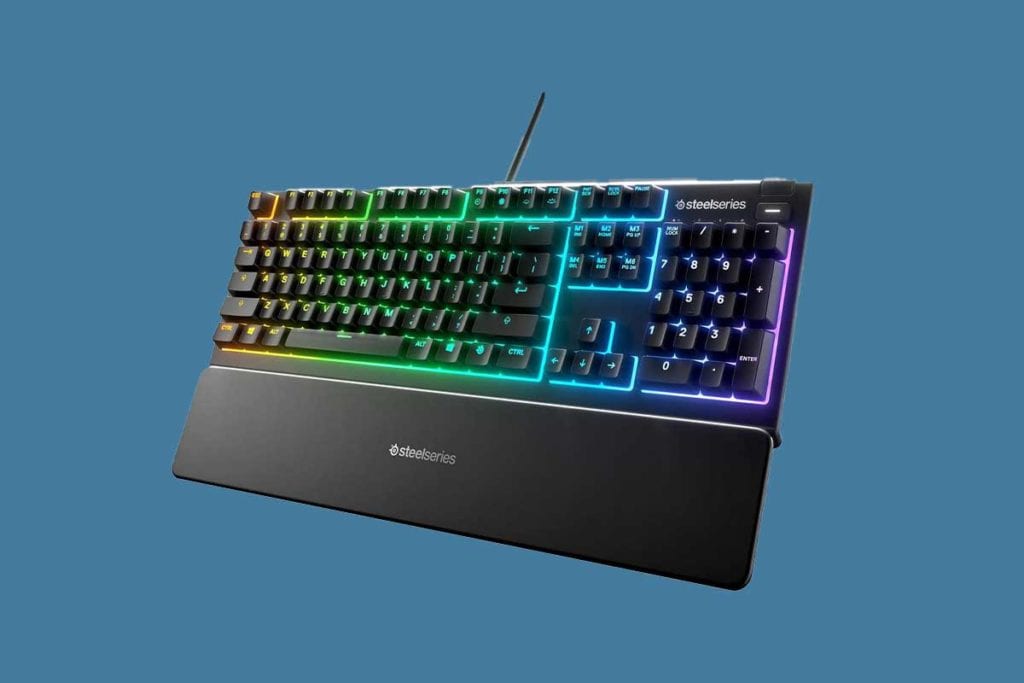 SteelSeries Apex 3
Dimensions: 44.47 x 15.16 x 3.97 cm
Switch Type: Membrane switches
Connectivity: Wired
RGB: Yes
If you're a little short in the cash department but aren't keen on trying your luck with some of the more obscure gaming keyboard brands out there such as VicTsing and STOGA,  then the Steelseries Apex 3 might be your best option. It may not have made the jump to mechanical keys, but it makes up for it with a host of awesome features. Here's what we loved most about it:
Steelseries Apex 3
Ip32 water resistant Prevents accidental damage from liquid spills
10-zone RGB illumination Gorgeous color schemes and reactive effects
Whisper quiet gaming switches Nearly silent use for 20 million low friction...
Premium magnetic wrist rest Provides full palm support and comfort
More reasons to consider the SteelSeries Apex 3:
Despite being the cheapest keyboard on this list, the Apex 3 has one of the most eyecatching designs and comes with gorgeous RGB lighting that bleeds through beautifully thanks to the elevated keys.
It comes with a fantastic magnetic wrist rest that's not only great to look at but feels good and is functional to boot.
The keyboard supports the SteelSeries Engine 3 app which is a pleasure to use and has some nifty features, such as the ability to assign specific RGB lighting to particular app alerts and messages.
While the Apex 3's membrane keys may be a step behind the superior mechanical ones, they're still as high-quality as they come and are remarkably quiet, if that's something you're interested in. For those in the market for a fantastic-looking gaming keyboard that's heavy on the features yet light on the wallet, the SteelSeries Apex 3 should be at the top of their list.
Full SteelSeries Apex 3 review can be found here
---

Das Keyboard X50Q
Dimensions: 45.7 x 16.8 x 3.2 cm
Switch Type: Gamma Zulu Omron mechanical switches
Connectivity: Wired
RGB: Yes
While not quite as renowned in the gaming-sphere as Razer or Hyper X, Das Keyboard peripherals have been a favourite for keyboard enthusiasts for quite a while now. Their premium offering – the Das Keyboard X50Q – features innovative cloud-based technology, top-shelf switches, and a whole lot more.
Das Keyboard X50Q
Cherry MX Brown mechanical key switches with Gold contacts for a soft...
rugged construction to withstand 50+ million keystrokes with aluminum top...
two port USB 3.0 Super speed hub 5 GB/s; 10x the speed of USB 2.0
oversized volume knob and dedicated media controls and instant sleep button
Additional reasons to consider the Das Keyboard X50Q:
The X50Q's signature Gamma Zulu Omron soft-tactile mechanical switches offer an impressive 100 million keystroke lifespan and better response times than most rival switches thanks to their shorter actuation points.
Its Applet feature is a novel idea that lets you bind keys and colours to the notifications of certain apps such as Slack and Twitch which will then light up whenever there's a pending message or alert.
The keyboard's sleek, low-profile design and matching wrist rest are sure to be a hit with gamers who prefer their gaming keyboards a little less on the edgy side.
If you're a gamer who's always wondered what all the fuss is about when it comes to Das Keyboard peripherals, the X50Q is the perfect keyboard to show you just what the brand has to offer.
Full Das Keyboard X50Q review can be found here
---

HyperX Alloy Elite 2
Dimensions: 44.4 x 17.4 x 3.74 cm
Switch Type: HyperX Red mechanical switches
Connectivity: Wired
RGB: Yes
The HyperX Alloy Elite 2 is the gaming tech giant's higher-end keyboard model that foregoes cutting-edge innovation in favour of perfecting its basic features. As a result, you can expect a stunning design, top-of-the-line switches, and impressive durability.
Price reduction
HyperX Alloy Elite 2
HyperX Pudding Keycaps: Pre-installed translucent ABS pudding keycaps...
HyperX Mechanical switches: These reliable key switches are a balance of...
Signature light bar & dynamic RGB lighting effects: The signature HyperX...
Dedicated media keys and large volume wheel: Have control at your...
Additional reasons to consider the Alloy Elite 2:
The Alloy Elite 2 utilizes the brand's own signature HyperX Red mechanical switches as opposed to the Cherry ones found in the older models, offering superior response times and far longer shelf life.
The keyboard's pudding keycaps are drop-dead gorgeous and elevate the Alloy Elite 2's already impressive RGB lighting to new heights.
It's not only compatible with PCs but with most consoles as well, much to the delight of multi-system gamers.
For those who are suckers for brilliant RGB lighting and stellar switch performance, the HyperX Alloy Elite 2 has those in spades. Throw in the awesome console support and you've got yourself one of the best overall gaming keyboards on the market.
Full HyperX Alloy Elite 2 review can be found here
---

Razer Huntsman Elite
Dimensions: 44.7 x 13.97 x 3.66 cm
Switch Type: Razer Opto-Mechanical switches
Connectivity: Wired
RGB: Yes
Meant as a sequel to their BlackWidow line of keyboards, the Razer Huntsman Elite popularized a whole new kind of switch that was set to be the most responsive in the industry. Its switches aren't the only thing the keyboard has going for it, however, as its premium price tag also comes with some premium features, which include:
Razer Huntsman Elite
The #1 Best-Selling Gaming Peripherals Manufacturer in the US: Source - The...
Faster Than Legacy Mechanical Switches: Razer Optical switches use...
Ultimate Personalization & Gaming Immersion with Razer Chroma: Fully syncs...
Quality, Aluminum Construction: Covered with a matte, aluminum top frame...
Additional reasons to consider the Razer Hunstman Elite:
Top-shelf RGB capabilities that extend to the keyboard's magnetic wrist rest and also include multiple underglow points.
 Razer Opto-Mechanical switches have some of the fastest actuation speeds on record and are sturdy to boot, as they're rated for 100 million keystrokes.
Its multi-functional digital dial feels absolutely fantastic and has a wide variety of uses. It's truly a feature all gaming keyboards should consider adopting.
It might be a bit overkill for more casual gamers but performance fanatics and aspiring pros will likely be satisfied with the Razer Hunstman Elite's Opto-Mechanical switches alone, while its multitude of useful extra features is a more-than-welcome cherry on top.
Full Razer Hunstman review can be found here
---

Logitech G915 TKL
Dimensions: 36.8 x 15 x 2.2 cm
Switch Type: Logitech GL mechanical switches
Connectivity: Wireless/Bluetooth/Wired
RGB: Yes
If you're eyeing top-shelf performance without a cable cramping your style, the compact Logitech G915 TKL is as good as they come. This wireless gaming keyboard is easy on the eyes, offers a variety of switches to choose from, and has some of the best wireless technology in the business. If you can afford the steep price tag, that is. Here's what makes it so great:
Additional reasons to considers the G915 TKL:
The G915 TKL features stellar LIGHTSPEED wireless technology which boasts 1 ms response times for a seamless gaming experience without a cable getting in the way.
You have three varieties of mechanical switches to choose from, GL Clicky, GL Tactile, and GL Linear, which focus on click satisfaction, tactile feedback, and smoothness respectively.
Its 40-hour battery life is impressive and holds up even when using more demanding RGB settings.
With its most prominent drawback being its hefty price tag, the Logitech G915 TKL is, by far, the best wireless gaming keyboard we've come across, as it manages to eliminate the hassle of a wire without sacrificing anything in the way of performance or functionality.
Full Logitech G915 TJL review can be found here
---
Final Thoughts
Gaming Keyboard
Gaming Keyboard
Gaming Keyboard
Whether it's the HyperX Alloy Elite 2's console support or the Logitech G915 TKL's unmatched wireless capabilities, we've made sure to include a healthy dose of variety in our list of best gaming keyboards to better suit a wide range of gamer wants and needs. If you think we're missing out on an impressive keyboard that you feel deserves to be on this list, make sure to let us know in the comment section below.
You may also be interested in:
Last update on 2021-09-21 / Affiliate links / Images from Amazon Product Advertising API