Whilst 5.5% total market share of web browser usage may seem pitiful, there are still millions of people using Mozilla Firefox. According to statistics published W3Counter, this makes Mozilla the 4th most popular web browsing application in the world. A prime target for hackers and dark souls of the internet.
So, how can millions of Mozilla Firefox fans further secure browsing?
Introducing RUSVPN, one of the best VPN Firefox extensions available to encrypt your data. Whilst Firefox already offers superb built-in security features, it's likely that you will still want to improve your safety wherever possible. RUSVPN delivers this and much, much more.
In this article, we explore why RUSVPN is the best VPN Firefox extension available for both home and office. Scroll down to start your journey to safer browsing with Mozilla Firefox.
What Are VPNs?
Before we delve into why RUSVPN is the best VPN Firefox extension, it's important to understand why VPNs are used by millions. VPNs (or virtual private networks) are private networks that serve as a virtual channel to securely transmit data. In short, VPNs are extremely useful for navigating the internet safely by protecting your data as you browse websites, download files and login to applications such as Facebook. A quality VPN, such as RUSVPN for Firefox, can help secure your data, grant access to geo-blocked content and also prevent malicious users from stealing your identity.
–
Other Ways To Make Web Browsing Safe
Isn't it funny that we browse the internet every single day without truly understanding what's behind the mechanics? As the amount of sensitive data we publish online grows, so does our risk. From home banking on a 4G connection to saving passwords with unknown plugins, it's important to understand how we can make website browsing as safe as possible.
As well as installing a Firefox VPN extension, take a look at 5 other super simple ways you can protect your browsing behaviours:
–
1. Configure Security Settings
Every website browser has settings that can be configured. Mozilla Firefox is no different. By reviewing your browsers security settings, you can tighten up your security in just a few clicks. Internet authority 'Pro Privacy' has an article purposefully dedicated to Firefox Security settings. Be sure to check that one out!
2. Regularly Update Browsers.
As mentioned earlier, Firefox already comes with certain levels on built-in security. Keeping this regularly updated is an important step to having the latest security patches. Remember, the internet never sleeps.
3. Install Plugins With Caution.
Plugins are typically owned by individuals or small teams of developers. You don't know them and they don't always care too much about personal security. There have been many cases of internet plugins being exposed to security flaws over the years. Therefore, unless the plugin is well supported, contains bags of reviews and looks trustworthy, it might be best to avoid.
4. Use Updated Antivirus Software.
Potentially unwanted programs (PUPs) can slip past when you install any sort of software. Keeping a reputable antivirus program like ZoneAlarm or BitDefender installed is one of the best ways to keep PUPs from hijacking your browser and ruining your day.
5. Install Security Plugins & Use A VPN
Whilst the majority of plugins are safe, overload with security where possible. When transacting or entering sensitive data, make sure you switch on your VPN. For all other internet browsing activities, a reputable security plugin for Mozilla Firefox is always worthwhile.
–
How To Choose The Best VPN Firefox Extension?
If you are new to the world of VPNs, choosing the best one for your needs may be daunting. However, in reality, it's not too difficult. Just like any decision, you should start with why you need a VPN. Is it just purely to access blocked content or are you concerned about your data? Each VPN delivers slight variations and understanding your primary use is important. Assuming military-grade encryption is top of the bucket list, let's look at 3 other important factors.
1. Server Speed.
Data encryption and speed typically do not mix. However, if you choose a VPN that has many servers distributed across the world, the performance will be greatly improved.
2. VPN Server Price.
Weighing up the cost of a VPN against your need for one is always important. Most VPN service providers will charge a monthly fee. Many will offer a discount when you pay annually, however, is the juice worth the squeeze?
3. Device Compatibility.
Our world is interconnected and so are our devices. Finding a VPN service that is compatible will the majority of applications and devices will come in handy when on the move. Take a compatible VPN for Firefox, for example. If your device can install Mozilla Firefox, you'll always have access to your virtual private network. Not all VPN service providers offer this luxury. Therefore, be sure to read up on known compatibility issues.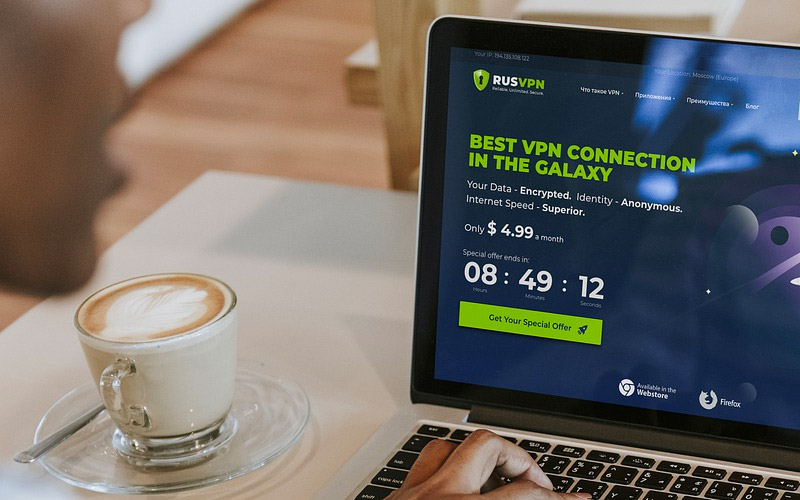 Why RUSVPN Is The Best VPN Firefox Extension?
When it comes to the best VPN Firefox Extension, you can't go wrong with RUSVPN. With 100% secure connections and a killswitch to instantly break down your connection if your VPN is unavailable, online browsing security doesn't get much better.
RusVPN uses reliable 2048-bit SSL encryption. This allows you a choice between OpenVPN (UDP, TCP), L2TP or PPTP protocols. Simply choose the protocol yourself or allow the app to choose the best protocol based upon your network. We recommend opting for OpenVPN where possible. This is because it is the safest connection protocol currently available.
Compared to other popular VPNs such as PenguinProxy, RUSVPN is the Ferrari. This leaves PenguinProxy, the Fiat. Thanks to the numerous servers (more than 300) scattered all over the world, the Mozilla Firefox RUSVPN extension guarantees excellent connection speed that allows you to also enjoy streaming services without limitations. The cost among other things is also very competitive considering the 24-hour support.