Whether you're an industry professional who's always on the go or just someone who enjoys using their devices from a bit of a distance, there are tons of reasons to want to get yourself a decent wireless keyboard. But with so many great choices out there to fit different budgets and tastes, finding the one that speaks to you can be pretty challenging.
In hopes of making your selection process even just a little bit easier, we've put together a list of the Best Wireless Keyboards that we've had the opportunity of reviewing.
Can't spare the time to read through the whole list? Just click any of the links below and we'll take your right to that section:
Why pick up a wireless keyboard?
In an age where pretty much every tech company is gunning for wireless peripherals and with brands coming up with increasingly more affordable models, it might be high-time that you ditch that wired keyboard of yours for a cableless alternative. What's the point of going wireless, you ask?
Well, to start things off, you'll be able to use your keyboard further away from your screen which is great for people who have large monitors or if you want to control your movie-watching experience from your couch.
There are also variants of them that are compatible with a host of different devices and are capable of transforming that beloved tablet of yours into more of a laptop. Finally, it's just plain nicer to have a less cluttered workstation now that the pesky keyboard cable is out of the way.
Best Wireless Keyboard Overview
Product
AmazonBasics Wireless Keybosrd
Microsoft Surface Keyboard
Wireless Keyboard
Product
AmazonBasics Wireless Keybosrd
Wireless Keyboard
Product
Microsoft Surface Keyboard
Wireless Keyboard
Wireless Keyboard
AmazonBasics Wireless Keyboard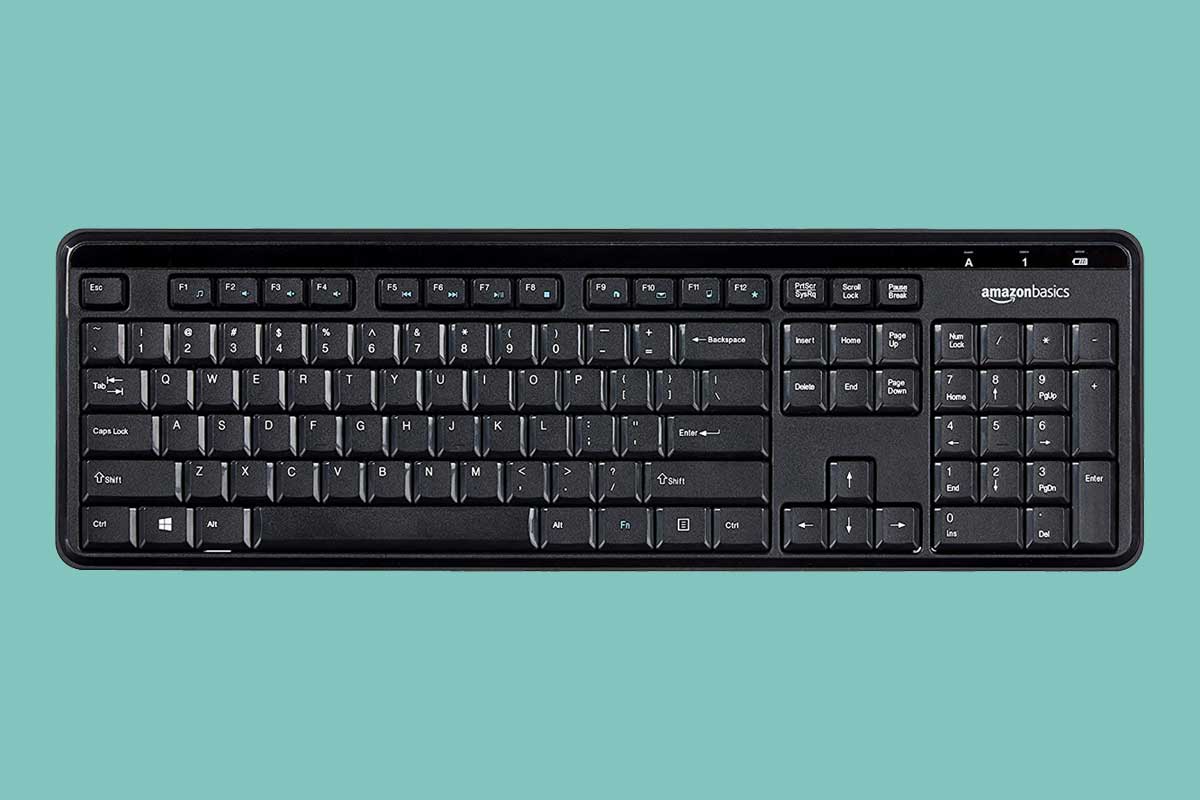 Dimensions: 45.21 x 14.27 x 3.71 cm
Switch Type: Membrane
Connectivity: Wireless
Backlight/RGB: None
In the past, one of the major deterrents in getting yourself a wireless keyboard was the steep price tag that was likely to come with it. While there are still a bunch of insanely priced models out there today (some of them are on this list), there are a lot more great affordable ones for people who don't plan on emptying their wallets, with the AmazonBasics Wireless Keyboard being among the best. Here are a few reasons why you should consider this budget beauty:
Its low-profile switches are incredibly quiet and surprisingly responsive despite them being of the membrane variety.
The AmazonBasics Wireless Keyboard weighs a mere 470 grams so it's really light and should be easy to carry around the house or office.
It comes with textured keycaps that don't track much dirt, fingerprints, or grease marks. A welcome feature for users who are obsessed with keeping their peripherals neat and clean.
As long as you don't mind its slightly low-quality build and fairly bland design, the AmazonBasics Wireless Keyboard is the best budget-conscious wireless keyboard we've ever come across.
Full Amazon Basics Wireless Keyboard Review
---
Apple Magic Keyboard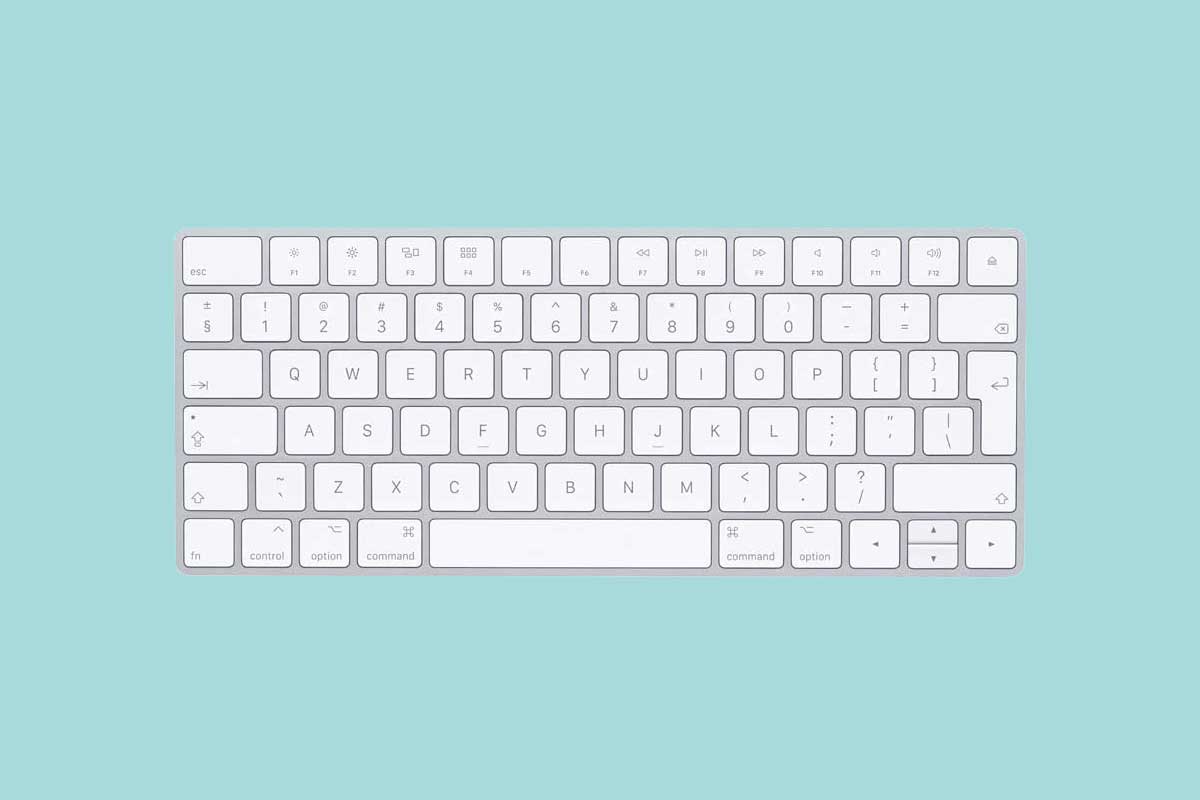 Apple Magic Wireless Keyboard
Dimensions: 27.9 x 11.49 x 1.09 cm
Switch Type: Tactile Scissor switches
Connectivity: Bluetooth/Wired USB
Backlight/RGB: None
The No products found. serves as a successor to the previous generation's Apple Wireless Keyboard, sporting an updated design, rechargeable battery, and better quality switches. It's now the standard for all the Mac models and remains true to Apple's minimalist aesthetic. Here are some of its highlights:
No products found.
The Apple Magic Keyboard's tactile scissor switches are wonderfully responsive and comfortable to use, as their low-profile nature gives them a feel akin to a laptop keyboard. They even offer a satisfying degree of tactile feedback which is great.

As long as it's not Android-based, the keyboard's Bluetooth connectivity allows it to connect to pretty much any device that's Bluetooth ready, though you should expect a few compatibility limitations along the way. You can also plug it in directly to your machine through a wired connection.

Its frame is built using high-grade aluminium so you can rest assured that it's a tough piece of work for such a little guy without being unnecessarily heavy. Its keys are also packed tightly together so you won't have to worry about dirt making its way in all the time.
If you're a fan of Apple's signature style and key layout, then you're sure to love the Apple Magic Keyboard's look and feel. Its lack of a backlight is definitely a sore spot and it's a tad pricey for a keyboard with such limited features, but as far as Mac-oriented wireless keyboards go, nobody does it like Apple.   
Apple Magic Wireless Keyboard
Full Apple Magic Keyboard review
---
Microsoft Surface Keyboard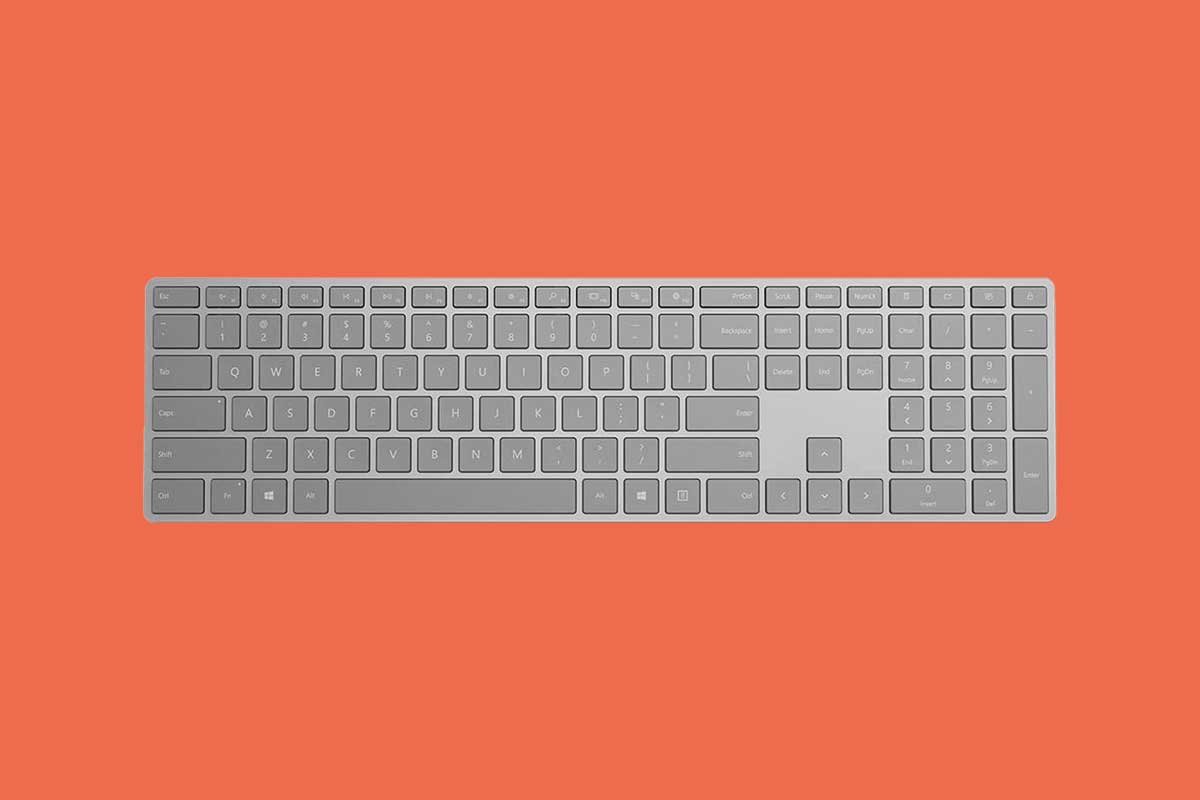 Dimensions: 42.09 x 11.26 x 1.93 cm
Switch Type: Scissor switches
Connectivity: Bluetooth
Backlight/RGB: None
Microsoft may not be best-known for their peripherals, but their Microsoft Surface Keyboard is definitely something people should be interested in. While its main purpose is to act as a physical keyboard for the brand's line of Surface tablets, it's a fantastic all-around device with excellent performance and a catchy design. Here's why you should consider it:
Microsoft Surface Keyboard
Compatible with Windows 10 / 8. 1 / 8, Mac OS 10.10.5 / 10.11.1 / 10.11.4,...
Sleek and simple design
Optimized feedback and return force.Multimedia key life: 500,000 actuations...
Host must support Bluetooth 4.0 or higher. Note : Refer the PDF attached...
The Microsoft Surface Keyboard is at its best when used with a Windows device, but is compatible with pretty much any gadget that is Bluetooth capable. Bear in mind, however, that some of the keys won't function properly on operating systems other than Windows.

It features fantastic scissor switches that are ridiculously quiet, remarkably responsive, and have a nice bit of tactile feedback.

This keyboard boasts a gorgeous low-profile design and excellent build quality.
For those who like Apple's approach towards a minimalist design but are looking for a wireless keyboard with Windows-oriented keys, the Microsoft Surface Keyboard is a good place to start. It shares the same flaws as the Apple Magic Keyboard, including the absence of a backlight and the limited features for its price, but if you've got yourself a Windows tablet then you really should own one of these to go along with it.
Full Microsoft Surface Keyboard review
---
Logitech G915 Lightspeed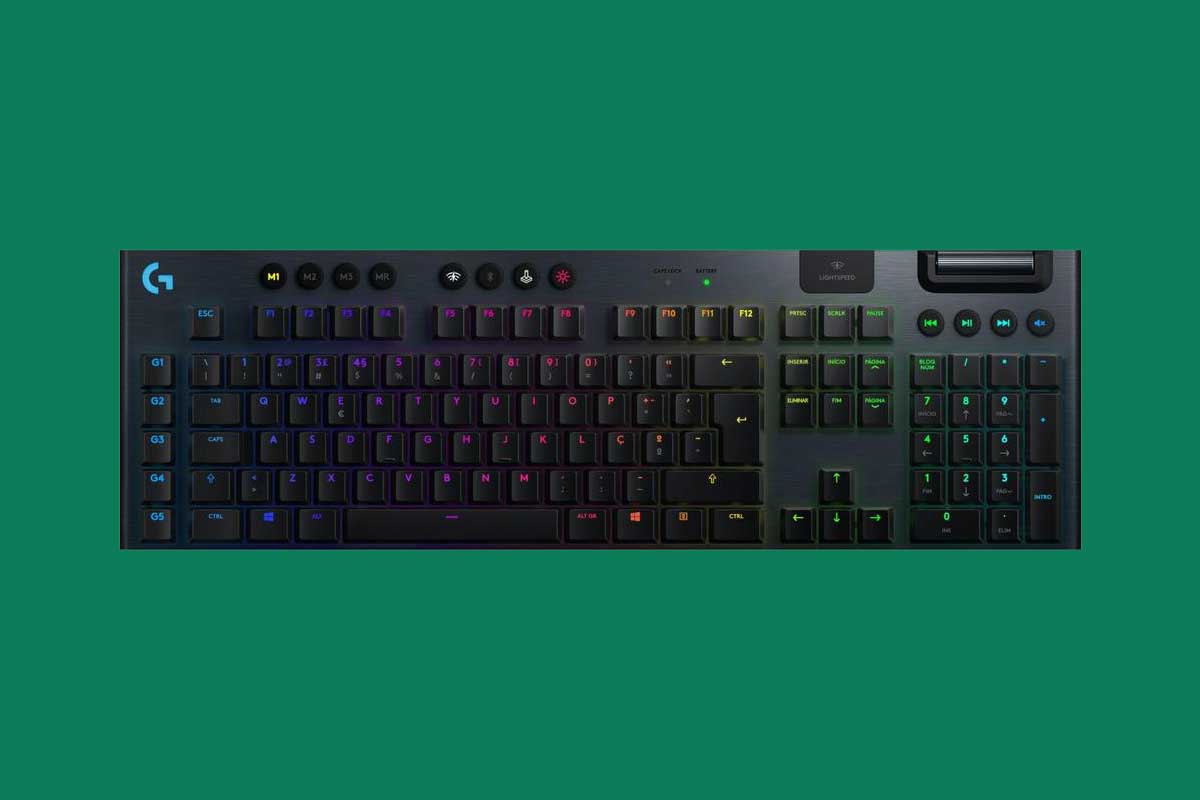 Logitech G915 Wireless Mechanical Gaming Keyboard
Dimensions: 47.5 x 15 x 2.2 cm
Switch Type: Logitech GL mechanical switches
Connectivity: Wireless/Bluetooth, Wired USB
Backlight/RGB: RGB
Logitech is no stranger to creating quality keyboards, though their efforts as of late are more focused on the gaming space. TheNo products found. is one of their latest wireless models to hit the scene which also happens to be their top-of-the-line offering, featuring exceptional performance, an attractive design, and all the features you would ever look for in a wireless keyboard. Here's what makes it so great:
No products found.
It utilizes Logitech's signature GL switches that perform just as well as Cherry MX ones but with a better shelf life.

It's capable of connecting to 2 different devices simultaneously (one via Bluetooth and the other through wireless) and you can switch between both of them at the push of a button.

The G915 Lightspeed has some of the lowest latency we've ever seen in a wireless keyboard, making it perfect for gaming.
If you can stomach its crazy high price tag, the Logitech G915 Lightspeed is hand-down the best wireless gaming keyboard on the market. And even if you aren't a gamer, its tasteful design means that it wouldn't be out of place on the desk of an industry professional.  
Logitech G915 Wireless Mechanical Gaming Keyboard
Full Logitech G915 Lightspeed review
---
Logitech G915 TKL
Dimensions: 36.8 x 15 x 2.2 cm
Switch Type: Logitech GL mechanical switches
Connectivity: Wireless/Bluetooth, Wired USB
Backlight/RGB: RGB
Logitech G915 Lightspeed a little too big for your tastes? Its twin – the Logitech G915 TKL – offers the same level of performance and a similarly striking design minus the number pad and a few of the extra keys. Here are some of its strong points:
 Logitech's G Hub is one of the most user-friendly in the business and makes customizing your keyboard a breeze.

It lasts 40 hours on a single charge even with the RGB lighting on full blast.

The G915 TKL is extremely tough thanks to its high-grade aluminium front panel and steel reinforced base, so you can go ham during your gaming or typing sessions without the fear of messing the keyboard up.
With its only real drawback being its very steep price tag, the Logitech G915 TKL takes the crown for the best tenkeyless wireless gaming keyboard around.
Final Thoughts
Whether you're a budget-minded fellow looking to save a buck, or an avid gamer itching to get their hands on the best wireless gaming keyboard money can buy, we've made sure to include different options for different tastes and price ranges.
We hope our list of best wireless keyboards helps you pick out the right peripheral for you, and if you think we missed out on a great wireless keyboard that you believe should've made the list, make sure to let us know in the comments section below so we can give it a look.
Best Selling Wireless Keyboards 2021
Price reduction
Bestseller No. 1
Price reduction
Bestseller No. 2
Price reduction
Bestseller No. 3
Logitech 920-006491 Wireless Keyboard and Mouse Combo MK345,Black/Blue
Get the reliability of a cord plus wireless convenience and freedom—10m...
Go longer between battery changes with 4-year keyboard and 18-month mouse...
Enjoy a hand-friendly, right-handed mouse with contoured design and precise...
Get instant access to volume and media control with 12 especially enhanced...
Price reduction
Bestseller No. 4
Price reduction
Bestseller No. 5
Last update on 2021-09-22 / Affiliate links / Images from Amazon Product Advertising API