Summary
Here's one hairdryer with the power of two. This way, you can dry your hair in half the time. And with its safety features in place, you don't have to worry about any damage to your hair.
Pros
Dual powerful motors for faster hair drying
Light and easy to use
Anion generator for shinier and more aligned hair
Suitable for adults, kids, and pets
Cons
No other attachment option
Boasting two BLDC motors in one device, the Blaster Pro claims to be the "world's most powerful hairdryer". It promises to dry your hair faster and safer and still get that beautiful salon-style hair you always want. So how exactly is it different from other hairdryers, and is it worth your time and money? Find out in this review.
In a rush and can't go through the entire thing? Just click on any of the links below and we'll redirect you to that section.
Overview
Drying your hair can be time-consuming. Depending on hair type, a blowout can take around 5 to 10 minutes for those with short hair and 15 to 30 minutes for those with long, thick, and/or curly hair. It can even take longer when you want to blow dry your curly or wavy hair. But not everyone has the time for all that, right?
With the new Blaster Pro, you can quickly and more conveniently start drying your hair. It has two powerful motors, which is equivalent to using two hairdryers. Now, you might be wondering – isn't that too much for your hair to handle? Well, what's great about this device is that you don't have to worry about damage. So not only is it incredibly quick, but it's safe too.
Even better, the Blaster Pro is surprisingly affordable even with two motors. Priced at US$199, it's a quarter of the price of the Dyson Supersonic, which is considered one of the best hair dryers today. It is, however, still more expensive than other top brands like the BabylissPro and Conair InfinitiPro.
The good news is that you can enjoy as much as 51% off if you catch its crowdfunding campaign on Kickstarter. Super early bird backers can pay only US$99 instead of the full price.
Features
Dual BLDC Motor
The most notable feature of the Blaster Pro is its two BLDC motors. A BLDC or Brushless DC motor is designed without the brush components which are easily damaged. Thus, making it more durable and consistent at high outputs. Each motor can reach a speed of up to 1,800Hz and 108,000 RPM. So together, they can produce 216,000 RPM, allowing you to dry your hair faster than ever.
Ionic Hair Care
Using powerful hairdryers often and for a very long time can cause hair to dry and frazzle. This is due to the hot air they produce. To prevent this, the Blaster Pro is designed with an anion generator, which can produce negative ions. This helps prevent static buildup in your hair as well as keep it moisturized with a bright finishing gloss.
3 Wind Mode
This hair dryer comes with 3 wind power levels, allowing you to get just the right level of heat you desire. At level 1, it will only use the lower motor. At level 2, the lower motor will turn up to high. Then at level 3, you'll be getting the full power of the device with the top and bottom motors running at the same time.
Now, what's great about the Blaster Pro is that while the bottom motor is emitting hot air, the top will produce cold air. This will ensure that you are protected from burns and hair damage.
Dual-Layer Nozzle
According to a study, hair dryers can cause hair damage such as dryness, roughness, and loss of hair color. And that applies to regular hair dryers. So what more if you're using two at the same time or one with two motors, right?
Dealing with such powerful motors is indeed quite scary, considering the amount of heat you have to expose yourself to. But with the Blaster Pro, there's no need to worry. It comes with a detachable dual-layer nozzle, which is designed to regulate the flow of hot air. This will protect you from any heat-induced hair damage, even when used for an extended period. It can rotate at 360 degrees, too. So you can target and direct heat in a specific area and discover different hairstyles.
Cool-Shot Button
The Blaster Pro has a cool-shot button that you can use to toggle between cold and hot air. While often overlooked, this is a key feature a hairdryer must have as it helps close your hair's cuticle and keep the style in place, making it last longer. It also prevents frizz when you're done drying.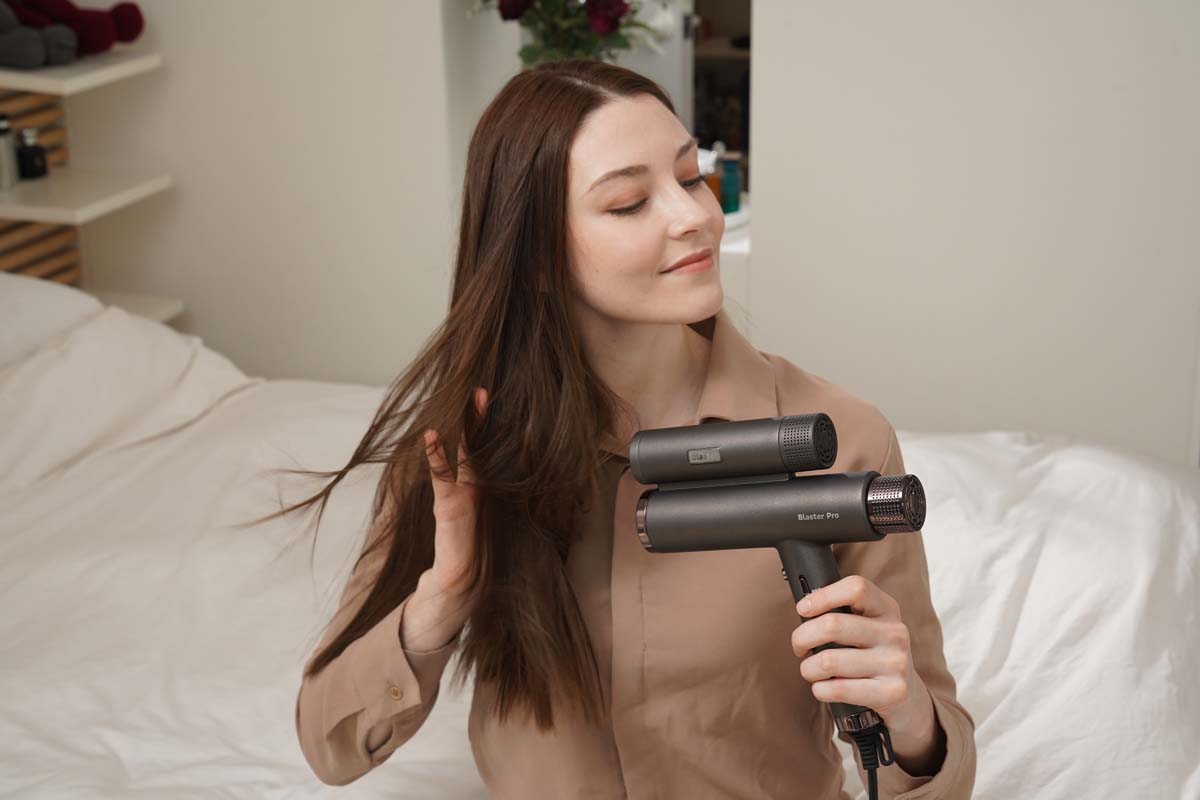 Specs
Output Power
1,700W
Weight
1.5 lb / 0.68 kg
Dimensions
216 x 224 x 49 mm
Input
120V, 50/60Hz
RPM
216,000
Sound Level
83dB
Cable Length
8.2 ft
Speed Settings

Single: Fast, Gentle
Dual: Fast

Heat Setting
Maximum Wind Speed

Upper: 30 m/s
Lower: 30 m/s

Operating Temperatures
60°F-98°F
Accessories
Nozzle, wall mount
Safety Guaranteed System
Bimetal, ThermalFuse
Using twin motors on hairdryers isn't exactly new. It is often seen on pet dryers, which is perfectly understandable since drying pet hair takes longer than drying human hair. This is because they have so much more of it, and anything weaker will just take too long to use. That said, Blaster Pro is also great for pets with its dual motors.
Compared to the Dyson Supersonic which has a sound level of 77dB, the Blaster Pro is noisier with 83dB. At this level, it's similar to a dishwasher (at 15 meters) yet quieter than a food blender. It's also still quieter than most hair dryers. On the other hand, the Blaster Pro has a higher output power rating of 1,700W than the Dyson Supersonic, which has a rated power of 1,600W. Usually, the higher a hair dryer's wattage, the hotter its maximum setting will be and the more powerful it is.
We also like to mention the Blaster Pro's cable length of 8.2 ft, which is longer than most. For instance, the Conair InfinityPro's cord measures only 6 ft with the ALCI included, and the BabyBlissPro Nano Titanium has an 8 ft cord. This is an important feature to consider as it makes using the product easier.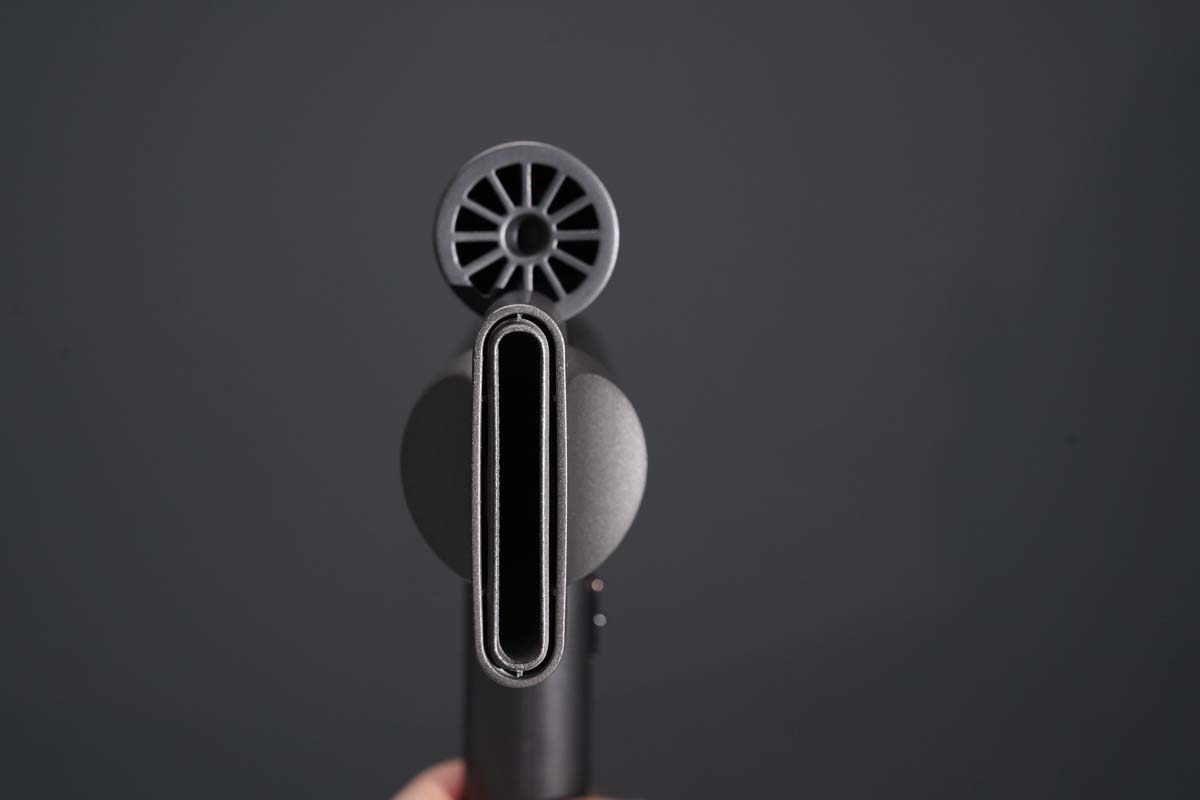 Design
Aesthetically, the Blaster Pro isn't exactly the most stylish or elegant hairdryer you will see. It is, however, very minimalistic and simple with no fancy embellishments. More importantly, it is surprisingly light, too.
Having two motors, it's easy to think that the Blaster Pro will weigh twice as much as regular hairdryers. But it's actually not. Weighing only 1.5 pounds or 0.68 kg, it's lighter than the Dyson Supersonic (1.8 lb or 0.82 kg) which only has one motor. This makes it light enough that even kids can use it. Also, this means that there will be less burden on your hands, arms, and shoulder while using the product.
The Blaster Pro is thinner than many hairdryers around. So while it doesn't have folding handles, it is ideal for traveling as well. It also comes with a pouch to make it easier to carry around with you. Another design attribute worth mentioning is the Blaster Pro's detachable filter cover. You can easily take it off, allowing you to keep the filter as well as your hair clean.
Final Thoughts
Sure, the Blaster Pro isn't the most stylish hairdryer on the market. It also doesn't come with several fancy attachments that can help style your hair better, depending on your hair's texture. But what's great about the Blaster Pro is that not only will you be able to dry your hair twice as fast, but you can also keep it looking good and moisturized. And even with its impressive power, your hair will remain free from heat-induced damages. To top it all off, it's affordable, too.
So if you are looking for a hairdryer that can give you speedy, safe, and beautiful salon-style hair without breaking the bank, then check out the Blaster Pro on Kickstarter.