Do you often find yourself with cold cups of coffee? Well, here's a product you may want to check out. The BOLT is marketed as the world's first modular heated mug that can go in the dishwasher. It was first introduced on Kickstarter in October 2020 and is now available on Indiegogo through Indemand. As of date, the BOLT has already received more than $112,000 in funding on both crowdfunding platforms.
[wd_hustle id="95″ type="embedded"/]
Summary
Whether you prefer your drinks warm or hot, the BOLT is the perfect mug so you never have to deal with cold cups of coffee or tea ever again. With its long battery life, efficiency, and convenience, it one of the best-heated mugs in the market today.
Pros
Long battery life
Dishwasher-safe
Seamless design
Affordable
Cons
The total price does not include charger
So what made BOLT such a success? How is it different from every other heated mug today? Find out with this review. In a rush? Click on any of the links below to skip to that section.
Overview
With the many things you have to do while at work or working from home, making tea or coffee and forgetting about it isn't uncommon. Even leaving it for a couple of minutes will leave you with a cold cup that just doesn't taste right. But with the BOLT, this isn't a problem. You can enjoy a hot or warm drink for hours. The best part is, once you are done, you can just pop the mug in the dishwasher and let it do its thing. Easy and convenient.
But what made the BOLT even more appealing is its affordable price. It has the same price as the Ohom KOPI Mug Set, which is $75. This is cheaper than other leading self-heating mugs today, including the Ember Mug 2, which costs $100 to $130, and the Muggo Travel Mug, which is at $130.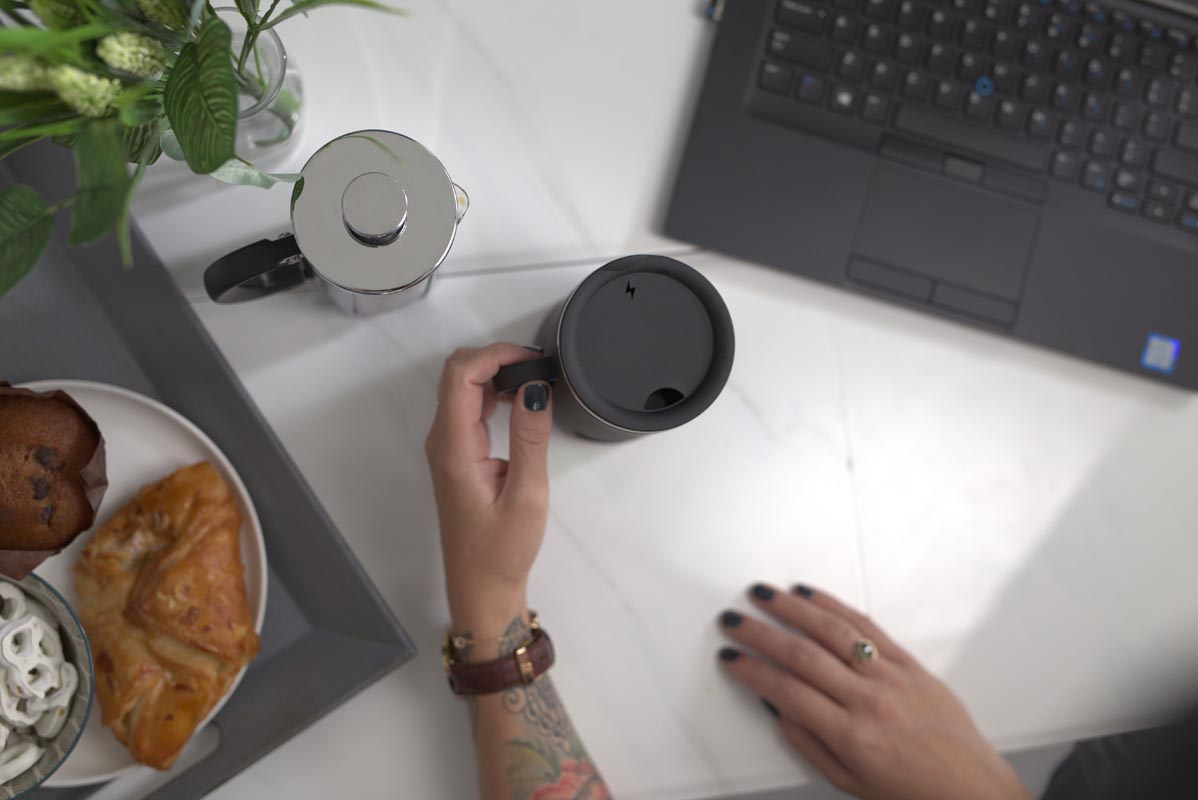 Features
Temperature Settings
The BOLT offers three temperature settings, such as the following:
45°C (113°F)
55°C (131°F)
65°C (149°F)
This feature allows you to achieve the coffee temperature you prefer. So whether you want warm or hot, BOLT can keep your drink the way you want it.
One-Touch Controls
You can control the temperature of your beverage by using the BOLT's one-touch controls. On the base, just press and hold the temperature setting you want. This panel has a 15-second auto-dim lighting system to reduce glare and conserve battery. To wake it up, you only need to tap the LED panel. For safety, this panel also deactivates if you haven't set a temperature within 10 seconds. This prevents accidental activations from happening.
Smart Sensor
With the BOLT, you can drink your coffee or tea in peace knowing that it is up to all UL safety standards. Its base can automatically shut off if no liquid or mug is detected, making it safe to use at all times. This also helps conserve its battery life.
Dishwasher Safe
If you are looking for a heated mug that you can just throw in the dishwasher for cleaning, then the BOLT is one of your best options. The MugTop is sealed, inert, and completely waterproof. So it doesn't require careful handwashing. Just make sure to detach the base before putting the BOLT in the machine.
Being dishwasher-safe is one of the biggest features that Thunder Dungeon Inc., the company behind the BOLT, emphasizes with their mug. It is advertised as the "only heated mug that's dishwasher safe." If you have tried or looked into the Ohom, which was launched on Kickstarter in 2019, you know that this isn't true.
4+ Hours of Heating
Due to the MugTop's insulation system and the base's powerful lithium-ion battery, the BOLT can provide more than enough heat to keep your coffee or tea warm for 4 hours. Sometimes, even longer. So it offers the most in terms of heating time. In comparison, the Muggo Travel Mug comes close with its 3-hour battery life, and the Ember Mug 2 performs poorly at 1.33 to 1.5 hours.
Specs
Here are the technical specifications of the BOLT based on its campaign on Indiegogo.
Battery
Rechargeable lithium-ion
Battery Capacity 
5400mAh
Material (MugTop)
Food-grade stainless steel inner liner
Charging
USB Type-C Charger
Temperature Settings

45°C (113°F)
55°C (131°F)
65°C (149°F)
BOLT's longer heating time is partly due to its high capacity battery. At 5400mAh, it is higher than most heated mugs today. Thus, allowing it to last longer. For example, Muggo only has a 4800mAh battery capacity, making it last for only 3 hours.
[wd_hustle id="95″ type="embedded"/]
Another feature worth noting about the BOLT is its offered temperature setting. You have 3 options so you can choose from warm to hot. Unlike with the Ohom, which only keeps your drink at a specific temperature of 55°C (131°F). While the BOLT already offers 3 settings, it is still quite limited compared to the Muggo and Ember. Muggo, for example, allows you to choose anywhere between 95 to 150°F. On the other hand, you can set the temperature of the Ember Mug 2 from 120 to 145°F through its application.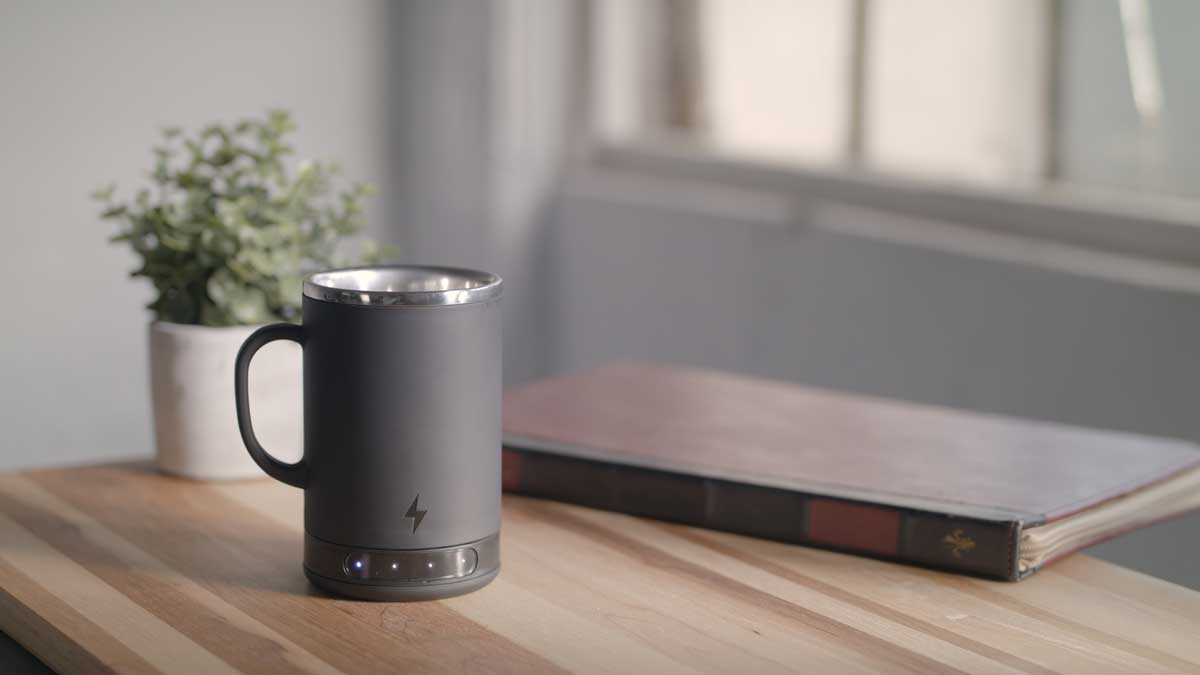 Aesthetics
In terms of design, the BOLT is better and more convenient than most heated mugs in the market. It doesn't need a coaster for charging like the Ember, Ohom, or Muggo. The base and the MugTop go perfectly together, making it appear like any other mug. This design also makes the BOLT seamless, slim, and lightweight. So you can store and use it easier. Even better, this mug comes with a silicone lid that makes it perfect for travel.
As for aesthetics, the BOLT is available in 5 color options: key lime, grape, raven, midnight blue, and mint. Unlike the Ember or Ohom, which both have smooth curves and sleek lines, BOLT is straight and a little more traditional-looking. But overall, it looks good, simple, and minimalist.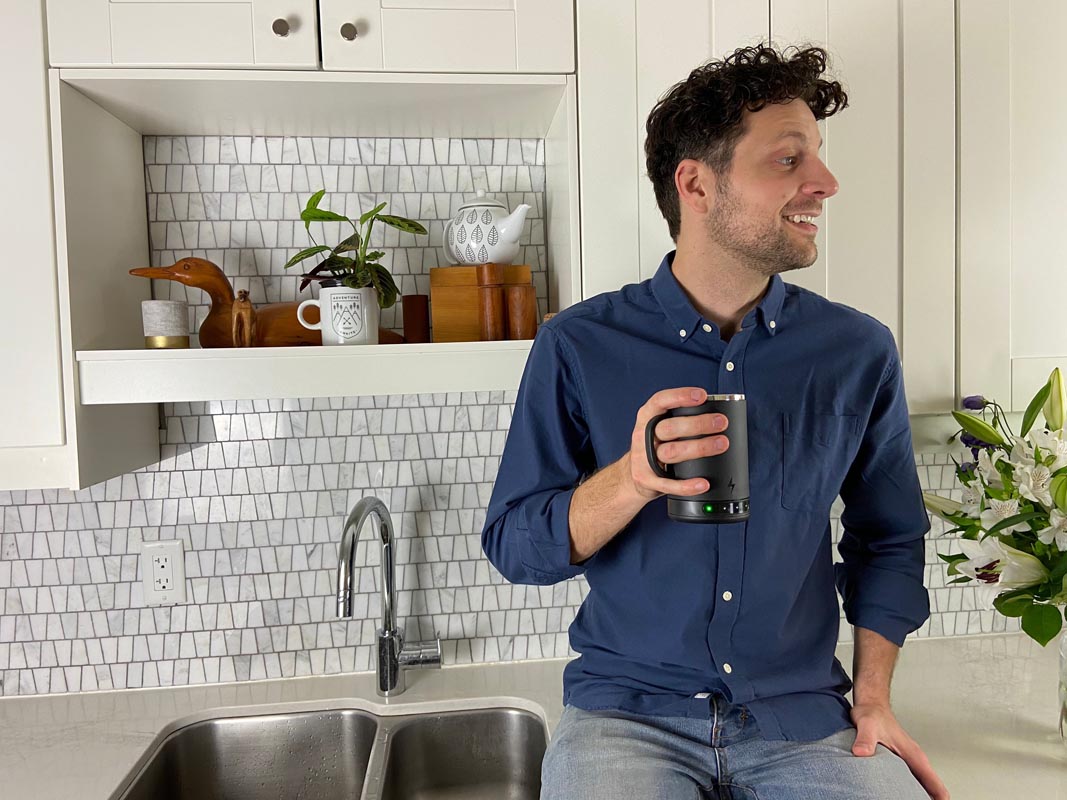 [wd_hustle id="95″ type="embedded"/]
What's It Like to Use
The BOLT is extremely easy to use, as every mug should be. Unlike the Ember Mug 2, it doesn't come with an app and doesn't require you to connect your phone via Bluetooth to set your preferred temperature. With BOLT, you simply need to press buttons on the base to set the temperature you want. It's that easy.
Once you are done, detach the MugTop from the base, toss it in the dishwasher, and wait for the cycle to finish. Now, every BOLT MugTop, regardless of color, is compatible with any BOLT Bases. So you can purchase more MugTops and use them with the same base.
Another thing we love about the BOLT is its ease of charging. It is designed to work with any USB Type-C charger or cable. Since many of today's devices already uses such technology, charging your BOLT is convenient. However, take note that BOLT does not come with a charger. If you don't already have a USB Type-C cable, you have the option to purchase a 2.4 Amp standard charger for $5 or a 3.0 Amp rapid charger for $8 from the company.
Conclusion
While it may not be the "first" or "only" dishwasher-safe heated mug, the BOLT is packed with features every coffee or tea drinker would love, at least on paper. It is a simple, easy-to-use, convenient, and affordable heated mug that's perfect for keeping your drinks at the right temperature for the longest time possible. So whether you are at home, at the office, or attending a very long meeting, you can trust BOLT to hold your coffee or tea the way you want it to be.
[wd_hustle id="95″ type="embedded"/]