This CleverMade Parcel Lockbox Review has been written due to the increased reliance on eCommerce and home deliveries. The convenience and reliability of online shopping allows people to simply make their purchases over the internet and have them delivered right at their front door. However, online shopping does come with some drawbacks – to which the CleverMade Parcel Lockbox aims to solve. 
But what is this product and what does it do? More importantly, does it address the issues with online shopping? 
CHECK TODAY'S PRICE HERE: See at Amazon
CleverMade Parcel Lockbox Review
Look Station

Features

Total Value
Summary
The CleverMade Lockbox is a high-quality, solid, and amazing product that does its job. It is affordable, durable, and it can protect your packages from rain, snow, and wind. More importantly, it can keep your purchases safe from thieves.
Pros
Affordable
Weather-proof and durable
Comes with a 10-year warranty
Cons
May be too small for large online purchases
Can be challenging to set up for some people
In a rush and don't have the time to read the full CleverMade Parcel Lockbox review? Click on the links below to skip to that section.
LockBox Overview
When shopping online, your packages can get damaged due to the weather once it arrives at your door. They are prone to get stolen too, especially with the increase in package theft and porch pirates through the years. 
According to a January 2020 report from CNBC, package stealing is at an all-time high with 1.7 million packages stolen or lost in the United States. In Australia, 1 in 4 of people are reported to have had a package stolen from their doorsteps.
These problems are exactly why the CleverMade Parcel LockBox was made. With people's increased dependence on online shopping, this can be an incredibly useful and timely product.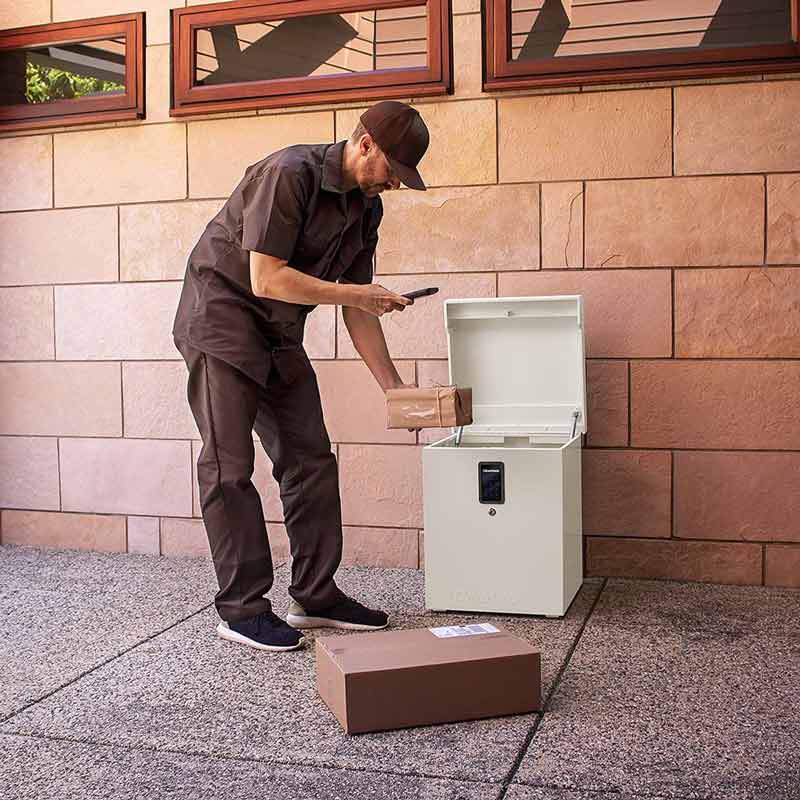 While this isn't the first safety box for packages, it's among the most advance. It also has a big potential to be very effective in keeping your purchases safe from thieves and the weather. Unfortunately, its effectiveness depends a lot on the delivery guy, which leaves a lot of room for mistakes. Let's dig deeper into this below. 
CleverMade Parcel Lockbox Features
This box can fit about 95% of boxes based on Amazon's standard packages, according to its designers. For small items, it can fit 2 to 4 packages inside, which is great if you're getting multiple deliveries. 
But what makes CleverMade Parcel Lockbox unique is that it has an all-weather digital lock. This comes along with a digital keypad and allows you to program a personal code that you can share with your desired carriers such as FedEx, USPS, UPS, and Amazon. With this code, the delivery guy has to punch in the code, place the package inside, and close it. To access your parcel, you can use the code or use the manual key lock. Sounds simple, right? 
The idea is that you will provide your code and mention it in your delivery instructions. This can be easily done through the app of your desired carrier. When ordering online, you can add the code to your second address line as well. 
In an ideal world, the Lockbox would work perfectly. However, this puts a huge responsibility on the carrier. Once they get your package to your address, they have to crouch down, enter a code, and try to get the package in the box – which takes time. Since delivery men are paid by the package, there's a chance that some wouldn't waste the time opening this safe.
Other things can also go wrong here. For one, the delivery guy may not notice the box. Secondly, your package may not fit inside it. Thirdly, what if the carrier fails to see the instructions on your package? Or worst, what if he doesn't want to bother using the box?
Now, don't get us wrong. This is an amazing product and it does what it is built to do. It's just the process of getting your packages inside that may become challenging. But in time, we believe that this technology will be a requirement when it comes to home and business deliveries. As the product grows more and more popular, many delivery services will be familiar with how to operate it. 
Specs
To know more about the CleverMade Box, here are its main specifications:
Feature
Specification

Dimensions

17.5 x 17.5 x 22.5 inches

18.1 x 18.1 x 22.63 inches

Material

Metal, Steel

Packages that it can fit

Up to 20.5 x 14.5 x 14 inches

Required battery

4 AAA Batteries (Included)

Colour
This safe box has a locking mechanism that works flawlessly and it includes a set of keys for the manual lock. It also has hydraulic struts to ensure the door will lock safely and an anchoring system that allows you to safely mount it to the ground. When mounted, you can prevent it from being stolen altogether. 
Additionally, this safety box requires 4 AAA batteries to operate and an alkaline set is already included in your purchase. But for areas with colder climates and temperatures as low as -40 degrees Fahrenheit, the manufacturer suggests using lithium batteries instead. Just make sure not to mix lithium and alkaline batteries as this will affect the product's performance. 
Another thing to take note of is that it comes with a 10-year warranty. So you rest assured that its manufacturer will stand behind you in case something goes wrong with your unit.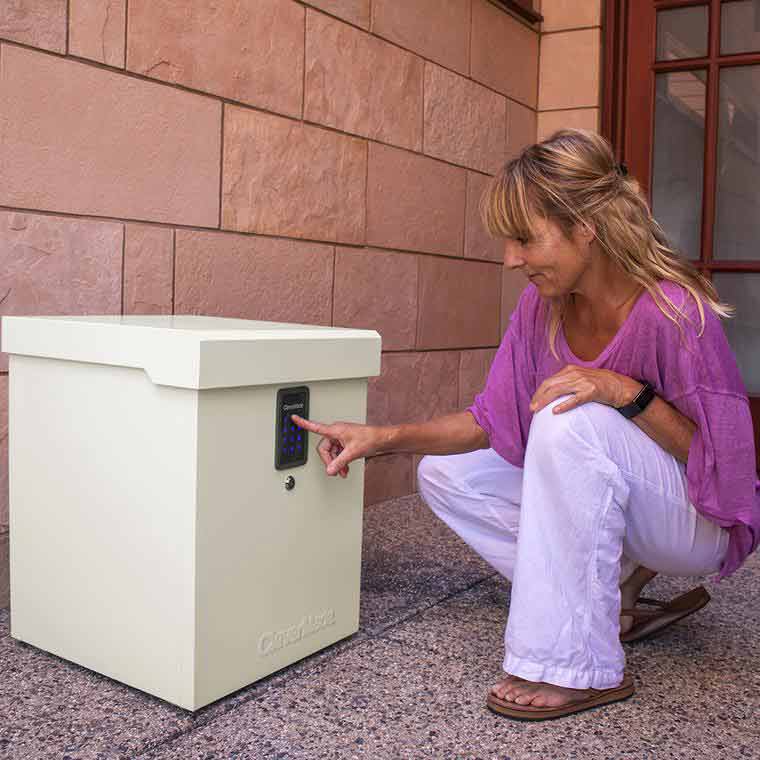 Aesthetics
This parcel lockbox is made with reinforced steel, making it weather-proof and durable. It is available in cream and grey, both having a simple and plain look. If not for the illuminating keypad in front, you'd think it's just a box with a lock. 
If there's one thing we would prefer in terms of the product's design, that is to position the keypad on the lid. Having it on the side is a bit of an inconvenience, especially for the delivery guys who will have to kneel to see and enter the numbers. Other than that, we think that this is a solid lockbox that can last for a very long time. 
What's it Like to Use?
When you receive the CleverMade Parcel Lockbox, you will have to assemble it first before you can use it. To do that, you'll need a power drill or a Phillips head screwdriver. You then have to install the batteries, attach the panels and lid, and connect the struts. After, you have to set up the digital lock and change the code. The last step is then to bolt it down to the surface so it won't be moved.
While this may sound easy, other people find it a bit challenging with some even spending an hour or more just for putting it up. But if you get it right, you'd instantly realize how durable and secure it is. 
Lockbox Review Summary
The idea is great and the box itself is amazing. This is a product that is well-built, durable, and serves its purpose well. The only issue we see is how to get the package inside. So, if you think you can have your carrier follow your instructions, then it's the perfect item to keep your packages safe from weather damage and porch pirates.
CleverMade Parcel LockBox
Prevent package theft and protect your online package deliveries; sturdy...
Register your unique access code with each major shipping company for safe...
The outdoor storage drop box comes with a set of keys and an anchoring...
Great for use at your business to help keep boxes clean and dry during...
Overall, this product has all the potential to become a must-have accessory for every home.  We hope you found this CleverMade Parcel Lockbox review useful!
Last update on 2022-05-18 / Affiliate links / Images from Amazon Product Advertising API