Summary
With the DearBuds SE, you no longer need to use hair dryers or cotton swabs to dry out your ears. It's a smart device that lets you control the humidity in your ears, getting rid of moisture, water, and sweat in just minutes. So let your ears breathe and save yourself from itchy, stuffy, uncomfy, and moist ears.
Pros
Works fast
Quiet
Can be used with or without an app
Fits all ear shapes and sizes
Many things can cause high humidity in your ears. It can be due to swimming, surfing, and other water sports. Even your normal daily activities like taking a shower, listening with earbuds or headphones, using earplugs, or working out can contribute to this. When not dealt with immediately, this can cause discomfort or even bigger problems in the future. But with DearBuds, you never have to worry.
Called the "World's first wearable ear dehumidifier", the DearBuds SE is an ear care device that manages the humidity level in your ears. It can remove water, sweat, and moisture from your ear in just minutes, which is way better than waiting for an hour, shaking your head endlessly, or using cotton swabs and a hair dryer.
That said, here's a deeper look into this new tech to help you find out if it's a product for you. =
Overview
When the humidity in your ears goes up, your ears will produce more earwax. As a result, you will feel itchy, stuffy, and uncomfortable. In worst cases, it may even cause difficulty in hearing. This is why it's important to remove extra moisture and humidity in your ears. Sure, you can just wait over an hour for your ears to dry naturally. But since not everyone can wait and be that uncomfortable for that long, some look for other and faster ways in doing so.
Some shake their heads until the water falls out on its own. Others also use cotton swabs, which should never be the case as they can irritate and damage your ear canals. On the other hand, the Centers for Disease Control and Prevention (CDC) recommends using a hair dryer. However, hair dryers can be very loud. Plus, they vary greatly in heat, speed, and power, making them hard to use properly for drying the ears.
Now, to provide the fastest, smartest, and most convenient way to keep your ears dry, Linkface designed the DearBuds SE. With it, you can dehumidify your ears in less than 3 minutes and get rid of the moisture, water, and sweat inside. It can also be used to monitor the condition of your ears via its exclusive app.
Unfortunately, getting the DearBuds SE isn't cheap. It's priced at US$119, and that's for a single earpiece. It is, however, cheaper than the company's original design, which was priced at US$129, had two earpieces, and a bigger charging case.
The good news is, that you can get the DearBuds SE at a much cheaper price if you catch its campaign on Kickstarter. Instead of the original price, Super Early Bird backers can enjoy 46% off and pay only US$64 while Early Bird backers would only have to pay US$69.
Features
Air Ventilation Technology
What makes DearBuds SE better than hair dryers and fans for drying or dehumidifying your ears is its use of air ventilation technology. To better understand, here are the three functions of the device as well as its main components:
Red Light (LED): This provides a warm light inside your ear, which helps sweat and water quickly evaporate. It's at a safe wavelength, so you don't have to worry about any damages or injuries.
Heat: After sweat and water are evaporated, the device will then produce heat at 86 to 102°F (30-39°C) using a semiconductor heating element. This will keep your ear warm.
Ventilation: The device will then circulate up to 3L of air per minute, which will then dehumidify your ear.
With this process, the air is delicately circulated in your ear, which ensures that there will be very little ear irritation. This also makes sure that you won't feel any discomfort due to the fan while using the device.
DearBuds App
The DearBuds SE is a stand-alone device that can function on its own. Just push the button, and it will start running. But if you want to get the most out of it, you'll have to use it with its exclusive app. This will give you access to the following features:
Real-Time Monitoring: You can monitor the condition of your ears in real-time with just your phone. You can see how high or low your humidity levels are and choose how you want them adjusted.
Dual Mode: You can select between smart or manual mode from the app. If you choose the Smart Mode, it will use the data from both your ears and the ambient environment to bring the humidity in your ears to the right level. This mode will also prevent humidity rebound and maintain the best humidity level in your ear. On the other hand, when you go with the Manual Mode, you will have to set the intensity to the level you desire.
Dehumidifying Metrics: Aside from measuring your ear humidity, DearBuds can also use humidity and temperature in where you live to give you the perfect humidity level. All these dehumidifying metrics are recorded and analyzed in the application.
Specs
Earbud Size
20.71 x 35.67 x 33.87 mm (0.82 x 1.40 x 1.33 in)
Case Size
22.91 x 37.99 x 30.67 mm (0.90 x 1.50 x 1.20 in)
Weight
0.34 oz (9.6 g)
Light

Dominant wavelength: 631nm red LED
Luminous Intensity: 18-54mcd
Button LED

Heat
Up to 100.4°F (38°C)
Air Delivery
Up to 3L/min
Connectivity
Ultra low energy wireless 2.4GHz
Sensors

High performance humidity sensor
3 embedded temperature sensor
Wearing detection sensor
Tap detection sensor
Drop detection sensor

Battery
Supports up to 20 uses

Soft: 20 times
Normal: 17 times
Strong: 15 times

Charging Time
Empty to full in 30 minutes
Interface
USB-C
Since the DearBuds SE is placed directly in your ears, it's important to consider its noise level. At the soft setting, its sound is at 31dB, normal is at 32dB, and strong is at 33dB. All these levels are considered very quiet and will not damage your ears. To give you an idea, a whisper is at 30dB, so it's just a little louder than that.
In terms of battery, the DearBuds SE uses an 85mAh rechargeable battery, and a single charge can last up to 20 uses, at least on the soft setting. When it runs out, it will only take you 30 minutes until fully charged using a USB Type-C cable. So you'll have no problems when it comes to charging the device.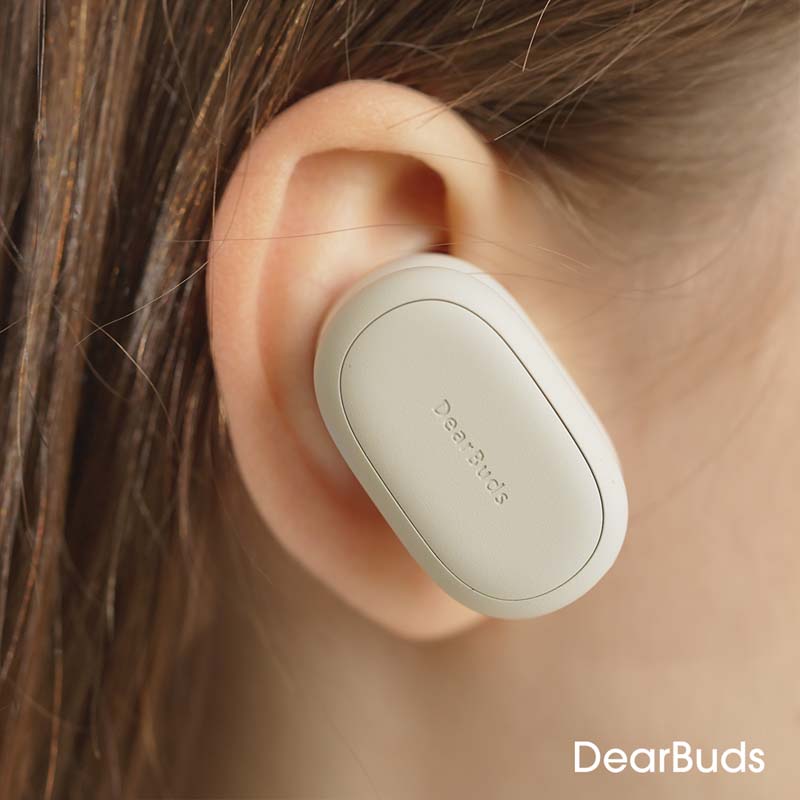 Design
DearBuds SE looks like a typical wireless earbud, but only bigger and heavier. At 9.6g, it's almost twice as heavy as a single Airpods. So it's not really designed to be worn while moving.
With the DearBuds SE, you can choose from three ear-tip sizes: small, medium, and large. This is great since no one in the entire world has the same ear shape. Unfortunately, you only get to choose one size for your unit. But what if that doesn't fit? Well, you'd have to get an extra set of ear tips as an add-on, which costs an additional US$5. On the flip side, every order – no matter the size product you choose – comes with a Kid's-size ear tip. Yes, your children can use it too.
Final Thoughts
The DearBuds SE is the first of its kind. So there's nothing really to compare it to. But as far as methods and products to dry the ears go, it's certainly the most convenient, smartest, and easiest option available.
Using smart technologies, the DearBuds SE can automatically correct your ears' humidity levels, while making sure to apply only the right amount of heat to your ears. This makes caring for your ears easier and quicker as it takes away all the guesswork in the process. It's a great choice, especially if you frequently find yourself with stuffy, itchy, and moist ears.