There's no point piecing together a top-of-the-line gaming rig if you don't have the right gaming monitor to keep up with it all. While doing desk work and watching movies and TV-shows are perfectly fine on screens capped at 60Hz, with video games FPS (frames per second) reigns king and you'll surely want a display that works in tandem with your high-end processor and graphic card.
CHECK TODAY'S PRICE HERE: No products found.
Dell 24 S2417DG Review
Design & Build

Features

Total Value
Dell 24 S2417DG Review Summary
More than 4 years down the line, the Dell 24 S2417DG still stands undefeated in the 24-inch gaming monitor circuit thanks to its unusually high 1440p resolution and ridiculous 165Hz refresh rate. It is, by all means, a premium item so budget builders may want to look elsewhere and the dreadful viewing angles that come with TN panels may turn off a few, but if you're a serious gamer looking for serious performance in a 24-inch screen, then this is the monitor for you.
Pros
✓ Superior 1440p and 165Hz refresh rate for a 24-inch display
✓ Supports Nvidia G Sync
✓ Stand is highly adjustable
✓ Solid colours after calibration
✓ Bezel-less screen is great to look at
Cons
✗ Poor contrast
✗ TN panel leads to abysmal viewing angles
✗ Takes some work to get the colours to look their best
✗ A tad pricey
Gaming monitors like the Dell 24 S2417DG provide a higher refresh rate and a host of other features designed specifically to display your rig's output at the highest level possible while playing video games. In this Dell 24 S2417DG review, we're going to find out how well it fares against other gaming monitors out there and whether or not it's the right screen to elevate your gaming experience.
Pressed for time and can't get through the whole Dell 24 S2417DG review? Just click any of the links below to skip right to the part you need:
What is the Dell 24 S2417DG?
American tech giant Dell is no stranger to developing PC monitors, having been in the computer technology industry for north of three decades. Their 24-inch display – the Dell 24 S2417DG – is yesteryear's model, having been released back in 2016.
It's geared particularly towards gaming, with boosted refresh rates and outstanding pixel density. It has since been superseded by Dell's more recent 24-inch gaming monitor lineup, which includes last year's SE2417HGX and this year's S2421HGF – both sporting lower 1080p resolutions.
The S2417DG intends to bring the 1440p resolution of its older 27-inch cousin – the Dell S2716DG – to a smaller 24-inch screen and it does so splendidly. Most monitors with resolutions that surpass the 1080p mark tend to be bigger, with 27-inch ones being the norm for 1440p.
Some gamers, however, are hungry for higher resolutions but would rather keep their screen size a little more modest. That's the little niche where the S2417DG lives. There's little from the monitor's looks that gives away its gaming purpose, but it does carry a weighty price tag that still sits at around $470 today.
Dell 24 S2417DG Features
Resolution
As is its name suggests, the Dell 24 S2417DG is a 24-inch monitor with a native resolution of 2560 x 1440. It's the only gaming monitor the company has in its repertoire capable of reaching a resolution that high at a size that small.
Refresh Rate
It sports a blazing 165Hz refresh rate, which is a notable improvement over the larger S2716DG's 144Hz, making it ideal for fast-paced competitive games that bank on high FPS. A Display Port connection is required to hit optimal refresh rates.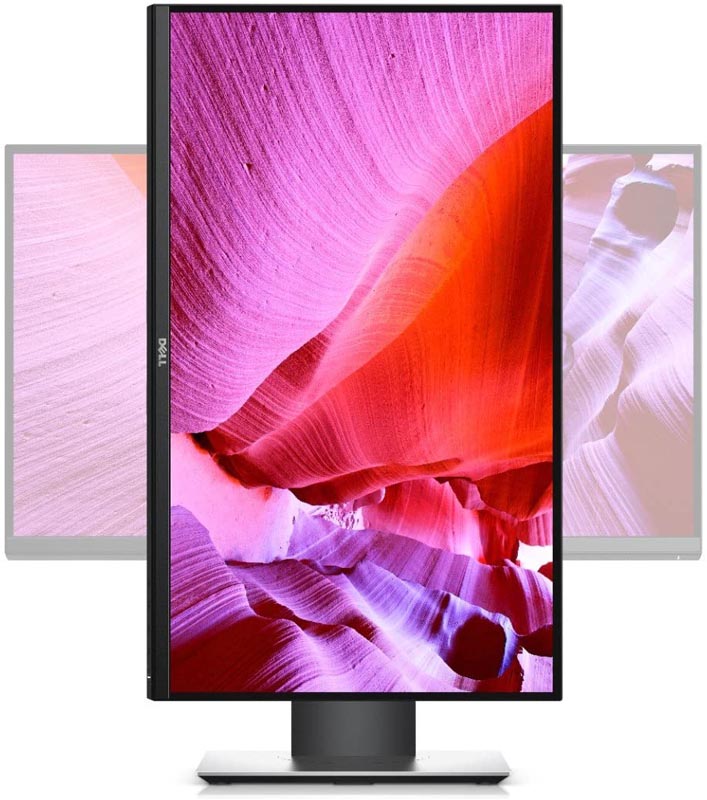 Panel and stand
The S2417DG features a flat TN (twisted nematic) LCD panel and a fully adjustable stand that allows for height adjustments, tilting, swivelling, and pivoting.
G Sync
GeForce enthusiasts will be glad to know that the S2417DG includes full Nvidia G Sync support but is only available when using the Display Port along with a compatible Nvidia graphic card. This monitor does not have AMD FreeSync support but AMD cards will still be able to hit the 165Hz refresh rate when using a Display Port connection. Unfortunately, AMD cards cannot access Nvidia specific features like G Sync.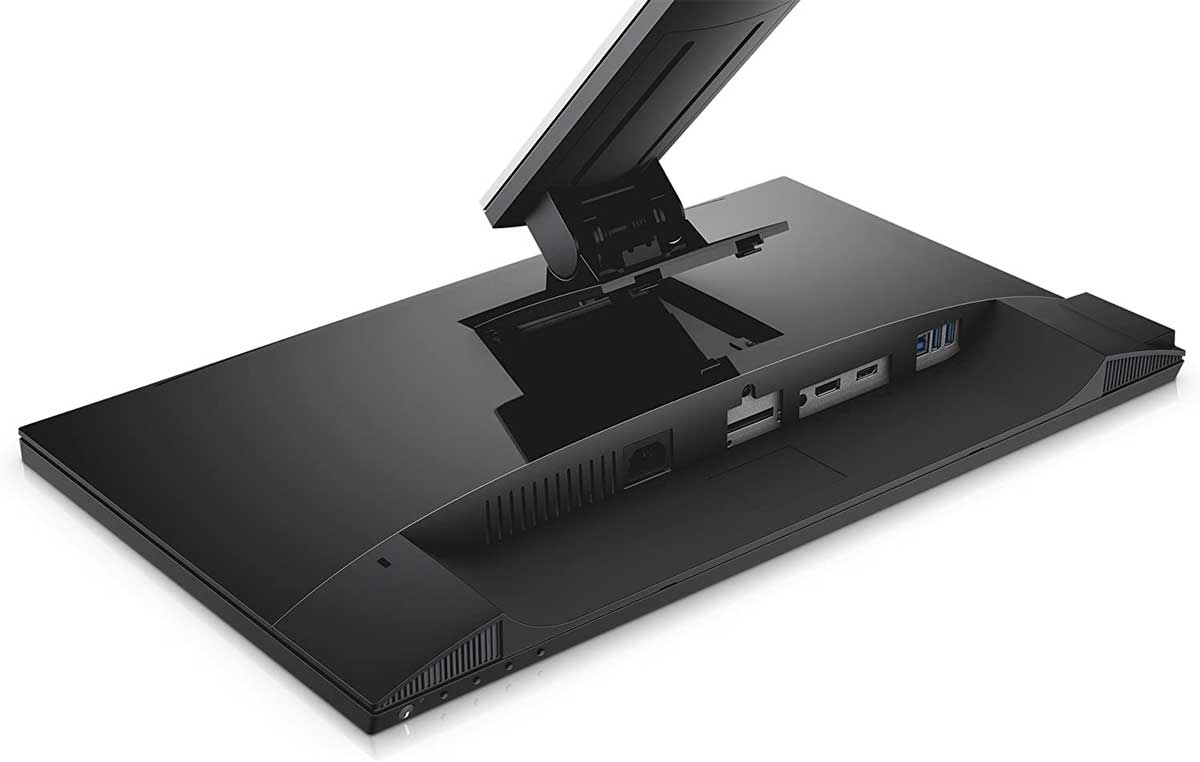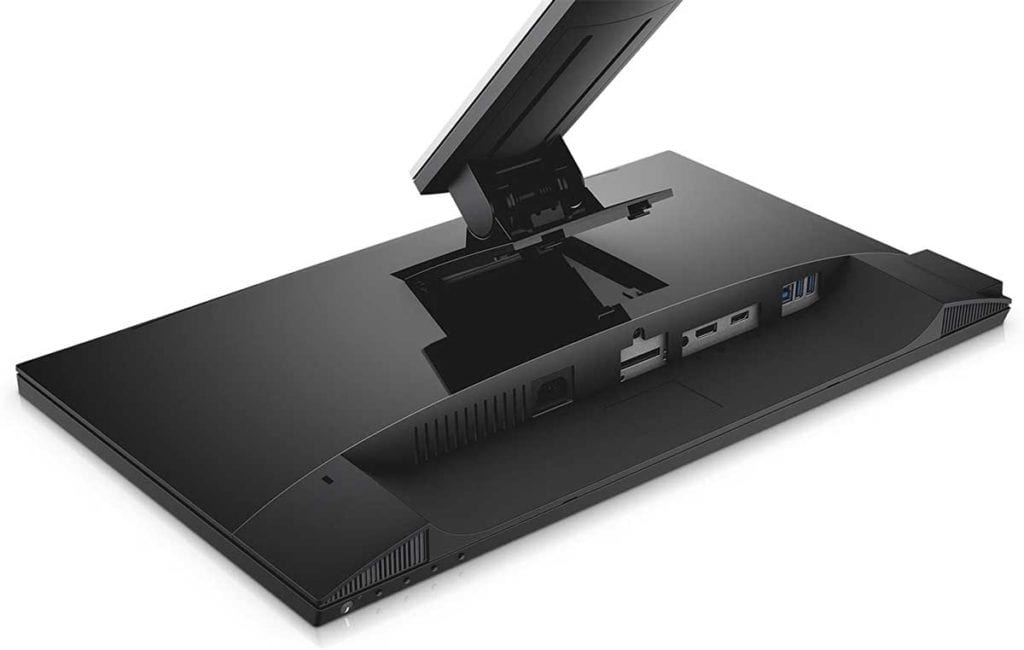 Ports
The monitor features a total of 5 USB ports, 2 downstream USB 3.0 Type A ports on the left side of the screen and another two along the bottom side next to a solo upstream USB 3.0 Type B port. Also along the bottom side are 2 video inputs (HDMI and Display Port) and a 3.5mm audio output.
The HDMI port outputs to the monitor's maximum resolution  2560 x 1440 but has a limited refresh rate of 60Hz, making it best for connecting video game consoles capped at 60 fps – although the new consoles will be able to output better refresh rates. To utilize the screens maximum refresh rate of 165Hz, you'll need to use the Display Port. Lastly, there's a 3.5mm headphone jack on the left side of the monitor.
Image Quality
Out of the box, the colours of the S2417DG are pretty mediocre. The white balance and colour inaccuracies are significantly above the threshold and the gamma is way below what it should be.
Shades leaned towards the darker side while the monitor's overall colour temperature had a tendency to favour warmer tones like yellow and red.
Luckily enough, most of these issues can easily be resolved by fiddling with the Dell S2417DG's luminance, RGB colours, and contrast settings. Once you get the settings just right, however, the screen's colour gamut and volume are well above average.
The monitor's contrast is perhaps its most disappointing trait. It's at its worst in badly lit environments since it causes the blacks to seem washed out and the overall image ends up looking dull. Its viewing angles are also subpar on account of it being a TN monitor, causing colour accuracy loss, fading, and black washouts when viewed even slightly from the side.
Ghosting isn't primarily a problem with this iteration of the Dell 24 gaming monitor, though turning on the Response Time option in the display menu has been known to introduce some visible ghosting. The S2417DG does not support HDR, unlike many other 24-inch gaming monitors.
Gaming is where this display is at its best. While playing Call of Duty Warzone, the screen's solid colour depiction mixed with low input delay, blazing-fast 165Hz refresh rate, and crisp 1440p resolution made for a stellar and seamless gaming experience.
The TN panel's bad viewing angles weren't much a factor in-game since I was staring right down the middle of the screen. I wish could say the same when watching movies as the monitor's poor contrast makes watching in a dimmer environment a struggle.
Its poor viewing angles also force you to position yourself right in the centre of the screen the entire time which isn't optimal when you're trying to kick back and enjoy a film.
What's it like to use?
This Dell 24 gaming monitor is easy enough to plug and play, especially if you're rocking a supported Nvidia graphic card. Having to properly calibrate the device's settings to hit that colour sweet spot can be a bit of a pain, but there are tons of guides you can find online to make the whole process a lot easier.
There are four buttons on the underside of the monitor that you can use to manipulate its various settings, but the buttons themselves are a little on the small side and can be tough to press, especially if you have big hands like mine.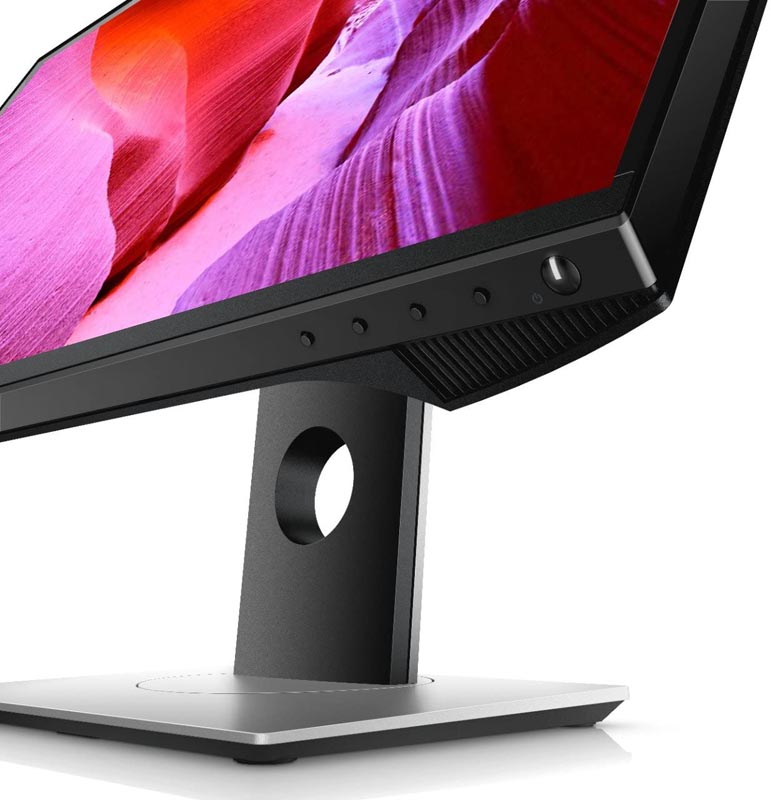 Aesthetics
Without looking through the S2417DG's specs and remaining oblivious to its category on the Dell website, you'd never be able to guess that this monitor was built for gaming. That's not to say it's bad looking by any means. Its bezel-less screen design and two-toned stand give it a sleek, no-nonsense aesthetic that wouldn't be out of place in an office setting.
Unlike the LG 24MP59G-P's edgy stand and the Acer Predator X34's futuristic design, the Dell 24 Gaming Monitor is a bit on the plainer side, but more than makes up for it with its sturdy build and highly adjustable stand. It has no RGB capabilities to speak of but, to be honest, it would feel pretty out of place if it did.
Final Thoughts
The Dell S2417DG's impressive 1440p resolution and scorching 165Hz refresh rate are unmatched in the 24-inch gaming monitor scene, making it the top choice for gamers looking for stellar performance in a smaller sized screen.
Sure, the display's underwhelming contrast and exceedingly limited viewing angles detract from the overall experience, but all things considered, the S2417DG remains the best 24-inch gaming monitor even after all these years. Just make sure to ready your wallet for a bit of a beating.
Full Specs List
| | |
| --- | --- |
| Diagonal Viewing Size: | 60.47 cm |
| | 23.8 Inches |
| | |
| Preset Display Area (H x V) | 526.85 mm x 296.35 mm |
| | 20.74″ x 11.67″ |
| | 1561.32 cm² (242.04 inches²) |
| | |
| Panel Type: | TN |
| | |
| Display Screen Coating | Anti-Glare with 3H hardness |
| | |
| Narrow Bezel (Edge of Monitor to Edge of viewable screen) | 7.35mm |
| | |
| Maximum Preset Resolution | 2560 x 1440 at 165 Hz(with overclock) |
| | |
| Viewing Angle | 160° (vertical) typical |
| | 170° (horizontal) typical |
| | |
| Color Gamut | 82% (CIE1976) / 72% (CIE1931) |
| | |
| Color Depth | 16.7 million colors |
| | |
| Pixel Pitch | 0.2058 mm x 0.2058 mm |
| | |
| Pixel Per Inch (PPI) | 123 |
| | |
| Contrast Ratio | 1000: 1 (typical) |
| | |
| Aspect Ratio | (16:9) |
| | |
| Backlight Technology | LED |
| | |
| Brightness | 350 cd/m² (typical) |
| | |
| Response Time | 1ms |
| | |
| Stand | Height adjustable stand : 0 to 130 mm |
| | Tilt :-5° to 21° |
| | Swivel : -45° to 45° |
| | Pivot : -90° to 90° |
| | |
| Flat Panel Mount Interface | VESA (100 mm) |
| | |
| Ports | 1 x DP (ver 1.2) 1 x HDMI (ver 1.4) 1 x USB 3.0 port – Upstream 2 x USB 3.0 ports – Side 2 x USB 3.0 ports – Bottom 1 x Audio line-out jack -Bottom |
| | |
| G-SYNC Support | Yes |
| | |
| Flicker Free | Yes |
Last update on 2022-05-15 / Affiliate links / Images from Amazon Product Advertising API