Devanti Aroma Diffuser Review (Dark Wood)
As far as health gadgets go, you're not short of options. Whether at home or at work, aromatherapy essential oil diffusers are a perfect addition to your arsenal. Commonly known to possess a variety of beneficial health and wellbeing properties, aroma diffusers will help you to relax, improve your mood, boost your immune system and by golly do they smell incredible!

When it comes to aromatherapy gadgets, you can often get away without opting for the most expensive or 'hyped' product. Whilst skimping out on certain technology is not a good idea, there are a lot of overpriced health gadgets in the market. We would recommend spending the time to find the right value for money. But don't go too cheap either as you'll be bitterly disappointed.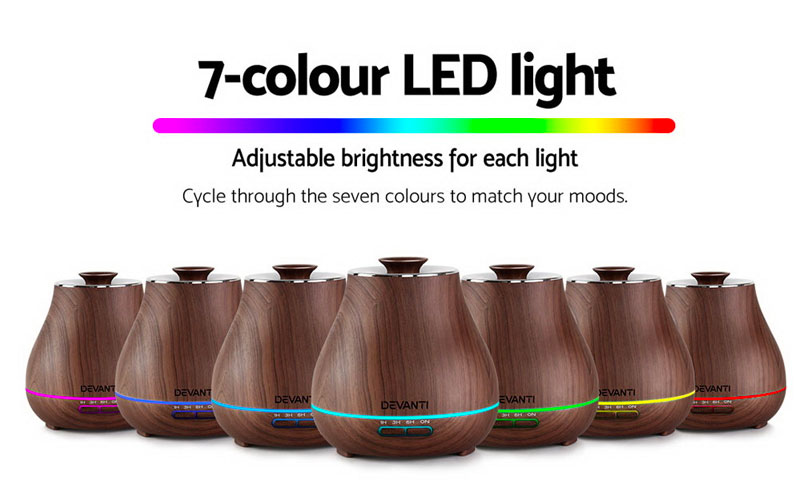 We were recently hunting for some cheap gadgets on eBay and stumbled across the Devanti Ultrasonic 4-in-1 Aromatherapy Diffuser. Whilst not the impulse purchasing type, the sleek design and hugely discounted price was somewhat gravitational. With an abundance of raving reviews, despite what looked like a massive sale due to lack of interest, we were left with no other choice but to tick the express delivery button and see for ourselves.
Take a look at our full Devanti Aroma Diffuser review below. Don't forget to let us know in the comments what your favourite essential oil combinations are!
–
The Look Station:
As we said, we weren't supposed to purchase the Devanti diffuser but it's elegance and style was a big attraction. For the price, you would typically expect to receive a semi-opaque plastic coated shell that splutters mist out of a tiny vent. The Devanti Aromatherapy Diffuser goes many steps further than this.
With over 30 different styles and coated grains to choose from, the Devanti Diffuser gives you total control of the aesthetics. As for the dark wood version, it's zen-inspired shape slots nicely into both our home and office. From our greenhouse office that's decked out in Apple iMac's to our small Melbourne CBD apartment, the Devanti Aroma Diffuser never looked out of place.
When switched on, the Devanti diffuser really kicked it up a notch. With an aroma range of around 20-40m², the ultra smooth mist transports you immediately to a happy place. The LED night lighting options are not overpowering either. We've tested many aromatherapy diffusers and the majority look tacky the moment you switch on the lights. The Devanti Aroma Diffuser smashes all in that department.
Okay, so there's a plastic feel to the diffuser but who's walking around with one in their hands anyways? 
–
The Features:
As for the features, '4-in-1' says it all. Acting as an aromatherapy, humidifier, purifier and night light device, the Devanti Aroma Diffuser has absolutely everything. We're still waiting for the day where soothing music of forest life can be played directly from the diffuser itself, but for now, we're happy!
A multitude of timer presets, two adjustable mist modes, lighting to suit your mood and a waterless 'auto-off' function, makes for a 'set and forget' product. Packaging of this product also contains a cute measuring cup so you can accurately fill 400ml of water without spilling any over the electronics.
We left the diffuser on continuously throughout the day and although a promise up to 12 hours, it lasted around 10 – 11 hours when completely full. Maybe we need an electrician to explain how to get those precious extra minutes! In addition to this, we also tested the Devanti at night with our Hibermate Sleep Mask. Honestly, I don't think we have ever had such a great nights sleep. The essential oils of the diffuser, combined with total darkness and soothing sounds was a combination for the hall of fame. We strongly recommend you try this combination out for a few days and see how you feel.
–
Full Feature List:
Dark Wood Grain Design.
4-In-1 Device.
Aroma, Humidifier, Purifier & Night Light.
400ml Capacity.
7-Colour LED Night Light.
2-Level Light Brightness.
Ultrasonic Smooth Mist.
Two Mist Adjustment Modes.
LED Indicator.
Three Timer Settings.
Whisper-Quiet Operation.
Waterless 'Auto Off' Function.
Low Energy Consumption.
High Humidification Effect.
–
The Price:
Although we purchased the Devanti Aroma Diffuser for just $26, this product typically retails for around $40. Would we pay this amount? Probably not. But with plenty of deals flying around you can be sure to pick this little gem cheaply. There is enough value in this diffuser to warrant that spend although we wouldn't recommend splashing much more.
Check Latest Price On Amazon Here
–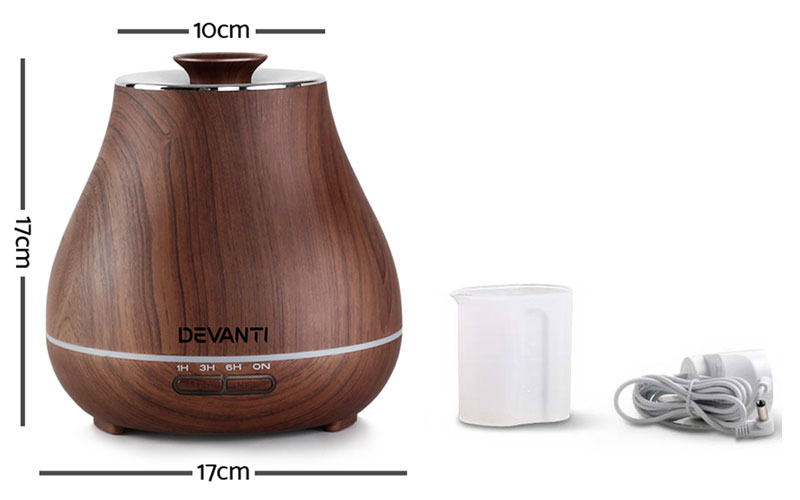 Specifications:
| | |
| --- | --- |
| Material: | ABS & PP |
| Capacity: | 400ml |
| Power: | 14W |
| Aroma Range: | 20 to 40m² |
| Timer Options: | 1, 3 & 6 Hours |
| Working Time: | 8-12 Hours |
| Night Light: | 7 Colours |
| Light Brightness: | Bright & Dim |
–
Packaging & Contents:
There isn't too much to say for packaging other than the device comes in a brown box. As for the contents, take a look at what's inside the Devanti Aromatherapy Diffuser packaging below:
Devanti Aroma Diffuser
1x Measuring Cup
1x Adaptor
User Manual


–
Devanti Aroma Diffuser Review Summary:
If you're not in the market for the cheapest or most expensive diffuser around, the Devanti is a great blend of cost and value. They've paid attention to the design, the mechanics work well and choice of design is always a luxury. We would recommend hunting for a cheap deal where possible. However, if you were to pay the retail price, you won't be disappointed.
–

Devanti Aroma Diffuser Review
Aesthetics

Features

Total Value
Summary
A diffuser that's packed with features and offers superb value for money. Yes, there are better products on the market, however, the Devanti Ultrasonic 4-in-1 diffusers offers the perfect blend of mid-range features and a cool shell that matches the majority of living spaces.
Pros
Great Value.
Powerful & Stylish.
Measuring Cup Included.
Content Disclaimer: Our 'Devanti Aroma Diffuser Review' is totally independent and has not been commissioned by the company in any capacity. Mr Gadget has not received any endorsements for this writing including financial reimbursement, free advertising or the product itself by way of gift. We hope you enjoyed!