In this Ducky One 2 Mini review, we're focusing on the brand's most compact variant yet, maintaining the top-shelf build that the company's known for minus a few keys.
But is it really worth giving up some vital controls in exchange for a smaller form factor?
30 Second Review: Ducky One 2 Mini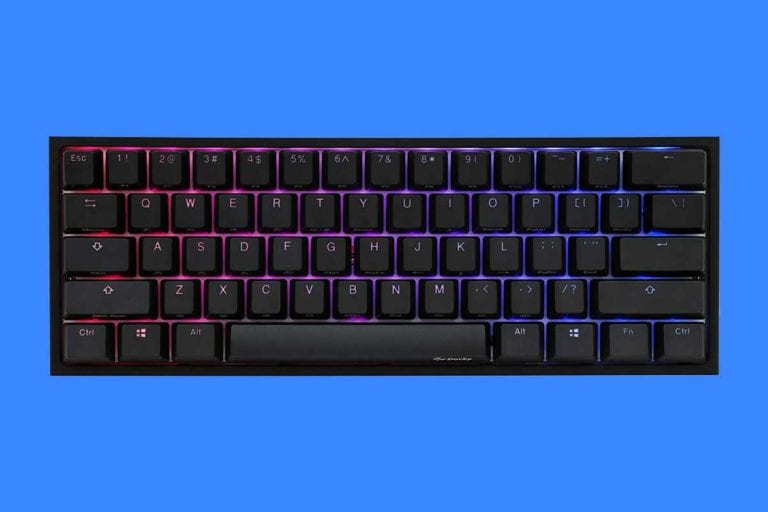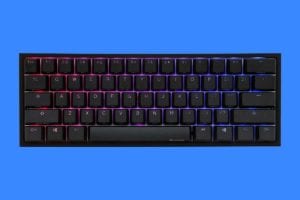 Product Name: Ducky One 2 Mini
Product Description: The Ducky One 2 Mini is a small mechanical keyboard designed for a premium experience and priced accordingly.
Brand: Ducky
Design & Build -

8.5/10

Ergonomics -

7/10

Typing Quality -

8.8/10
Summary
So long as you don't mind burying your face in a manual for hours on end as you figure out how to customize this keyboard, it'll win you over with its other great features which include its excellent switches, gorgeous colourways, and rock-solid build. As 60% mechanical keyboards go, the Ducky One 2 Mini sits at the top of the class.
Pros
It's extremely well-built and has some fantastic RGB lighting
Comes in a variety of colourways and replaceable keycap designs
Cherry MX switches are stellar as always
Has all the essential features even without software support
Cons
Setting up all the extra features on the keyboard itself is tough and tedious
A tad pricey
The lack of dedicated arrow keys is a bummer
Can't stick around for the entire review? Just click any of the links below and we'll take you straight to that section:
What is the Ducky One 2 Mini?
The One 2 refers to Ducky's flagship line of mechanical keyboards, offering a wide range of sizes and colourways including full-sized, tenkeyless, and 60% peripherals. The Ducky One 2 Mini, as its name suggests, is the smallest of the bunch, featuring the same high-quality switches and rugged build found in its larger siblings but in a much more petite frame.
However, in search of increased portability Ducky had to give more than a few keys, a lot of which many users would consider essential. So be warned, a keyboard at this size comes with a bit of a learning curve, especially if you've grown accustomed to full-sized models.
While the keyboard itself isn't much to look at, the One 2 Mini's charm lies in its minute size and bountiful colourways, offering gorgeous designs to suit all kinds of tastes. Whether you're a gamer or an office professional, there's bound to be a look for you.
But just because it's small doesn't mean it comes cheap. It's just a few bucks cheaper than the highly compatible Vinpok Taptek Keyboard that's equally compact and wireless to boot.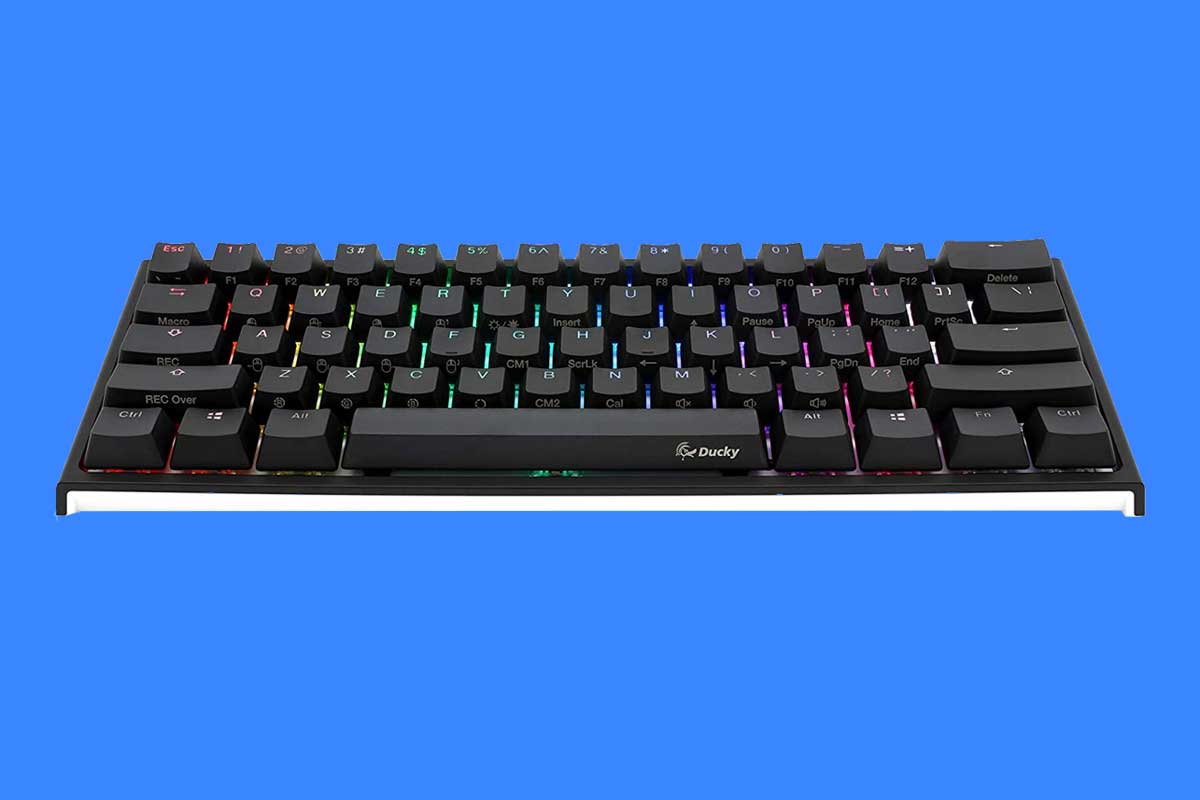 Features
Switches
The Ducky One 2 Mini rocks Cherry MX switches and comes in a variety of choices, including Blue, Red, and Brown. If a more satisfying click is what you're after then you're going to want the MX Blue, but if you prefer quieter keystrokes you're better off with the MX Red. The MX Brown serves as a nice middle ground between the two.
Connection
As with most Ducky models, this is a wired peripheral that connects to machines using a 1.6-metre long rubberized USB Type-C cable. The included cable is prone to kinks and feels cheaper overall, but it is detachable so you can easily replace it with a  better quality cable of your choosing.
Accessories
Aside from the keyboard itself and its cable, you'll get a few extra different coloured keycaps and a handy keycap remove to help install them.
Media Controls
Due to its small size, this model doesn't offer dedicated media keys but has hotkeys that serve the same purpose when the function key is held down.
RGB Lighting
The One 2 Mini features exceptional RGB lighting that's incredibly bright and can even be seen clearly in a well-lit room.
Software
This Ducky model doesn't come with companion software, but you can still create profiles, program macros, and alter the RGB settings on the keyboard itself.
Specs
| | |
| --- | --- |
| Dimensions | 31.5 x 10.7 x 3.8 cm |
| Weight | 0.60 kg |
| Switches | Cherry MX |
| Switch Lifespan | 50 million keystrokes |
| Media Controls | Hotkeys |
| Connection Type | Wired USB |
| RGB Lighting | Yes |
| Number of Keys | 61 |
| Software | None |
| Accessories | Extra keycaps and keycap remover |

Aesthetics
The Ducky One 2 Mini doesn't exactly reinvent the wheel when it comes to its looks. It actually leans pretty heavily on the plain side, save for its very economical extra-slim bezel design which works wonderfully with the keyboard's miniature size.
What makes it so stylish is its bevvy of available colourways and keycap designs, which includes the cartoony Year of the Rat Edition, the gamer-esque HyperX variant, and. of course, the sleek black or white versions. You can also choose from a healthy list of keycap sets which you check out on the Ducky website. You're bound to find a couple that'll suit your gaming setup or workstation.
What's it like to use?
Due to the One 2 Mini's lack of software support, you won't have anything to install and tweak. All you have to do is plug in the keyboard and let your OS do its magic. On the downside, you won't have a user-friendly interface to help you customize your RGB lighting and set up your macros and profiles.
That's not to say that the peripheral doesn't have those features, but you're going to have to learn how to configure them on the keyboard itself, which can be increasingly di􀂨cult and frustrating. You'll still be able to create profiles, string together macros, and have your lights just the way you want them, but imagine having to do all that manually without a UI to guide you.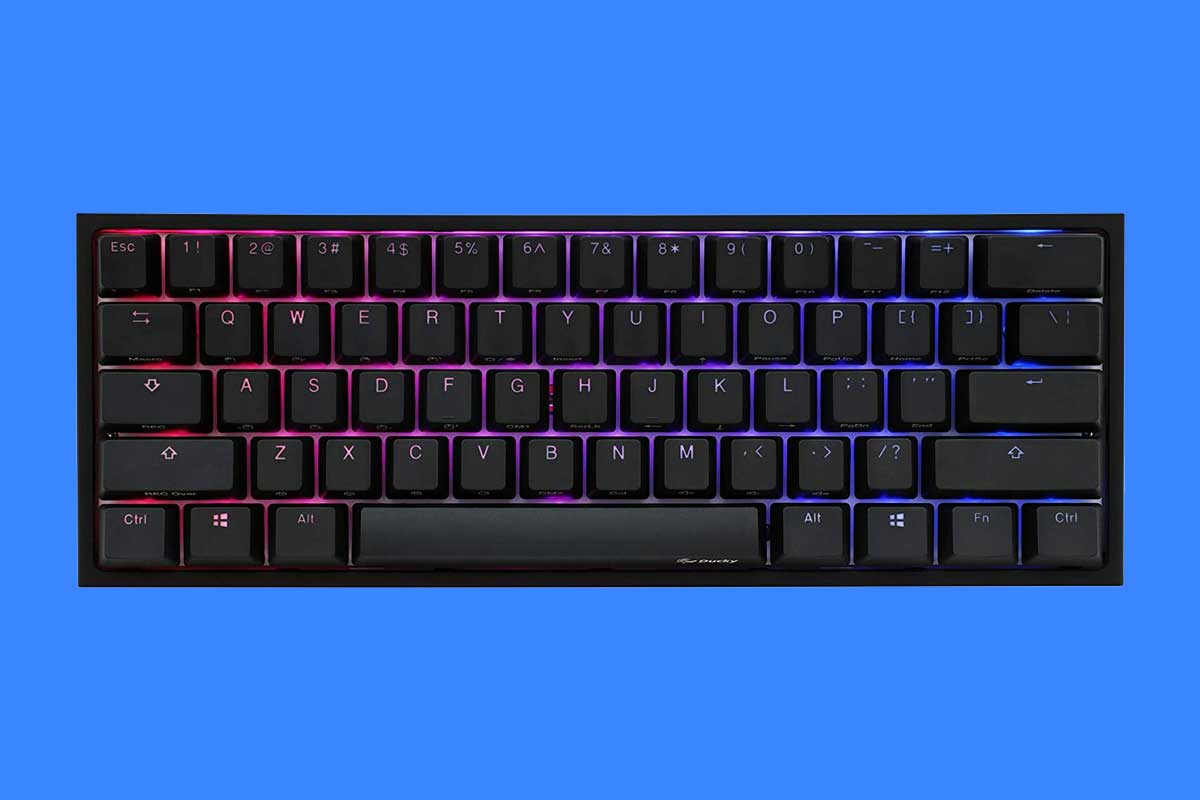 To put things in perspective, you can individually customize your RGB lighting per key, but doing so requires you to painstakingly follow a specific set of steps for every single key. So get ready to make the manual your new best friend. But once you get things all figured out, you'll realize just how customizable the One 2 Mini really is which is perfect for users who enjoy fiddling with their peripherals and making them their own.
Setting aside the looks, it also sports an extremely sturdy build that's made out of reinforced plastic and quality keycaps. Whether it's typing on the daily or regular intense gaming sessions, this keyboard can take one heck of a beating. The only substandard aspect of the whole thing is its low-grade USB type-C cable which happens to be detachable so you can replace it with any variant you want.
As for the Cherry MX switches, they perform as admirably as ever and come in a variety of types, each catering to a different taste. Personally, I enjoy the MX Blue switches because I'm a sucker for that satisfying click with every keystroke, but gamers will probably be more comfortable with something subtler like the MX Red or MX Brown variants.
One thing I particularly disliked about the One 2 Mini's design is how the devs nixed the dedicated arrow keys in favour of the hotkey kind. While it does save quite a bit of space, users such as myself who enjoy navigating their files and folders using the ever-familiar arrow keys will have a tough time adjusting.
Final Thoughts
If you're shopping for a high-performance 60% mechanical mini keyboard that's as sturdy as it is portable, then the Ducky One 2 Mini should definitely be on your radar. Not only does it come in a bunch of great colourways, but you'll also be able to choose from a broad range of aftersales keycaps that you can swap out whenever you feel like it.
Because of its lack of software support, customizing its long list of features can be a troublesome task, but once you get the hang of it you'll appreciate just how flexible the keyboard really is. I don't think I'll ever get over the lack of dedicated arrow keys and I still feel as though its price is a little high for something so small, but if you're looking for the best 60% mechanical keyboard around, this is it.
Last update on 2022-05-15 / Affiliate links / Images from Amazon Product Advertising API