Summary
Have a hard time sleeping? Then try the Earfree Nitebuds. Not only does it offer a soft and fluffy pillow to rest your head, but it can also play soothing sounds and music without needing to put any devices in your ears. So you don't have to worry about uncomfortable earbuds or headphones that keep falling out while you're trying to get some z's.
Pros
Machine washable
Aromatic with temperature control
Pillow height can be adjusted
Good quality sounds
Here at MrGadget, we know how vital good quality sleep is to every individual, including babies. This is why we're always on the lookout for products that can help get you the good night's rest you need. There was SOLTEC SMS, NightBuds, and Sleep i Mask, to name a few.
So when we heard about the Earfree Nitebuds, we were instantly intrigued. And who wouldn't? It's a pillow that you can customize for more comfort and play soothing sounds on. Pretty neat, right? Learn more about this new product in this review. Don't have time to read the whole thing? Just click on any of the links below to skip to that section.
Overview
Without proper sleep, your brain and body won't be able to function properly. You won't be able to think clearly, remember, or make good judgments. You'll get sick as well and have higher levels of inflammation, which can increase your risk of developing chronic conditions such as depression, Alzheimer's disease, and heart disease. According to a study, there's also a chance you'll gain weight if you're not getting enough sleep.
The problem is, not all nights of sleep are of quality. Due to many factors, you might have a hard time falling and staying asleep. You may also find it difficult to reach the recommended amount of hours for your age group. As a result, you may not feel as well-rested, energized, and fulfilled upon waking up.
To address these issues, Nitebuds Inc. combined the functionality of pillows and sounds to promote not only better sleep quality but ear health as well. With it, you can enjoy relaxing and soothing music without having the speakers touch your ears or distracting the person next to you.
Unfortunately, Earfree Nitebuds is quite expensive at US$199. To give you an idea, you can buy quality pillow speakers, which are speakers that are designed to slide into your pillowcase, for under US$30 like the Sangean PS-300. It's also pricier than most Bluetooth travel music pillows, including the Pyle PITS18 Portable Pillow. But it is at the same price point as a very similar product – the Head Spot Pillow.
The good news is, you can try the Earfree Nitebuds at a much lower price when you catch it on Indiegogo. For a limited time, it will be offered at US$129 instead of US$199.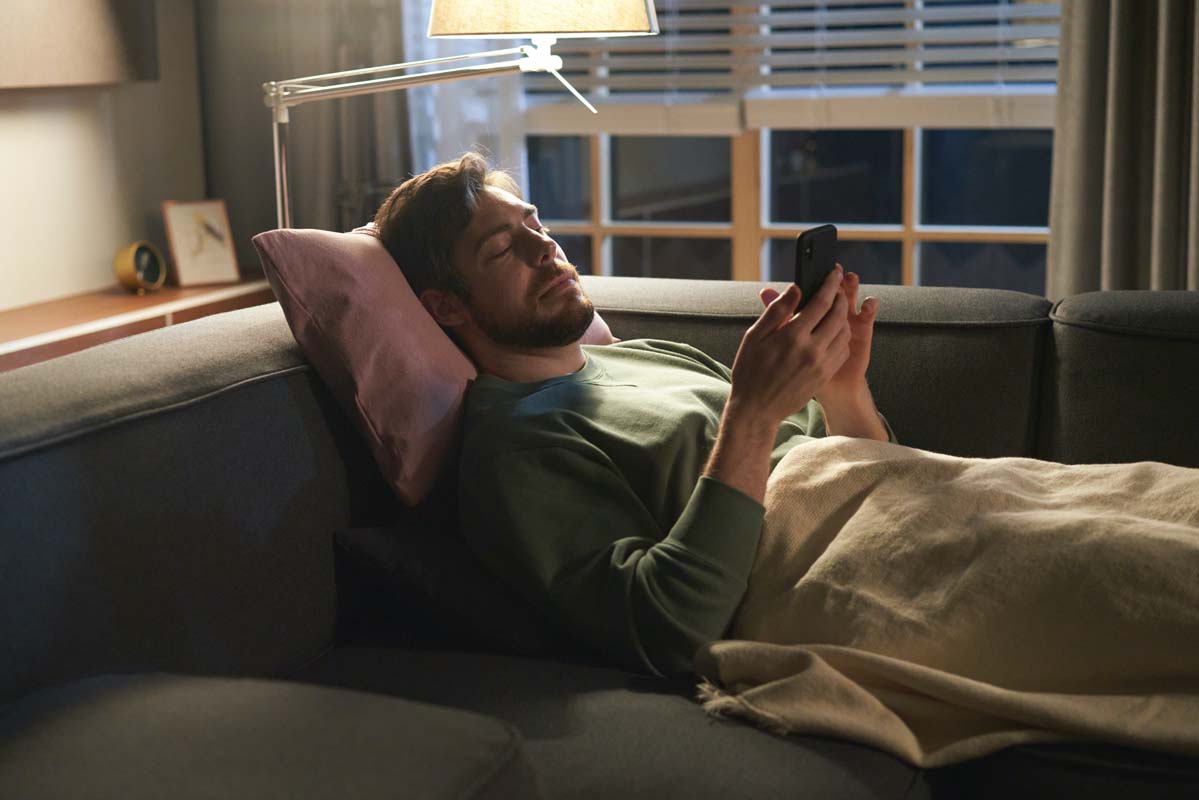 Features
Speakers
One of the main features of the Earfree Nitebuds is the high-quality speakers it comes with. These provide the same performance as other earphones and headsets but without directly coming in contact with your ears. So it can transmit sounds clearly without giving you discomfort and irritation.
Having constant background music can help drown out the other distracting sounds in your environment, preventing you from getting startled or waking up. This is why sleep headphones and white noise machines are so popular. However, wearing earphones while sleeping can be very uncomfortable and irritating. On the other hand, white noise machines aren't so great when you're sharing a room or bed with someone else. So inserting speakers into the pillows, which the Earfree Nitebuds did, was actually very clever.
Customizable
The Earfree Nitebuds is customizable, which sets it apart from other pillows and pillow speakers in the market. It comes with a pouch, which you can use for different purposes. For one, you can put ice packs (included) to lower the temperature of your head. This is perfect for staying cool during the summer and it's more eco-friendly and cheaper than turning the air conditioner.
Aside from ice packs, you can also fill the pouch with cypress cubes, which are also included with the product. This additional filling will provide you with a nature-like aroma that can help you sleep better. Cypress is also said to have antibacterial, disinfecting, and air purifying effects. It can help with insomnia, stress relief, and stabilize your nerves as well.
Finally, this pillow comes with a cotton insert, so you can easily adjust the height according to your body type and sleeping position.
Wireless
Many pillow speakers need to be connected to a phone, MP3 player, and other audio devices through a 3.5mm headphone output jack. While this provides a stable connection, having wires around your pillow can be uncomfortable and distracting. So it's great that the Earfree Nitebuds offers hassle-free wireless connection via Bluetooth.
Application
The Earfree Nitebuds comes with an app that offers ASMR sounds for free. It will also allow users to customize the sounds they want to hear and reflect their preferences. While it still needs improvement and many, many more updates, it's great to know you'll have more options when it comes to the sounds you can play using this device.
Specs
Pillow Dimensions

Height (side): 5 inches
Height (center): 2.5 inches
Width: 19.6 inches
Length: 27.5 inches

Pillow Cover Dimensions
15 x 22 inches
Pillow Cover Material
Cooling Wave-tex
Cotton Insert
Ice Pack Insert

Material: polyethylene
Content: 100% water

Cypress Insert

Material: air mesh
Content: cypress cubes

Buds Insert

Material: air mesh
Content: Nitebuds speaker
What's different about the Earfree Nitebuds is that its speakers create a crater-like structure. This delivers the sound at a safe distance from your ears while at the same time preventing sound from escaping. So you can keep the volume 30% lower than you would on other conventional earphones and hear the music or sounds clearly without disturbing the person next to you.
It's also worth noting that the ice pack inserts contain 100% pure water. So if the pack is torn, you won't have to worry as it is safer and less messy than general ice packs which contain gel.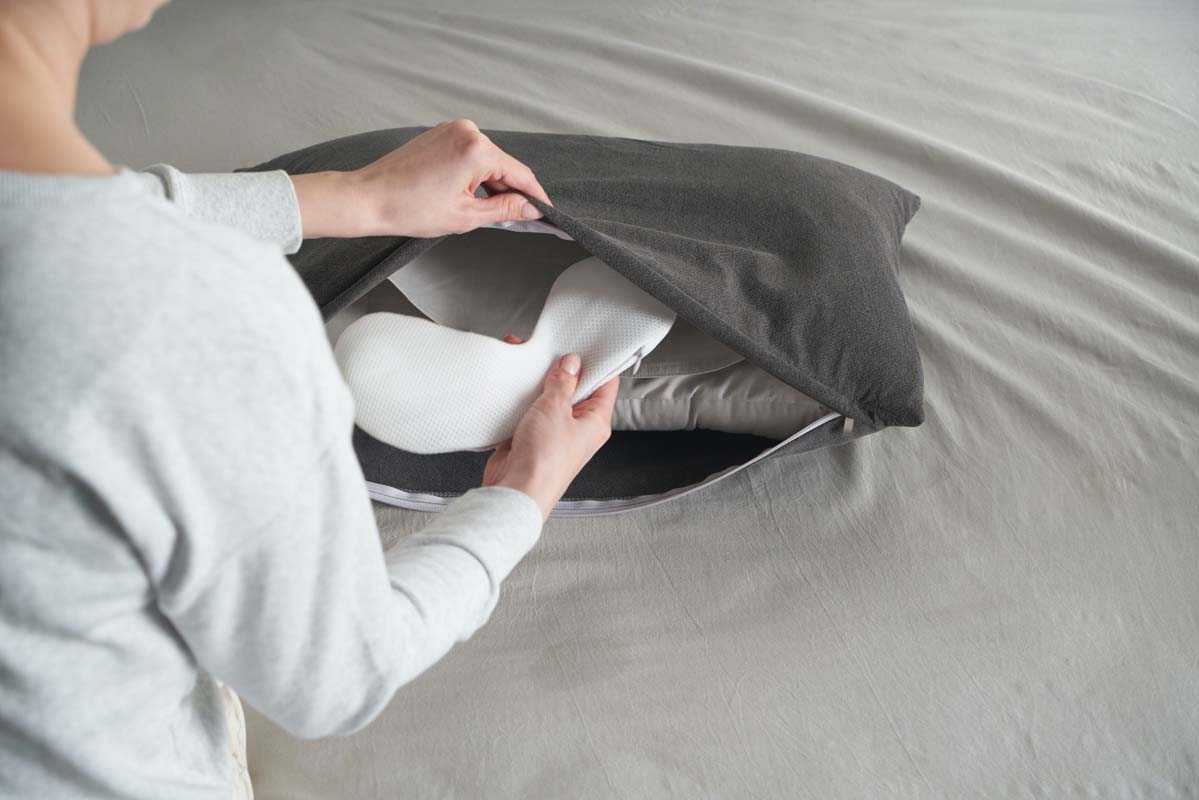 Design
The Earfree Nitebuds are available in 5 cool colors, including teal green, beige, pink, blue, and charcoal. So there's sure to be a color that will match your sheets and room. The outer fabric is made of natural pure cotton, which is safe for those with sensitive skin. On the other hand, the inside is made with silicone-coated microfibers, making it fluffy and able to hold its shape. Thus, it won't get clumpy and will always provide you with the support you need while sleeping.
What we love about the Earfree Nitebuds is that their height can be adjusted. You can remove or put more cotton pouches to get the right pillow height for you. This is perfect since everyone has different body shapes and sleeping postures. It's also great that you can easily wash it with water.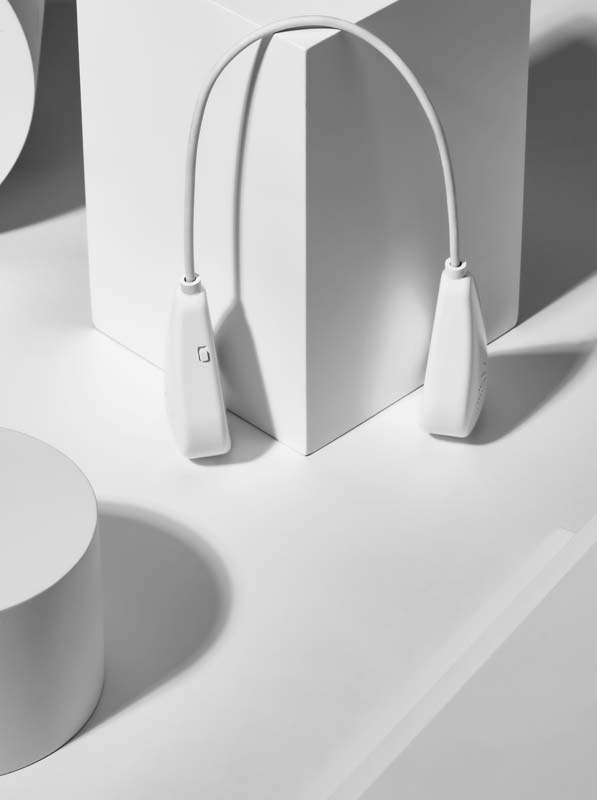 Final Thoughts
With its Bluetooth speaker, gentle and soft fabric, temperature control, aromatic, and height adjustment feature, the Earfree Nitebuds is easily one of the best sleeping aid products around. Not only does it address noise and other disturbing sounds in your environment, but it also allows you to be more comfortable while lying down. And since it doesn't require to be worn, you can save yourself from the irritation and aches associated with earbuds and headphones.
Sure, the Earfree Nitebuds isn't cheap. But for everything it can do, it's highly worth it, especially if you've been having trouble sleeping for a very long time.
Grab your pair on the Indigiegogo campaign here.