Carpe diem, Euphoria, Serenity, Hope, Courage, and Love – these are words and lines that people usually tattoo on their skin. But not everyone is ready to have their skin punctured with needles. With Eclat Tattoo Jewelry, however, you can still carry these words with you whenever and wherever without going through any pain. Claiming to be the "World's first customizable lettering tattoo bracelet", Eclat allows you to wear tattoos as a piece of jewelry. You can wear it as a bracelet or a necklace and keep it close to your body just like a real tattoo.
Summary
Have you ever wanted to get a tattoo but never dared to do it? Does the thought of puncturing your skin with needles scare you? If so, then here's your chance to wear your most favorite words without having to go through the pain of having a real tattoo. Eclat Tattoo Jewelry offers beautiful and elegant necklaces and bracelets that allow you to wear your desired word/message without having to go through any pain.
Pros
Beautiful and slimmer cursive font lettering pendants
Not bulky with curve design to provide the look of a real tattoo
Easy to wear and take off
Cons
Pricey
Requires extra care, handling, and maintenance
So you might be wondering, with the many stores offering customized jewelry, how is Eclat Tattoo different? Well, let's find out in this review. Don't have time to read the whole thing? Just click on any of the links below to skip to that section.
Overview
There are plenty of reasons why people tattoo words or messages on their bodies. For others, it's a way to honor someone dear to them or to remember a certain event/place. For some, it can symbolize a new chapter in their lives. Others also get a tattoo for self-identification or mere style and beauty. The problem is, getting a tattoo requires a lot of courage.
As someone who has a couple of tattoos, we can honestly say that getting one is painful – especially if it's your first. Depending on your choice of tattoo, a needle or group of needles have to pierce your skin a hundred times to get the ink, dye, and pigment into the deep layer of your skin. Thus, there's a possibility of an infection or an allergic reaction. Not to mention the high cost associated with getting a tattoo. So it's no wonder why many hesitate going through it.
Now, Eclat Tattoo Bracelet was created for those who want to get a tattoo but can't. By engraving your very own personal message on a piece of jewelry, you can still carry and wear it around your body without hurting yourself. Aside from a bracelet, you can also choose a necklace with your customized lettering quotes.
Material
Eclat Tattoo Jewelry is made with sterling silver 925, which is said to be more durable than pure silver. It is a metal alloy that contains 92.5% pure silver and 7.5% other metals. It's known for its ability to keep its beauty as it does not soften or fade. Also, it does not cause an allergic reaction – only if it doesn't come in contact with excessive sweat or hot water.
Now, sterling silver is a very common material used for jewelry and decorative household items. Many shops offer it for their jewelry lines, including Custom Jewellery Australia, Yoke Style, Moon Magic, and more. This is because it is much cheaper than other metals like gold. But don't be mistaken. Sterling silver is not cheap nor is it a bad choice for a jewelry material. In fact, it's even more durable than gold. It is also lightweight, which makes it perfect for pieces that are worn daily.
As for the pendant or the actual word, it goes through ruthenium plating to add durability and prevent allergies. The company added Italian ceramic processing as well to protect the black plating from peeling off or fading away.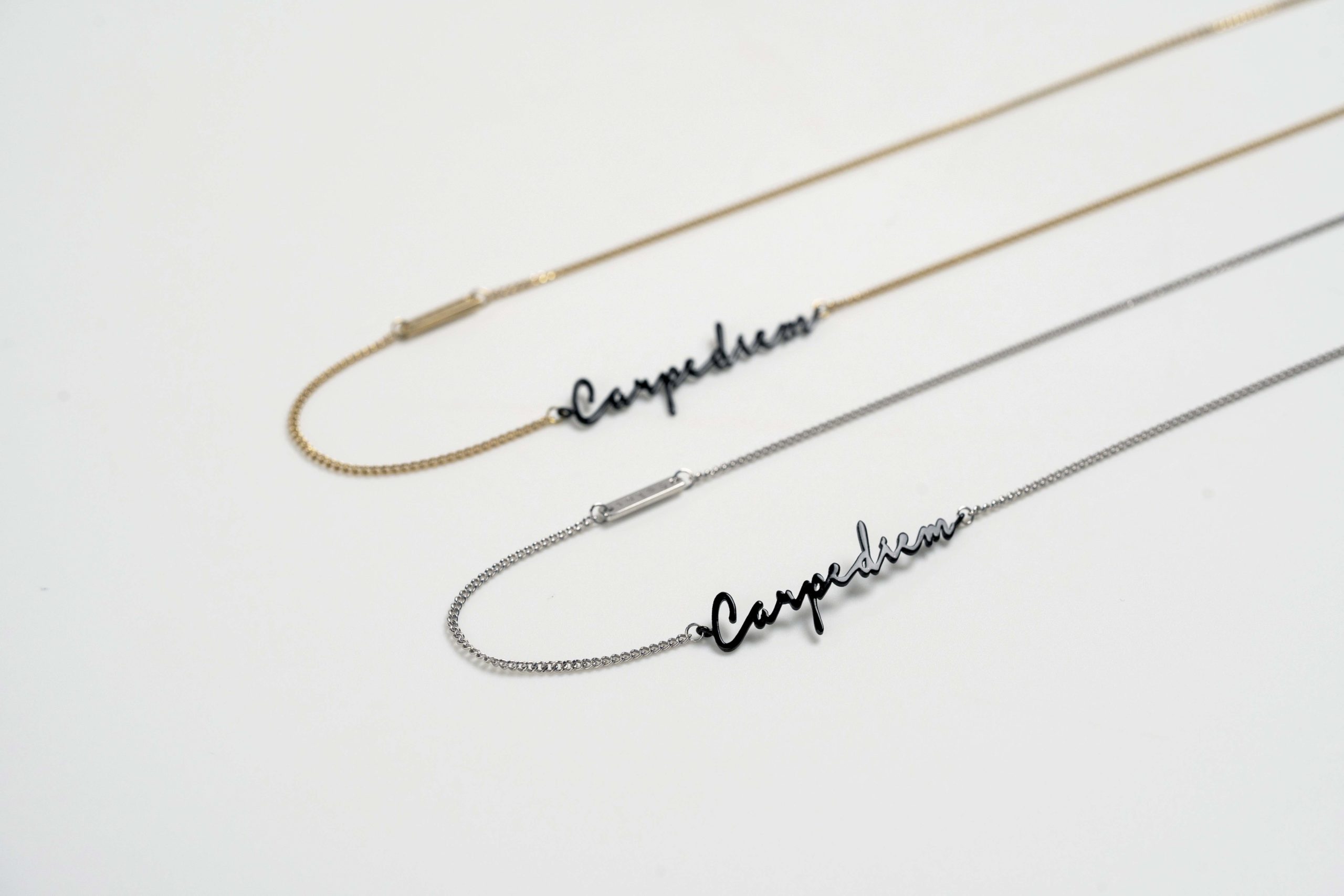 What We Like
Cursive-Font Lettering
Due to their slim designs, lettering pendants with cursive fonts require a lot of precision. But more so with Eclat since their pendants are slimmer than most of the personalized jewelry around. They are so thin that they do actually look like tattoos at first glance.
Black Gold Plating
To achieve the closest look to an actual tattoo, Eclat Studio developed a plating method for their jewelry line. The pendants are applied with a black gold ceramic coating, resulting in a durable and luxurious black color. It's also hypoallergenic, so you can ensure that it won't trigger any allergic reaction.
Detachable Locks
Another thing we like about Eclat Tattoo Jewelry is the detachable locks. Whether you go with the sliding balls or dual magnetic locks, you can easily wear and take them off using only one hand.
Chains
Eclat upgraded its tattoo line before launching it on Kickstarter. And one of the most notable changes is the thickness of their bracelet and necklace chains. From 0.03-inch, the company used 0.05-inch chains for their Chic Ball V2 Bracelet and Signature V2 Necklace styles. What used to be a 0.04-inch curb chain for the Signature V8 bracelet was also substituted to a 0.05-inch cable chain to make the new Signature V9. Now with thicker chains, the Eclat Tattoo Jewelry won't break too easily.
Aside from the chains, Eclat also upgraded a few more features for their Tattoo Jewelry line. Here's a quick comparison of their jewelry line before and after.
Feature
Before
After
Chains

Chich Ball Bracelet: 0.03-inch chain

Chic Ball V2 Bracelet: 0.05-inch chain

Signature V8 Bracelet: 0.04-inch curb chain

Signature V9 Bracelet: 0.05-inch cable chain

Signature Necklace: 0.03-inch chain

Signature V2 Necklace: 0.05-inch chain

Cubic

Cubic V1 Necklace: 0.03-inch

Cubic V2 Necklace: 0.05-inch

Locks
Necklace Length
What We Don't Like
Price
Unfortunately, Eclat Tattoo Jewelry is a bit pricey. With a retail price of US$140 to US$150 for the bracelets and US$175 for the necklaces, it's more expensive than getting an actual tattoo. In Australia, for instance, small tattoos only cost AU$125 to AU$150 or US$93 to US$111, according to Aussie Prices.
Eclat Tattoo Jewelry is also a lot pricier than some of the existing customized jewelry on the market. In Amazon alone, there are plenty of cheap customizable necklaces and bracelets, including Yoke Style Custom Name, Awegift Personalized Name Necklace, and She1001's anklets and bracelets.
You can, however, get Eclat Tattoo Jewelry at a lower price if you catch its crowdfunding campaign on Kickstarter. Instead of US$140, bracelets will start at US$89, and necklaces at US$109. 
Handling & Care
Since Eclat Tattoo Jewelry is made of silver, discolorations may occur. So you have to be extra careful when handling each piece. You have to watch out for excessive heat, cosmetics, soap, and even sweat. You also have to remove the items when you shower, take a bath, sleep, or work out. And if they get wet, you have to wipe them with a soft piece of cloth, dry them, and then store them in a polybag.
Gold Plating Peeling Off
Another thing we don't like about the Eclat Tattoo Jewelry line is that there's a high chance of the black plating fading or peeling off. This will happen over time and more so when you sweat or tend to stay in warmer places. So there's no escaping it.
While the company offers a replating service at a small charge, it won't be practical if you're not living within the same city. Eclat Studio is based in New York, NY. So if you're from Australia, just imagine how much you'll need to pay for shipping costs just to get your jewelry replated. Not to mention the amount of time you need to wait to get it back.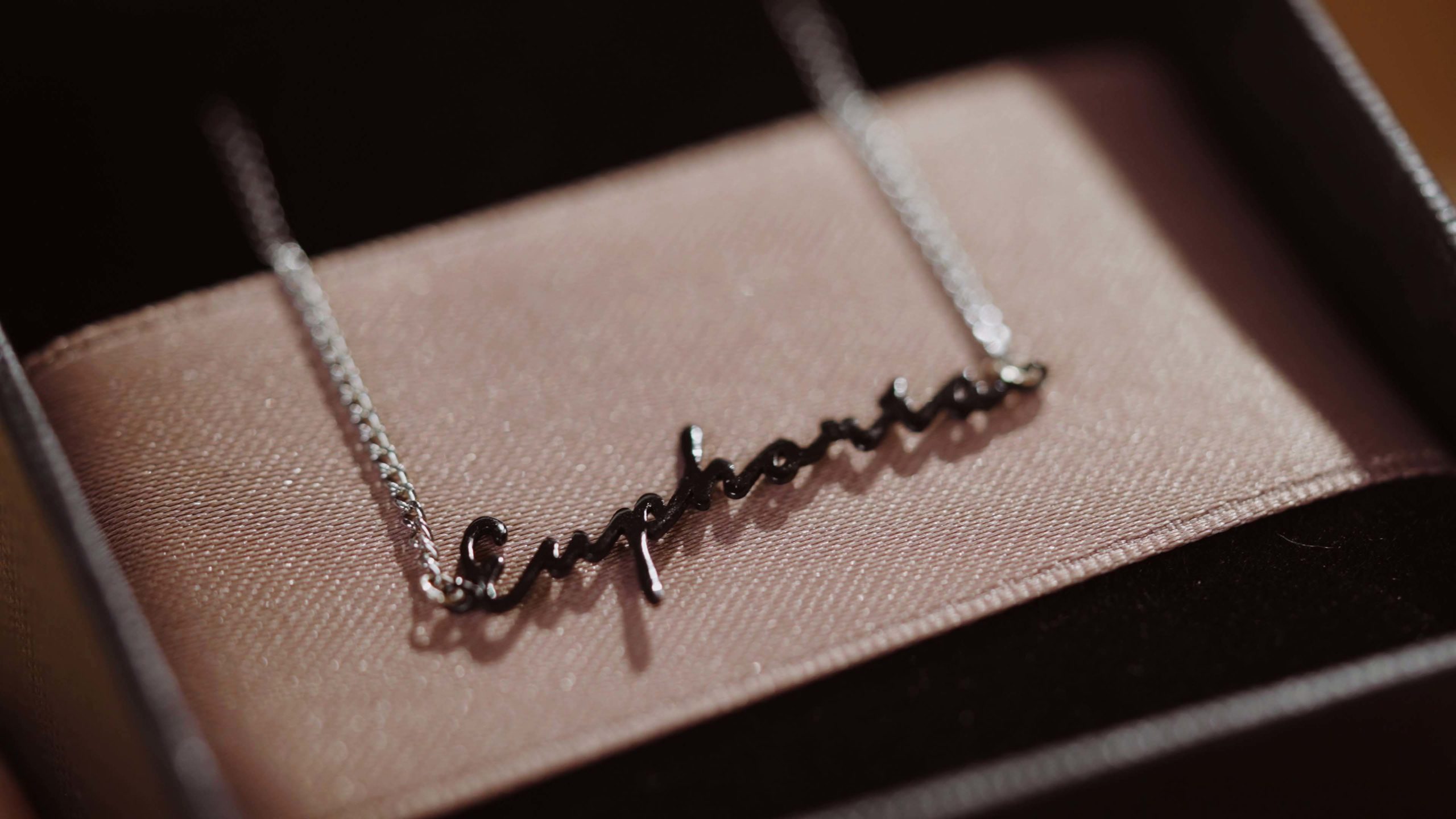 Final Thoughts
Overall, the Eclat Tattoo Jewelry line is beautiful and elegant. Compared to other custom pieces, its words/names/messages are thinner, more striking, and more delicate. The black plating and non-bulky and smooth curvy design also help achieve that tattoo-like look. Thus, making them a great alternative for those who are not ready to get a real tattoo or for those who use henna or even tattoo stickers.
However, Eclat Tattoo Jewelry also has many drawbacks. But if you're willing to spend more on maintenance and on the product itself, then these pieces of jewelry make perfect statement accessories or as gifts to loved ones, family, or friends.