Summary
Eilik is an interactive desktop companion bot that knows how to have fun and concentrate at the same time. The personality built into his system is beyond imagination. Connect it with his own kind and you get a comedic duo.
Pros
Interactive and responsive
Built-in emotions and ever-growing system
Connectible to other Eiliks
Cons
Cannot move around the desk
Hustling from a desk can become a bit dull. Especially during the height of the pandemic, almost everyone was stuck to their desk either for work or for school. It pays to have some sort of entertainment on our desk as we hustle through our tasks.
On social media, we've seen a few versions of desk pets and how fun they are to play with. Eilik is one of them, but our robotic buddy here is quite special. It has more personality than others and it can also be of great help for your productivity.
Get him a buddy or two and you got yourself a private entertainment show right on your desk.
If you don't have time to read the full review, click on the links below to skip to that section:
Overview
Analog timers and clocks are so old school. Spice up your productivity with Eilik and get more than just a ring of an alarm. One common problem about the classic timers and clocks is that we just turn them off after they ring—nothing more. With Eilik, not only do you get an alarm but you also get entertained.
Eilik is a responsive desk companion bot brought to life by Energize Lab; it has touch sensors on different areas of its body and will react accordingly to your touch. Eilik was envisioned to bring a higher level of emotional social interactions between humans and robots—the same feeling we got from Baymax and Hiro from Big Hiro 6. Although Eilik, our friend robot, won't be huggable, he is still full of personality.
Let's break down Eilik's specs and features and get to know our next robotic best friend.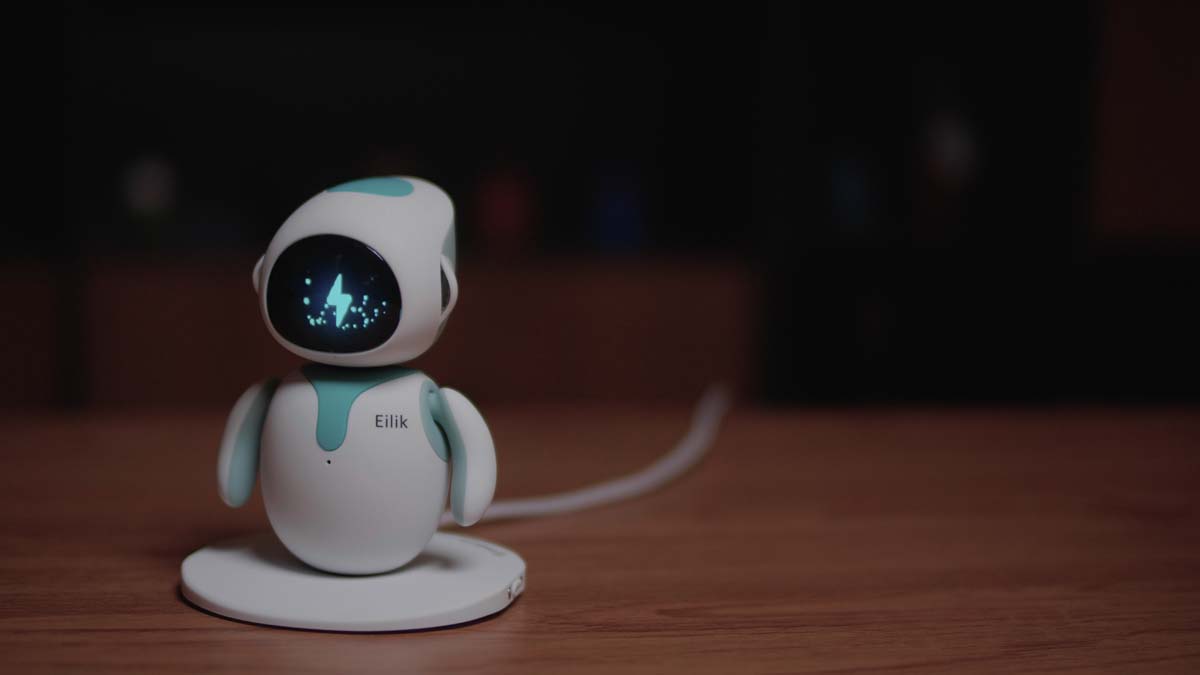 Features
Emotional Intelligence
Eilik is designed to react to human interactions. It has four basic emotions: normal, happy, sad, and angry. It has three touch sensors found on the top of its head, on the belly area, and on its bottom. His reaction will depend on your touch. You'll see and hear his reaction because of its digital face and its built-in speaker. He has a mic on him too, so you can talk to it and it'll repeat what you say in a funny way and even mimic the movement of your mouth.
He's happy when you touch or tap his head, he'll laugh if you "tickle" his belly, and he'll be shy if you rub his bottom. He knows how to get angry though, smack him and he will grant.
He has vibration sensor too. He will act scared if you slap the table and he will feel dizzy when you flick his head. Also, he's afraid of heights. Pick him up by the head and let him hang, he'll feel sick and even cry. When he cries, you can just cradle him with your hand and coo him, he'll feel better.
You may also be interested in the HUENIT: an ai camera modular robot arm.
He has different expressions and you can put more personality to him by updating his software—just like Baymax. From time to time, Eilik will get bored, so don't be surprised if, all of a sudden, he tries to catch your attention.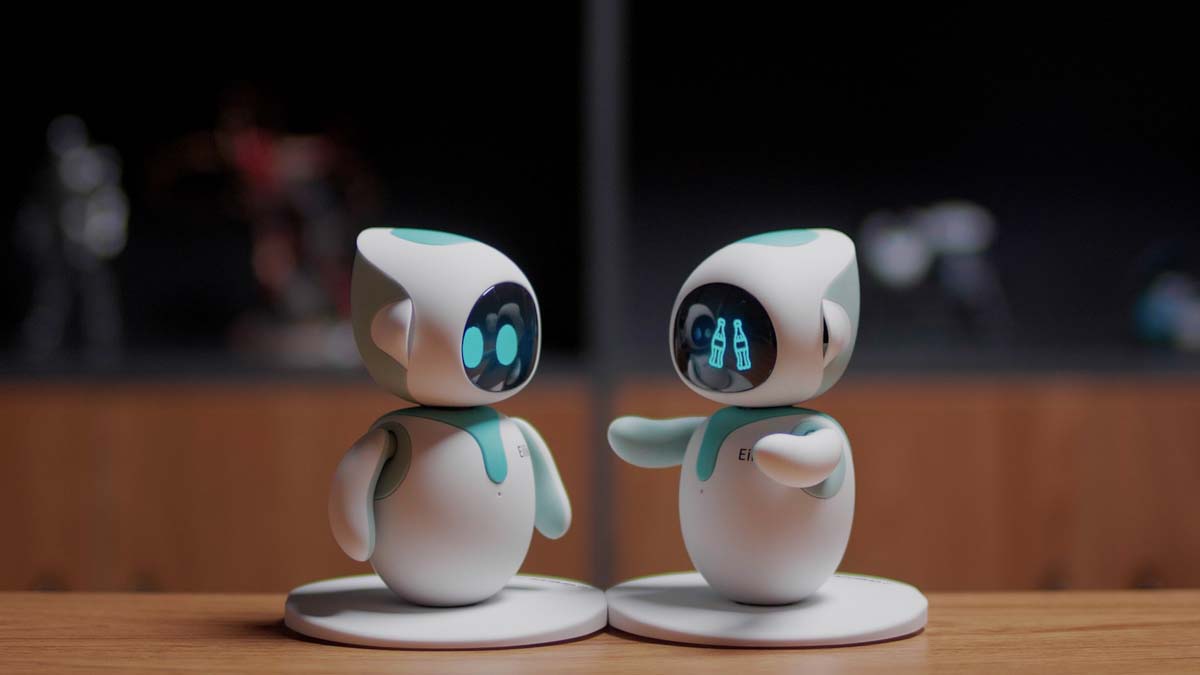 Pairable to another Eilik
Every Eilik will recognize each other. You just have to stick them together and you got yourself a comedic duo. Get a few more and you have a party. With a pair or in a group, the Eiliks can do a lot of skits as they can interact with one another (fight and play).
Different timers
Eilik is not entirely a buddy for fun, It knows how to concentrate too. It can help you with your time to become more efficient with your work or school load.
You can use it as a countdown timer and a Pomodoro timer. All you have to do is adjust his arms to set your time. For fun, you can even play the "count 10 seconds" game with him.
Specs
Size: 108 x 105 x 133 mm
Weight: 230 g
Port: USB Type-C
Material: High-strength Polycarbonate
Servo: EM3 x 4
Speaker: 3W
Display: 1.54* 128 x 64 OLED
Battery: 450 mAh, 1.5 hours
Eilik is ever revolving. It will get regular updates via Eilik's cross-platform software. As mentioned, Eilik is ever-growing, so with every update, it will become smarter, have more expressions, and have more plot content.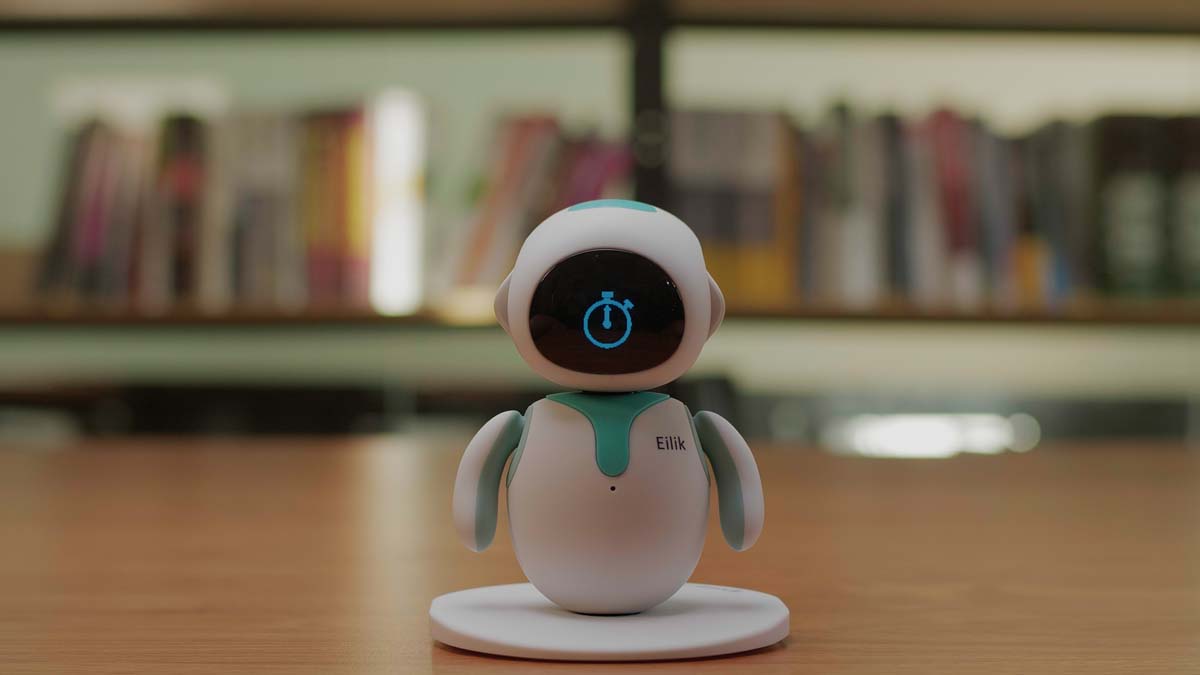 Final Thoughts
Eilik is, definitely, a fun desk pet companion to have. The responsive interaction is one of its greatest suits. Its future updates look promising as to endless possibilities that Eilik can bring to the table.
Working from home just got more interesting, with Eilik your desktop buddy.