Power stations are handy machines that will make sure you'll always have power whenever you need it. They are quieter, smaller, and more convenient than traditional gas generators. Not to mention that they are a lot cheaper too in the long run. So it's not surprising why there's such a huge demand for them.
Just recently, we did a review on the brilliant LEOCH battery power station, which received more than a whopping US$8,600,000 in Indiegogo. And now there's the ElecHive 2200, which is also raking in a lot of dough on the same crowdfunding site. To date, it has already received more than US$2,558,000 in funding. Learn more about this new power station here.
[wd_hustle id="124″ type="embedded"/]
ElecHive Review
Summary
The ElecHive 2200 is a game-changer in the power station and generator industry. Packed with a powerful battery, it can provide the same power output as a standard wall socket and last for hours on end. It's super portable too, so you never have to be stranded without power no matter where you are.
Pros
Compact and portable
High power and battery capacity
Many output ports
In a rush? Click on any of the links below to skip to that section:
Overview
The problem with many power stations today is that they can be either underpowered or just too big and heavy. ElecHive aims to solve this by putting a powerful battery into a small body. And the result? A super-portable power station that won't run out on you when you need it the most, wherever and whenever.
In terms of price, the ElecHive is affordable too. Offered at US$1,399 on Indiegogo, it is cheaper than other power stations with almost the same rated power output, including the Bluetti AC200P (US$1,999.99) and .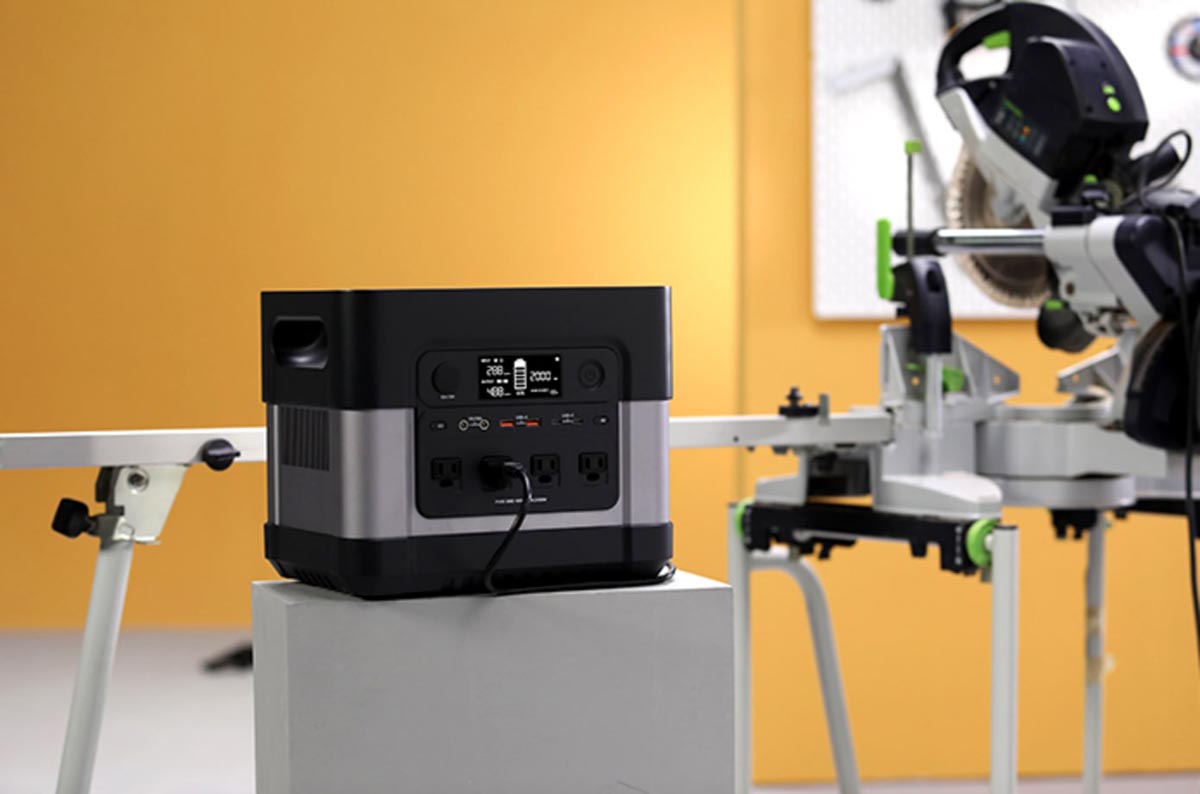 Features
Many Output Ports
You can charge up to 12 devices simultaneously with the ElecHive. It features 5 different port options, including USB-A, 110V AC, 12V DC, USB-C, and a 180W car charging port. So you can power a wide range of appliances and devices, such as power tools, medical devices, and even a full-sized refrigerator anywhere you are.
Multiple Charging Options
The ElecHive is designed to charge from as many options as possible. You can charge it with your car, solar panels, a dedicated charger, or with the company's 1250W professional charger. For faster charging, you can combine three charging inputs to have it fully charged in less than 3 hours. Or you can use the professional charger to fill it up in just 2 hours.
Latest Battery Tech
ElecHive features an integrated Lithium Nickel Manganese Cobalt Oxide (tiNiMnCoO2), or also known as an NMC, which makes its battery pack smaller and lighter than those of traditional power stations. While this tech costs more, it gives the ElecHive greater energy density. Meaning, it doesn't have to compromise power and capacity for mobility and portability.
High Battery Capacity
The ElecHive 2200 is packed with a massive 2,500Wh battery capacity. This is higher than Bluetti AC200P, which has a 2000Wh capacity. At this rate, you can charge your phone 203 times, laptop 48 times, and DSLR camera 135 times. This also allows you to run your TV for 25 hours or even your full-size refrigerator for 44 hours. You can use it as an emergency backup for your electric vehicle too, providing you up to 10 extra miles on a single charge.
Suitable for All-Season
This power station can support external temperatures from -4°F to 104°F. So you can expect it to function in all weather conditions, including cold winters. Since it is equipped with a powerful fan, optimized air duct, redesigned airflow, and expanded vents, it can also work at peak performance even in the summer without overheating or making noise. The ElecHive runs efficiently and quietly, having a noise level of less than 30dB.
Specs
Battery
Battery Cell
Lithium Nickel Manganese Cobalt Oxide (tiNiMnCoO2)
Capacity
>2500Wh
Cycle Life
Over 1000 Times Full Charge
Battery Management System
Specific BMS
Use Environment
-4°F to 104°F
Power
Rated Power
2200W (Surge 4,000W)
Protected Power
2300W
Recharging
Power Adaptor
24V 10A 240W input: 9 hours (98%)
Car Charger
12V 10A 120W, fully charged in 20 hours (100%)
Fast Charging
50V 25A 1250W input: 2 hours (95%)
Solar Panel

>35V: DC or GX16-4 connector
35V-150V: Anderson connector max 1250W, 2 hours (90%)

Input
DC
DC5521, 12-24V car charging and other charging equipment
Zero Breeze AC Connector
GX16-4
Anderson Connector
For solar panel and 1250W fast charging input
USB-C
60W and 18W
Output Ports
USB

1 x USB (QC3.0)
1 x USB (2.0)

Type C

1 x Type C (PD, 20V 3A 60W)
1 x Type C (18W)

AC Port
4 x U.S / Japan Sockets (100-120V 50-60Hz) OR 3 x Universal Sockets (220-240V 50-60Hz)
Car Charger Socket (Cigarette Port)
12V/15A, 180W
Zero Breeze AC Connector
24V, 10.5A
DC Port
12V 10A 120W
AC Frequency
Japan
50Hz & 60Hz
Other Countries
50Hz/60Hz

Display Screen 

Specs
Highlighting white light LCD panel
Interface
Quantity, time, input and output power, error prompt, etc.
Size
3.05 x 1.4 in
With a rated power of 2,200W, the ElecHive has the same power output as your standard wall socket. This makes it suitable for use with heavy-duty tools and appliances, including circular saws, hairdryers, and even your electric car. You can also easily use it with your lights, drones, TVs, CPAP machines, projectors, and other gadgets. The Type C PD is also a nice addition, allowing you fast charging for your MacBook and other power-hungry laptops.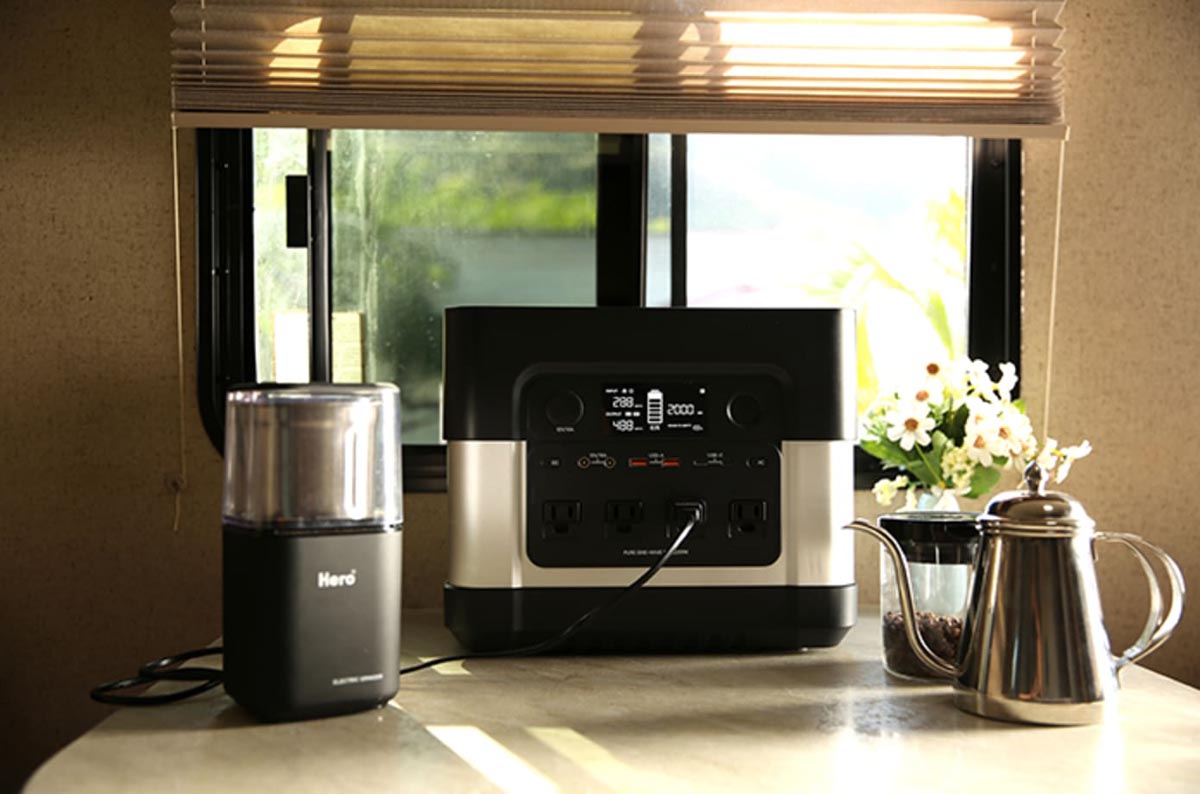 Aesthetics
What makes the ElecHive 2200 unique from other power stations today is its compact size. It is surprisingly light and small even with its massive battery capacity. At 34lbs, it is lighter than the Bluetti AC200 (52lbs) and Goal Zero Yeti 1500X (45.64lbs). It's also twice as light as the LEOCH power station.
Conclusion
With its portability and capacity, it's almost impossible to find a machine that's as small and as powerful as the ElecHive 2200. Its high battery capacity and power output can provide you the power you'll need while outdoors and in emergencies. Convenient, efficient, functional, and considering its price, this power station is a great steal.
Take note, however, that the ElecHive 2200 is still untested.
[wd_hustle id="124″ type="embedded"/]
Last update on 2022-05-24 / Affiliate links / Images from Amazon Product Advertising API