Frustrated with harsh foot files that look and feel like sandpaper? Do you want to remove your stubborn calluses without damaging the new and healthy skin underneath it? Then here's a pretty good product for you – the Emmet Toola Glass. 
The Emmet Toola Glass is a new product that is seeking funding through the largest crowdsourcing platform: Kickstarter. But what is this new product and how does it compare to other foot scrubbers around? Let's find out below. 
Don't have time to read the whole review? You can click any of the links below to skip to that section. 
What is the Emmet Toola Glass?
Calluses and dead skin cells in the heel, while not necessarily painful, can be uncomfortable. They look unappealing and unattractive as well. But the problem with many foot scrubbers today is that they can hurt your feet. To minimize the damage and friction, manufacturers then created chemical peeling gels. However, they weren't as effective in removing the dead skin cells as the other products. So to address these issues, the Emmet company came up with the Toola Glass foot callus remover. 
The Emmet Toola Glass is basically a type of foot scrubber. Thus, it is designed to clean your feet and help you remove dry skin. But unlike pumice stone, foot file, or a shower scrubber, this product is made of smooth and clear glass – which is surprising and unexpected. 
But is it the first of its kind? Well, not quite. It's very similar to the Nano Glass Callus Remover Foot File. They are both made with tempered glass and use a new form of technology. They also work well on both wet and dry feet. But the Toola Glass does offer something unique from the Nano Glass and that's the 2-step process. We'll look into this closer later.   
The Toola Glass foot scrubber is a great option for anyone who loves to take care of their feet. It's also recommended for those who love to run, cycle, and other active individuals since they are more prone to dead skin buildup on the feet.
Features
What makes the Toola Glass different from other foot scrubbers is that it doesn't hurt your skin. It creates minimum friction that doesn't cause major damages. If you need to use it, you don't even have to soak your feet. It can exfoliate your skin delicately and still work well even with dry feet. And this is all because of the product's design.
The Toola Glass uses a semiconductor's photo etching technology, which is designed to only remove unnecessary dead skin cells even with minimum scrubbing. Due to this design, you don't have to worry about getting cut. Furthermore, this photo-etching technology creates a sensitive Nano-Meter pattern on the glass, which minimizes the friction between your skin and the Toola. It's a big plus that this technology is patented as well. 
In terms of material, the Toola Glass is made of 100% tempered glass. This is what makes the product easy to clean and care for. In fact, it only takes a minute to clear the dead skin off of it and it doesn't require soaking in water. Additionally, this material also makes the product resistant to corrosion and dust build-up. It makes it more durable as well.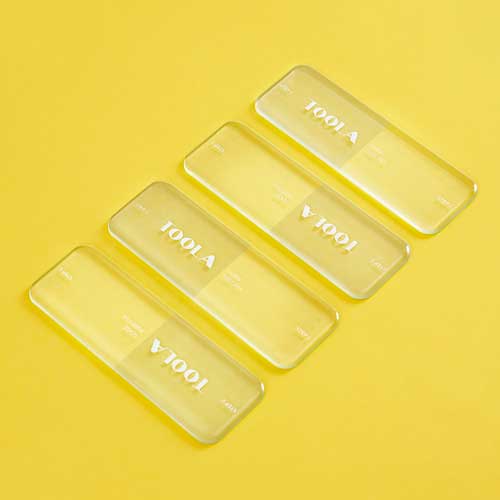 Aesthetics
When it comes to the look, the Toola Glass definitely deserves some praise. It doesn't look anything like the usual foot file we are used to seeing, which are typically rough and hard. It is clear, smooth, and clean-looking. If you had this in your bathroom, your guests wouldn't probably know what it's for. 
But what we love most about this product's design and aesthetics is that since it's glass, it is easier to wash and clean. You can just stick it under the water and all the dead and dry skin that stuck to it will get washed away. This is pretty far from the usual foot files that tend to collect skin, which turns gross after a while. 
What is it Like to Use?
Unlike the Nano Glass, the Toola Glass has two sides. So when using the product, you have to complete two steps. When you look closely at the product, you'll see each end labeled as "Step 1" and "Step 2". The first step involves removing the hardened dead skin cells in your foot. You should continue scrubbing until white dust covers your heel. 
Then, you can move on to the next side of the glass. This step is the part where you clean up the rough keratin that is blocking the entire surface of your skin or otherwise known as exfoliating the fine dead skin cells. This will take you around 10 to 20 seconds. Once you are done, you will instantly notice that your skin is smoother and lighter than before. More importantly, you can remove your dead skin cells without harming the healthier skin underneath. 
After you are done using the product, you can just wash the glass with running water, dry it, and store it. It's so easy to use. 
Conclusion
If you are looking for a better alternative to foot files and pumice stones, the Emmet Toola Glass is a great choice. It's more skin-friendly and doesn't require you to scrub as much and as hard as you would with a foot file. And even without scrubbing too much, this doesn't affect its effectiveness in removing your calluses and dead skin cells. 
For most foot scrubbers, they tend to collect dry skin. Over time, this can build up, causing you to purchase a new one now and then. But with the Emmet Toola Glass, this isn't a problem. It's incredibly easy to clean and store. It's small and handy too, making it easy to take along with you anywhere you want to go.
Overall, when it comes to removing calluses, this is a very promising product. Just remember to use it daily to achieve that soft and salon smooth feet you have always wanted.