Enabot Ebo Catpal Pro Quick Review
Summary
Ebo is both your cat's best friend and personal photographer. A smart robot with a camera and wheels, Ebo can play, entertain, and provide pets the attention and exercise they need to stay healthy and happy.
Pros
Effectively avoids obstacles
Charge on its own
Dynamic and unpredictable
Most people think that cats don't need playtime. They are, after all, very independent creatures who can take care of themselves and sleep for hours on end. Opening cans and giving them food may just be the most they need you for – or so you thought.
See, bored cats can cause a lot of trouble and destroy their surroundings. Pet neglect can also lead to obesity, depression, and other major health problems. So just like their canine counterparts, they need and want playtime. And if you're looking for a toy that would give them that, and don't mind splurging, then check out – the Ebo.
Ebo is a smart robot companion for cats. It is designed to prevent boredom and loneliness while you're not at home, providing them the fun and exercise they need. Learn more about this snazzy new cat toy with this review.
Can't read the whole thing? Just click on any of the links below to skip to that section.
Overview
As mentioned, playtime is necessary for cats. But since many of us have to attend to work or school and chores, we can't always be around to play and interact with them. So the next best thing? Give them the . It will act as your cats' companions, giving them the interaction, stimulation, connection, and fun they need. As a result, your cats can achieve the best mental and physical health possible.
Ebo is a smart robot that will play with your cat(s) when you are not around, keeping them active and entertained. It is equipped with all the high-tech features a robot needs to move and engage with your pets. It can go in any direction, roll over, spin, and always land on its feet. Heck, it can even dance. And when you are there, you can control Ebo to play together through an application.
But here's the catch – Ebo is extremely expensive. The Ebo S, a simpler version of the robot, already costs US$249, while the Ebo Pro costs a whopping US$299. The Wicked Ball from Cheerble, which is another popular smart gadget for pets, doesn't even come close with its US$54 price tag. There's also Rocki, which is a feeder, camera, and toy rolled into one robot and costs the same as the Ebo S. So compared to other smart toys for cats, Ebo Pro takes the gold for being the most expensive one yet.
You may also like the Vertiball, an awesome massage ball.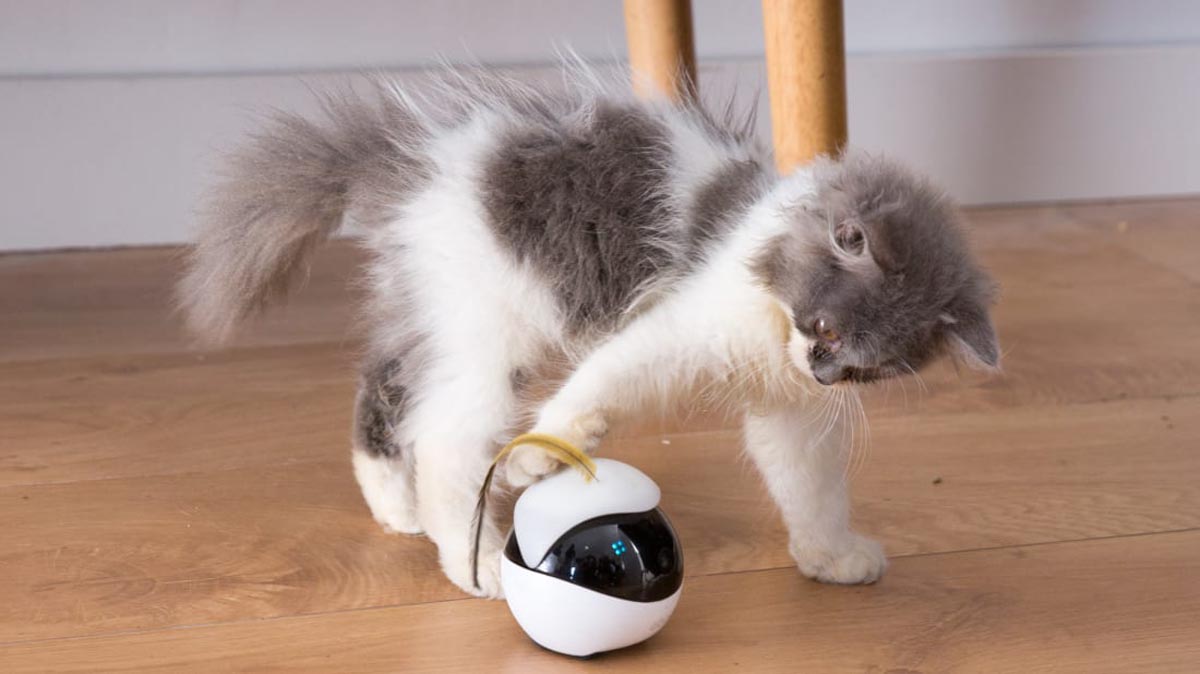 Features
1080p HD Camera
Ebo is equipped with a camera, which allows you to take photos, videos, and play with your cats via live stream. With it, you can easily create quirky content about your cats and share them with your family and friends. You can also use this feature to check up on your pets when you're away. While you may have CCTVs for that, sometimes cats just have a way of hiding from sight. But with Ebo, you'll always have an eye on your cats – whether they're under the bed, table, or chair.
Automatic Obstacle Avoidance
Ebo has a built-in collision sensor that allows it to "see" where it's going and automatically change direction. It recognizes obstacles and effectively avoids them. It also makes a 360-degree scan of its environment before playtime to make sure the area is safe and there's enough space for play.
The sensors on Ebo are pretty spot on. Having tried other semi-autonomous products, we were surprised to see that Ebo didn't ram itself into every corner, table, chair, or doorway. It just smoothly goes in and out of its charger even with tons of obstacles around it.
Laser Pointer
There's just something about lasers that cats can't ignore. Not only does it entertain them but it also stimulates their instincts, giving them something to hunt and chase.
Ebo's laser pointer produces low-intensity light that's always engaging and unpredictable. You can also control the laser through the app to directly engage with your pets.
Self-Return to Charging Dock
Completely wireless and autonomous, Ebo knows when and how to charge itself. So when it's running low on power, Ebo will automatically return to its dock. Meaning, once you've taken it out of the box and turned it on, there's nothing else for you to do or worry about.
Real-Life Interaction
Ebo is designed to interact with your cats in a way they can understand – by mixing movement, sound, and light. Its eyes also change, which is just adorable even for fur parents like us.
Two-Way Communication
Another pretty neat feature of Ebo is its two-way communication. Once you connect it to the WiFi, you can immediately monitor your cats from anywhere in the world. This also allows you to control the robot and play with your pets from a distance.
Scheduling
You can program Ebo to work around your schedule. Select the time you'd want it to wake up and when it goes to sleep. This is perfect so you'll never be disturbed when you're trying to get some shut-eye.
Security
A robot equipped with a camera, wheels, and always on – rolling around freely in your home? Pretty scary combination, right? Who knows what images and videos it can capture. Well, good thing that Ebo has no cloud storage. Everything is local on your robot and stored on an SD card. All camera visuals will only be live-streamed and it is up to you if you want to store it on your phone.
Social Sharing App
There are many editing and social features in the app that makes it easier to share how amazing your little fluffballs are. There's also a smart video editor that allows you to emphasize your cats' expressions, add filters, music, and create a story.
Specs
Here are the specifications of Ebo taken from its highly successful Kickstarter campaign.
[wd_hustle id="192″ type="embedded"/]
Dimension
76 x 76 x 70 mm
Weight
223g
Battery
7.6V @ 1100mAh
Battery Life
120 minutes (autonomous mode)
Charging Time
2 hours
Connection
WiFi 2.4G (max 20m away from router 802.11.b/g/n)
Processor
ARM926 @ 800MHZ + CORTEX M4 @ 168MHZ
Velocity
1.6m/s max
Camera
1080p @ 30fps

1920×1080

Storage
16GB / 32GB
Transmission
720p @ 30fps / 480p @ 30fps
Sensor

Gesture: 6-axis IMU
TOFL 50mm-1500mm
Infrared Sensor: X 6
Starlight CMOS Image Sensor: Sony IMX323

Motor
Brushless Motor X 2
Charging

Input Voltage: 10.6V-12.6V
Input Current: 600mA max

Charging Stand

Input: 12V @ 1A max
Output: 12V @ 600mA max
The storage on Ebo S is 16GB while the Ebo Pro has 32GB. The S version also doesn't have AI technology, facial recognition, or an auto-capture and record mode. This is why the Pro is significantly higher in price.
With AI technology, the Ebo Pro can analyze your cats' mood and behavior, allowing it to understand how best to interact with them. Over time, this feature will also allow the robot to have a full grasp of your cats' routines, playstyles, and personality. Additionally, the Pro's facial recognition technology allows you to capture your cats in the perfect light every single time.
Now, compared to other products, the Ebo series offers the most in terms of features. While Rocki has a feeder, it doesn't offer much in being autonomous or independent – much less the Wicked Ball.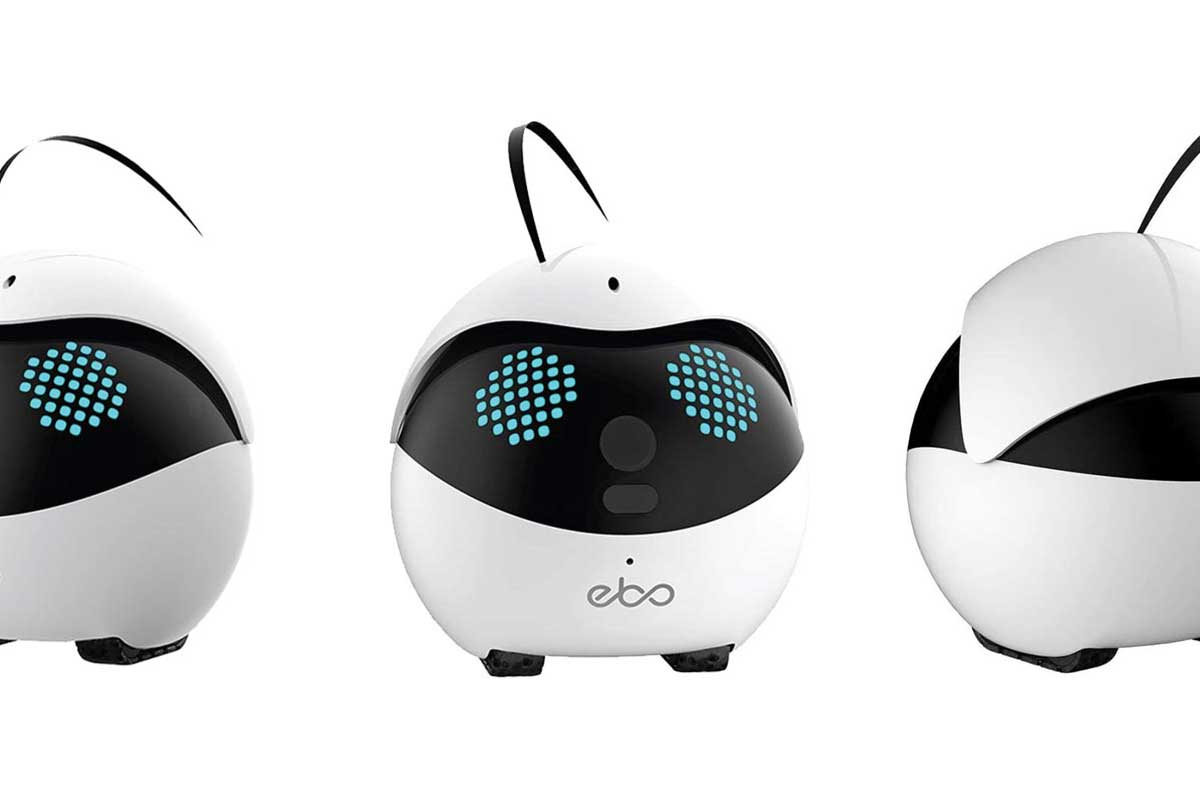 Design
If there's one thing we're crazy about the Ebo, it is its design. With its shape, little wheels, and changing eyes, this thing is adorable. If you're familiar with the Disney movie "Wall-E", Ebo looks like the severed head of EVE – which is a good thing. It's small, light, and ever so often says "Ebo!" in the most endearing way.
As if the whole robot isn't cute enough, you even have the option to add a feather on its head and dress it in different outfits. You can dress it up as Santa, a Reindeer, or have it wear a soldier or bamboo hat.
Final Thoughts
There are a lot of things to love about Ebo. Its movement, sounds, light, sensors, tech, and overall design just all work perfectly together. With everything it can do, your cats will certainly find it entertaining and interesting. And since it can avoid obstacles, charge on its own, and even wake up on its own, here's a toy you never have to lift a finger for.
[wd_hustle id="192″ type="embedded"/]
Overall, Ebo is a great way to monitor and keep your pets occupied when you are busy. It also allows you to play together, even from a distance. However, for its price, Ebo is a huge risk to take, especially since you won't know if your cat likes it or not. But if you don't mind the hefty price tag and enjoy splurging on your fur baby, then this is definitely one of the best smart toys for cats you can buy.
Last update on 2022-05-18 / Affiliate links / Images from Amazon Product Advertising API