Whilst the potential damage of blue light rays for our eyes is not exactly hot press, it's always a good idea to minimise your exposure. The Exyra glasses promise to do exactly just that. Available as both prescription and non-prescription lenses, Exyra's range of eyewear is specially designed to optimise vision when viewing digital screens. They also come with UV++ protection and assist with the reading of smaller scripts like website code. Although the true long-term repercussions of our obsessive technology consumption are yet to be seen, this Kickstarter funded company believe to have found a solution to reduce our risk.
But do Exyra glasses truly reduce eye strain and fatigue? Or are we looking at another product where science overpowers practicality? Find out all you need to know in this comprehensive buyer's guide and Exyra glasses review. When you're done, don't forget to let us know what your thoughts are on our exposure to blue light rays. Do you believe we're at huge risk?
Time short? – Click here to see our Exyra glasses review summary.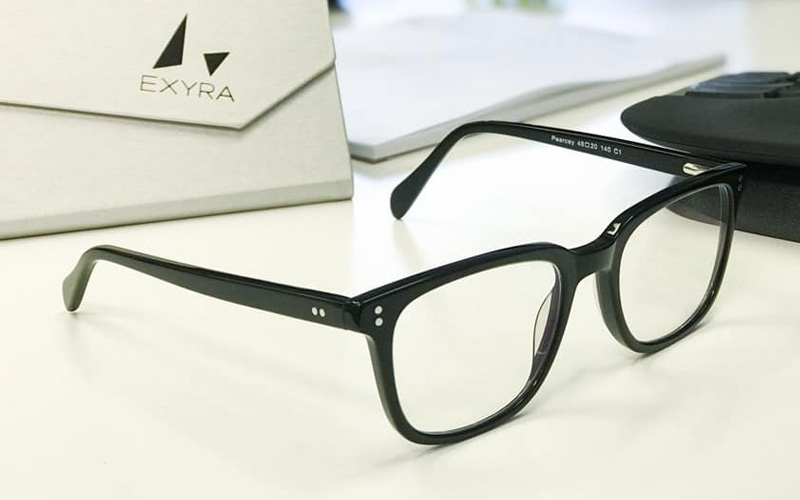 The Look Station:
Whilst feature-rich gadgets are what we really want, it's also important to feel comfortable and confident when wearing any glasses. Available in multiple and mostly gender-neutral styles, Exyra glasses are understated and modern. You are not going to stand out from a crowd whilst wearing a pair of Exyra's. However, you will most certainly find a pair that suits your facial type. From a sleek carbon black to a speckled red version for the wild side in you, there are currently 17 variations available. When you visit the official website, you will also find a 'fit guide' that explains how to match the frame shape to your facial structure.
Through testing, we trialled the non-prescription Kirra glasses and found them to be super comfortable throughout the day. Although our vast intelligence is quite clear, the professional style of the Kirra also managed to bolster our projected IQ by a few points too! The flexible hinges made for highly comfortable prolonged wearing and the handcrafted nature of the frames offer a stylish finish.
Exyra has clearly not tried too hard with a wildly crazy design which we really like. We see it too often where companies feel the need to be super bold to generate market penetration, however, the entire range is nothing but professional. Yes, it would be nice to see a hexagonal or square version of the glasses for the artsy people of Melbourne. However, you could always just grab a pair of Exyra sunglasses as well. These are much more playful in design than the non-prescription or prescription glasses.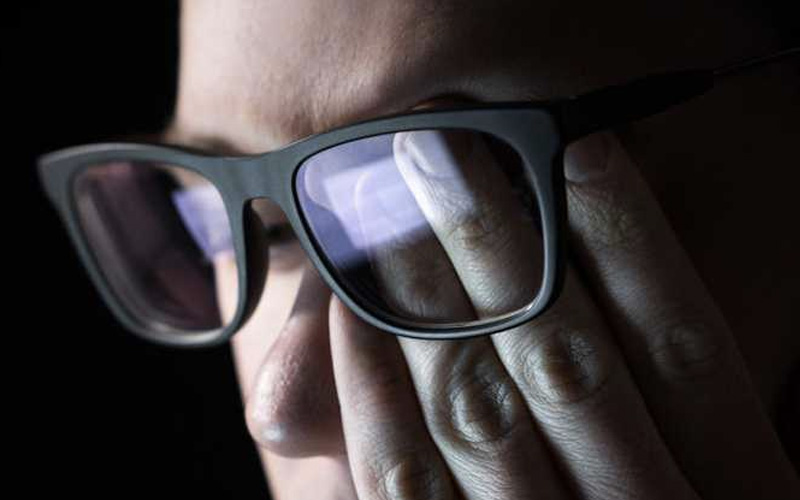 How Does Blue Light Damage Eyesight?
The damaging effects of blue light on our eyesight has been a hot topic for many months now. Whilst some scientific studies are convinced about the long term damage caused by extended exposure to high-energy blue light, other authorities such as Specsavers claim that our over-use of technology is just a drop in the ocean. That's when you compare it against what we get from nature. Either way, you'd best to be slightly cautious as our bodies were not designed for technology.
The claimed problems with too much blue light is that our eyes are terrible at blocking it out. In fact, almost all light passes right through to our retina and too much high-energy blue light can penetrate light-sensitive cells. So much so that it can cause vision problems like age-related macular degeneration. Or in laymans terms, blindness with age. Whilst blue light is a requirement for good health, certain symptoms from too much of this can include:
Eyestrain.
Retina Fatigue.
Dry & Sore Eyes.
Light Sensitivity.
Headaches.
Although still up for debate, humans are the masters of creation without true research. Therefore, it's probably best that you play it safe and limit your exposure to blue light from technology such as LED screens.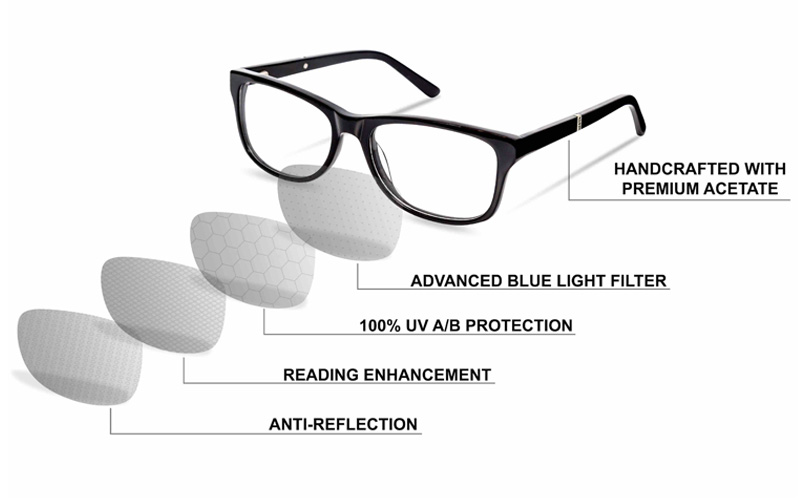 Exyra's Blue Light Blocking Technology
Now that you are aware of the potentially harmful consequences of extended exposure to blue rays, the value of the Exyra glasses really comes to light (haha dad joke!). As it's primary function, Exyra glasses promise to help shield your eyes from future damage. By absorbing and reflecting the high-energy blue light; allowing only healthier turquoise light through the lens, our risk of long-term sight damage is greatly reduced by wearing a pair blue blockers.
Typically, when looking at digital screens our blink rate drops which causes the majority of eye strain. This can lead to dry eyes, headaches and a wealth of other health impacts when staring for a prolonged period of time. Combine this with your new fear of long exposure to high-energy blue light and we potentially have a recipe for disaster.
Whilst not big sufferers of major blue light exposure symptoms ourselves, the reduced strain from prolonged computer use was definitely noticeable when wearing the glasses. As technophiles, the majority of the Mr Gadget crew spend around 15 hours a day in front of electronic devices. That's a considerable amount of screen time and no doubt we'll suffer for it later in one way or another.
However, when wearing the Exyra glasses we have to admit that our eyes felt less tired.  There wasn't too much heaviness at the end of the working day and overall we felt fresh. Of course, there is no such barometer just yet as to how much blue light you've saved each day, but as far as tangible metrics go, the overall feeling after using electronic devices was much improved.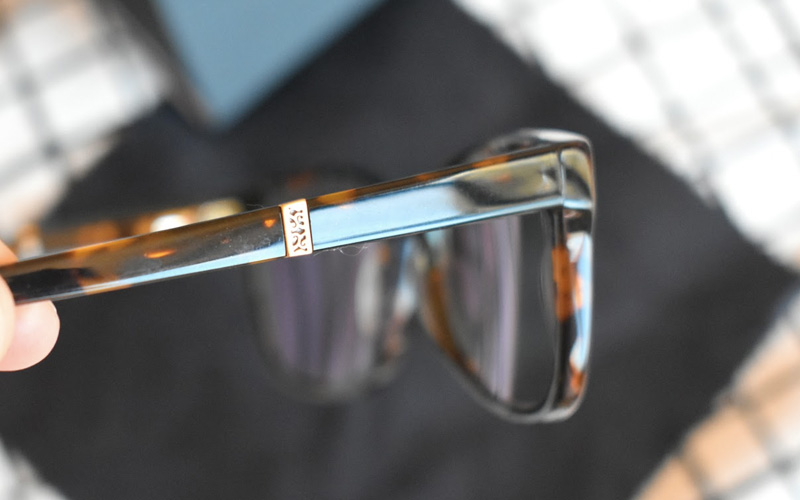 Additional UV++ Protection
A feature that often goes unspoken with Exyra eyewear is the UV++ protection. Whilst we don't expect you to always be on your laptop in the sunshine, you may not be aware that UV rays from older computers can also damage your eyes. That's right, just like the sun, our favourite typewriters of the past also emit radiation of severe consequence over time. Thankfully, the majority of these devices are now obsolete technology, but you can never be too sure when you're going to be exposed to a device that doesn't care too much about your well-being. By wearing the Exyra glasses, you can be confident in knowing that you're covered from all types of unnecessary light rays.
Exyra Glasses Inclusions & Specifications:
As you would expect with any modern pair of glasses, the Exyra glasses come with a stylish carry case and cleaning cloth. The packaging also includes a maintenance kit that will definitely come in handy if you are going to be wearing all of the time. We were big fans of the sleekness of the case as shown in some of the images throughout this post. Who doesn't like black and white as a colour combination after all!
Each pair of Exyra glasses comes with the following specifications:
60 Day Money Back Guaranteee
Advanced Blue Light Filter Technology
Premium Acetate Handcrafted Frames
Flex Hinges With Small Spring
100% UV Protection
Impact Resistant Lense Material
Anti-Scratch & Anti-Reflective Coating

Price & Value
When you think about how easy it is to spend hundreds of dollars on prescription glasses, the added technology makes Exyra's range a great investment. Available from $98 with the occasional sale, these blue light blocking glasses are fairly priced in our opinion. We always work out how many days we would use any purchase and divide this by the total price. If you were to use the Exyra glasses for 3 years, you're looking at roughly 10c per day. Not bad for potentially saving your eyesight!
In addition to this, whilst there are both cheaper and more expensive alternatives on the market, the tipping point for us was the confidence in knowing that Exyra is a blue light technology specialist. It really does outweigh the small amounts of dollars you could save on eBay. Exyra also gives $1 to charity every time somebody purchases directly from their online shop.
Now there's another reason to spend a little extra and go direct.

–
Exyra Glasses Review Summary
Overall, we're big fans of the Exyra glasses and you should seriously consider trying for 60 days risk-free. The Kirra model is certainly comfortable to wear and we like the understated nature. Whilst it did change the appearance of our screens slightly, we quickly got used to this and actually preferred the whiter look. We don't suffer all too much from headaches but the strain reduction was very noticeable. Our eyes certainly were nowhere near as heavy after our usual 15 hours in front of a computer.
Not forgetting that extra IQ bump!
Whilst impossible to factually state that blue light blocking glasses have great long-term sight benefits, it really doesn't hurt to play safe. After all, scientists haven't been researching the impacts of blue light for over 50 years for no reason!
–
Exyra Glasses Review
Aesthetics

Features

Total Value
Summary
Understated, comfortable and of clear value. The Exyra glasses are a great investment if you're not too hung up on brand names and want to look after your eyes long term. Overall, this is a must purchase for heavy screen users.
Pros
Comfortable & Affordable
UV++ Protection
Blue Light Blocking Technology
Reduced Eye Strain
Content Disclaimer: Our 'Exyra Glasses Review' is totally independent and has not been commissioned by the company in any capacity. Mr Gadget has not received any endorsements for this writing including financial reimbursement, free advertising or the product itself by way of gift. We hope you enjoyed!
–