Samsung Galaxy Fold is a revolutionary device that comes with the latest flexible display technology. Launched in September 2019, it is a unique phone with excellent features and fantastic software. The following article will look at Samsung Galaxy Fold specs in detail.
Display
Galaxy fold is designed with a flexible display that lets you experience a small screen and a large screen display. The small screen has a 4.6-inch display but can be folded out to a large screen with a 7.7-inch display. This revolutionary flexible display allows you to fold Galaxy Fold and fit it in your pocket easily and at the same time give you a large screen display that you can use to watch videos, play games, and surf the web.
The small screen is designed with super AMOLED technology, while the large screen is designed with dynamic AMOLED technology. The small screen has a resolution of 720×1680 pixels, while the large screen has a resolution of 1536×2152 pixels.
Design
Samsung Galaxy fold weighs 263 grams. It comes in various colors such as black, green, blue, and silver. Its body is made out of Aluminum alloy and glass. It is equipped with Knox protection and McAfee antivirus that offers your phone protection from viruses and malware for security features. It also has a secure folder that allows you to protect your private data by fingerprint scanning.
Camera
Samsung Galaxy Fold comes with six lenses on the cover and inside the device when you fold it out. On the front of the folded camera is a 10-megapixel camera with an 80-degree field of view. At the back, you find three camera lenses. There are two 12-megapixel lenses: a telephoto lens and the other a wide-angle lens with a 77-degree field of view.
The last camera lens at the back is a 16-megapixel ultra-wide-angle lens with a field of view of 123-degrees. When you fold out your Samsung Galaxy Fold phone, you will find the final two selfie cameras. The primary lens is a 10-megapixel lens, while the other one is an 8-megapixel lens.
Battery
The phone is designed with two batteries on each side of the phone. Samsung designed it this way since it could not come up with a folding battery. The batteries can last you a whole day of screen time. It comes with a 4380mAh battery for the LTE model and a 4235mAh battery for the 5G model. The phone supports wireless charging.
Processor
Samsung Galaxy Fold runs on a Snapdragon 855 processor with plenty of processing power enough to handle the unique design of Galaxy Fold. The RAM is 12GB enabling it to run multiple apps at once.
This large amount of RAM makes sense since the unfolded screen of Galaxy Fold allows you to use three applications at a go. It uses Android 9.0 Pie as its operating system. No need to worry about storage space since Galaxy Fold comes with 512GB of internal storage. It does not have a microSD card slot.
Network and Connectivity
Galaxy Fold is 5G enabled, allowing you to surf faster on the web. It supports Wi-Fi 802.11 a/b/g/n/ac/ax and Bluetooth 5.0 connectivity. It comes with GPS and USB Type-C 3.1. The Galaxy Fold LTE model supports one Nano-SIM and one eSIM, while the 5G model supports one Nano-SIM.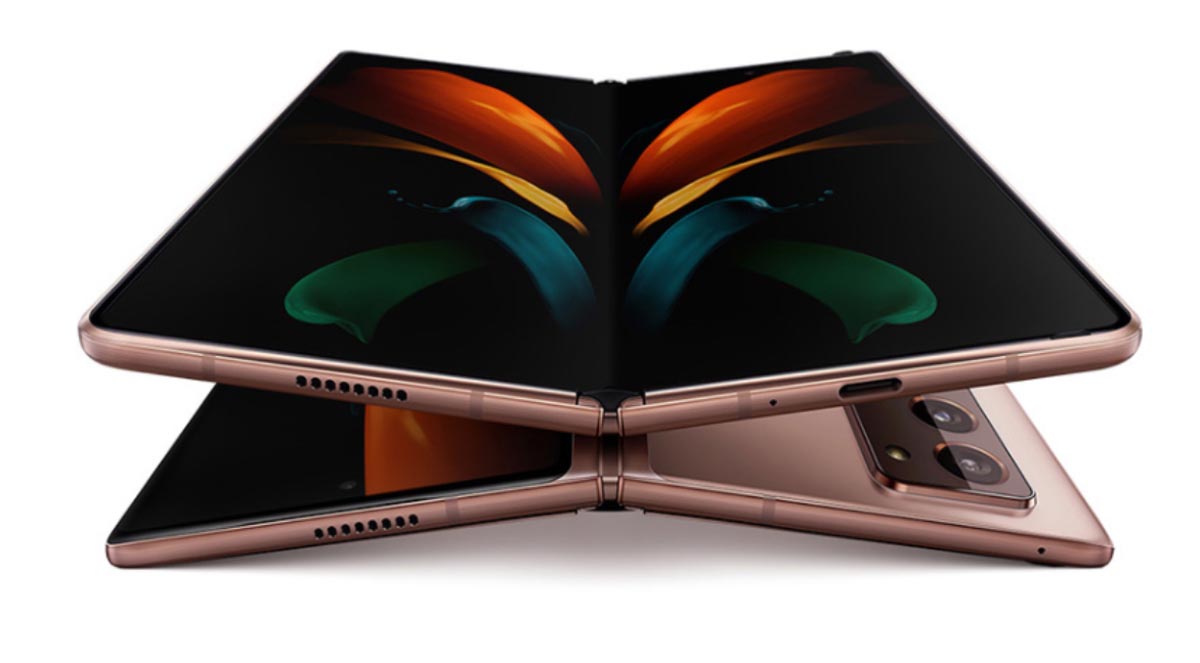 Multimedia
Galaxy Fold is designed with stereo speakers and comes with Galaxy buds. With the in-ear Galaxy Buds, you can change music playlists without looking at your device. The phone is also equipped with sensors such as a geomagnetic sensor, gyro sensor, barometer, hall sensor, proximity sensor, and accelerometer. You can also listen to local radio stations on the FM radio on this phone.