Here at MrGadget, powerbanks are one of our most reviewed devices. Just recently, we've had the chance to review the cyberpunk-inspired Storm 2, the 210W ZMI No. 20, and the collapsible and sterilizing iSmart Collapxi. And today, we'll do another one with this Flash Pro review.
Summary
With a huge battery capacity of 25000mAh, you can now charge all your devices with just one power bank. Providing up to 100W USB-C PD output with an additional 60W and 20W USB-C ports, you can use this power bank to charge a large laptop, smartphone, and maybe another laptop all at the same time at max speed. It also has a 50W USB-A port and wireless charger, making it the ultimate backup battery you'll need while on the road.
Pros
Fast recharge
Can support high-powered devices (laptops, MacBook, etc.)
OLED display
Separate wireless charger for Apple Watch
Flash Pro claims to be the "world's fastest power bank redesigned" with 25000mAh capacity and 190W total output. It is designed and created by Chargeasap, which is the same company that brought the Flash Powerbank – a product that received more than US$1,600,000 of funding on Indiegogo. So how is it different from the company's very successful power bank? More importantly, how does it compare with other top brands? Let's find out here.
Don't have time to read the whole thing? Just click on any of the links below to skip to that section:
Overview
Aside from a smartphone, people usually own a laptop, a smartwatch, earphones, and maybe an extra phone for work. On top of that, some also have cameras, GoPros, tablets and/or iPads, speakers, microphones, Nintendo Switches, and drones. Now, with that many gadgets and devices and with people always on the move, it's no wonder why there's a constant need for power – and why there's a huge demand for devices that can meet that need.
But the problem is, many of the powerbanks in the market are either underpowered or are not suitable for your other devices. So you end up carrying more than one power bank or just leave some of your gadgets at home. With the Flash Pro, however, you don't have to. Claiming to be the "Ultimate Powerbank", Chargeasap's newest offering is portable, fast, and built to last. Most importantly, it can provide power to ALL your devices.
In terms of price, the new Flash Pro is also surprisingly affordable. It's currently offered on Indiegogo for only US$149. This is cheaper than other powerbanks with almost the same battery capacity, including the Anker PowerCore+, ZMI No. 20, Hyperjuice USB-C Battery Pack, and Zendure SuperTank Pro. But it is still pricier than many of the powerbanks on the market like the RAVPower 26800mAh, Baseus 30000mAh, and the 26800mAh Portable Charger by Yacikos.
Unfortunately, if you don't catch its crowdfunding campaign on Indiegogo, the Flash Pro will be offered at US$299. At this price, it will be more expensive than any of the battery packs we've mentioned. It will also be at the same price as the company's previous power bank model – the Flash 2.0.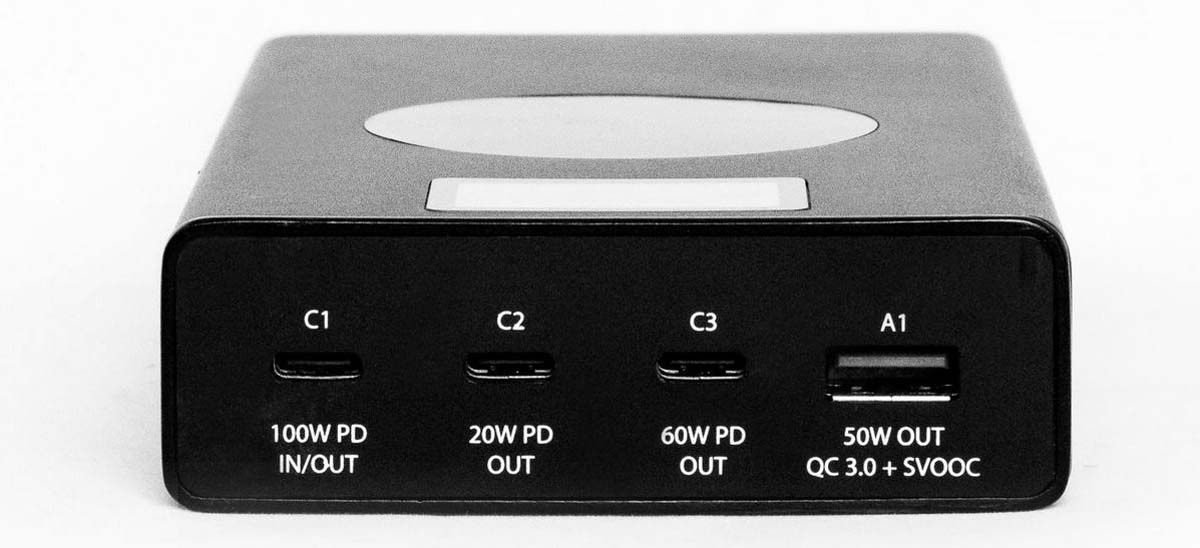 Features
Before we proceed, keep in mind that there are two versions of Chargeasap's new power bank: the Flash Pro and Flash Pro Plus. The Flash Pro Plus is designed for Apple users, and the Flash Pro is for Android.
OLED Display
Perhaps the first and most obvious upgrade with the Flash Pro line compared to the Flash 2.0 is its new OLED display. This allows you to accurately determine how much battery is remaining on your power bank. It will also provide you with details about the power output from each port (Watts and Amps) as well as the running temperature. With the new Flash Pro, you don't have to rely on small LED lights that kept changing as you check.
25000 mAh Battery Capacity
Another feature we like about the Flash Pro power bank line is its bigger battery capacity. From 20000mAh, the company increased it to 25000mAh whilst increasing its size by only 5%. With this bigger capacity, you'll have extra juice to power more devices without bringing in extra weight.
Magnetic Wireless Charger
Have a new phone that supports wireless charging? Then you'd love this power bank. The Flash Pro Plus, specifically, is capable of 15W magnetic wireless charging for Magsafe compatible devices. So if you have an iPhone 12 or the new iPhone 13, then you can just place it on top of the power bank, and it will immediately charge. Since it's magnetic, it will also keep your device in place. On top of that, the magnetic wireless charger can also support up to 10W wireless charging for other devices, including AirPods Pro.
Wireless Charging
For the Flash Pro Plus, there's a separate wireless charger for Apple watches with a charging speed of 5W. This is a big leap since the company's old model can only provide 2.5W. As with the Flash Pro, its wireless charger has been upgraded from 10W to 15W. So now, you can charge your mobile phones faster.
3 USB-C Ports
The Flash Pro and Flash Pro Plus can support not just 1 or 2 but 3 USB-C devices at the same time. One port can deliver 100W power delivery 3.0 while the two ports can reach 60W and 20W power outputs respectively. If you have a power-hungry laptop like a 15 or 16-inch MacBook Pro or Dell XPS, then here's a power bank that's worth investing in. With the extra ports, you can also use it to charge a smartphone and even a second laptop, maybe a MacBook 13" perhaps?
USB-A 50W Port
To support devices that use the latest proprietary fast charging tech, Flash Pro is also built with a powerful USB-A port that can provide up to 50W power output. This is another notable upgrade since the last model only had 22.5W output. That said, the Flash Pro and Flash Pro Plus now support Huawei (22.5W), Oppo (50W), Vivo (50W), and OnePlus (50W).
Fast Recharge
There's no point in buying a power bank with a huge battery capacity if it takes forever to charge. So when it comes to high-capacity powerbanks, make sure to look at the charging speed. You don't want to spend more time waiting for your backup battery to recharge itself than charging your devices, right?
With Flash Pro, you don't have to worry. Through its 100W USB-C PD 3.0 input and Panasonic graphene composite batteries, it only takes 1 hour and 10 minutes to fully charge. This is way faster than charging the Anker PowerCore+ 26800mAh, which takes more or less 3 and a half hours through the included wall charger.
Specs
Features
Flash Pro
Flash Pro Plus
Capacity
25000mAh / 92.5Wh
Maximum Power Output
185W
190W
Maximum Power Input
100W
Batteries
5 x 21700 Panasonic Lithium Polymer Graphene Composite Battery Cells
Battery Life Cycles
2,000
Battery Life
5 years
Time to 80% (20,000mAh) from Empty
45 min
Time to Full Charge from Empty
1 hour 10 min
DC/DC Input Efficiency
90%-95% (100W Input)
Output Efficiency
70% ± 5%
Discharge Rate
12mAh per day over 395 days
Device Operating Temperature
-20℃ to 60℃
Safety Protection
Over current / voltage / temperature, short circuit protection
Enclosure
Aircraft-grade aluminum and PVC
Dimensions (L x W x H)
15.85 x 8.7 x 2.85 cm (6.24 x 3.4 x 1.12 in)
Weight
572.5g (1.26lb)
583.5g (1.28lb)
Charging Capabilities

100W USB-C Power Delivery 3.0
60W USB-C Power Delivery 3.0
20W USB-C Power Delivery 3.0
50W USB-A
15W Wireless Charger

100W USB-C Power Delivery 3.0
60W USB-C Power Delivery 3.0
20W USB-C Power Delivery 3.0
50W USB-A
15W Magnetic Wireless Charger
5W Wireless Charger
With the Flash Pro Plus, you can charge 6 devices at the same time. You can plug in 3 devices through the USB-C PD ports and 1 device through USB-A. You can also charge your iPhone 12 or iPhone 13 through the magnetic wireless charger while at the same time charging your Apple Watch on the separate wireless charging pad. For the Flash Pro, however, you can only charge up to 5 devices at once.
But what's great about Flash Pro (both models) is that it can deliver 100W USB-C power delivery through a single port while most battery packs can only give up to 60W.
Design
The thing about high-capacity powerbanks (25000mAh+) is that they are bigger and heavier, which makes them a little less portable than your everyday powerbanks. So we were quite surprised to see the Flash Pro. Even with all the extra juice it carries, both powerbanks are still considered pocket-sized and portable.
The Flash Pro Plus weighs only 583.5g while the Flash Pro is at 572.5g. While this is still pretty heavy, it's lighter than some of the top high-capacity powerbanks around. For instance, the Hyperjuice USB-C Battery Pack weighs 661g, and the Anker PowerCore+ weighs around 1.6lb or 725.75g.
Now, compared to the previous model, the Flash Pro line has smoother edges. The power button is also sturdier and feels easier to press. More importantly, the glass wireless charging pad was removed. So now, it's more durable, and you don't have to be afraid about dropping it.
Final Thoughts
Just when we thought the Flash Powerbank couldn't get any better, Chargeasap surprises us with a more powerful and faster power bank lineup with its Flash Pro and Flash Pro Plus. With any one of them, you can charge your tablet or iPad, multiple phones, watch, and even your power-hungry laptop. And since it also works with any modern USB device, you can use it to charge your GoPro, speaker, headphones, microphone, camera, Nintendo Switch, and drones as well.
So if you're looking for a high-capacity power bank that's still portable, pocket-sized, within the allowable battery capacity in airplanes, and won't take forever to charge, then the Flash Pro is certainly a great choice. Just make sure to catch it on Indiegogo or it'll be one of the most expensive powerbanks you'll ever buy.