Tagged as the "most flexible track playset," the Flynova Trailblazer is a racetrack that's designed for both kids and adults. It promises endless creative stunts and tricks that a toy car can make, from doing 360° loops, racing sideways, or even running upside down. So you can get creative and crazy as much as you want. Pretty neat, right? Know more about this new track playset here.
Summary
Are you looking for gifts for kids? Or maybe you just like toys yourself? If so, then here's the perfect product for you. The Flynova Trailblazer is designed for kids and adults. It is a flexible, exciting, and fun track playset that allows you to create unlimited stunts and amazing racecourses. From building loop-the-loops to high slopes, and hanging them over your walls, this is a toy with no boundaries. You can even take your creativity to the next level and design a course that connects rooms, goes up through couches, runs through your backyard, and even conquer your roof.
Pros
Does not fall off track
Easy to assemble, connect, and detach
Powerful car
Safe for kids
Durable
Cons
Could have better car design
In a rush and can't read the whole thing? Just click on any of the links below to skip to that section.
Overview
Flynova is a toy company that brought the Flynova flying spinner, which raised more than US$566,000 on Indiegogo in 2019, and the Flynova Pro, which received a whopping US$1,297,084 in 2020 on the same platform. This year, it continues with its successful streak with the Flynova Trailblazer, which is already fully funded with almost US$70,000.
Now, with the many build-your-own race tracks on the market, why is the Flynova Trailblazer still a hit? Well, for one, it's not limited or fixed. There is no one way to create your track and your options are limitless. Unlike most race tracks, it just doesn't go round and round in 2D, the Flynova Trailblazer unlocks the 3rd dimension. You can make your car go sideways, upside down, and do loop-the-loops as much as you want. It all just depends on your imagination and creativity. Play anywhere, anytime, and in all three dimensions!
There are usually some great perks available when purchasing products during the crowdfunding stage and the Flynova Trailblazer is no different. There is a range of different pricing options with at least a 33% discount, making this affordable no matter the budget. Starting at just $39 USD for the Junior Race Track and topping out at $400 USD for. In fact, when you compare the price of this compared to traditional race tracks (that do a lot less), this is a no-brainer!
And just for Mr Gadget readers, there is a special "Secret" deal where you can snap up the Grand Prix kit for just $60 USD instead of the usual $80 USD, a whopping 53% off! If this isn't on the "Best Christmas Presents Under $100" lists – it should be!
Features
Endless Tricks & Stunts
What we really love about the Flynova Trailblazer is that it's endless. You and/or your child can create unlimited super courses and change them up at any time. Create insane corkscrews that send you giddy, loop-the-loops over the living room or even an intricate wall riding track that dodges all of the windows and artwork in your home! Whenever you think of a cool stunt, all you'll need to do is detach and adjust. There are also no rules so you can create your own design every time. You can even build a more challenging racecourse for greater thrills in the yard or the park!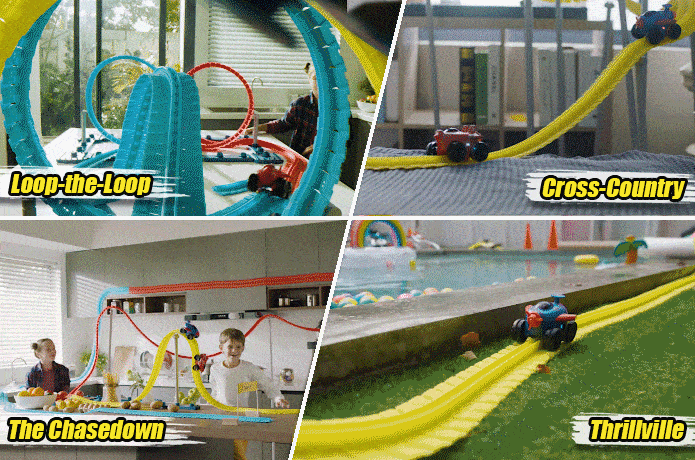 Truly, with this toy, the only limit is your imagination.
Powerful Car
While there are many race track toys, there's nothing quite like the Flynova Trailblazer. Made with the same technology as roller coasters, the cars that come with the Trailblazer can zip around tight corners and loop the loops without falling off the track. It can also go full throttle but still not fly off.
Flynova Trailblazer can race sideways or upside-down, just like spiderman. You can even use glue or nano tape to stick Trailblazer tracks to your cupboard, wall, door, or even your window, and watch in awe as your cars race sideways through your home. You don't even have to use a launcher, unlike with Hot Wheels. Plus, they glow in the dark!
Easy to Assemble
If you've tried playing the new and smaller Marble Run set with your child, you know how frustrating it is to keep rebuilding and assembling the course since it falls apart very easily. And since it's difficult to put together, it's a kind of toy that requires constant supervision and assistance from an adult.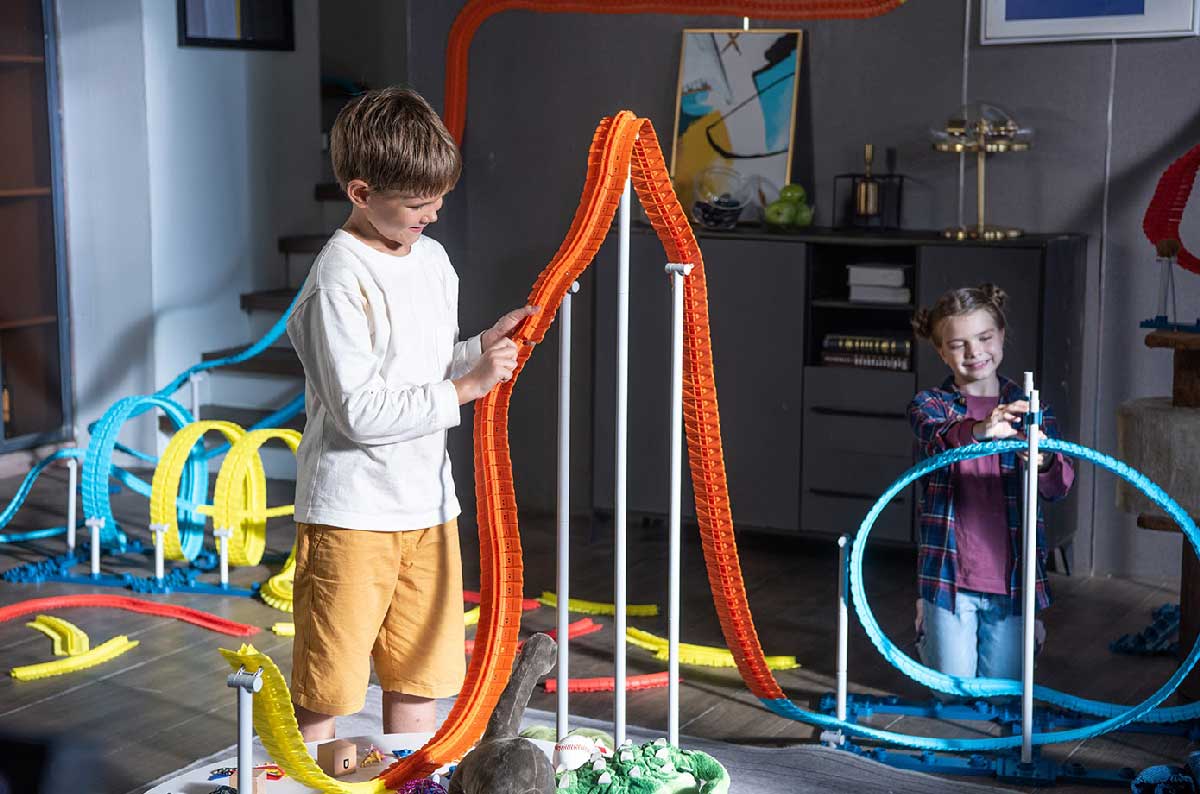 With the Flynova Trailblazer, however, this isn't a problem. It is incredibly easy to put together with every piece/track locking directly into each other. So there's no need for connectors, unlike Hot Wheels tracks. This also allows each part to securely stick with the other. Thus, you don't have to worry about the race track breaking apart. On top of that, it's also easy to pull apart. All these features make the Flynova Trailblazer truly kid-friendly.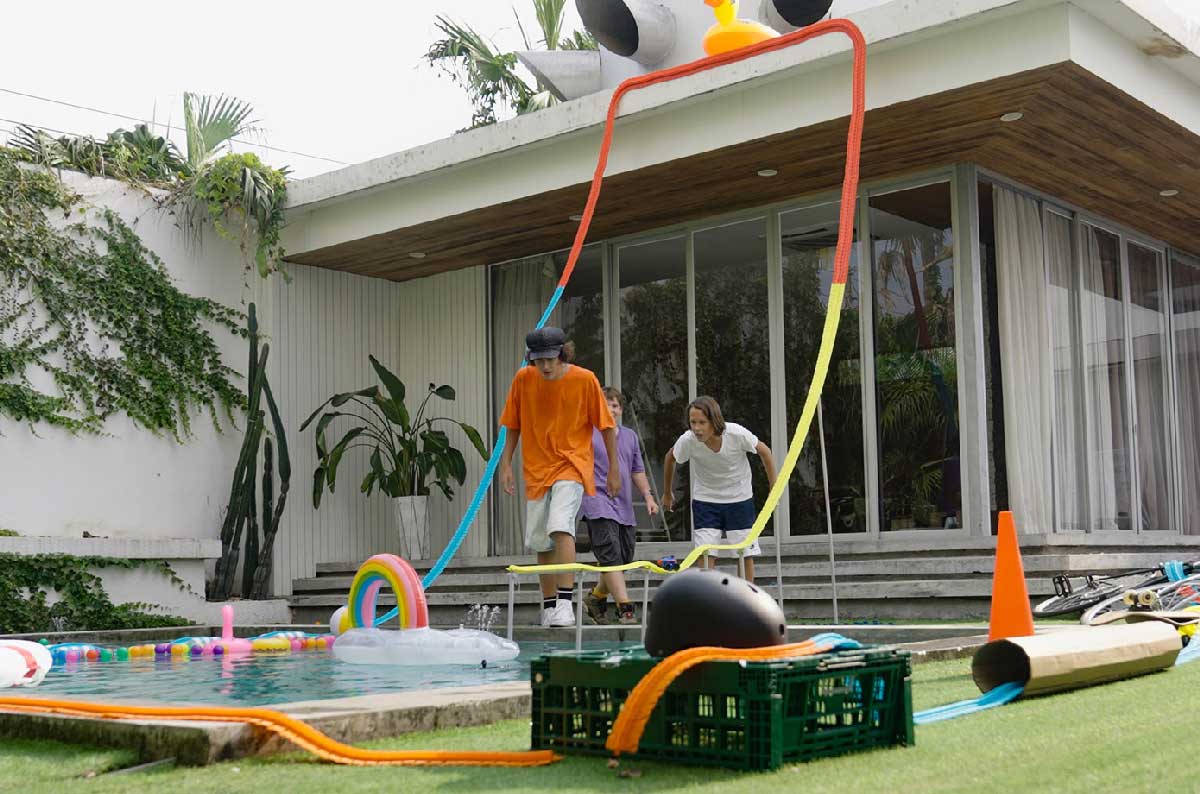 Specs
Track Piece Dimensions (L x W x H)
82mm x 44mm x 18mm
Race Car Dimensions (L x W x H)
215mm x 83mm x 71mm
Track Base Dimensions (L x W x H)

Square Base: 143mm x 143mm x 31mm
Rectangular Base: 280mm x 60mm x 31mm

Net Weight

Junior Race Pack: 1076g
Champion's Pack: 2027g
Grand Prix Pack: 2843g

Material
Polypropylene (PP) and Acrylonitrile Butadiene Styrene (ABS)
Track Colors
Race Car Colors
Battery Type
3 x AAA Battery (Not included)
Toy Safety Certifications

UKCA Marking (UK)
ST-2016 (Japan)
CE Mark (Europe)
EN62115 (Europe)
ASTM (USA)
As a parent, one of the most important features we look for in a toy is safety. First, there should be no small parts that can easily end up in a child's mouth. Secondly, sharp edges are definitely a no-no. We also check the materials and make sure they are not toxic.
If you also look at these things before buying anything for your kid, then you can rest easy with the Flynova Trailblazer. It complies with strict toy safety standards and regulations from the US, Europe, and dozens of other countries.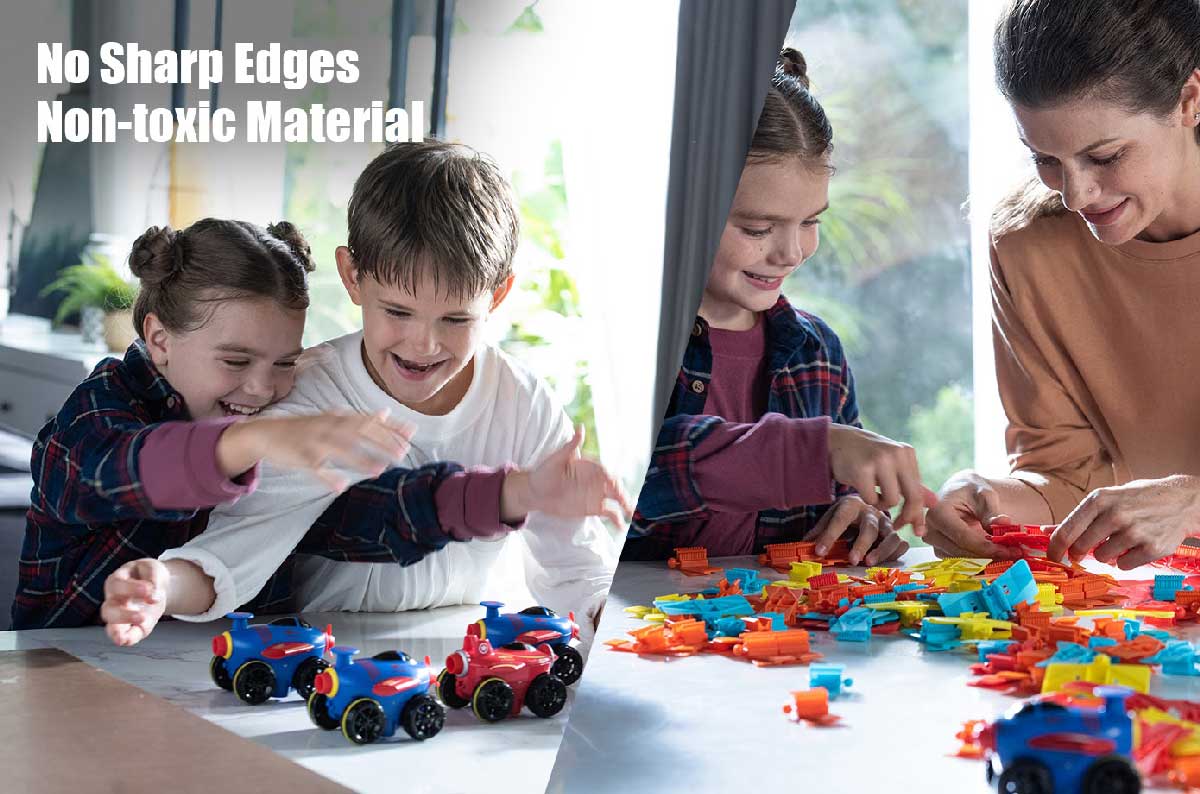 Design
In terms of design and aesthetics, the cars that come along with the Flynova – the Blue Voyager and Red Fury – are a bit bulkier compared to other racing cars. And technically, they're not even cars. They are planes with wings and propellers – but with big wheels.
Overall, the Trailblazer's "cars" don't look as good as the cars from Hot Wheels or Mickey and the Roadster Racers. But they are more solid and durable than many of the cars that come with other flexible race tracks, including the Dinosaur Track Toy from Wesprex and USA Toyz' Snap Trax Construction and Speedway Set.
Speaking of durability, kids are tough on their toys. They hit them, scratch them, and most times, drop them. Kids also tend to crash toy cars with other cars, a wall, or furniture. Sometimes, they also make them fly off the edge of a track. So you must choose toys that are tough enough to handle the abuse from kids – and the Flynova Trailblazer is one of them. Each car is built with soft crash buffer material at the front and back, which can protect the car and anything it hits.
Final Thoughts
The Flynova Trailblazer is an exciting, fun, and flexible race track set that promises diverse and unlimited stunts for your toy cars. Unlike traditional track playsets, it doesn't just stay stuck on the floor with the toy car going round and round in circles. With it, you can make a car climb sky-high mountain tracks, go upside-down, and run sideways through a wall, cupboard, or even windows. You can also make multiple loops and turn everyday items into obstacle courses then watch the Trailblazer car run through them all without a fuss.
Additionally, the Flynova Trailblazer is a lot of fun and it's unlike many children's toys, which can be downright frustrating to build.If you are looking for a toy that both kids and adults could enjoy this Christmas, then this is definitely a great choice to grab it with the limited offer up to 53% off and early shipping by Thanksgiving.