For years, we (along with so many people) have been hoping that Fossil, the flag carrier for Wear OS, ups their game and elevates the Android smartwatch market. For this reason, we were excited to write our Fossil Gen 5 smartwatch review. The previous iterations of the Fossil smartwatch were pretty good but fell short in certain areas. Has the 5th Generation Fossil smartwatch made a noticeable jump in quality – short answer, yes!
CHECK TODAY'S PRICE HERE: See at Amazon
–
Fossil Gen 5 Smartwatch Review
Aesthetics

Features

Total Value
Fossil Gen 5 Smartwatch Review
Overall the Fossil 5th Gen is worth considering if you're in the Android ecosystem and want to purchase a smartwatch. It's not nearly as good as Apple's smartwatch and is still pretty pricey all things considered. It does look great, but there are cheaper alternatives worth considering.
Pros
Stylish
Heart rate monitor
 Well-built
 Performance upgrade
Built-in speakers
Cons
Wear-OS is still limited
Basic fitness features
Confusing battery indicators
Not well-suited to small wrists
The Fossil Gen 5 smartwatch has solved many of the issues we saw with previous years' devices. This latest offering from Fossil offers added functionality as well as smoother performance. However, it remains to be the fashionable choice for Android users.
Let's look closer to what this watch can and cannot give you through this extensive review of the Fossil gen 5 smartwatch. And maybe you can decide whether or not you should buy one.  If you're short on time, click here to view our Fossil Gen 5 Smartwatch review summary.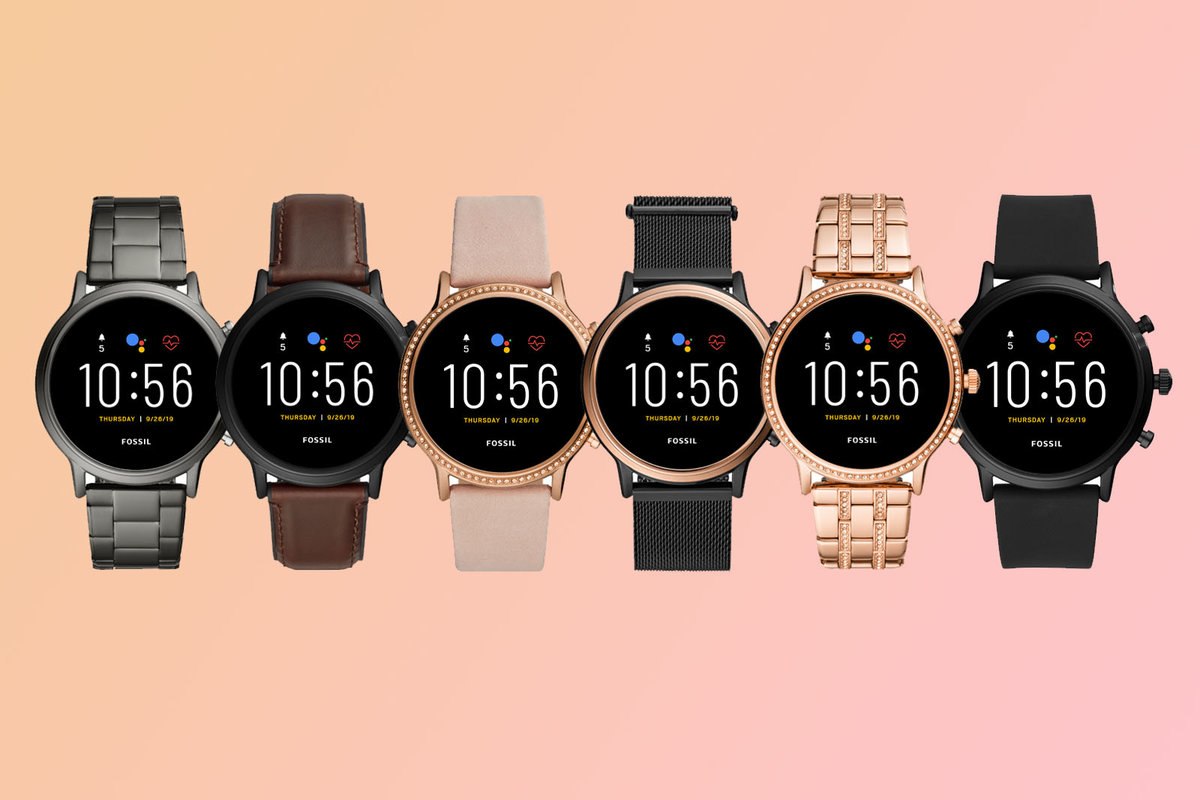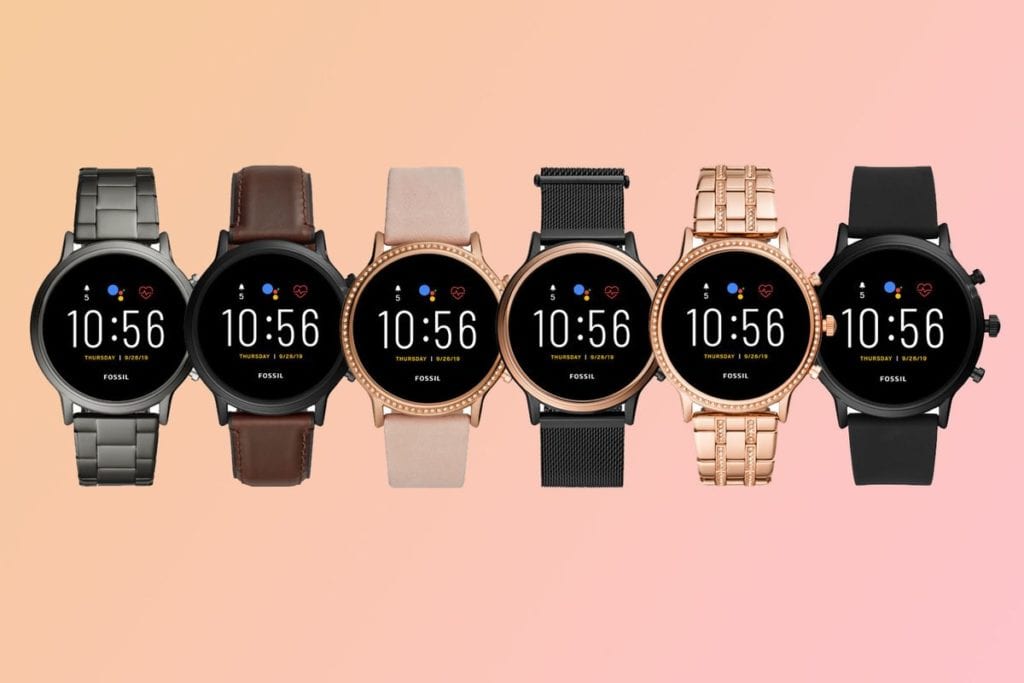 The Fossil Gen 5 Look: Sleek and Sharp
Fossil Gen 5 styles are versatile, stylish, and have well-made stainless-steel casing. Either the Carlyle watch or the Julianna watch can make as a great daily watch.
The Fossil smartwatch Gen 5is available in two versions: the Carlyle smartwatch and Julianna smartwatch. The Carlyle watch has a more masculine style and the Julianna model takes more of a feminine approach. They both have the same size and features. The only difference is with their appearance.
Overall, the Fossil Gen 5 looks like your typical OS smartwatch. It has a round OLED screen and a slightly large bezel. Similar to other Fossil generations, the Gen 5 has a big and bright 1.28-inch AMOLED display and a sharp 328ppi pixel density. While it comes in a variety of styles, every gen 5 has 44mm cases and three buttons that stick out of the right side of the watch.
The two Gen 5 models are available in metal and leather straps which you can use interchangeably. If you have any 22mm straps lying around, you can use that too. But we already love the black silicone straps it goes with. In terms of colour, Julianna models are available in pink and soft rose gold while Carlyle watches are available in smokey stainless steel and black. 
If there's anything Fossil is good at, it's in making stylish watches. Gen 5 is a great everyday accessory that's perfect for your gym clothes as well as your suit and tie. The only downside? If you have relatively small wrists, this watch could dominate you.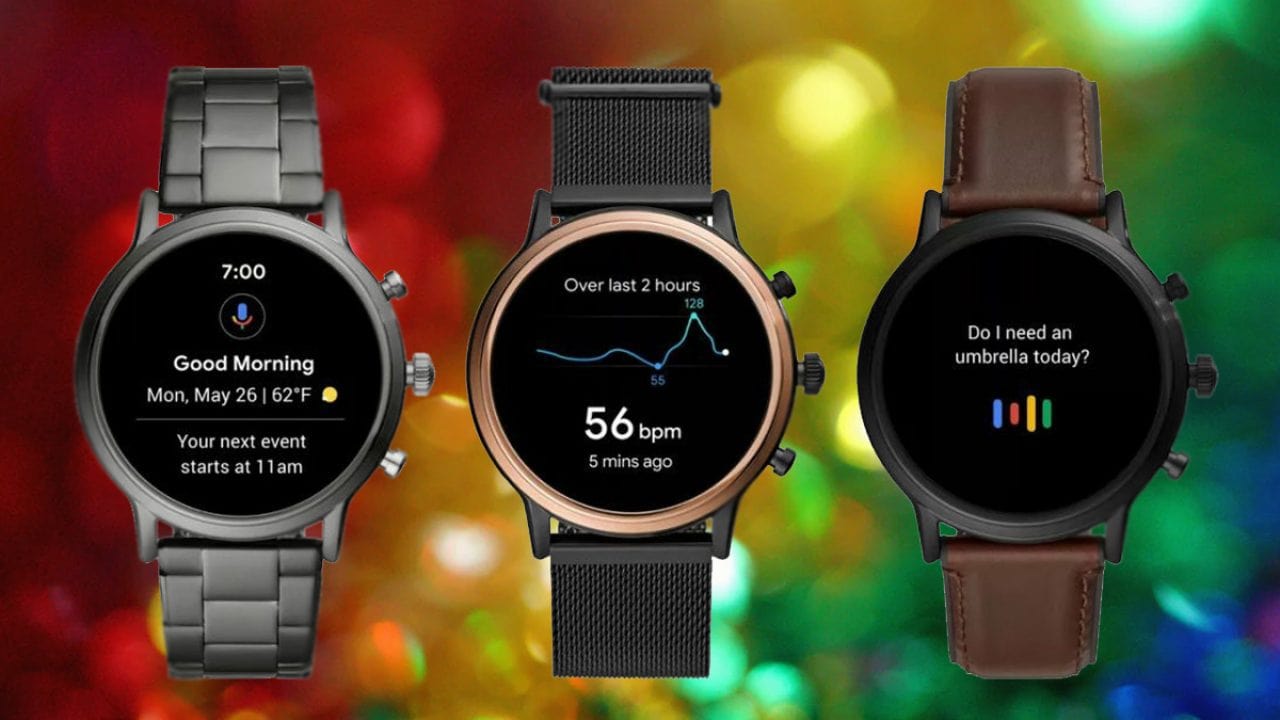 Features: Can Do Much Better
In terms of applications, the Fossil watch Gen 5 covered all the basics. It has an alarm clock, weather app, stopwatch, agenda, built-in GPS, and Google Pay. All these features work well except for the alarm clock which has some minor issues. We've noticed some persistent glitches that force you to find the alarm clock app just to turn it off when it wakes you up. 
This smartwatch also offers a few features that fitness enthusiasts would like. It has a 3ATM water-resistant rating, meaning you can use it for swimming but not diving. There's an accelerometer, altimeter, and a built-in gyroscope as well. Then, of course, Google Fit which does a decent job of tracking your fitness. It has an optical heart rate sensor and it can log your exercise data. 
However, don't expect too much here. The Gen 5 doesn't have the same complete health suite that other smartwatches offer. But if you're not too concerned about tracking your sleep, accurately counting your reps, or tracking specific exercises, then the Fossil Gen 5 can work just fine for you.
There's also Google Assistant. Which can read, translate and dictate foreign text, set reminders, and answer your questions. However, this works a little slow for our taste. Furthermore, this watch has a speaker. It works along with the Google Assistant and it can respond verbally to your queries. Plus, it's great for answering calls just as long as it's connected to your phone. Just take note that this speaker isn't made for playing music. 
Specifications: A Nice Upgrade
What makes the Gen 5 different from other Wear OS watches is in its internal specs. Usually, Wear OS watches have a RAM of 512 MB but the Fossil Gen 5 has 1 GB. Furthermore, this watch has a newer Snapdragon 3100 processor. Thus, it is more responsive and applications now load in a reasonable amount of time. Now, it's not just fast enough but extremely fast.
Full Spec List:
| | |
| --- | --- |
| Screen: | |
| Case size: | 44mm |
| Case thickness: | 12mm |
| Band size: | standard 22mm |
| Processor: | Qualcomm Snapdragon Wear 3100 |
| RAM: | 1GB |
| Storage: | 8GB |
| Operating system: | Wear OS |
| Water resistance: | |
| Sensors: | altimeter, ambient light, gyroscope, heart rate, microphone, speaker NFC, GPS |
| Connectivity: | |
Fossil Gen 5 Battery Improvements
Finally, when it comes to battery life, this smartwatch is decent at best. You can use it throughout the day and it charges faster compared to previous generations. Fossil hasn't actually updated the battery, but they have introduced software solutions to extend the battery life further. There are four custom battery modes as well that can help this device last longer.
To access the four custom battery modes use the battery shortcut from the swipe-down home screen menu. There it will provide you with each of the four battery modes:
Daily
Extended
Time-only
Custom
These modes pull different amounts of power from the battery by activating and de-activating different features. Honestly, it's nice to have this flexibility and I don't want to sound ungrateful, but it would be much better to just use a bigger battery. Other smartwatches have a far superior battery life, and it's simply down to the battery's capacity.
To get more out of your device's battery, check out this guide.
The Three Buttons
Unlike the majority of smartwatches, this device has three hardware buttons that help control the device. This is unusual as most manufacturers prefer to keep the inputs focused on the touch screen.
Here are the uses for each button:
Top Button:

This serves as a shortcut to preset the watch faces you have customized. Thus, changing your watch's look is simple and easy. When double-clicked, you can open up Google Pay. 

Middle Button:

This is the home button which when pressed, will lead you to your app list. This also serves as a rotatable crown for scrolling through lists. 

Bottom Button:

This button is set to Google Fit which you can also access through swiping right on the screen. We consider this a waste since there could be more sensible use for the button. For example, music controls? Thankfully, you can configure the top and the bottom buttons and launch any app of your choice. 
Price & Value
You can check the price of the Gen 5 Fossil Smartwatch below. It's certainly not budget, but no good smartwatches are.  But if you're looking for a fashionable smartwatch that isn't Apple or Samsung, this is your next best choice. 
Price reduction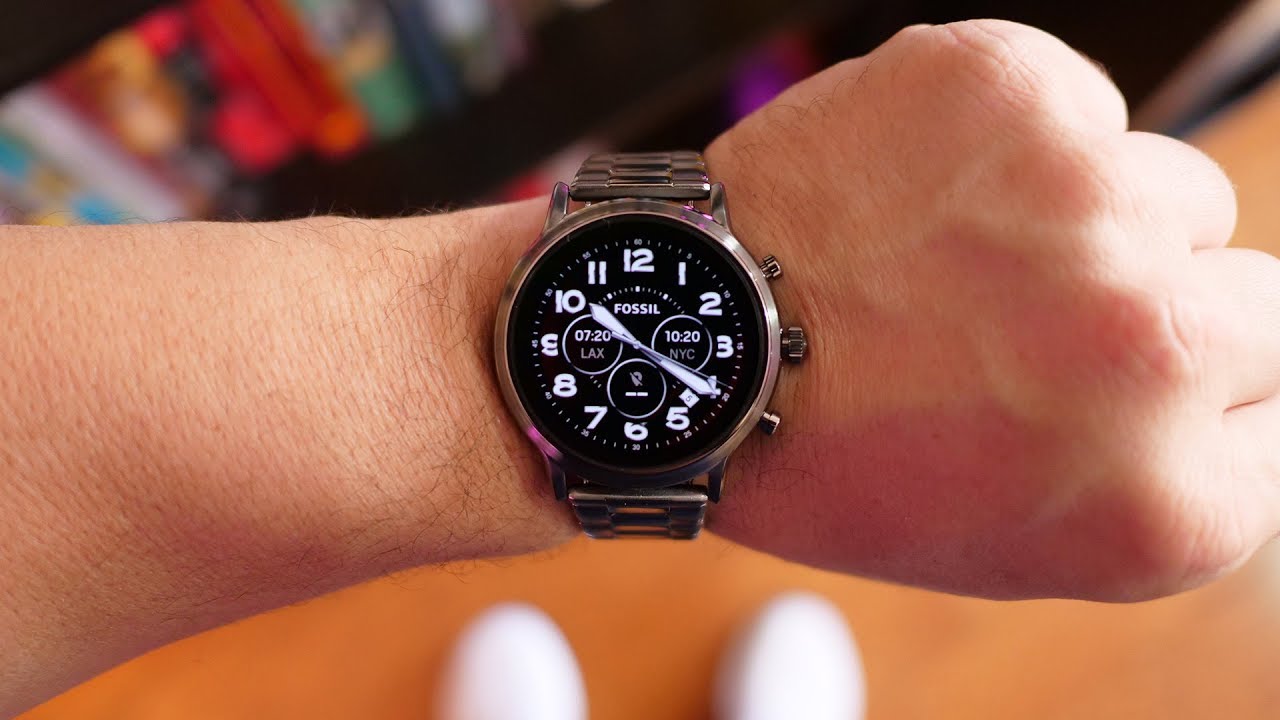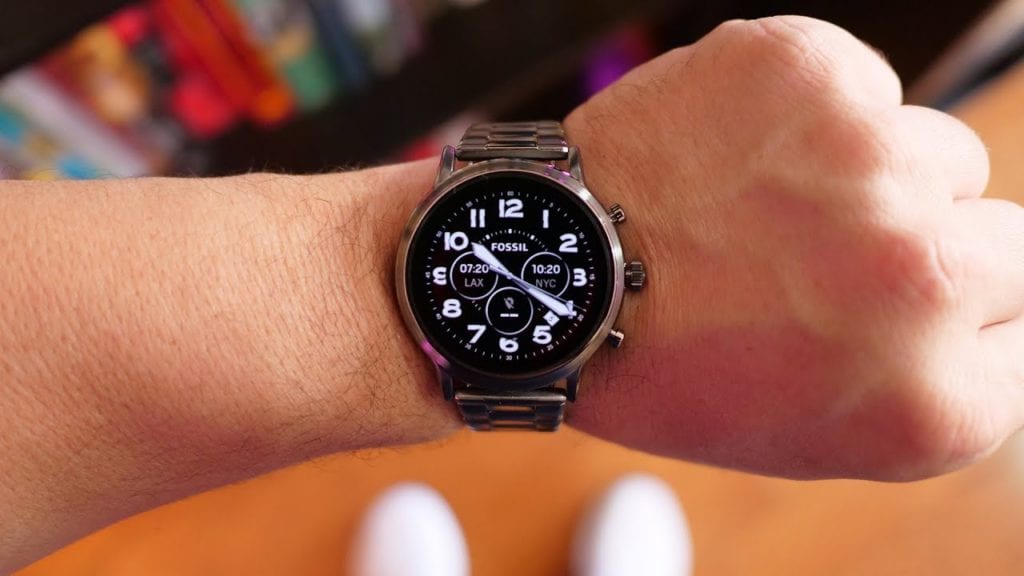 Fossil Gen 5 Smartwatch Review Summary
Overall, the Fossil smartwatch gen 5 looks good, can be used throughout the day, and is no doubt much better than previous Fossil watches. However, while improved, we strongly believe that Wear OS can still be better especially with its hefty price tag
Fossil Gen 5 Smartwatch FAQs
Yes, the Fossile Gen 5 is absolutely worth it. It is probably the first Wear OS watch that actually looks great and has excellent features.
Last update on 2022-05-15 / Affiliate links / Images from Amazon Product Advertising API
The Gen 5 offers better battery life, a speaker,  8GB of storage and brilliant software updates with Wear OS.
Last update on 2022-05-15 / Affiliate links / Images from Amazon Product Advertising API
Yes, the Fossil Gen 5 can answer calls using the built-in microphone and speaker. You must be connected to your phone through Bluetooth.
Last update on 2022-05-15 / Affiliate links / Images from Amazon Product Advertising API
Content Disclaimer: Our 'Fossil Gen 5 Smartwatch Review' is totally independent and has not been commissioned by the company in any capacity. Mr Gadget has not received any endorsements for this writing including financial reimbursement, free advertising or the Fossil Gen 5 Smartwatch by way of gift. If you purchase this item via an affiliate link on our website, we may receive a small commission from the seller. We hope you enjoyed!
Last update on 2022-05-15 / Affiliate links / Images from Amazon Product Advertising API