According to a recent publication on Mippin, the Garmin Forerunner 920XT is considered the best triathlon watch available in 2020. So, as we do with many performance-enhancing gadgets, we decided to put it through its paces (pun intended).
Whilst not always cheap, fitness tracking technology exists to rebuild and assist our understanding of training capacity. Ranging from as little as $30 to $700 the performance capabilities are also a steep curve. On the upper-scale of currently available fitness watches, the Garmin Forerunner 920XT is positioned for the more serious triathlete. Imagine having the best performance coach everywhere you go and you've got the 920XT.
CHECK TODAY'S PRICE HERE: See at Amazon
Garmin Forerunner 920XT Review
Look Station

Features

Total Value
Garmin Forerunner 920XT Review
Despite being 6 years old, the Garmin Forerunner 920XT is a triathletes best friend. It's featherweight and feature-rich nature provides the perfect balance of metrics and trackability that you could ever want from a fitness tracker.
Pros
No Touchscreen.
Perfect Feature Balance.
Cadence & Swim Compatible.
Featherweight Nature.
Cons
Short Battery Life.
Glitchy Auto Upload Feature.
But for all it's glory, will the Garmin Forerunner 920XT multisport fitness tracker take you to triathlon heaven? Or does the hefty price tag take this beyond offering enough value for money? Find out in our comprehensive Garmin Forerunner 920XT review below.
No Time? – Click here to skip our Garmin Forerunner 920XT review summary.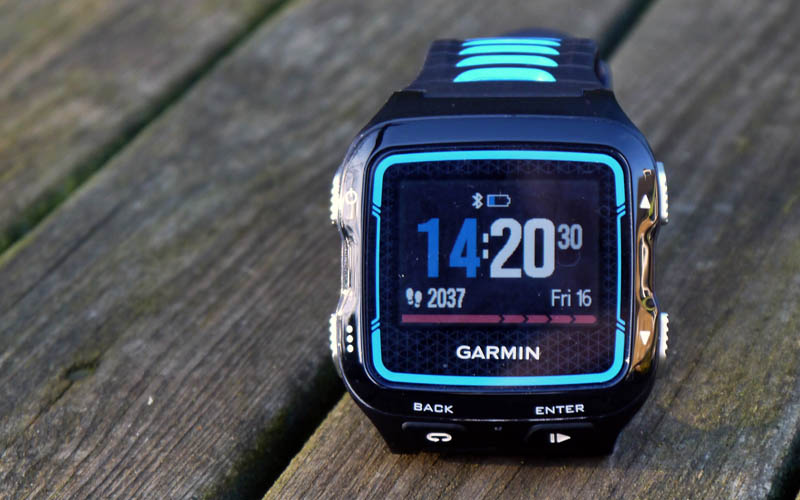 Garmin Forerunner 920XT Design:
We've seen a lot of comments stating that the Garmin Forerunner 920XT is uncomfortably large. As far as size goes for fitness watches, we actually see this as a positive. For starters, when exercising, you want the ability to quickly glance at you watch.
The bigger facade of the 920XT allows you to do this in all weather conditions. But more importantly, the non-touchscreen nature of the 920XT eradicates any problems with fiddly features. Unlike smaller fitness watches, the Garmin Forerunner 920XT has big, easy to hit buttons on the front and side. So whilst the watch is bigger, the use-ability is improved ten-fold.
As for the aesthetics, you won't receive anything nearly as funky as Garmin's Vivofit Jr 2 series. However, the Forerunner 920XT is aesthetically pleasing nonetheless. For the vanity trainer, you could always bootstrap funky Garmin accessory bands from Amazon.
Otherwise, the professional nature of the Garmin Forerunner 920XT is what makes this fitness tracker so great. One look at the watch and you will immediately identify as someone who is serious about personal fitness.
A sample of currently available accessories of the Garmin 920XT include:
Garmin Forerunner 920XT (White/Red)
Overall, the Garmin Forerunner 920XT has been designed as an epitome of function over form. Whilst we have only had our own for a few months now, there are plenty of comments from serious triathletes making good use of this multi-sport fitness watch for over 4 years. There isn't anything nicer than knowing your expensive gadget purchase is going to go the distance and this is a huge win for Garmin.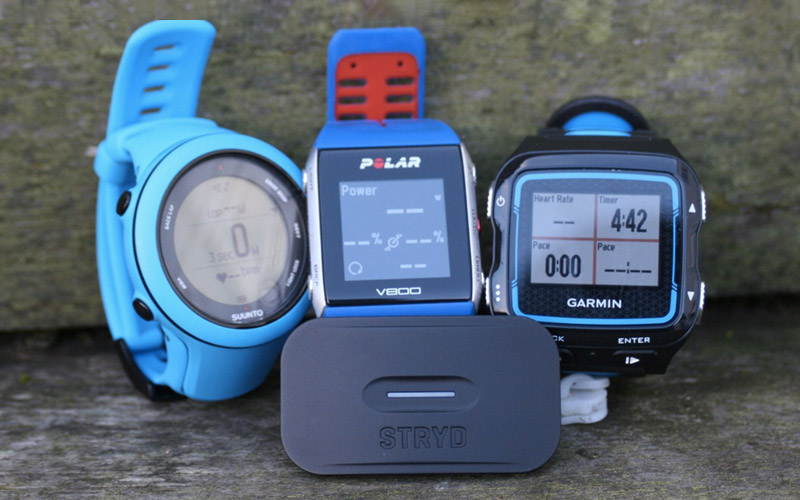 Garmin 920XT Features:
To obtain the maximum capabilities of the Garmin Forerunner 920XT, we strongly recommend that you purchase a bundle strap. Bundle straps deliver data specifically for your training discipline and there is a suitable match for everyone. Available for running, swimming or monster triathlons, practically everything you need can be found on your wrist. Combine the huge of 'out-of-the-box' features alongside a bundle strap and you have one of the best multi-sport fitness watches available.
Take a look at the full feature list by sport discipline below.
General Features:
Flexible, hinged band for added comfort.
A high resolution colour screen display.
Auto pause, auto scroll, auto lap and alerts system.
Limited navigation and routing capabilities.
Phone notifications for text, emails and alerts.
Live tracking which lets people follow your races in real time.
Activity and sleep tracking for steps and calories.
Move vibration alerts to keep you active.
Automatic uploads to Garmin Connect.
Instant sharing with friends via Garmin Connect.
WiFi connectivity to up to 7 networks.
VIRB Control to record and relive achievements.
Up to 40 hours battery in UltraTrac mode.
Up to 24 hours battery in training mode.


–
Key Running Features:
Purchasable separately, the HRM-Run strap delivers advanced running dynamics including cadence, vertical oscillation and ground contact time. Out of the box, the Garmin 920XT also offers the following metrics and features.
Speed, distance, accurate route and pace measurements.
Metronome alerts for specific running cadence.
Run/Walk mode to create customised periods.
Tracked recovery metrics to monitor recovery time.
VO2Max calculations for gender/age race predictions.


–
Key Swimming Features:
The HRM-Swim bundle tracks heart rate plus interval summaries in the pool or open water (both fresh and saltwater). By pairing with the HRM-Tri or HRM-Swim, you can also capture heart rate data underwater. As a comfortable, no-slip strap, the product provides 20 hours of heart rate data and stays right in place; even as you push off the out of water.
Out of the box features specifically for swimming include:
Open water and pool swim modes.
Pace, distance, stroke type, count and SWOLF measuring.
Advanced stroke rate, calories and pace alerts.
Waterproof up to 50m.
Log drills and kick sets.
Rest timers and advisory.–
–
Key Cycling Features:
When paired with an appropriate sensor, the Garmin Forerunner 920XT measures speed and distance, as well as power and cadence. Compatible sensors include speed, heart rate, ANT+ power meter and cadence measurements. Out of the box, the Garmin Forerunner 920XT delivers the following features specifically for cycling:
Speed and distance measurements.
Indoor cycling mode.
Accurate descent, accent and gradient data.
VO2Max heart rate and power meter measurements.


–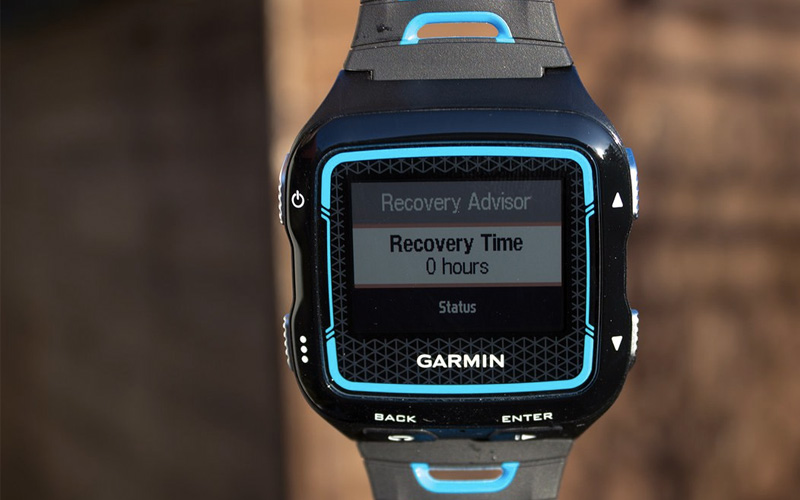 The Best Features:
Surprisingly, one of the best features of the Garmin 920XT is it's featherweight nature. You would expect that a watch with all of this capability would be heavy. However, it's surprisingly light. Weighing 32% lighter and 25% thinner than 910X, the Garmin 920XT is power-packed; without the strain. Unlike other fitness trackers, the recording of swimming data that helps improve distance, stroke count, stroke rate and overall pace is also a huge win. This is backed up by a higher resolution colour screen to display pertinent metrics, whilst you transition between sport modes.
Honestly, the watch itself without a compatible bundle strap is awesome. But we seriously recommend that you spend a little extra and completely max out the 920XT's capabilities. All HRM straps included with add-on bundles all feature soft-to-the-skin edges and covered seams for the ultimate comfort, both in and out of water.
Other awesome Garmin 920XT fitness tracker features include:
No Touchscreen – (Hurray!!)
HRM-Run heart rate monitor.
Excellent running dynamics.
Recording of speed and distance.
An advanced race predictor.
Like most quality fitness trackers, the Garmin 920XT Forerunner connects directly with a compatible app to save and record data. This is something that you definitely want to take into consideration if you are serious about training. The Garmin Connect App also happens to be one of the best in the market. Can you see a growing trend here?
–
The Worst Features:
We really struggled to find absolute terrible features with the Forerunner 920XT. Despite this gadget being nearly 6 years old, it absolutely smashes even some of the newest fitness smartwatches available. If we were to be really selective, the 1-day battery life in training mode was a let down when on the move. However, for triathletes, this shouldn't be a problem. Who does back to back triathletes amongst travelling anyways!
Another absolute nitpick would be the square design of the Forerunner 920XT. Modern day gadgets make use of smooth aesthetics and the Forerunners Casio watch vibe may not be for everybody. Again, we're really splitting hairs.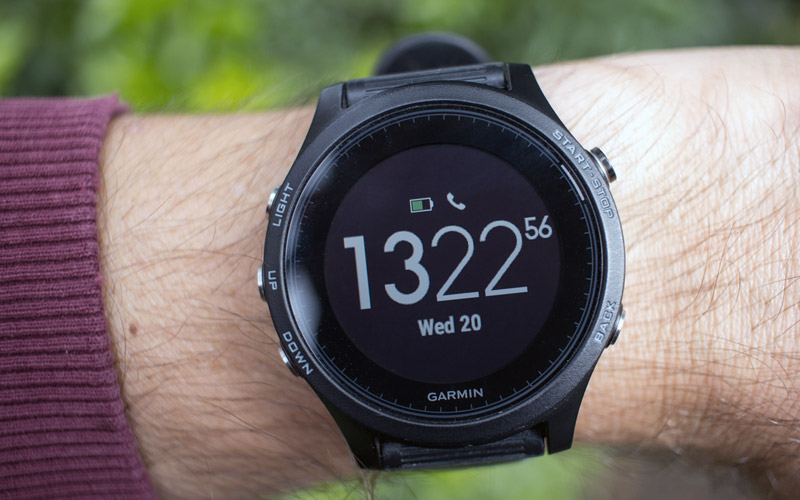 Garmin Forerunner 920XT vs Forerunner 935
Like most, you may be tempted to purchase the Garmin Forerunner 935. Whilst technically an upgrade, we honestly cannot think of any crucial training functionality that the 935 reigns superior over the 920XT. Okay, the circular shape of the 935 outperforms the squareness of the 920XT. But we're talking about specifications here and that's all that really matters. Other small upgrades with the Forerunner 935 include:
Better Battery Life.
24/7 Heart Rate Monitoring.
Varia Radar & Varia Vision Support.
Improved GUI.
Improved Powermeter Support.
Bluetooth Sensor Support.
The 24/7 heart rate monitor may provide you with a greater sense of training status. However, that would only really apply to absolute professionals. For those of you training for longer, the battery life of the Garmin 935 does outperform the 920XT which is ultimately a biggest consideration here in our opinion. Overall, it's an extremely close race and the cheaper 920XT wins by a photo finish.
–
Garmin 920XT Smartwatch Price:
Currently, the Garmin Forerunner 920XT is available online from $500 with add-on bundle straps from $120. With the upgraded Garmin 935 typically priced at $690 out the box, you can see why we chose the 920XT as the overall winner when you combine the features.
For the more casual triathlete, you may find the feature stack slightly overburdening. We would recommend in this instance that you really assess whether you are going to get the maximum value from the Garmin 920XT. As for the aspiring Michellie Jones of the triathlon world, it doesn't get much better than this.  
–
Garmin Forerunner 920XT Review Summary:
So, the question remains. Is the Garmin Forerunner 920XT a triathletes best friend? In short, it's a hell yeah from Mr Gadget. For a fitness tracker that is nearly 6 years old, the Forerunner 920XT is leaps and bounds above more recent models from competitors. From it's durability to delivering fitness data above and beyond anything that's reasonably manageable by the non-professional triathlete, the Garmin 920XT is a quality purchase.
When you get through an entire review and one of your biggest flaws with a product is that it could have smoother edges, you know you're onto a winner. If you are just starting out, you should still go for an entry-level fitness tracker to not waste any money. This gadget truly is the for the serious outdoor athlete.
Garmin Forerunner 920xt FAQs
The Garmin Forerunner 920xt was release 2014-10-01.
Last update on 2022-05-15 / Affiliate links / Images from Amazon Product Advertising API
Yes, the Garmin Forerunner 920xt has a heart rate sensor to measure your heart rate.
Last update on 2022-05-15 / Affiliate links / Images from Amazon Product Advertising API
Follow the instructions on this link: https://www8.garmin.com/support/download_details.jsp?id=7627
Last update on 2022-05-15 / Affiliate links / Images from Amazon Product Advertising API
Yes, the Garmin Forerunner 920xt uses Bluetooth to connect to your smartphone or other capable devices.
Last update on 2022-05-15 / Affiliate links / Images from Amazon Product Advertising API
Full Spec List
General
ENS MATERIAL

chemically strengthened glass

STRAP MATERIAL
TPU
PHYSICAL SIZE
COLOR DISPLAY
DISPLAY SIZE

1.1″ x 0.8″ (29.0 x 21.0 mm)

DISPLAY RESOLUTION
205 x 148 pixels
DISPLAY TYPE

sunlight-visible, transflective memory-in-pixel (MIP)

WEIGHT
61 g
BATTERY LIFE

GPS mode: Up to 24 hours
UltraTrac™ mode: Up to 40 hours

WATER RATING
5 ATM
MEMORY/HISTORY
32 MB
Clock Features
TIME/DATE
yes
GPS TIME SYNC
yes
AUTOMATIC DAYLIGHT SAVING TIME
yes
ALARM CLOCK
yes
STOPWATCH
yes
SUNRISE/SUNSET TIMES
yes
Health Monitoring
SLEEP
yes
Sensors
GPS
yes
GLONASS
yes
BAROMETRIC ALTIMETER
yes
COMPASS
yes
ACCELEROMETER
yes
Daily Smart Features
CONNECTIVITY
yes
CONNECT IQ™ (DOWNLOADABLE WATCH FACES, DATA FIELDS, WIDGETS AND APPS)
yes
SMART NOTIFICATIONS
yes
VIRB® REMOTE
yes
SMARTPHONE COMPATIBILITY
yes
PAIRS WITH GARMIN CONNECT™ MOBILE
Safety and Tracking Features
LIVETRACK
yes
Activity Tracking Features
STEP COUNTER
yes

MOVE BAR (DISPLAYS ON DEVICE AFTER A PERIOD OF INACTIVITY; WALK FOR A COUPLE OF MINUTES TO RESET IT)

AUTO GOAL (LEARNS YOUR ACTIVITY LEVEL AND ASSIGNS A DAILY STEP GOAL)
yes
CALORIES BURNED
yes
DISTANCE TRAVELED
yes
Training, Planning and Analysis Features
HR ZONES

yes (with compatible accessory)

HR ALERTS

yes (with compatible accessory)

HR CALORIES

yes (with compatible accessory)

% HR MAX

yes (with compatible accessory)

% HRR

yes (with compatible accessory)

RECOVERY TIME

yes (with compatible accessory)

AUTO MAX HR

yes (with compatible accessory)

GPS SPEED AND DISTANCE
yes
CUSTOMIZABLE DATA PAGES
yes
CUSTOMIZABLE ACTIVITY PROFILES
yes
AUTO PAUSE®
yes
INTERVAL TRAINING
yes
ADVANCED WORKOUTS
yes
DOWNLOADABLE TRAINING PLANS
yes
AUTO LAP®
yes
MANUAL LAP
yes
CONFIGURABLE LAP ALERTS
yes
VO2 MAX (RUN)
yes
TRAINING EFFECT
yes
CUSTOM ALERTS
yes
FINISH TIME
yes
VIRTUAL PARTNER
yes
RACE AN ACTIVITY
yes
AUTO MULTISPORT ACTIVITIES
yes
MANUAL MULTISPORT ACTIVITIES
yes
COURSE GUIDANCE
yes
STRAVA LIVE SEGMENTS
TOUCH AND/OR BUTTON LOCK
yes
AUTO SCROLL
yes
ACTIVITY HISTORY ON WATCH
yes
Running Features
AVAILABLE RUN PROFILES
yes
GPS-BASED DISTANCE, TIME AND PACE
yes
RUNNING DYNAMICS

yes (with compatible accessory)

VERTICAL OSCILLATION AND RATIO (THE DEGREE OF 'BOUNCE' IN YOUR RUNNING MOTION AND THE COST-BENEFIT RATIO WITH STRIDE LENGTH)
yes (but not ratio)
GROUND CONTACT TIME AND BALANCE (SHOWS HOW MUCH TIME, IN THE RUNNING MOTION, YOUR FOOT IS ON THE GROUND RATHER THAN IN FLIGHT AND LETS YOU CHECK YOUR RUNNING SYMMETRY)
CADENCE (PROVIDES REAL-TIME NUMBER OF STEPS PER MINUTE)
yes
RUN WORKOUTS
yes
RACE PREDICTOR
yes
FOOT POD CAPABLE
yes
Outdoor Recreation
AVAILABLE OUTDOOR RECREATION PROFILES
yes
POINT-TO-POINT NAVIGATION
yes
BREAD CRUMB TRAIL IN REAL TIME
yes
BACK TO START
yes
ULTRATRAC MODE
yes
DISTANCE TO DESTINATION
yes
GPS COORDINATES

yes (at least for Where Am I)

Cycling Features

ALERTS (TRIGGERS ALARM WHEN YOU REACH GOALS INCLUDING TIME, DISTANCE, HEART RATE OR CALORIES)

COURSES
AVAILABLE CYCLING PROFILES
yes
BIKE LAP AND LAP MAXIMUM POWER (WITH POWER SENSOR)
yes
RACE AN ACTIVITY
yes
FTP (FUNCTIONAL THRESHOLD POWER)

yes (with compatible accessory)

COMPATIBLE WITH VECTOR™ (POWER METER)
yes
POWER METER COMPATIBLE
yes
ADVANCED VECTOR SUPPORT
yes
SPEED AND CADENCE SENSOR SUPPORT
yes
Swimming Features
AVAILABLE SWIM PROFILES

Pool Swimming, Open Water Swimming

OPEN-WATER SWIM METRICS (DISTANCE, PACE, STROKE COUNT/RATE, STROKE DISTANCE, SWIM EFFICIENCY (SWOLF), CALORIES)

POOL SWIM METRICS (LENGTHS, DISTANCE, PACE, STROKE COUNT, SWIM EFFICIENCY (SWOLF), CALORIES)
yes
STROKE TYPE DETECTION (FREESTYLE, BACKSTROKE, BREASTSTROKE, BUTTERFLY) (POOL SWIM ONLY)
yes
DRILL LOGGING (POOL SWIM ONLY)
yes
BASIC REST TIMER (UP FROM 0) (POOL SWIM ONLY)
yes
"REPEAT ON" REST TIMER (POOL SWIM ONLY)
yes
POOL SWIM WORKOUTS
yes
HEART RATE FROM EXTERNAL HRM (REAL-TIME DURING RESTS, INTERVAL AND SESSION STATS DURING RESTS, AND AUTOMATIC HEART RATE DOWNLOAD POST-SWIM)
yes
Content Disclaimer: Our 'Garmin Forerunner 920XT review' is totally independent. This article has not been commissioned by the company. Mr Gadget has not received any endorsements for this writing. This includes financial reimbursement, free advertising or the Garmin Forerunner 920XT by way of gift. We hope you enjoyed the article!
Last update on 2022-05-15 / Affiliate links / Images from Amazon Product Advertising API