Aaah children. You are beautiful. There's no question about that. But you're not quite the same as when we were kids, are you? Pokémon Cards? Forget it. Knocking on strangers doors and running away before they open them? Nada.
When will come the day that you enjoy getting stuck in the mud once more?
CHECK TODAY'S PRICE HERE: See at Amazon
Garmin Vivofit Jr 2 Review
Aesthetics

Features

Total Value
Summary
The Garmin Vivofit Jr 2 is a great starter fitness tracking device for your children. What it lacks in some functionality like a heart rate monitor, it makes up for in both style and price. For children who are very reluctant to wear watches, the Vivofit Jr 2 is a great compromise by sporting their favourite comic or movie characters. Overall, it's great value for money.
Pros
Stylish Designs.
Great Total Value.
Automatic Syncing.
Cons
No heart rate monitor
No altimeter
Perhaps the developers at Garmin have the answer with the Vivofit Jr 2  Clashing activity with adventure, this upgraded model to the smash hit Vivofit Jr 1, which was released in 2014, exudes style and playfulness. It's the perfect motivator for your children, looks great on the wrist and a constant reminder to keep physical for the less than active child of today.
But for all that style, does the Vivofit Jr 2 tick the right boxes when compared to other children's fitness trackers? Are we looking at a poor attempt to refresh a well-liked product or do the new features scream a 'must-upgrade'? Find out everything there is to know in our comprehensive Garmin Vivofit Jr 2 review below.
Don't forget to hit us up in the comments when you're done. We'd love to hear about how you motivate your children to be more active and let us know your thoughts on the VivoFit range.
Garmin Vivofit Jr 2 Review Verdict
Overall, there is a clear distinction between the Garmin Vivofit Jr 2 and other similar fitness trackers. What it lacks in functionality compared to the Fitbit or Samsung Gear Fit2 Pro, it makes up in price. Combine that with a design that's specifically tailored towards the younger generation and you've got yourself a fitness tracker that really gets the job done. Feature-wise, it would be the 3-star hotel to your 5-star market alternatives. Comfortable, nicely decorated and all basics included. But not exactly your well-overdue lavish vacation in the Bahamas.
If you've already purchased the original Vivofit Jr 1, it's not worth upgrading. One of the major additions to the Vivofit Jr 2 are the stylish bands from legendary movie franchises. Given that these bands can be purchased separately and are 100% compatible with the Vivofit 1, it just doesn't seem worth the money to buy the full device. Yes, there are other features that are new to the Vivofit 2, however, your child is most likely using the core functionality already with the Vivofit 1. But for those who are looking for a children's fitness tracker that they will not only love but won't break the bank, the Garmin Vivofit Jr 2 is a great option.
Care to know more? Keep on reading as we break down our Garmin Vivofit Jr 2 review into all the key factors that will help you make your purchasing decision.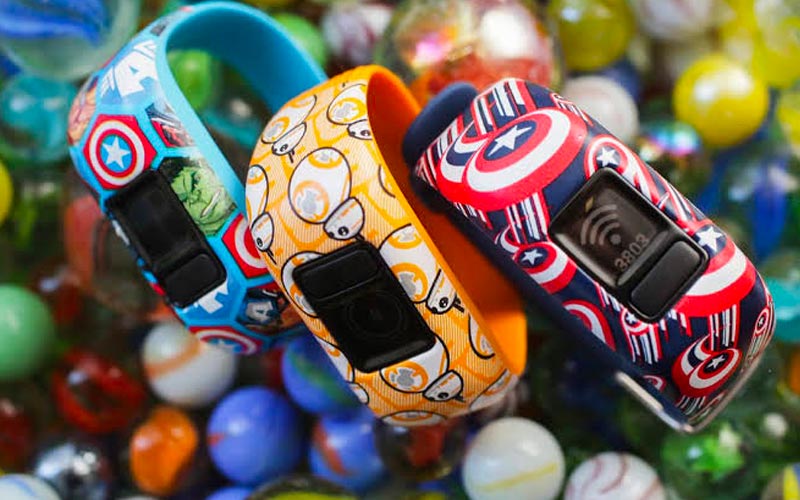 The Look Station
As with any product that you purchase for your children, it needs to be sturdy and look the part. The Garmin Vivofit Jr 2 has both of these qualities and is seamless both on land and underwater. Built with a small 11mm x 11mm 8-colour pixel display and button to change display settings, the emphasis has truly been on ease of usability. Not to mention that the customisable bands are pretty cool too!
Whilst originally released with 6 different themes, new band styles emerged pretty quickly and can now be purchased with the device or as separate items. All bands released come with either an adjustable strap or stretchy material depending on the preference of your child. We tried both versions and prefer the adjustable straps ourselves. However, for younger children, you might be best opting for the stretchy material to save fiddling around in the mornings.
Currently, the following styles are available to purchase from around the US and Australia.
As for the look of the display, the tracker shows both the date and time and doubles up as a watch. Although these features can be found on different screens, they both seamlessly work well in direct sunlight and also underwater. Unlike the Vivofit Jr 1, the display is now in full colour which does have a slightly negative look when in dim conditions. However, it looks the part nonetheless.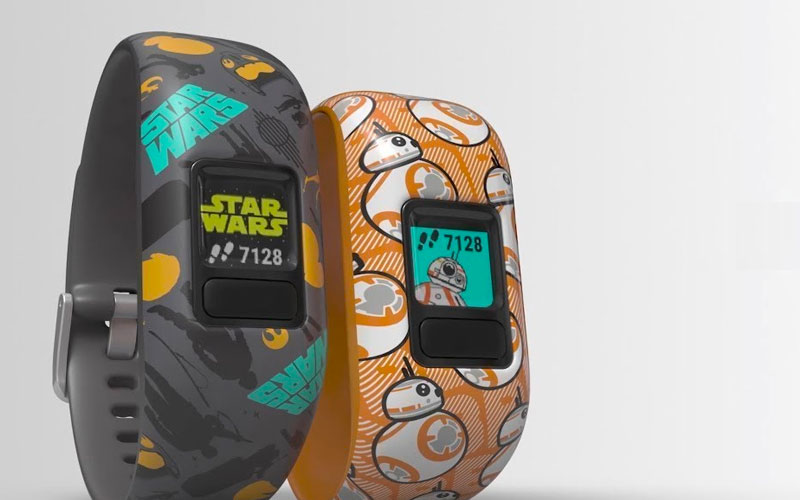 Vivofit Jr 2 New Features
The Vivofit Jr 2 comes with many additional features that make for a better all-round product. From a backlight which ensures great display visibility in all weather conditions to automatic beepers that remind your children to get active. It's a sizeable step up from the Vivofit 1.
One of the coolest features of the new Vivofit Jr 2 is the 'Toe-To-Toe' challenge. If you have children who love competition, the toe-to-toe challenge is a great way to engage that nature. You can put your children head to head in a race to complete as many steps as possible within a time period. By syncing multiple Vivofit Jr 2 devices together, your children and their friends will engage within a fun, fitness focussed activity. Not to mention it will help them sleep at night!
Then there's the technology aspect to the device. The Vivofit Jr 2 seamlessly syncs with your phone and allows you to automatically upload fitness activity. If you've used the Vivofit Jr 1, you'll recognise that this is a big improvement. With plenty of timed activities and auto-sync to Garmin Connect, you'll find that your children are more engaged in physical activity by using this new device.
–

Full Feature List
Compatible with Garmin Connect and complete with Bluetooth connectivity for Apple and Android, the Vivofit Jr 2 has a wealth of features that really make the price tag seem like good value. Of course, you always want the funky stuff with any gadget you purchase. However, what makes a product seem like great value is connectivity and seamless use.  You'll be amazed at how many gadgets we have come across that have so many cool features but just don't work how they should. This is not such the case with the Garmin Vivofit Jr 2 and everything functions as you would expect. Take a look at the full feature list below:
1+ year battery life.
Colourful and customisable bands.
Time and date display.
Automatic daylight savings feature.
Alarm clock, stopwatch & timer.
Step counter and move bar.
Sleep monitoring.
60-minute activity goals.
Rewards system (virtual coins).
Toe-to-toe challenge.
Reminder alerts & audible alerts.
Automatic syncing to free Garmin app.
It would have been cool to have more advanced features where your child's health is concerned like some diet tips or education on eating. But then you're getting into the realms of expensive gadgets and the mission here from Garmin is clearly to deliver a device that's accessible for everybody. If you really have some money to spend then splash out on the Fitbit but be warned in the process. There is nothing cooler looking in the marketplace right now for your children than the Vivofit Jr 2.
–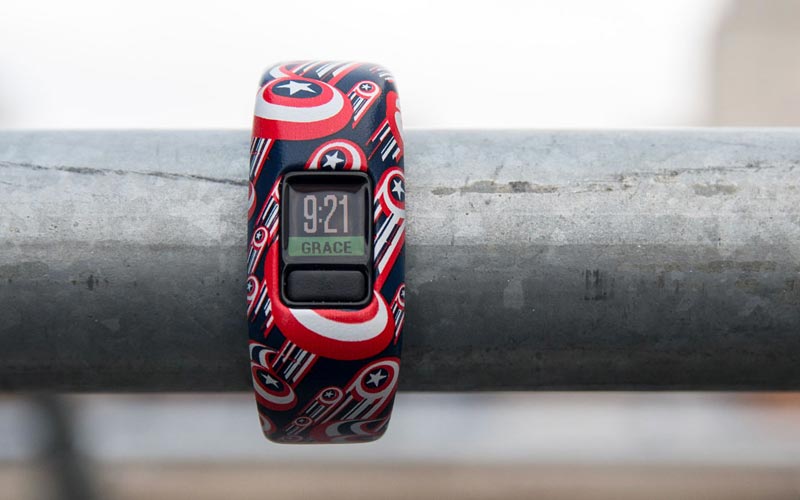 Vivofit Jr 2 Price & Value
Currently, all styles of the Vivofit Jr 2 are available for around $109AUD on Amazon. This has been slightly reduced from its original release date price. Whilst we don't see any change in price for the immediate future, you can expect a reduction when a new model arrives.  Comparing the Vivofit Jr 2 to other popular products like the Fitbit Charge 3 or Inspire HR, it's extremely reasonable to pay this amount. Okay, so you don't get features like the heart rate monitor or altimeter, however, the overall value of this device is extremely high. We can't actually think of many other alternatives within that same price bracket which your children will love. Again, who doesn't love Marvel coated gadgets!
–
Garmin Vivofit Jr 1 Vs Vivofit Jr 2
Overall, the Vivofit Jr 2 is a better product and for just that little bit extra it's worth the money. The activity timer makes it easier to segment the day and its fashionable straps are encouraging for your children to wear. The clasps are much more secure and it comes with automatic syncing to Garmin Connect. That said, if you have already purchased the Vivofit Jr 1 it probably isn't worth upgrading to the Vivofit Jr 2. As explained above, the primary new features aren't necessarily worth the money as an upgrade. However, if you don't have either of these two devices then be sure to purchase the Vivofit Jr 2.
Below are some of the major differences between the two watches:
New app adventures.
Greater range of styles.
Easier to see the display in all weather.
Reminder alerts to encourage activity.
2 alarms instead of the one.
Sturdier materials and securer clasp.
For those of you who just want the bands for your Vivofit Jr 1, you'll be pleased to know that they are 100% compatible. You can purchase the bands separately online and installation is easy. Just push the computer unit out of your existing band and insert into one of the designs. Now there's a cheap way to upgrade your product!
–
Vivofit Jr 2 Review Conclusion
As highlighted in our Garmin Vivofit Jr 2 review above, this is a budget gadget choice kids fitness tracker. Overall, the product is a decent value and contains lots of child-friendly ways to get your little ones interested in fitness at an early age. Whilst it won't be winning any awards for the most advanced tracking features, it has everything you need to motivate your children to be active.
When you add some of the cool activities into the mix, it's fun to play with and certainly removes the chore aspect of exercise. We've given this a total rating of 4.6 stars due to limited functionality from a health perspective. The games are super fun and trump other devices on the market, but it seems strange that the heart-rate monitor was not included as part of this device.
What're your thoughts on the Vivofit Jr 2? Hit us up in the comments below and be sure to mention how you motivate your children to be as active as possible.
–
Garmin Vivofit Jr 2 FAQs
The Vivofit Jr 2 offers better build-quality, a wider range of styles, a higher quality display, 2 alarms instead of 1 and new app adventures.
Last update on 2022-05-18 / Affiliate links / Images from Amazon Product Advertising API
The Garmin Vivofit Jr is suited to children between the ages of 4 – 7. The Garmin Vivofit Jr comes with two wrist bands. The adjustable band is best suited to children between 4 -7 and a buckle for children 6 and older.
Last update on 2022-05-18 / Affiliate links / Images from Amazon Product Advertising API
Full Spec List
Display
Display Size

0.43 x 0.43″ / 11 x 11 mm

Display Type
MIP LCD
Screen Resolution
88 x 88
Pixel Density
289 ppi
Connectivity
Wireless Connectivity
Bluetooth
Performance
OS Compatibility
Android
iOS
Memory
Memory Retention
4 Weeks
Battery
Estimated Battery Life
1 Year
Band
Band Material
Polymer
Band Circumference

5.1 to 6.9″ / 129.5 to 175.3 mm

General
Material
Silicone
Water Resistance Depth

5 ATM (Pressure Equivalent to 164′ / 50 m)

Weight
0.6 oz / 17.5 g
Content Disclaimer: Our 'Garmin Vivofit Jr 2 Review' is totally independent and has not been commissioned by the company in any capacity. Mr Gadget has not received any endorsements for this writing including financial reimbursement, free advertising or the product itself by way of gift. If you purchase this item via an affiliate link on our website, we may receive a small commission from the seller. We hope you enjoyed!
Last update on 2022-05-18 / Affiliate links / Images from Amazon Product Advertising API