After a very disappointing foray into the wireless earbud market, Google has released its successor and a good one at that! The Pixel Buds 2 (aka the Pixel Buds 2020) is a huge improvement over the originals, and actually made our list of best earbuds in 2020.
We wanted to review the Pixel Buds 2 in detail to give Google the benefit of the doubt, and they haven't let us down. Almost every area that fell short has been improved upon, so let's crack on with the Pixel Buds 2 review:
Pixel Buds 2
Look Station

Features

Total Value
Summary
The Pixel Buds 2 is an excellent pickup if you're an Android user who wants to extract as much convenience as possible from the Google ecosystem. Despite a just above average sound quality, these guys make up for it in premium design, quick charging and excellent Google integrations.
Pros
✓Excellent Google integrations
✓ Amazingly quick charge time
✓ Quality design all-round
Cons
✗ just above-average audio
✗ Uncomfortable after an hour
If you're short on time, feel free to skip to the section of interest:
Who are these for?
If you're an Android user who wants to maximise the value from the Google and Android ecosystem – these are for you. These are solid wireless earbuds, but a lot of the value is derived from the Google services they seamlessly connect to. More on this later.
What are they like to use?
After opening the box, the first thing you'll notice is the huge charging case upgrade. The design and material choice is light years ahead of the original and makes a great first impression.
Setup
We said these were for Android users and the seamless set-up and pairing is one of the reasons why. The Pixel Buds 2 connect to an Android device in the same way AirPods connect to Apple devices…effortlessly. All you have to do is place your buds near your phone and it will ask if you want to connect. Say yes and voila!
For non-Android devices, you'll have to hold the pairing button down on the case to initiate the pairing process and then follow your on-screen instructions. It's not much more effort but removing small friction points adds up to a much better user experience.
Comfort
The Pixel Bud 2 utilises a 3 anchor system to minimise in-ear pressure and discomfort. This design, in combination with the lightweight and relatively small form results in above-average comfort. Initially, these are barely noticeable and could be described as very comfortable. However as time goes on they do start to become uncomfortable, and just like many other earbuds, after an hour they are a real nuisance. Again, this isn't necessarily due to poor design on Google's behalf, it seems to be an issue with the type of product type, that nobody has managed to figure out yet.
Controls
The Google Pixel Buds 2 utilises a touchpad on each earbud at the control mechanism and it's actually really good! The gestures are very intuitive and at the touchpad surface is large enough for easy use. At no point did they become frustrating to use and they performed well even in a light drizzle. Something we really like was being able to control the volume up or down from either bud (or any feature).
Battery Life
The battery life on the Pixel Buds 2 leaves a little to be desired. At 5 hours, the battery life isn't terrible but it doesn't compete against the like of the Powerbeats Pro or Anker Soundcore Liberty 2 Pro. However, 5 hours is sufficient for most people and won't ruin the user experience for the majority of people.
Now here's a huge win, these guys charge quick!  With just 5 minutes in the case, we were at 20%, 10 minutes 40%,  full 100% charge too 50 minutes. That's actually insanely good and does help minimise the effect of the average battery life.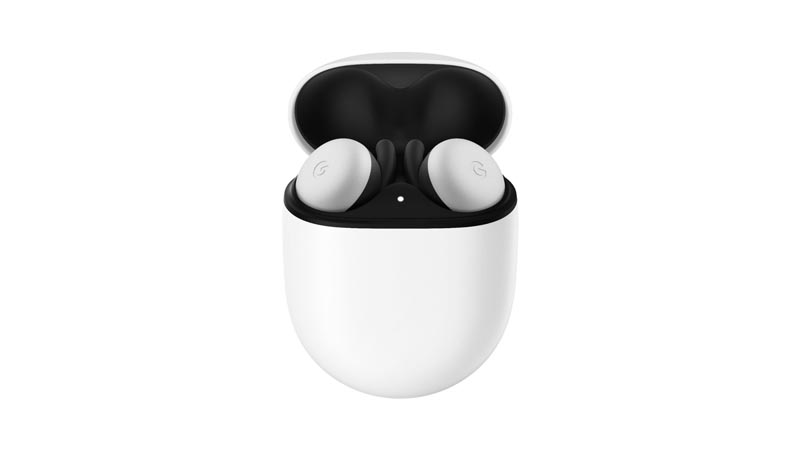 Charging Case
The charging case is on the biggest improvement we've seen with the Pixel Buds 2. The original was cheap and nasty, this case is elegant and thoughtful. The weight and shape of the case create a dense and satisfying to hold object that just feels nice. The outside is furnished with a high-quality matte plastic that doesn't attract fingerprints (but will pick up bits of dirt over time). This is one of the nicest charging cases on the market.
A very welcome inclusion is Qi wireless charging. A lot of premium wireless buds just don't offer this, so this is a huge plus for the Pixel Buds 2 case. It just makes keeping them charged that much more convenient if you have a wireless charging pad. Just chuck them on the pad and they're charging…that simple. If you don't have a charging pad, well, they have a USB C input to deliver a quick and convenient charge.
The charging case will hold 5 additional charges bringing the total portable battery life to 30 hours. This is a very long time in the world of wireless earbuds.
What are they like to use for workouts?
The Pixel Buds 2 have an IPX4 rating, which means splashed and sweat are not issue, but full submersion is a big no-no. You'll be fine doing most gym workouts but we wouldn't recommend using these for vigorous skip rope sessions as they may become dislodged. Also, due to the discomfort experience after an hour or so, these will become a liability on longer runs or cycles.
Overall, they're fine for the average gym session, but if you want something designed for this purpose you'll have to look towards the Powereats or Jaybird Vista.
What are they like to use in the office?
If you want to focus in your work and cut out any noisy distractions, don't buy these. There is no ANC (active noise cancellation) and the passive noise cancellation is pretty bad. However, because you can hear around you, you'll be able to hear your colleagues and easily participate in conversations.
If you plan on taking calls through these, you should reconsider. The microphone (just like almost every other wireless earbud) is poor. You will sound distant, muffled, yet still audible.
Are they good enough for pure audio enjoyment?
The Pixel Buds 2 have just above average sound quality which is still very enjoyable but nowhere near the levels of the Sennheiser Momentum 2. Let's take a look in more detail
Bass 
The bass is just above average. After trying out a few different genres its fair to say that the bass is a little weak for fans of bass-heavy music. It's lacking the presence that can envelop a listener and really draw them in to the music. If you're not a fan bass-heavy music, you'll think these are fine. There is no distortion, which is great.
Mids 
The Pixel Buds 2 mids is the best performing section of the sound profile. It is very well balanced and presents instruments and vocals with great clarity and range. If you're a fan of vocal-driven music, these will sound great.
Treble 
Just like the bass, the treble is just average. At the higher ranges it drops off but for most people, it will be unnoticeable. However, the treble does compliment the mids well and help deliver the great vocal and lead instrument fidelity.
Techstuff (codecs and bluetooth)
The Pixel Buds 2 use the Bluetooth 5.0 which provides a very stable and consistent connection, which at no point did we experience any issues with. Unfortunately, there is only support for AAC, not aptX.
Overall, these are OK for sitting down and listening to your favourite album, but there are certainly more suitable earbuds on the market.
Google Integrations
We mentioned that these are for Android users and here's why!
Google Assistant
You can't review the Pixel Buds 2, without reviewing the unique features the Pixel Buds 2 have to offer to Android users. If you're an Android user you've used Google Assistant before and may or may not enjoyed using it. Well, things get a whole lot better when you use Google Assistant with your Pixel Buds 2.
It's just so convenient. The speech recognition is excellent and minimised the frustration that comes with erroneous requests. The activation is equally accurate and at no point did Google assistant activate without me deliberately summoning it with the hallowed words "Hey, Google".
You are now able to speak commands to help you with your day. Simple things like "when is my next meeting?" or "remind me to pick up some broccoli" actually make the little things much easier. It saves the hassle of pulling out your phone, which is another small friction point removed and another point scored on the overall user experience.
Translation
Google has included and excellent translation feature with the Buds 2 which helps the wearer converse in different languages. Conversation mode will listen in to your conversation and translate what you're saying into the language of your choice. Simply say "Hey Google, help me speak French" and the Google Assistant will immediately activate and begin translating. There are a few errors here and there but it's certainly better than gesticulating wildly and pointing. There are over 40 supported languages so you should be good to go in the vast majority of situations.
Pixel Buds App
There's nothing overly special about the Pixel Buds app, but it does exist and it does allow you to monitor the battery level of each earbud or activate the find my device feature. You can't customise the controls or adjust the EQ, which is disappointing.
Find My Device
Wireless earbuds are quite easily lost. They're small, a bit fiddling and can come loose. Well, Google has you covered. If you enable the 'find my device' feature, you'll be able to track down the earbuds, it will ask them to make a noise to help you find them down the sofa cushion.
The Look Station
The buds themselves are circular and finished in what appears to be the same high-quality matte plastic found on the case. The Google 'G' is embossed on the circular outward face and looks refined. These are without a doubt a better aesthetically designed product that than the original Pixel Buds. They're very compact and almost disappear into the ear, which is a welcome change from some of their bulkier competitors. The colour combinations look great with each other, with the black and white playing off of each other very nicely.
The case is where things are taken to the next level. It's fair to say that this is our favourite portable charging case. It has wonderfully refined dimensions and a sleek, modern profile which just looks good. The interior presents the pods like a piece of jewellery and adds to the overall enjoyment of owning and using the Pixel Buds 2.
Pixel Buds 2 (official) Specs
| | |
| --- | --- |
| Connectivity | |
| | |
| Audio | Custom-designed 12 mm dynamic speaker driver |
| | |
| | |
| | |
| | Spatial vent for in-ear pressure reduction and spatial awareness |
| | |
| Voice | Dual beamforming microphones |
| | |
| | Voice-detecting accelerometer |
| | |
| Battery | Earbuds: Up to 5 hours of listening time and up to 2.5 hours of talk time |
| | |
| | Earbuds with wireless charging case: Up to 24 hours of listening time and up to 12 hours of talk time |
| | |
| | 10-minute charge of earbuds in the wireless charging case delivers up to 2 hours of listening time and up to 1 hour of talk time |
| | |
| Charging | |
| | |
| | Qi-certified |
| | |
| Sensors | Capacitive touch sensors for music, calls and Google Assistant controls |
| | |
| | Dual IR proximity sensors for in-ear detection to play and pause automatically |
| | |
| | Motion-detecting accelerometer and gyroscope |

What's in the Pixel Buds 2 box?
Opening the box is an insight into what can expect from the product itself. Apple is famed for this a did a stellar job with the AirPod 2 Box. But what can we expect for Pixel Bud 2 box? The experience isn't quite as nice, but it's still a nicely designed package that holds the following:
Earphones
Eartips with three size options: Small, medium (attached to earbuds), large
Quick Start Guide
Wireless charging case
USB-C® to USB-A® charging cable
Pixel Buds 2 Review Summary
It's clear from this review that the Pixel Buds 2 is a marked improvement over the gen 1s. Despite offering just above average sound quality they are still worthy of being on our list of the best wireless earbuds and this is due to their excellent design, awesome Google integrations and amazingly quick charge times. If you're an Android user, these are well worth considering if you're in the market.
Thanks for taking the time to read our Pixel Bud 2 review. We hope that is of use to you and helped make you a more informed consumer! If you like the look of these but you're an Apple user, then check out the Apple AirPods Pro.
FAQs
Yes, the Pixel Buds 2 are definitely worth it, especially if you're an Android user. If do you use Android devices then the Pixel Buds 2 offer seamless connectivity and additional functionality that makes these guys more than worth considering.
Yes, there already is Pixel Buds 2. In fact, you're reading about them right now! They're a marked improvement on the originals and well worth your considerations.
There is no active noise cancellation (ANC) but they do a pretty good job of passively blocking noise due to their well-fitting design and material choice.
It really depends on your design preference and mobile operating system preferences. If you're in the Android ecosystem and prefer earbuds that don't have a stem, then choose the Pixel Buds 2. However, if you use iOS and like stems, then go for the AirPods. In our view, the Pixel Buds 2 are better than the standard AirPods.
Yes, the Pixel Buds 2 do translate, but only if you're connected to an Android device with Google Translate installed.