GravaStar Sirius Pro Earbuds Review
Summary
The GravaStar Sirius Pro Earbuds were designed with gamers and sci-fi lovers in mind, and it shows with its exceedingly machine-like facade. It may be a tad edgier than some would like, but fans of louder aesthetics are sure to fall in love with it. Looks-aside, the Sirius Pro offers an outstanding listening experience, stellar battery life, and an amazingly low-latency connection, so there's definitely a lot to love. Oh, and it can pop your bottles for you too which is pretty darn cool.
Pros
Excellent sound quality
Incredibly low-latency connection
Customizable controls and LED lights
Cons
Design might be a bit much for some
Ever wish you had a kickass pair of earbuds that could pop open a cool, refreshing drink? I mean, who hasn't? Well, with the GravaStar Sirius Pro Earbuds, you finally can! And that's not the only thing that's great about it. You can also look forward to extensive audio options, noise cancellation, low latency, and a whole lot more.
These pair of gamer-centric earbuds were designed with hardcore gamers in mind, embodying the edgy aesthetic that the master race has long since been known for. Question is, does it provide that rich audio experience that gamers are looking for? Or is it just a glorified bottle opener that's banking primarily on its mech-like design? That's what we're here to find out, in this GravaStar Sirius Pro Earbuds review.
Don't have the time to stick around for the entire review? Just click any of the links below and we'll take you right to that section.
Overview
GravaStar is an audio tech brand that's focused on bringing something new to the market. Their futuristic cyberpunk style seemingly takes heavy influences from video games, sci-fi movies, and anime, ushering in an offbeat line of products aimed at people who enjoy wilder-looking peripherals. The GravaStar Sirius Pro Earbuds is the latest addition to their repertoire, featuring their trademark robotic design and eye-catching finish.
Not only does it offer a satisfying listening experience through its HD audio, but it also includes excellent Environmental Noise Cancellation (ENC), a solid battery life, and the low-latency connection that every gamer dreams about. And to top it all off, its carrying case is designed to be able to pop open a bottle cap for you, allowing you to enjoy an ice-cold drink with your favourite game.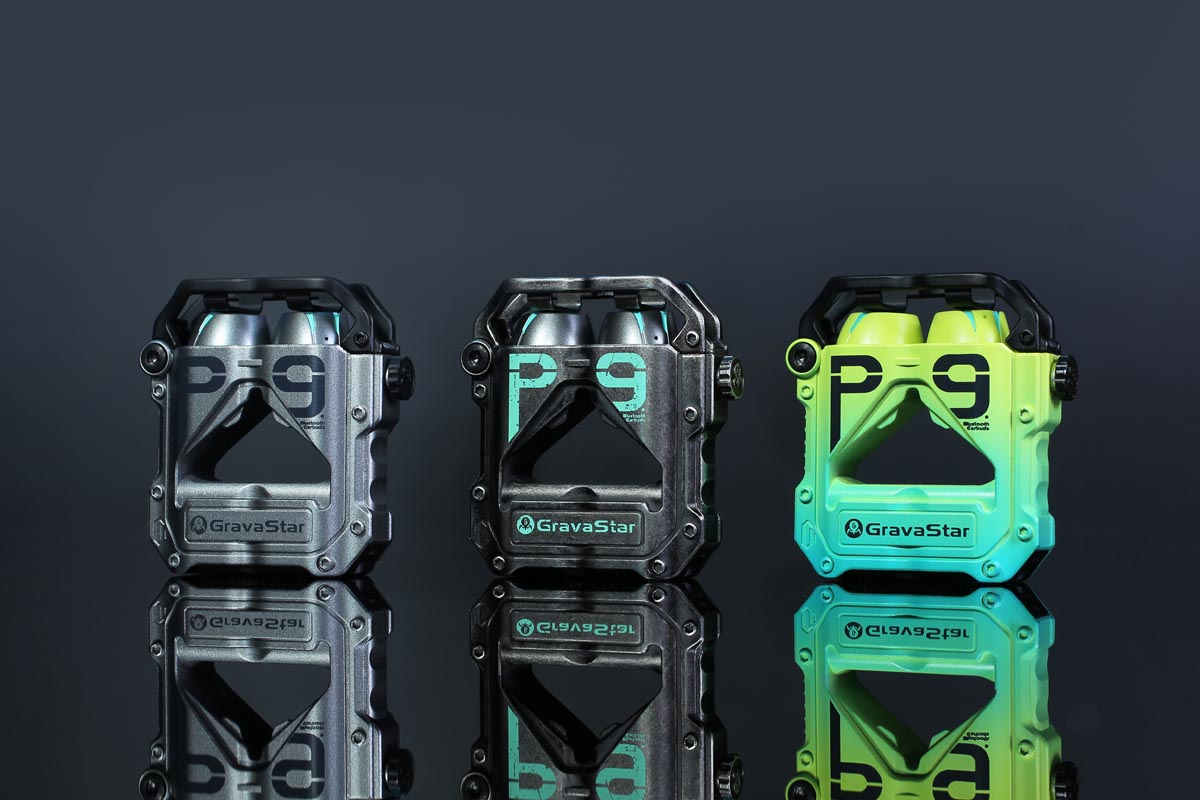 Features
Signature GravaStar Futuristic Design
GravaStar made sure to include their trademark sci-fi style when designing the Sirius Pro, giving it a distinctly metallic-looking finish and robotic shape. The highlight feature? There's a gap in the middle that you can use to crack open a cold one, so you can enjoy a tasty beverage during your gaming sessions.
There really is great attention to detail in the design with a satisfying mechanical button, a laser engraved totem smart touch panel, all with a zinc alloy material finish. This is far beyond what the majority of other manufacturers are currently doing in the space.
Satisfyingly Immersive High-Definition Audio
The Sirius Pro has some serious firepower under the hood, featuring 7.2mm dynamic drivers and a 4-driver armament from the well-established Knowles name. Whether it's the deafening booms of grenades or the sweet vocals of your favourite soundtrack, these earbuds deliver exceptional audio in spades.
Environmental Noise Cancellation (ENC)
With its excellent ENC technology, the Sirius Pro allows you to drown out all that unwanted noise during phone calls so you can focus properly on the conversation. It does this using real-time frequency filtering.
Three Sound Modes
Music Mode – Concert quality sound directly to your ear. If you want a realistic listening experience with natural vocal tones, deeper bass, and realistic acoustics, then try Music Mode.
Movie Mode – Become fully absorbed into the film with realistic surround sound that puts you in the middle of the action.
Gaming Mode – Never miss a footstep or a potential frag with gaming mode. Pinpoint your enemy's location and then take advantage.
Ultra Low-Latency Connection
Gamers know that there's nothing quite as annoying as audio that lags behind the video game you're playing. Not only is it just plain unsatisfying, but it can also ruin communication between teammates. Fortunately, you won't have to worry about that with the Sirius Pro. These earbuds feature an incredibly low latency of 65ms (when in gaming mode), meaning the game and audio sync up near-perfectly.
Various Colour Options
The GravaStar Sirius Pro Earbuds come in three distinct colours, each with names that are just as edgy as they look. You can get them in war-damaged grey, space grey, and neon green. Whichever colour you choose, the case features six dynamic LED lights that you can pattern to your tastes.
Intuitive Tap Controls
The Sirius Pro's Smart Control allows you to fully customize the controls of the earbuds so you can dictate which tap does what. It also includes the nifty feature of using each earbud independently, which is a quality that's notably missing from most of the competition.
Exceptional Battery Life
These little guys offer up to six hours of continuous listening on a single charge, with its charging case housing three additional full charges. All in all, you could go on to use it for more than an entire day without having to plug in the case and buds for a recharge.
Water-Resistant Build
GravaStar's Sirius Pro Earbuds are rated IPX5, allowing you to use them while working out or jogging in the rain without fear of water damage.
Specs
Product Type
True Wireless Stereo (TWS) Bluetooth earbuds
Dimensions (L*W*H)
Each earbud: 19.5*20*24.5 mm

Charging case: 62*59*20.8 mm

Net Weight
Each earbud: 6g

Charging case: 100g

Connectivity
Bluetooth 5.2
Compatibility
≥Android 7.0 / ≥iOS 12.0
Noise Cancellation Type
Environmental Noise Cancellation (ENC)
Driver (Each Earbud)
7.2mm Dynamic driver

Knowles balanced armature with 4 driver units

Resistance
16Ω
Frequency Range
2.4Hz
Battery Life
Earbuds: Up to 6 hours

With charging case: Up to 24 hours

Charging Time
Earbuds: 1.5~2 hours

Charging case: 2 hours

Waterproof Rating
IPX5
Aesthetics
The GravaStar Sirius Pro Earbuds remind me greatly of the Jaegers from the Pacific Rim film. They're designed to look like heavy steel, littered with screws and some tasteful decals. The charging case boasts an unconventional rectangular shape, with a triangular gap in the middle that acts as the bottle opener and the earbuds themselves sitting right above it.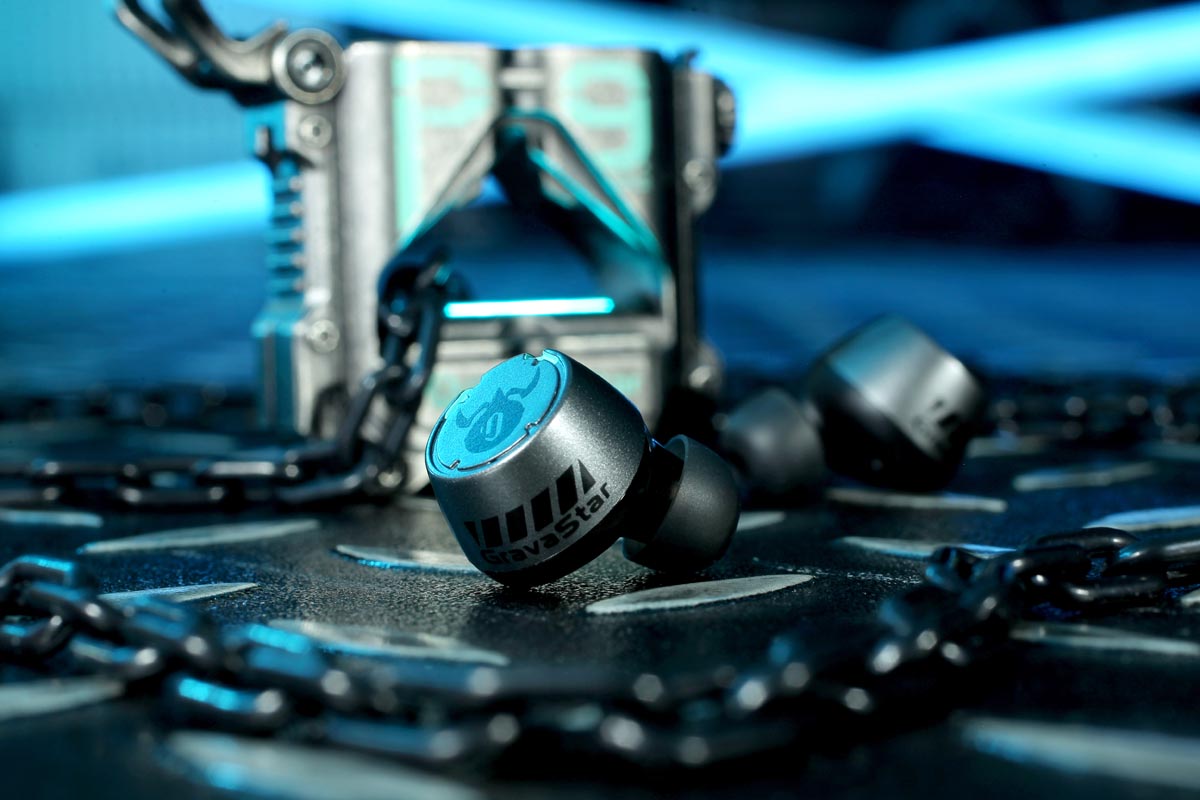 GravaStar ensured that the different colours were just as eye-catching as design, with the neon green being the loudest by far. Overall, the Sirius Pro Earbuds are undoubtedly cool-looking and are sure to appeal to gamers and sci-fi heads that prefer an edgier look. Minimalists, however, will likely want to steer clear.
Conclusion
The GravaStar Sirius Pro Earbuds are easily one of the more memorable listening devices we've come across, boasting an unapologetically Avante-garde design that will likely appeal to a large number of gamers and fans of science fiction. It doubles as a bottle opener is also a cool little extra that'll probably end up being more of a talking point rather than actually you actually using it.
But make no mistake, the Sirius Pro is more than just a gimmick and features some remarkable sound quality whether you're using it for gaming, music listening, or movie watching. It also sports an ultra-low-latency connection which is one of the main things gamers look for in wireless peripherals, and the built-in ENC tech will effectively drown out the noise around you so you can focus on your game or music.
To cap it off, the controls on the earbuds and the LED lights are all dynamic, giving you the opportunity to set the device exactly how you want it. The edgy design may not be for everybody, but if you like loud, mech-looking designs laced with flashy LED lights, then the GravaStar Sirius Pro Earbuds are definitely right up your alley.