There are various ways technology can help you obtain a passive income. You could create your own business or blog, teach classes online, or use your skills to provide services to others via different apps. Technology-based businesses are on the rise and provide lots of opportunities for people looking to work for themselves!
Crypto Trading
One of the most common ways technology can help with a passive income is through cryptocurrency trading. Cryptocurrency trading is when you buy and sell cryptocurrencies, such as bitcoin. You could start by simply signing up with a reputable exchange, linking it to your bank account, and buying some coins. You'll want to learn how to earn interest on crypto. Cryptocurrencies are known for having high volatility in price, which results in a ton of opportunities to make money in the short term if you trade them on exchanges like GDAX. It only takes $10 to get started!
Education And Tutoring Apps
Technology has made it easier than ever for people all around the world to get access to education at their fingertips. With more alternatives popping up each year, there are tons of ways to learn something new. This is beneficial for you because you can then use your knowledge to teach others via various education and tutoring apps! These apps allow you to set your rates and get paid directly through PayPal, Venmo, or other methods.
Teaching online classes would be another great way to earn money through technology. You could teach anything from how to use apps such as Photoshop or Sketchbook Pro to small business classes that show you how to start something on the side of your normal 9-5 job. You could also find courses that allow you to create content and sell it. There are plenty of ways to go about this, so think outside the box and come up with an idea that will provide value to your potential students. At one point, you can have all your lectures recorded and then sell those lectures to create a passive income on tutoring.
Blogging And Freelance Writing
Technology has made it simpler than ever to become a blogger or freelance writer because blog2ging platforms like WordPress make it easy for people with little experience in web design to start one on their own! The best part about it is that you don't need an audience beforehand; building one will come naturally while providing value through consistently helpful posts.
If you're a good writer and like to research, then consider becoming a ghostwriter! Ghostwriters work for other people and write things such as books, blog posts, magazine articles, etc. They do what they do best, while the person paying them gets all the credit!
Using Your Skills And Talents To Sell Digital Products
Technology has allowed us to create digital products using our skills and talents! The great thing about this is that it doesn't necessarily require any start-up costs like starting a physical product-based business does. For example, if you're good at playing a musical instrument or have a knack for hand lettering, you could set up a shop on Etsy where people can buy your creations digitally. I'm sure there are many other examples of digital product ideas, so be creative with how you come up with them!
Opening e-Commerce Stores
If you want to sell physical products, experts suggest opening an e-commerce store through platforms like Shopify and Amazon. This requires little start-up costs and can be especially beneficial when done in conjunction with other income sources such as blogging or freelancing. Once your site is up and running, it'll be easier than ever to provide value and help customers solve their problems while making money without even needing to lift a finger!
Remote Work
You can use technology to find remote work that allows you to work from the comfort of your own home. Remote jobs are increasing in number because technology has made it easier for companies to hire people all around the world! This is beneficial if you don't want to commute every day. Remote work is essentially a dream for a lot of people who would love to travel while still making money! This is not a form of passive income entirely but can be a way to earn extra money so that you can invest it in more passive income.
Dropshipping
Ok now that you know all the different ways technology can help with obtaining a passive income, let's go over some specific examples. Let's say, for example, you buy an iPhone case from CaseApp for $20. CaseApp doesn't make their products, they are essentially a middle man between you and the products being sold by other companies who use them to sell their goods online. They have partnered up with phone case companies around the world so that when someone buys an iPhone case using your unique affiliate link, it results in you earning money! When someone buys a product through your link, CaseApp will place the order directly with the company themselves, so all you have to do is wait for the payment to come in via PayPal or other payment services you place on your website!
Create An Online Course
Create an online course teaching people how to do something that you're good at, such as writing or product development! You can use specific software for online course making and sharing to share your knowledge with the world. These services allow you to set up a website where you can sell your courses directly to students without them having to go anywhere else.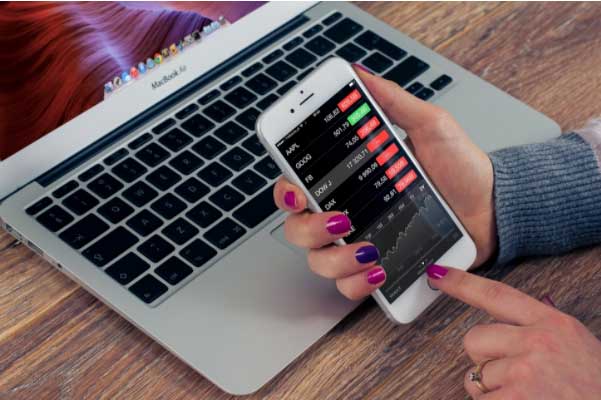 Sell Apps
If you have experience creating apps and think there might be a market for them, then definitely consider selling apps! There are plenty of platforms that allow users to upload their applications, so they can be sold worldwide. Remember though that the competition is tough because if another similar app already exists on the market, yours probably won't stand out as much as it would've previously.
Publish An E-Book
If you have a blog or have written anything online that people might be interested in reading, consider publishing an e-book! E-books can take a variety of different forms, so it's best to create something unique and give it your spin.
These are just a few of the many ways technology can help you obtain a passive income. Whether it's teaching online, freelancing, or using your skills to create digital products, there are so many opportunities available to people who are willing to take advantage of them!