Mobile storage containers have different uses, apart from heavy-duty shipping use. These units are converted to offices, houses, decluttering storage spaces, entertainment spaces, and mobile businesses. Mobile storage units can be custom-made to suit the client's desired size and use.
Whatever the purpose of the container, one has to outsource it somehow. It's possible to purchase, hire for temporary use, lease space in a container that's still in the supplier's custody, or order a custom-sized one.
Below are three tips on how to get a mobile storage container;
Purchase a Ready-made Storage Container
A client is spoilt for choice when he decides to purchase a mobile storage container. The client should invest time to choose the unit that suits his needs. As the client makes the purchase, he should confirm the storage container is of good quality, weatherproof, and protected from vermin.
The customer should ensure the container is inspected and certified by the relevant authorities to confirm it is secure for use. A certified container will give many years of service.
Why would a client purchase a container? If the need demands a permanent solution, purchasing a mobile storage unit would be prudent. Mobile services and businesses, such as entertainments, relief services providers, and mobile community health services, prefer to purchase their mobile storage system. Also, families that need extra storage space to declutter their homes can invest in a container. Construction businesses also invest in a mobile storage unit as it would be convenient as they move from one site to another.
A client should purchase a storage unit from a reputable source. Storage units come in different sizes, specifications, and designs, and prices. These are some of the factors to consider when making a purchase. The after-sales services the seller offers should be considered as the container needs maintenance.
Lease or Rent the Storage Space
Why would a client lease instead of purchasing a mobile storage container? One chooses to lease a storage space when the need is temporary. Also, if you are looking to cut your daily expenses, this could be one way. It's a solution for a short time need. Maybe the client's house is under renovation, and the client needs storage for the building materials, and once done, he'll no longer need the storage unit.
At times, when families are relocating, they're unable to move with all their property in one trip. A lease storage container provides a solution. The family might choose to store some of the possessions in the leased unit for future pick up.
Compared to the purchase of a container, leasing is very economical logistically, as well as financially. The client does not invest as much in the acquisition of the storage space. The leasing acquisition process is flexible, requires two parties, and is not time-consuming. The client will not invest much of his time to assess every nook and cranny of the container.
If a customer lives in a neighborhood where mobile storage containers are not allowed, leasing provides the best solution when the need for storage space arises. When in need of storage space for business use, it's wise to lease instead of purchase.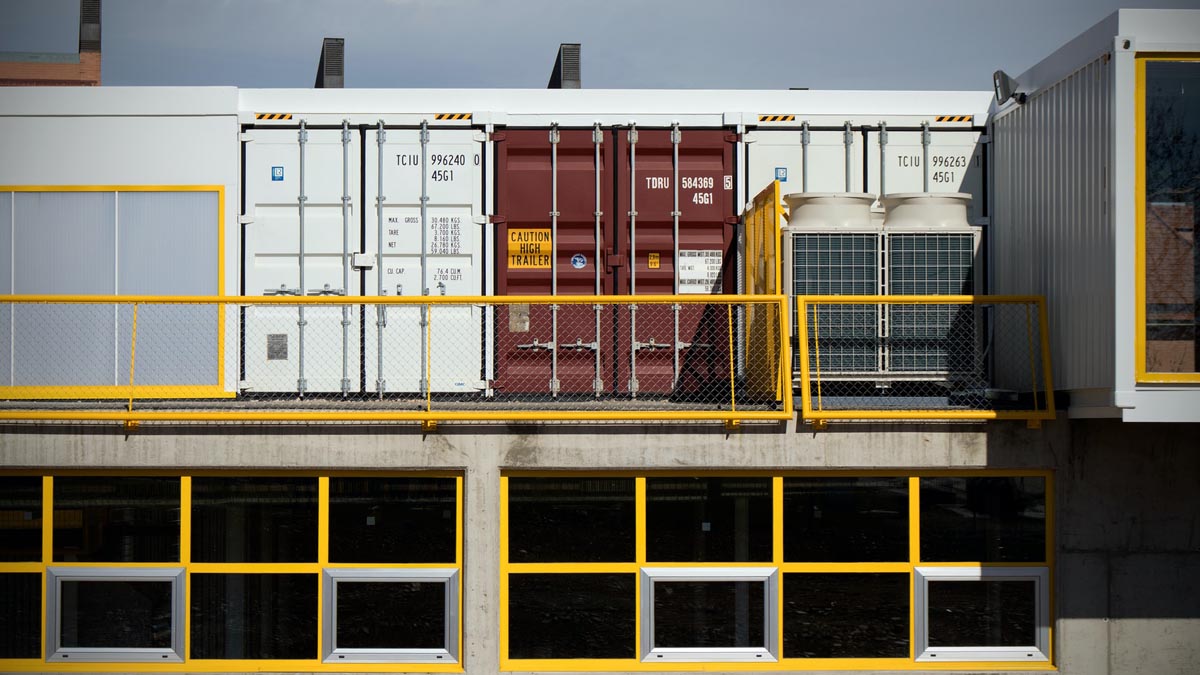 Purchase a Second-Hand Storage Unit
A client can purchase a second-hand mobile storage unit from a supplier. Used mobile storage units can be converted or remodeled for different purposes other than storage. To remodel is to tear down some parts of the storage unit and reconstruct to the desired design.
Some clients remodel containers to houses, offices, shops, mobile businesses, and entertainment spaces. Some families remodel some units to be beautiful extra storage space.
Why would a client remodel a storage container? To use a container that might not have any other use in its current shape but can suit a different purpose if remodeled. If the storage unit will be an office, it has to be remodeled to an office design. Likewise, if the container will be an entertainment place, it has to be converted to one. It's also cheaper to remodel a storage container than to build a new office from scratch. At times companies need a temporary office to use as they construct a permanent building, which takes time.
The corrugated steel is durable, and converting one to desired design is an investment in the unit worthwhile. The container can be a unique, versatile, and beautiful design. Converting a container to the desired purpose is fast compared to the traditional methods of constructing a building.
Therefore, a client can acquire a mobile storage container through direct purchase from a reputable source. When purchasing, the client should consider the price, quality of the material used to make the container, and after-sales service. Once purchased, it is an investment as the same container can be used for different purposes when the immediate need has been met. Remodeling makes a traditional storage unit a new building altogether that's useful in ways other than storage. Leasing provides a solution to a temporary storage need.