The HyperX Cloud Revolver S may not be wireless, though it does promise a premium surround sound experience, along with excellent sound quality and a comfy build. But is its prized Dolby-tuned surround technology enough to make gamers look past its elevated price tag? We're putting this old-timer to the test, in this HyperX Cloud Revolver S review.
CHECK TODAY'S PRICE HERE: See at Amazon
HyperX Cloud Revolver S Review
Design & Build -

7.8/10

Features -

8/10

Sound Quality -

8.4/10

Mic Quality -

8.7/10

Comfort -

7.9/10

Total Value -

8.4/10
Summary
While it was intended as a highlight feature, the surround sound plays second fiddle to the Cloud Revolver S' awesome sound quality, hip design, high level of comfort, and solid microphone. Software support would've definitely given this headset a much-needed level of customization and future-proofing, but even without it, the HyperX Cloud Revolver S still remains a terrific all-around gaming headset even after all this time.
Pros
Exceptional sound quality
Eye-catching design
Great microphone
Comfortable to use for extended periods of time
Cons
A little pricy
Surround sound isn't particularly impressive
Audio cable isn't detachable
Surround sound has become a big thing in gaming headsets, elevating your immersion to new heights by giving you a realistic sense of sound direction. We recently covered the Razer BlackShark V2 Pro and the Steelseries Arctis Pro wireless – two fantastic gaming headsets that incorporate stellar THX and DTS technology. How does the HyperX Cloud Revolver S  stack up to the competition.
Short on time? Just click on any of the links below and it'll take you right to that section:
What is the HyperX Cloud Revolver S?
HyperX released the original Cloud Revolver wired gaming headset back in 2016 and followed it up over a year later with the HyperX Cloud S which is pretty much identical to its predecessor except for a minor tweak in looks and the inclusion of snazzy surround sound feature. Luckily enough, it still comes with the amazing audio quality, premium comfort, and catchy design that made its elder brother so lovable.
Given its name, the Cloud Revolver S can really be built for one of two purposes, either as a gaming headset or a pair of shooting earmuffs. Fortunately for us, it's the former but it doesn't try too hard to make it obvious by walking the perfect line between edgy and sleek. The headset retails for around $150 which is a fair bit more expensive than some of its competition, like the excellent Razer BlackShark V2 Pro and the Taction-infused Corsair HS60 Haptic – both of which go for about a hundred bucks each, give or take.
Editor's note: The HyperX Cloud Revolver is sitting pretty on our list of best gaming headsets 2020 and best gaming headsets for PC.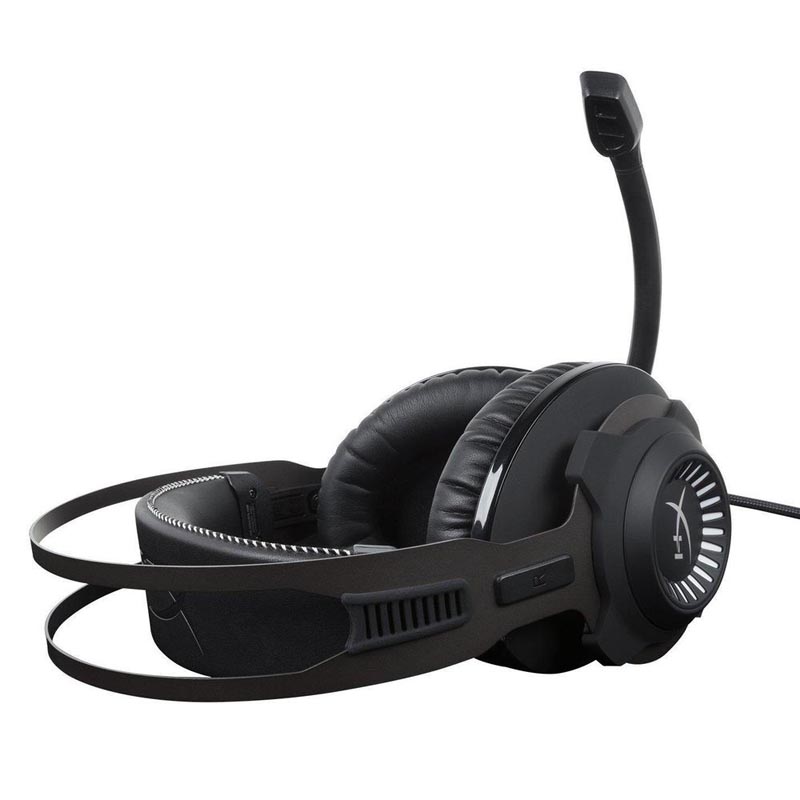 Features
Connectivity
The HyperX Cloud Revolver S is a wired headset that utilizes a standard 1/8″ TRS braided cable that's around a metre long. It comes with a second cable that latches on to the first one and includes the in-line control panel, measuring an extra 2.2 metres. All-in-all, the total length of the headset's cable could be as long as 3.2 metres which seems a little excessive unless you're planning to use it for console gaming.
Surround Sound
It features Dolby 7.1 surround sound technology that adds a welcome level of immersion to your gaming and viewing pleasure.
Accessories
This Cloud Revolver S doesn't come with much beyond the headset itself and its cables.
Noise Cancellation
This headset doesn't include active noise cancellation technology and its noise isolation leaves a lot to be desired when it comes to lows and mids. It is, however, at least able to moderately mitigate some higher frequency sounds.
Software
Unfortunately for users who enjoy fine-tuning their audio experience, the Cloud Revolver S doesn't support HyperX's Ngenuity software suite.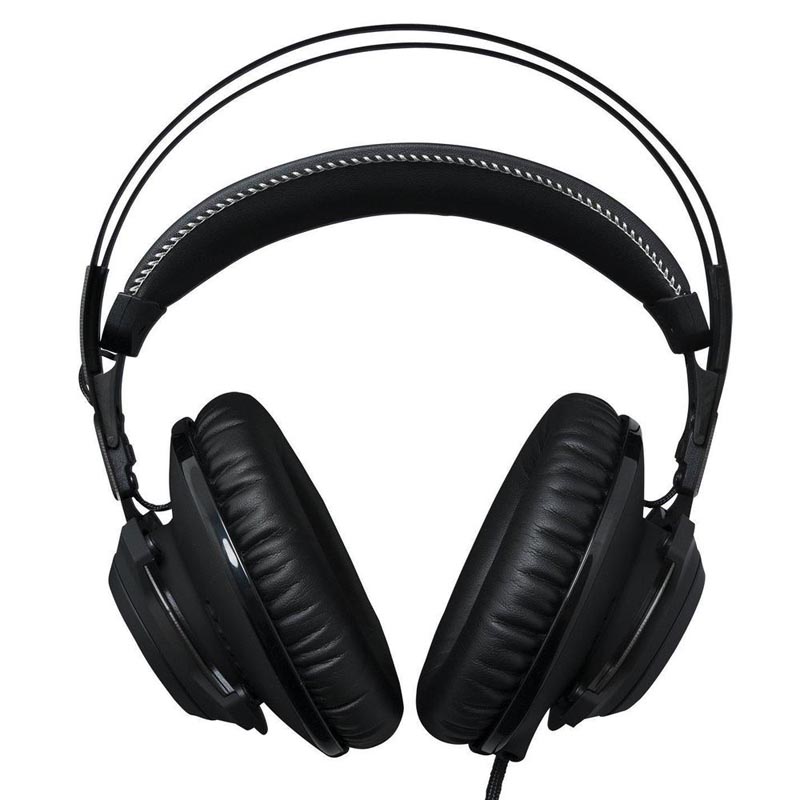 Sound Quality
The HyperX Cloud Revolver S may not come with a  lot of nifty features, but it makes up for it by sporting some killer sound quality. It has a fantastic bass profile that comes across clean yet punchy, and it's exaggerated just enough to add the right amount of kick to lower-frequency sound effects like explosions and gunshots without introducing unwanted crackling even at higher volumes. This translates wonderfully in video games and movies (especially action-packed ones), as well as bass-heavy tunes like hip-hop and R&B.
Its mid-range quality is just as impressive, with voiceovers and song vocals sounding crisp and clear all throughout. This makes for spectacular cut-scene viewing and general sound-tripping.
Its trebles may be its weakest characteristic when it comes to sound quality, but that doesn't make it mediocre in the least. Instruments are well-defined and accurately rendered, though some muddiness can rear its head during busier scenes or songs.
Overall, the Cloud Revolver S boasts a remarkably well-rounded sound profile that sounds amazing whether you're gaming, movie-watching, or enjoying music.
The headset's Dolby 7.1 surround sound isn't the most sophisticated in the market, but it does excel in separating individual sounds and spreading them out to make you feel encircled by them. This works wonders in video games since you're more likely to catch lowkey sounds that you weren't privy to before and hearings noises coming from different directions has the potential to lend a competitive edge.
When it comes to music, audiophiles may not enjoy the departure from authenticity but it's undeniably fun to hear your favourite tunes with its individual instruments and vocals surrounding you. As with gaming, watching movies and TV shows with surround sound on is an absolute delight, as you feel more involved in the dialogues and scenes. Turning on this feature does introduce a bit of an echo, but that's likely to add a more enclosed, cinematic feel.
The Cloud Revolver S includes a stellar boom mic that captures speech accurately and clearly while still sounding nice and full. Its noise isolation is especially impressive and is able to drown out ambient noises in even the rowdiest of places.


What's it like to use?
Since it's a wired gaming headset, all you have to do is plug it in and you're good to go. Right off the bat, you'll admire its excellent sound quality which is still obviously tuned for gaming but manages to work spectacularly with music and movie-viewing. The surround sound is a great addition but feels a bit more like a gimmick than anything. It's fun to have video games feel more immersive and to hear songs from a different perspective, but it's not well-done enough to make it seem essential.
The headset would've benefitted heavily from software support so users can fiddle with the sound levels a bit, but it slightly makes up for it with the three equalizer presets that you can cycle through with the useful in-line control panel that also allows you to easily mute your mic and change your volume level. Since the headset uses a standard 3.5 mm audio jack, it connects to almost any multimedia device painlessly.
Comfort is something the Revolver S specializes in, thanks to its round, amply-padded, oversized earcups and flexible headband. It's a little on the heavy side but its gentle grip makes it pleasant to use even during long sessions. It's mainly intended for stationary use, as the fit of the elastic headband is kind of loose and may cause the headset to sway during sharper movements.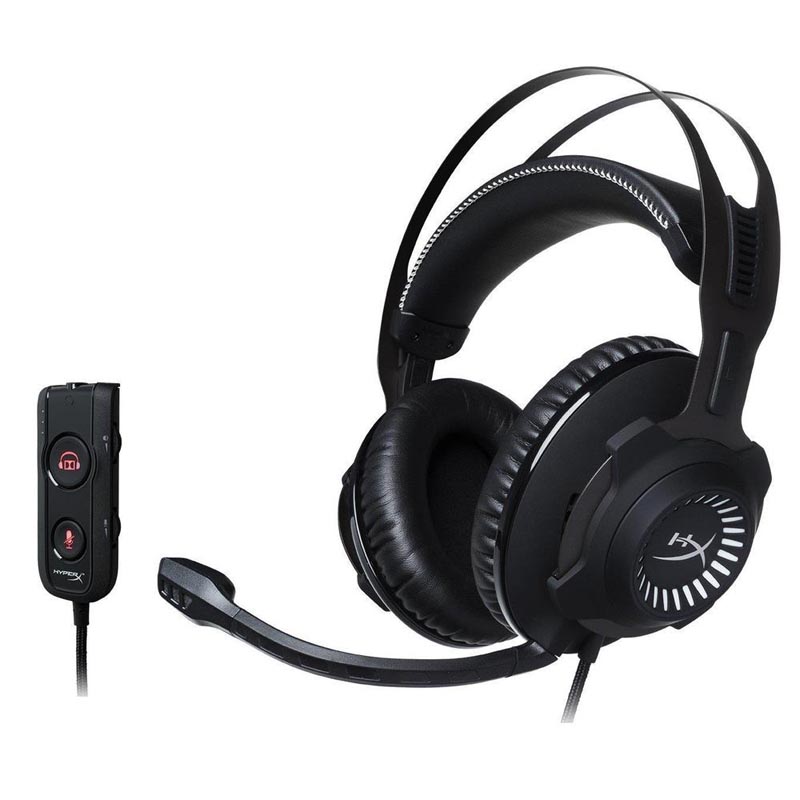 Aesthetics
The HyperX Cloud Revolver S is a stylish piece of equipment that's a bit on the edgy side but is well-designed enough to still look great for casual use. It traded in the red highlights found on its predecessor for white ones, while the rest of the headset is covered in matte black. Its big, plastic earcups are held in place by a sturdy metal frame that splits into two thin arcs towards the top portion and just under those arcs, you'll find the headset's padded elastic headband.
The microphone is thick and rugged, connecting to the peripheral on its left side via a 3.5mm port, though it's not very malleable, which is a bit of bummer. It's a well-built headset, all things considered, though I imagine the headband may struggle to maintain its elasticity over time. Also, the non-detachable audio cord may pose issues for repairs if the need ever arises.
Final Thoughts
The HyperX Cloud Revolver S may be three years old, but it still manages to roll with the best of them on account of its great sound design and attractive looks. It also puts a lot of effort into comfort which pays off nicely since using it for hours on end never feels tiring. Kingston dropped the ball a bit by not including Ngenuity support, thus crippling its audio flexibility,  but luckily enough it sounds so good that we're willing to let that slide.
HyperX Cloud S
Driver dynamic, 50mm with neodymium magnets
Type circumaural, closed back
Frequency response 12Hz-28,000Hz
impedance 30?
Although the surround sound may not be the hook they wanted it to be, it's a fun addition that a lot of people are surely going to enjoy. It might seem a little expensive, but if you're on the lookout for a gaming headset that performs just as well when sound tripping and movie watching, the HyperX Cloud Revolver S is your guy.
FAQs
Yes, the HyperX Cloud Revolver S is one of the best gaming headsets on the market. It does a superb job of balacing audio quaity, comfort and value for money. This makes the Cloud Revolver S an excellent choice.
Last update on 2022-05-15 / Affiliate links / Images from Amazon Product Advertising API
Yes, The HyperX Cloud Revolver does work with the Ps4. It can connect through the 3.5mm audio jack.
Last update on 2022-05-15 / Affiliate links / Images from Amazon Product Advertising API
There are two versions of this HyperX Cloud Revolver. One with virtual 7.1 Surround Sound and another version with actual 7.1 surround sound!
Last update on 2022-05-15 / Affiliate links / Images from Amazon Product Advertising API
Full Spec List
| | |
| --- | --- |
| Headphone | |
| Driver | Dynamic, 50mm with Neodymium magnets |
| Type | |
| Frequency response | 10Hz-23.2kHz |
| Impedance | 32 Ω |
| Sound pressure level | |
| T.H.D | < 2% |
| Weight | 360g |
| Weight with mic | 376g |
| Cable length and type | |
| Microphone | |
| Element | Electret condenser microphone |
| Polar pattern | Uni-directional, Noise-canceling type |
| Frequency response | 50Hz-7.7kHz |
| Sensitivity | |
| USB Audio Control Box | |
| Weight | 57g |
| Cable length | 2m |
Last update on 2022-05-15 / Affiliate links / Images from Amazon Product Advertising API