This HyperX Pusefire Surge review covers everything you need to know about this brilliant gaming mouse.  With high-performance and expensive) gaming mice dominating the market, thrifty gamers can look at the HyperX Pusefire Surge as a solid gaming mouse option.
CHECK TODAY'S PRICE HERE: See at Amazon
HyperX Pulsefire Surge Review
Design & Build -

7.9/10

Features -

8.2/10

Comfort -

8.5/10

Total Value -

8.1/10
Summary
The HyperX Pulsefire Surge is one of best-looking budget gaming mice out there, and that's due largely to its innovative 360° RGB feature. But it's a lot more than just a pretty face. If you don't mind it being a little underweight, this gaming mouse will defy expectations when it comes to sensor precision, switch and button quality, and degree of comfort. With its price tag beating out the Razer DeathAdder V2 and rivalling the Steelseries Rival 3, the Pulsefire Surge is definitely a frontrunner for best budget gaming mouse.
Pros
✓ 360° RGB design is drop-dead gorgeous
✓ Omron switches feel amazing
✓ Superb value
✓ Comfortable for varying hand sizes and grip styles
✓ Sensor performs splendidly
Cons
✗ Might be too light for some
✗ Side buttons may be hard to reach for left-handed users
Kingston launched the HyperX Pulsefire Surge a couple of years back, delivering a cleverly designed gaming mouse that boasts an innovative RGB lighting system, exceptional sensor, and quality buttons and switches, all at a very attractive price point.
But is it enough to beat out its newer rival heavy hitters? That's what we're here to find out in this HyperX Pulsefire Surge review.
Pressed for time and can't stick around for the whole review? No problem. Just click any of the links below to jump straight to that section.
What is the HyperX Pulsefire Surge?
The HyperX Pulsefire Surge entered the scene back in 2018 and immediately made an impression thanks to its striking design, top-notch performance, and, most of all, its affordable price tag. Its dazzling lights are a dead giveaway of its purpose as a gaming mouse, but its sleek, ergonomic design ensures that it doesn't feel at all out of place in an office setting. Just make sure to switch off the light show.
Its lightweight, high precision, and satisfying buttons allow it to shine brightest when used for FPS games like Valorant or Warzone, but it should be just as fun to use in MOBAs and single-player titles. MMO fans looking for a gaming mouse with tons of extra buttons, however, will likely be in for a disappointment.
It debuted at a reasonable $69, but nowadays, given its age, you're likely to find it at around 40 bucks, making it a fair bit cheaper than Razer's beloved DeathAdder V2 and on par with the Steelseries Rival 3.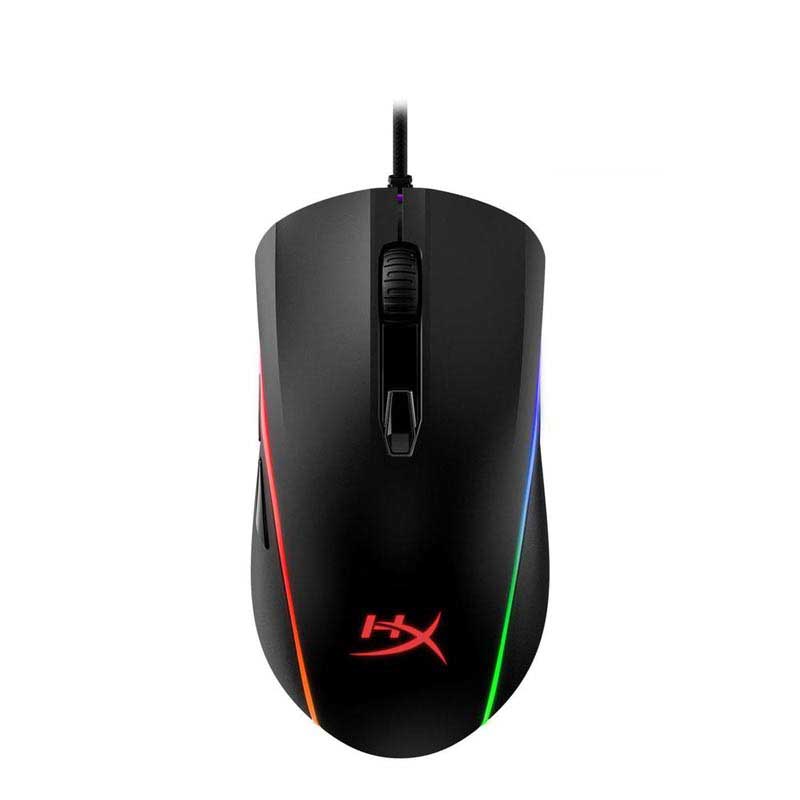 Features
Sensor
The HyperX Pulsefire Surge is fitted with a Pixart 3389 optical sensor that features16000 DPI and an impressive 450 IPS and 1000 Hz polling rate. This puts it well ahead of the Rival 3's 8500 DPI but isn't quite in the range of the DeathAdder V2's DPI of 20000.
Connection
It's a wired gaming mouse with a standard USB connection and a 1.8 metre-long jet black braided cable.
Buttons
The mouse has 6 programmable buttons: the primary buttons, DPI button, mouse wheel, and two extra buttons on the side. The left and right primary buttons utilize Omron switches which give it a lengthy shelf life of approximately 50 million clicks.
Software
The Pulsefire Surge can be customized through the use of HyperX's NGENUITY software suite which allows you to fiddle with the mouse's comprehensive RGB options as well as remap its programmable buttons and fine-tune its sensitivity. You will have to download it through the Microsoft store, though, which is kind of annoying.

Design & Comfort
With the lights off, the Pulsefire Surge looks a bit on the plainer side, with its symmetrical design and one-tone colour scheme. It's perfectly arched from top to bottom while both of its sides cave inwards. The whole thing is wrapped in a nice matte black finish that'll likely tug on the heartstrings of gamers who enjoy a minimalist look.
If you're in the market for a gaming mouse that's a little more adventurous with its design, you're better off with something like the Logitech G502 HERO. The Pulsefire Surge's 360° RGB is what really breathes life into the peripheral, with its lighting strip tracing the mouse's top and bottom edges and over the arcs on the sides.
Its arched sides make it comfortable for both claw and palm grips and its symmetrical shape make it accessible for lefties as well which is a huge plus. Bear in mind, however, that the side buttons will probably be a lot tougher to use for left-handed gamers.
Its light weight and the oversized skates on the bottom of the mouse allow it to glide effortlessly across your mousepad, though it would have been a good idea for HyperX to provide some extra weights for people who prefer their mice with a little more heft. The Omron switches feel crisp and satisfying to click and the extra buttons feel solid yet responsive.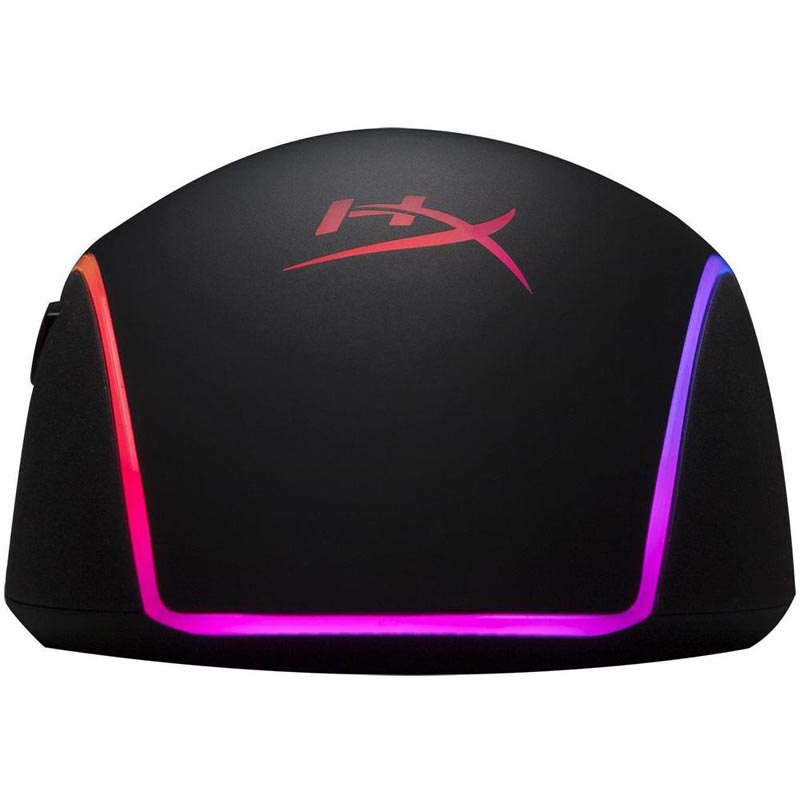 What it's like to use?
The moment you plug in the Pulsefire Surge, you're greeted with its wave RGB lighting effect, putting the light show on full display. My large hands and palm grip preference felt right at home with the mouse which made my time spent playing Apex Legends that much more enjoyable.
Personally, I prefer mapping my character's skills to the side buttons, but setting them to control the DPI sensitivity is also a great option especially for seasoned snipers. Either way, hammering the left and right primary buttons felt extremely satisfying on account of the awesome Omron switches and utilizing the side buttons felt effortless even during the busiest of moments.
The Pulsefire Surge's Pixart 3389 sensor didn't disappoint one bit, as its pinpoint precision made snapping onto enemy targets and navigating the battleground a breeze. Unfortunately, it didn't make me suck at the game any less.
Customizing the mouse was actually a lot of fun thanks to the intuitive HyperX Ngenuity app. It's fairly straightforward and easy to use, allowing you to dive headfirst into the plethora of RGB options the Pulsefire Surge has to offer. Altering the default button bindings and tuning the mouse sensitivity was just as simple since all the app's options are spread out right in front of you.
Final Thoughts
HyperX sells the Pulsefire Surge with its looks, which is misleading since underneath its shiny exterior lies a high-performing gaming mouse that's rocking some top-notch switches and buttons. Its stunning 360° RGB lighting effects simply become the icing on the cake. Its perfect blend of functionality and style make it an absolute steal for its price which is at forty bucks on Amazon at the time of this writing.
Price reduction
HyperX Pulsefire Surge
Product Type: Mouse Pad
Package Quantity: 1
Package Weight: 205.0 g
Country of Origin: China
No mouse is perfect, however, as the Pulsefire Surge might a little too light for some without the inclusion of optional weights to add heft. Left-handed players may also have a tough time accessing the mouse's side buttons despite its design being ambidextrous. Minor gripes aside, the HyperX Pulsefire Surge still stands at the front of the line when it comes to the best budget gaming mice on the market.
FAQs
Yes, the HyperX Pulsefire Surge is an excellent gaming mouse that is tuned towards first-person shooters. It's lightweight and small making it great for flick shots but perhaps not so great for the larger-handed sapiens among us. The RGB adds a wow-factor but can also be turned off if preferred.
Last update on 2022-05-20 / Affiliate links / Images from Amazon Product Advertising API
The HyperX Pulsefire Surge weighs 100g without the cable and 130g without the cable.
Last update on 2022-05-20 / Affiliate links / Images from Amazon Product Advertising API
The HyperX Pulsefire Surge has the following dimensions:
Length:120.24mm
Height: 40.70mm
Width: 62.85mm
Cable length: 1.8m
This makes a bit smaller than the average mouse, so keep that in mind if you have large hands.
Last update on 2022-05-20 / Affiliate links / Images from Amazon Product Advertising API
Yes, HyperX created NGENUITY to customise their gaming peripherals. It is considered one of the better companion software out there and is very intuitive to use.
Last update on 2022-05-20 / Affiliate links / Images from Amazon Product Advertising API
Absolutely! HyperX is a very established gaming peripheral brand with a great track record of consistently creating good products at fair prices.
Last update on 2022-05-20 / Affiliate links / Images from Amazon Product Advertising API
Full Spec List
Ergonomic:
Symmetrical
Sensor:
Pixart PMW3389
Resolution:
Up to 16,000 DPI
DPI presets:
Speed:
450ips
Acceleration:
50G
Buttons:
6
Left/right buttons switches:
Omron
Left/right buttons durability:
50 million clicks
Backlight:
Light effects:

Per-LED RGB lighting1 and 4 brightness levels

Onboard memory:
3 profiles
Connection type:
USB 2.0
Polling rate:
1000Hz
USB data format:
16 bits/axis
Dynamic coefficient of friction:
0.13µ2
Static coefficient of friction:
0.20µ2
Cable type:
Braided
Weight (without cable):
100g
Weight (with cable):
130g
Dimensions:

Length: 120.24mm

Height: 40.70mm

Width: 62.85mm

Cable length: 1.8m
Last update on 2022-05-20 / Affiliate links / Images from Amazon Product Advertising API