Ice Magique Quick Review
Summary
Looking for a cream that will give you protection from the heat, UV rays, and wrinkles all while keeping you cool? Then the Ice Magique is perfect for you. It's an all-in-one cosmetic that combines three products in one bottle: a toner, lotion, and sunscreen. So whether you're travelling, camping, or playing sports outdoors, you'll always feel comfortable, cool, and protected.
Pros
Safe
Moisturizing, sun blocking, smoothes wrinkles and improves skin tone
Instant cosmetic cooling
Ice Magique is self-proclaimed as the "World's first self-cooling system." It is an all-in-one serum that's not only for cooling but also to provide you with UV protection. So what else is there about it? Let's find out in this review. Can't read the whole thing? Simply click on any of the links below to skip to that section.
Overview
Applying sunscreen, toner, and cream every single day, layer by layer is exhausting. Not to mention annoying. To address this, ICETEC – the company behind Ice Magique – designed a self-cooling 3-in-1 product that combines toner, lotion, and sun serum all in a single bottle. So you'll only need to purchase one product to get the protection you need to keep your skin looking and feeling healthy.
Now, Ice Magique is not the only skin-cooling beauty product on the market. There are many cooling cosmetics and most of them are made of chemical cooling agents like artificial menthol. While they provide quick relief, they are not effective in reducing the actual temperature of your skin. Some of them may even cause irritation when used excessively.
What makes Ice Magique unique is that it is the first and only product to use its own self-cooling system. So unlike the others, it doesn't contain artificial menthol and you don't need to throw it in the refrigerator before use. This also means you'll always have a cold cream ready to help cool you down whenever and wherever you are.
On the downside, Ice Magique has an expensive upfront cost. At $90, you might feel a little hesitant to try it out, especially with a lot of cheaper products in the market. But if you're already using and buying a separate lotion, toner, and serum, then Ice Magique is actually cheaper.
Want to try Ice Magique at a much lower price? Make sure to catch it on Kickstarter to enjoy as much as 40% off.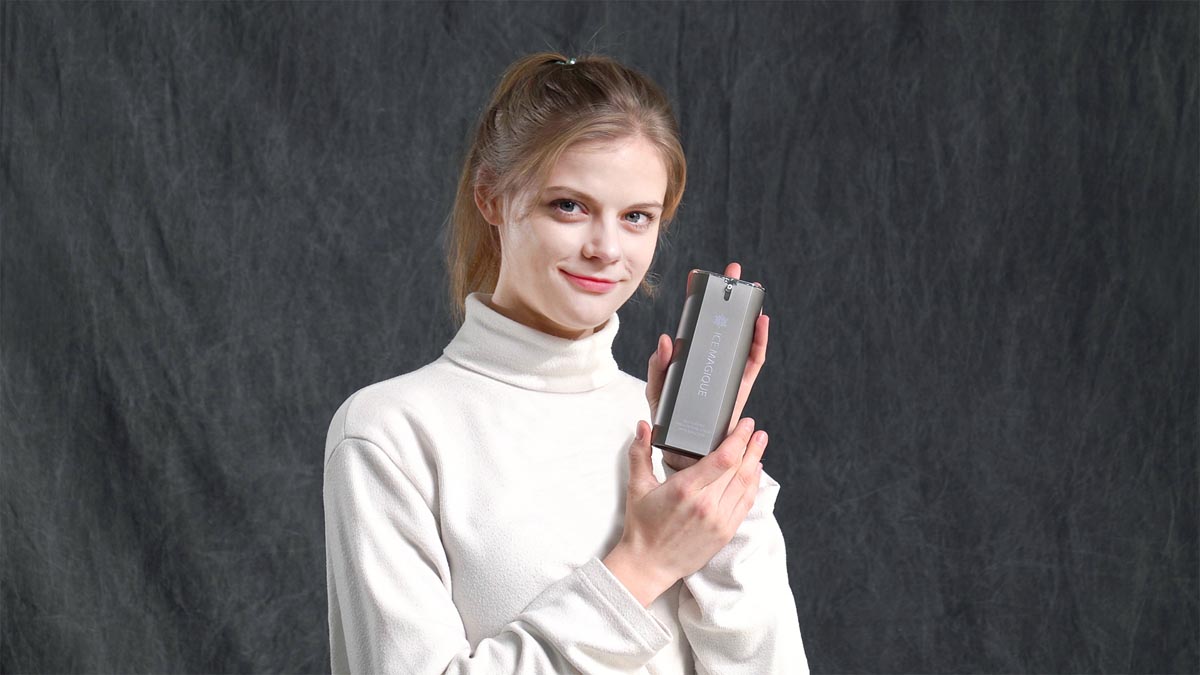 Features
Cooling Technology
Ice Magique is the only product in the world that can lower the temperature of the cosmetic itself. No need for artificial cooling agents of any kind. With this skincare product, all you need is to pump the bottle. The more pumps you make, the cooler the serum inside becomes.
See, Ice Magique's temperature drops by about 7.2°F (4℃) each time you pump. So if you pump it 3 times, the lotion's temperature drops to 21°F (12℃). 5 times and it drops by about 36°F(20℃). This is possible due to the principle of vaporization of the liquid. The company uses a coolant and vaporizes it to lower the temperature of the cosmetics when pumping.
UV Protection
Ice Magique has a UV protection grade of SPF30, PA++++. Meaning, it can block 97% of the sun's UVB rays. Technically, this is the most common level for most people with any skin type. But while it isn't the highest-graded SPF, it is enough to protect you.
Ingredients
Ice Magique contains the following key ingredients:
xpertmoist: A Natural Moisturizing Factor (NMF), this ingredient naturally grows at extremely low temperatures (-68℃) in Antarctica. It helps form a skin-friendly barrier.
KX-Glucan: This ingredient helps moisturize your skin and prevent the production of melanin. Additionally, it helps protect your skin damage or inflammatory irritation caused by sunburn.
70% aqua ingredients: Ice Magique utilizes water trap cooling technology, which ensures your skin is sufficiently moisturized. It also helps your skin stay elastic.
All functional ingredients included are registered by the KFDA. As an all-in-one sun serum, Ice Magique can improve skin tone and wrinkles and provide ample UV protection. It also moisturizes your skin and offers a real cooling feeling.
Read more: Terraplanter Review – Crowdfunded Hydroponic Planter

What's It Like to Use
You use Ice Magique the same way as you would with any general cosmetics. That is, after cleansing your skin, pump the appropriate amount and apply it evenly to your desired area. You can use it on your face, hand, etc.
When pumping or pressing the button, make sure to press it all the way down. Then, wait until it fully comes back up before pressing again. If you pump before the button has fully returned, the cooling process may be affected. Also, when using the product for the first time, make sure to press the button at least 6 to 8 times to ensure smooth operation.
Final Thoughts
While the Ice Magique is more expensive up front, it can help keep down costs in the long run by combining three of the most basic and important products for skin today. In a single bottle, you now have a lotion, toner, and a sun serum. This makes your daily skin-care routine faster and easier. It's also worth mentioning that Ice Magique is 100% produced and manufactured in South Korea, which is known for its high beauty standards and amazing skincare products.
Overall, Ice Magique is a great product to help maintain the right temperature for your skin. It helps make sure you are moisturized and protected from the sun and heat. You can even use it to improve your skin tone and wrinkles. With these functions and uses, it's the perfect skin-care product for anyone who works outdoors, enjoys camping, loves to travel, plays outdoor sports, and practically anyone exposed to the sun often.